The Hyundai Santa Fe is bigger and bolder for 2007 with an all-new, purpose-built unibody platform, choice of fuel-efficient V6 powertrains, and segment-leading standard safety technologies. Add in a roomy, well-crafted interior, optional third-row seat and a starting price below its predecessor and clearly the 2007 Santa Fe raises the bar for value in the crossover segment.
As the first production vehicle designed at Hyundai's design center in Irvine, Calif., the Santa Fe is targeted to meet American consumers' demand for safety, style, sophistication and performance. Before designing the new Santa Fe, Hyundai engineers benchmarked the world's leading unibody crossovers, including the Lexus RX, Acura MDX and Volvo XC90. The result is a roomier, more exciting and more upscale Santa Fe that delivers the combination of flexible interior packaging and driving agility that American consumers increasingly demand.
Hyundai packed the all-new Santa Fe with the industry's most effective safety technologies. Standard equipment includes Electronic Stability Control (ESC), anti-whiplash active head restraints and six airbags including side air curtains, which help protect occupants in all three rows during side impacts. Santa Fe is expected to earn the National Highway Traffic Safety Administration's (NHTSA) top five-star crash test rating for front and side impacts.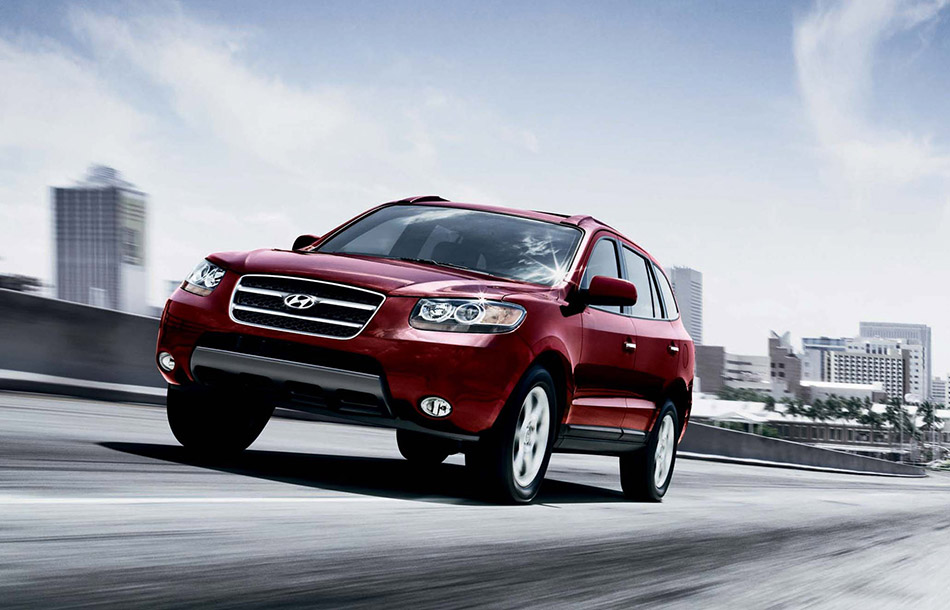 Choice of two clean, powerful, fuel-efficient v6 engines
Santa Fe will be available with a choice of two powerful and efficient V6 engines: the new 2.7-liter Mu (m) and the modern 3.3-liter Lambda (l), both featuring all-aluminum construction. The standard 2.7-liter V6 is upgraded for 2007 and now includes Variable Valve Timing and a Variable Intake System to produce 185 horsepower and 183 lb.-ft. of torque. The new 2.7-liter V6 produces more horsepower and torque than its predecessor, with improved fuel economy 21 city/26 highway vs. 19/25 for the 2006 model. The 3.3-liter Lambda V6 is lighter, more fuel efficient and cleaner burning than the previous Santa Fe 3.5-liter V6, while producing an additional 42 horsepower. Output is 242 horsepower and 226 lb.-ft. of torque, with fuel economy ratings of 19 city and 24 highway, up from the 17/23 rating of the 2006 model. Both powertrains meet the stringent ULEV emissions requirements.
The 2.7-liter V6 comes with a standard five-speed manual transmission and is available with an optional four-speed automatic with SHIFTRONIC® manual control, while the 3.3-liter V6 is mated to a five-speed SHIFTRONIC® automatic gearbox. Meanwhile, Santa Fe's electronically controlled all-wheel-drive system automatically routes power to the wheels offering the best traction. A new driver-selectable AWD lock provides a fixed 50/50 torque split between front and rear wheels, which can improve traction in certain conditions.
Industry-leading safety technology roll-out continues
The all-new 2007 Santa Fe continues Hyundai's leadership in standardizing the industry's most effective safety technologies. The new Santa Fe features six standard airbags, including side air curtains for all three rows of available seating. The combination of side and curtain airbags, which help protect the head and body during side impacts, can reduce fatalities by more than 45 percent, according to the Insurance Institute for Highway Safety (IIHS). Side curtain air protection is optional on many compact and mid-size SUVs, including Toyota RAV4, Toyota Highlander and Ford Explorer.
In addition, all Santa Fe trim levels come standard with ESC, one of the industry's most effective life-saving technologies. ESC compares the driver's intended course with the vehicle's actual response and then brakes individual front or rear wheels and/or reduces engine power as needed in certain driving circumstances to help correct understeer or oversteer. NHTSA studies show SUVs equipped with ESC experience 63 percent fewer fatalities in single-vehicle crashes. Santa Fe joins Tucson, Sonata, Azera and Entourage as vehicles in Hyundai's growing lineup with standard ESC. In the 2007 model year, approximately 70 percent of Hyundai vehicles sold will come equipped with standard ESC - a commitment to this sophisticated and effective automotive safety technology that is unmatched by any other non-luxury automotive brand.
Front and rear disc brakes are standard and are coupled with a four-channel Anti-lock Braking System (ABS) that includes Electronic Brake force Distribution (EBD) to automatically adjust the braking force to front and rear axles based on the vehicle loading conditions.
All seating positions feature three-point seatbelts and adjustable head restraints. Front-seat active head restraints help prevent whiplash by automatically reducing the space between a front occupant's head and the head restraint during a rear collision.
Santa Fe also features a standard tire pressure monitoring system.
Assertive, refined, confident design direction
With dramatic new styling that is assertive, refined and confident, the all-new Santa Fe exterior showcases the evolving face of the Hyundai brand. At 184.1 inches long, the new Santa Fe is about seven inches longer than its predecessor, one inch wider and almost two inches taller. Its 2.9-inch wider track - wider than Toyota Highlander or Ford Explorer - provides a strong stance, improved handling and increased interior room.
The 2007 Santa Fe shares an assertive front grille, confident sculptured lines and finely detailed headlights with Hyundai's HCD9 Talus concept, which was introduced at the 2006 North American International Auto Show in Detroit. For a more aggressive appearance, Santa Fe SE and Limited models come with 18-inch alloy wheels. Sleeker styling makes the 2007 Santa Fe more aerodynamic, improving its drag coefficient from 0.39 to 0.37. A roof rack with integrated cross rails helps define its clean side profile, while adding functionality.
Stylish, quiet, package-efficient interior
The all-new 2007 Santa Fe is one of the most package-efficient crossover SUVs on the market. Hyundai accomplished this by developing an all-new platform that avoids the compromises inherent in typical mid-size car/SUV platform sharing. For example, although the 2007 Santa Fe is 2.1 inches shorter than the Lexus RX, its first- and second-row seats have more head, leg, and shoulder room than the RX, with enough room left over to allow an optional third-row seat not available in the Lexus. In addition, the 2007 Santa Fe's third-row seat offers more legroom than the third-row seat in the Acura MDX, Honda Pilot or Volvo XC90, while matching the legroom of the much larger all-new Mercedes-Benz GL-class SUV.
Santa Fe is Hyundai's first crossover with optional seven-passenger seating. With 40 percent of all crossover and SUV customers demanding a third-row seat, this feature will significantly broaden Santa Fe's market reach and appeal. The third-row seat is split 50/50 and can be folded flat like the 60/40-split second-row seat. Total cargo volume is a cavernous 78.2 cubic feet, with plenty of storage for items of different sizes.
By increasing the use of laminated steel, improving body rigidity and engineering a sophisticated triple-sealing door/body interface, Hyundai engineers have significantly reduced cabin noise. In fact, the 2007 Santa Fe is 1.7 dB quieter than the Volvo XC90 and 3.3 dB quieter than Toyota Highlander at highway speeds.
Available dual-zone climate controls for driver and front seat passenger bring a touch of luxury to the Santa Fe. Second- and third-row passengers will enjoy a new level of comfort, thanks to B-pillar-mounted adjustable vents, dual rear heating ducts and rear fan controls.
Blue backlighting for all interior gauges, switches, and buttons highlights the modern, integrated interior design. Hyundai's focused attention to detail can be seen throughout the interior - the cupholders are ringed with blue light to aid nighttime driving; console bins, the upper IP storage tray and the glovebox are lined with soft flocking material; powerpoint caps, seat belt buckles, even cupholder inserts are color-keyed for design harmony. Soft-touch, high-quality materials, low-gloss surfaces, and zero-tolerance net-fits are used throughout the interior.
Other thoughtful convenience features include an available power driver seat with power lumbar support, steering wheel audio controls, trip computer, heated side mirrors and a windshield wiper deicing system.
All-new, purpose-built platform
The second-generation Santa Fe rides on an all-new, purpose-built unibody crossover platform with a 106.3-inch wheelbase that is 3.1 inches longer than its predecessor. This chassis was specifically designed to deliver more of the ride and handling balance that resonates with crossover shoppers. The 2007 Santa Fe achieves a 50-percent improvement in body bending rigidity over the prior model and is 59 percent stiffer than Toyota Highlander. This stiff body structure provides the basis for both a more refined ride and more agile handling. Thanks to the new suspension geometry and wider track width (which enables greater turn angles), Hyundai engineers tightened Santa Fe's turning circle by over a foot - an advantage Santa Fe drivers will appreciate in their daily driving.
Santa Fe's dynamics were tuned in California and Michigan by Hyundai's U.S. team to reflect American consumer requests for more agile handling, responsive steering, and improved body control. Santa Fe uses MacPherson strut front and multi-link rear suspension systems. A new reverse L-shaped lower arm provides superior steering feel with improved dynamic control. Caster angle has been increased from 2.5 to 4.4 degrees to improve straight-line stability and overall dynamics. Front subframe and rear cross member bushings have been increased significantly in size to improve ride and NVH without handling compromise. The rear trailing arms have been relocated from the body to the rear cross-member to reduce road noise intrusion and improve geometry. All four wheels are controlled by coil springs and fade-resistant gas-charged dampers, while front and rear stabilizer bars help keep the vehicle flat during cornering. Power-assisted rack-and-pinion steering also contributes to the Santa Fe's solid handling dynamics.
Source: Hyundai
Gallery:
Hyundai Santa Fe (2007)