The Hyundai i800 is the third instalment of Hyundai models that will gain an 'i' prefix in the name as they are introduced, replaced or substantially facelifted. And now the third of Hyundai's i range of cars has arrived, and is set to cause just as much of a stir as the Hyundai i30 and Hyundai i10.
The Hyundai i800 went on sale on June 20th, 2008 costing £19,495. It will be joined later in the year by a lower power, lower specification version at an even more competitive price.
Most people carriers have five full-sized seats and usually the sixth and seventh are occasional chairs unfolded from the luggage space. The Hyundai i800 has space for eight full size passengers plus luggage room too - perfect for families or business users such as hotels.
This eight seat practicality and car-like refinement has previously only been available from expensive German marques - at prices that can be as much as £10,000 more expensive than the Hyundai i800. The only rivals to approach Hyundai on price are cruder, van derived conversions - and even these can't match the Hyundai i800's specification.
The interior space, powerful diesel engine and the offer of eight full size seats give the Hyundai i800 a unique advantage over other competitor models. With a comprehensive specification list and all for less than £20,000, the Hyundai i800 is an obvious choice for the large family or business user.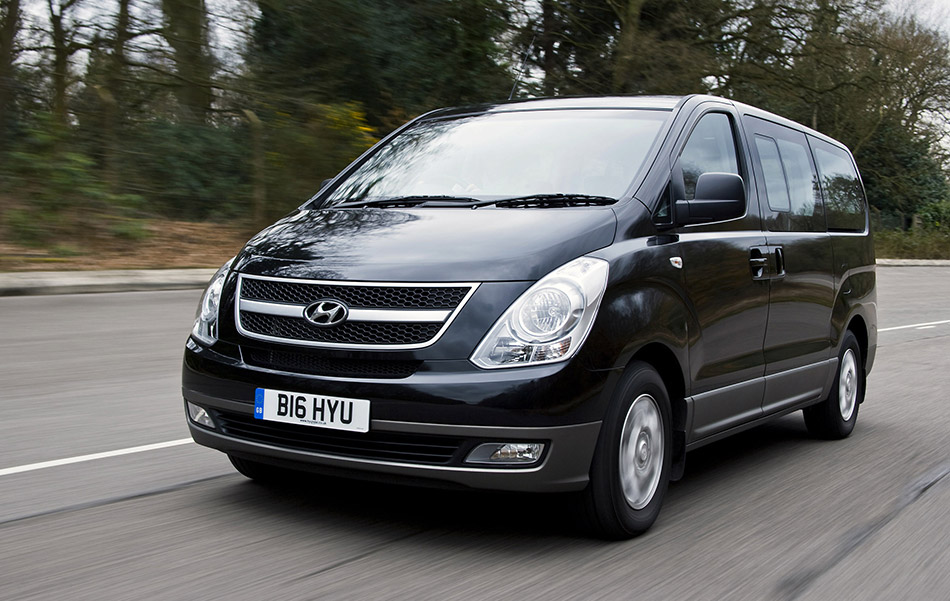 Specification and equipment
Value for money is paramount in this sector and this is where the Hyundai i800 excels. Not just for the driver and front passenger but for the comfort of all eight occupants.
All passengers will appreciate the car-like feel of the integrated cabin which includes the usual convenience features such as tilt steering column, overhead console, electric windows and electric door mirrors. This list of standard equipment includes air conditioning with separate controls in the rear for the passengers.
Unlike 'minibus' rivals, the classy cabin also offers mood lighting in the middle and rear rows and offers a choice of colours to scroll through. This gives light to occupants at night and offers them a unique ambience in the vehicle.
Dark tinted glass also gives rear passengers that extra bit of privacy and keeps the cabin cool.
Remote central locking and an alarm as standard give that little extra peace of mind in security as well as added convenience.
Space and storage
Unlike most people carriers, which only have room for seven people, the Hyundai i800 can comfortably accommodate eight. In addition the big Hyundai will still have room for all of their luggage. In fact, the Hyundai i800 has 851 litres of space in the boot even when loaded with passengers; that's twice as much as some estate cars!
While other people carriers compromise the luggage space to make room for extra seats the Hyundai i800 manages to have both, without having to remove seats or fold them into the floor.
The Hyundai i800 features a pair of individual seats in front and two benches behind, each accommodating three adults in comfort with uncompromised head and legroom.
Both rear benches feature a 60:40 split-fold and recline while the centre row also slides forwards or backwards to tailor legroom as required and aid access to the rear. If you don't need to carry eight, or have small children in the rearmost row, then the centre seats can be slid back be create limo-like legroom.
The rear compartment is accessed by pair of sliding doors, making entry and exit easy wherever the Hyundai i800 is parked. The centre row of seats is able to slide forward to allow easy access to the rear most section of the cabin.
For added convenience 'bottle bulges' are designed into the door pockets to and the front passengers have cup holders in the centre console.
Size Matters
While some drivers might initially feel intimidated by the Hyundai i800's size - it measures 5,125 mm long, 1,920 wide and 1,925 tall - it is actually surprisingly easy to thread into tight spots thanks to a turning circle of just 5.61m. In addition, electronic reversing sensors are standard.
Chassis, Suspension and Brakes
It's not just the luxury inside that makes the Hyundai i800 comfortable. Rather than using the same chassis as a commercial vehicle, the stylish new people carrier has a purpose-made coil sprung rear suspension system with five locating links to ensure optimum ride quality and manoeuvrability. At the front the Hyundai i800 has MacPherson struts with coil springs and gas-filled shock absorbers. Alloy wheels are also standard.
The Hyundai i800's sure-footed rear-wheel-drive handling is backed up with (ABS) with Electronic Brakeforce Distribution (EBD) for safe and secure stopping power.
Enhancing the braking system further is the Hyundai i800's Electronic Stability Programme (ESP) with a traction control system. In the event of severe cornering, especially on low-friction road surfaces, the ESP will reduce over-steering and under-steering by providing braking forces to the appropriate wheels to correct the path of the Hyundai i800.
Engines and transmissions
Bringing power to the people-carrier is a new 2.5-litre four-cylinder CRDi diesel engine, which is intercooled and features a variable-geometry turbo. Peak power output is 170PS with a massive 392Nm of torque; enough to ensure that the Hyundai i800 never feels sluggish even with a full load. Balancer shafts also mean that the engine remains smooth and refined at all times.
Despite the impressive performance, this engine is also capable of remarkable economy with a combined figure of 33.2 mpg. Thanks to a 75 litre tank, it means the Hyundai i800 driver could go more than 560 miles between fill ups.
Safety
When carrying passengers, safety will always be a prime concern. The Hyundai i800 has driver and front passenger airbags and three point belts for all eight seats are also standard. The front belts are height-adjustable and benefit from pretensioners reducing the risk of injury in an accident. The rear sliding doors are fitted with child locks and the middle row has ISOfix child seat mountings. All eight occupants have height-adjustable head restraints.
In the event of an accident the Hyundai i800 has a four ringed strengthened body with rigid cabin and crush zones, impact absorbing bumpers, side impact intrusion bars and auto-unlock on impact to protect all eight passengers within the cabin.
As with all Hyundai models the i800 comes with the manufacturer-backed five-year unlimited mileage warranty.
Source: Hyundai
Gallery:
Hyundai i800 (2008)