Building on the reputation for peerless reliability and exceptional cost-effectiveness established by its Getz predecessor the Hyundai i20 offers drivers more of everything. It has enhanced functionality from the intelligently configured cabin layout, higher levels of luxury, convenience and safety equipment and engaging handling from its all-new chassis. A line-up of new petrol and turbodiesel engines, plus the choice of manual or automatic transmissions further enhance the Hyundai i20's credentials and make it the most competitive package in the supermini sector.
Like the i30 and i10, the Hyundai i20 has been designed and developed in Europe to meet the high expectations of European drivers, and will prove capable of delighting them with new technology and low running costs. Initially available as a five-door model, the Hyundai i20 3-door version debuts in April 2009.
Design
Designed at Hyundai's European headquarters in Russelsheim, Germany, the new Hyundai i20 follows in the stylish footsteps of the acclaimed i10 and i30 models. Lower, longer and wider than the Getz it replaces, the five-door Hyundai i20 rides on an extended 2525mm wheelbase, enhancing both its ride comfort and spacious interior architecture. Featuring Hyundai's distinctive design motifs - a bold chrome-topped grille flanked by teardrop headlamps at the front and striking stacked rear light clusters - the Hyundai i20's modern lines are further strengthened by neat details. These include colour-co-ordinated bumpers, integrated door handles and chunky 15 or 16-inch wheels. The Hyundai i20 also introduces a new palette of bold colours - inside and out.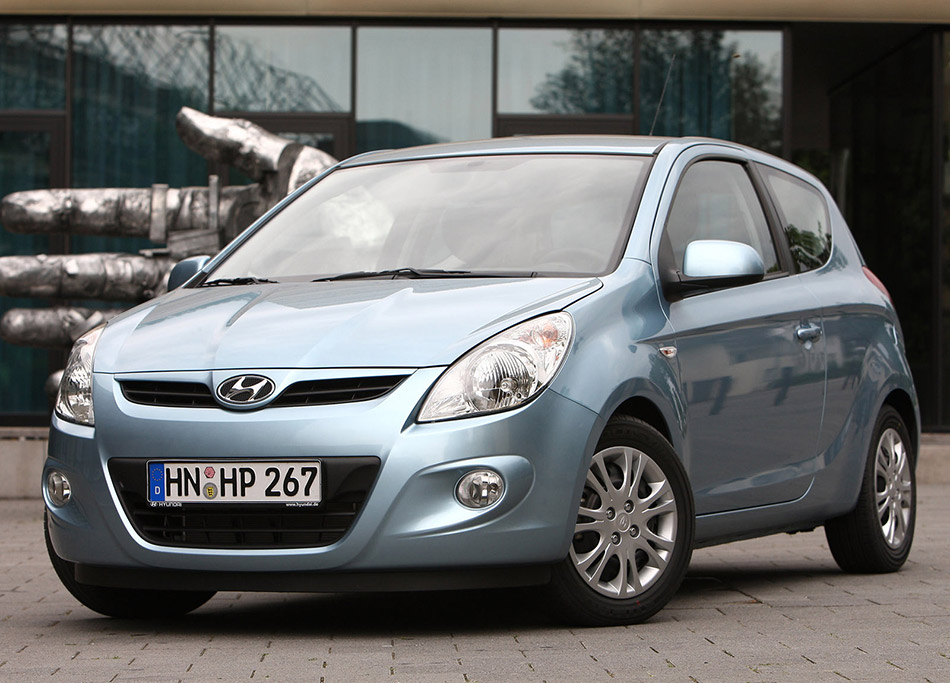 Comfort and versatility blend seamlessly in the new Hyundai i20's spacious and generously-appointed cabin. All three trim levels - Classic, Comfort and Style - feature air-conditioning, remote central locking, CD and MP3 audio system with integrated data display screen, Aux-in socket, switchable passenger airbag and electrically operated windows. The Hyundai i20's list of standard features puts it head and shoulders above rivals - some of which cost thousands more.
Suspension, ride and NVH
In keeping with its dynamic styling, the Hyundai i20 rides on an all-new platform that delivers an agile driving experience combined with remarkable refinement. Much of the car's ride and handling development work was undertaken on European roads - hot weather testing was carried out in Spain, cold weather trials took place in Sweden while high-speed testing was completed in Germany. As a result, Hyundai's ride and handling engineers were able to tune the Hyundai i20's front MacPherson strut and rear torsion beam suspension to deliver the taut and alert driving dynamics demanded by the European market. Passive safety was a top priority too, and the Hyundai i20 handles in a predictable manner. However, in extreme situations, the driver has the added back up of ESP - standard on all Hyundai i20s built after February.
The new rack and pinion steering setup has also been tuned to deliver quick and accurate responses resulting in excellent urban agility. Extensive use of advanced noise reduction materials throughout the development process - particularly in the diesel-powered models - has resulted in exceptionally high levels of refinement, giving the Hyundai i20 a cosseting cabin ambience.
Keeping the weight low was another priority for the engineers, and a series of clever measures has resulted in a car which is barely heavier than the smaller Getz it replaces. Despite being loaded with equipment and extra safety features, the 1.2-litre Hyundai i20 has a kerb weight of just 1,085kg - giving benefits in handling, economy and performance.
Powertrain
Hyundai's all-new i20 debuts with a range of new petrol and diesel engines that have been engineered to deliver greater performance, enhanced economy and lower emissions than ever before.
The petrol line-up comprises of the all-new 78PS 1.2-litre Kappa engine and a 100PS 1.4-litre unit previously seen in the i30. The latter is offered with the option of a four-speed automatic gearbox.
Posting a low CO2 rating of just 124g/km (that's around 15g less than similarly-sized petrol engines from most rivals) and returning 54.3 mpg on the combined cycle, the all-new 1.2 all-alloy engine delivers an excellent combination of performance and economy. This engine is expected to be the best seller in the UK. The 1.4-litre petrol unit delivers an equally impressive 133g/km and 50.4mpg combined (in Comfort versions) - figures that better some rivals' 1.0-litre engines!
Geared up to meet the rising demand for low-emission, high-economy diesel power, the Hyundai i20 will be launched with two all-new turbodiesel engines, both with a 1.4-litre capacity and offering 75PS or 90PS. Emissions and fuel economy figures are exceptional - at just 116g/km and 64.2 mpg for the 75bhp version and 118g/km and 62.8 mpg for the larger-wheeled 90bhp model. As a result, both Hyundai i20 diesels are in VED band 'B', which means a tax disc will cost just £35 a year.
In addition, company car drivers will find they are taxed for benefit-in-kind at just 13% - offering significant savings for those wanting to downsize.
Safety and convenience
As the i30 proved, Hyundai is serious about safety. The new i20 debuts with exceptionally high levels of active and passive safety equipment - in fact it is Hyundai's aim to make the Hyundai i20 the safest car in the supermini class.
Hyundai doesn't believe safety should be limited to the more expensive models in the range either - Active Head Restraints and a total of six airbags are standard on all i20s. In a first for the supermini class, Hyundai is also making ESP standard across the range on all i20s built after February 2009. Hyundai's bold move for road safety will mean the Hyundai i20 offers unrivalled levels of active and passive safety in the class.
Its outright agility, responsiveness and electronic aids play a key role in keeping the Hyundai i20 driver out of harm's way, but should the worst occur, those on board are protected by the extensive use of high-tensile steel in the robust chassis. Front, side and curtain airbags protect from front and side collisions while active headrests lessen the effects of whiplash if hit from the rear.
This safety package is further enhanced by ISOFIX mounting points in the rear and seatbelt reminders for all five occupants. Hyundai is confident of a top points score in Euro NCAP adult occupant protection and child protection crash test results, even under the new stricter rules for 2009.
The Hyundai i20's five-seater interior may pamper, but it also scores top marks for everyday practicalities. The 40:60 split rear bench folds flat, while the roomy and sensibly-shaped 295-litre boot is not bettered by any key rival. Fold the seats flat and a massive 1060 litres is on offer.
The Hyundai i20 also features numerous interior storage spaces including a massive, cooled passenger glovebox and two cupholders. These elements are complemented by the reach-and-rake adjustable steering wheel, complete with integrated audio controls on most models, plus keyless central locking actuated by i20's folding keyfob.
Running costs
Anyone making a new car purchase in these challenging times will only do so after conducting extensive research and comparing any potential purchase against rivals. This is where the Hyundai i20 really scores.
The entry level 1.2-litre Classic starts at just £8,195 for the three-door with a five door costing an extra £450. Remember that despite this low price, all i20s are equipped with air-conditioning, six airbags, active head restraints, remote central locking, electric front windows and an Aux-in socket. In addition, there is the reassurance of Hyundai's Five Year Unlimited Mileage Warranty - a unique package in this class.
The mid-range Comfort model - expected to be the best seller and starting at £8,995 - adds 15-inch alloy wheels, body colour door mirrors and handles, plus electric rear windows. Comfort models also feature full iPod integration, steering wheel mounted audio controls, a trip computer and a six-speaker system.
Flagship of the Hyundai i20 range is the Style, which comes equipped with 16-inch alloys, climate control, part-leather upholstery, metal-look facia and front fog lights. Prices start at £10,845.
Residual values
The new Hyundai i20's great value prices, exceptional quality and industry-leading warranty don't just make it attractive to new car buyers. According to industry experts it will also make it popular as a used car choice in the future - and that means it hold its value.
Used car market and motor industry analysts CAP say the Hyundai i20 will retain a greater percentage of its original value after three years than a plethora of highly-regarded rivals. This includes those renowned for holding their value such as the Volkswagen Polo and Toyota Yaris, as well as big players like the Vauxhall Corsa, Peugeot 207 and even the new Ford Fiesta.
According to CAP figures, the i20 Classic will still be worth 47 per cent of its list price after three years and 30,000-miles - five percentage points more than the equivalent Ford Fiesta and 12 more than a Opel Corsa or a Renault Clio.
The five-year unlimited mileage warranty, introduced by Hyundai in 2003, is one of the key factors behind Hyundai's used car success. While most of its rivals will be out of warranty cover after three years, the Hyundai i20 owner will still have two years' peace-of-mind remaining. The Hyundai five-year warranty is also fully transferable to used car buyers too, making it a real attraction.
With low running costs made possible by affordable pricing, fuel-efficient engines capable of up to 64.2 mpg on the combined cycle and impressive levels of standard equipment, its high residual values are further proof that the new i20 is the perfect car for drivers who want to keep an eye on the pennies without cutting back on any of life's little luxuries.
Source: Hyundai
Gallery:
Hyundai i20 3-door (2009)