The British 4-wheel driven Sedan is equipped with the MANSORY front spoiler. Integrated are state of the art day time running lights or cornering lights bordered with sword design elements painted or fully chromed carried through to the fully chromed air intake grilles which add a striking effect.
All MANSORY spoiler equipment is manufactured in a way that no additional mounting or fitting points need to be drilled by using all existing mounting points for simple installation.
The MANSORY redesigned side skirts with fully chromed embellishment gives the Flying Spur a longer sleeker appearance.
The complete redesigned rear skirt incorporates MANSORY's oval chromium plated stainless steel exclusive over and under exhaust tips, which make an extreme statement of performance and speed coupled with a dominating sound.
The standard production performance level of 552 bhp, 560 PS, 412 kW can be improved using MANSORY's electronic engineering package, which increases the output to 621 bhp, 630 PS, 463 kW. This will give your Bentley Flying Spur performances figures of 0 - 62 mph or 100 km/h in 5.0 seconds going on to a top speed in excess of 199 mph or 320 km/h evolving in a gigantic peak torque of 750 Nm / 553 lb ft by only 1.600 rpm.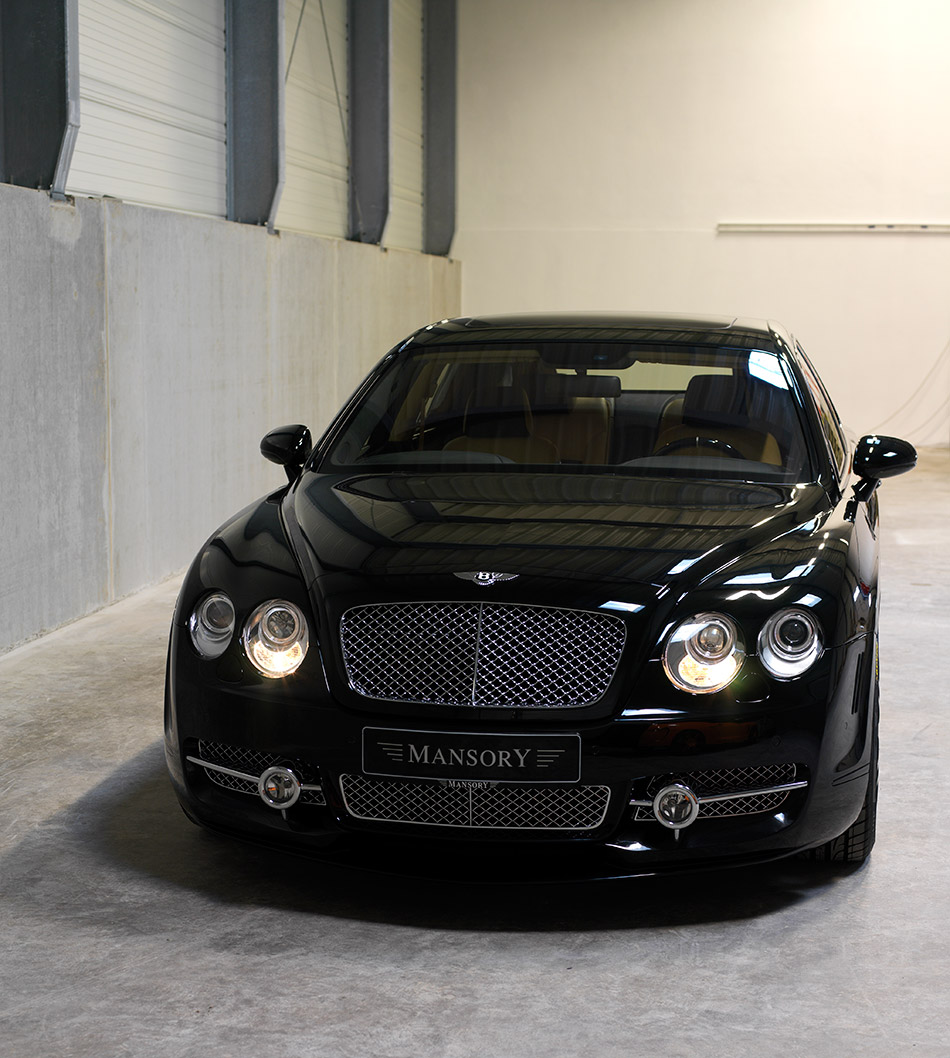 Find your individual look with the MANSORY wheel range: the classic ones, chromium plated, 7 spoke star design in size 9 x 20J up to the absolutely lightweight fully forged wheel size 10 x 22J which contribute to a sporty appearance, these are available colour coded to your specification or diamond high polished with 275/35/20 respectively 295/25/22 wide low high performance profile tyres. The auto body can get lower individually with a direct intervention to the electronic air suspension.
And when it comes to the interior of your new Bentley, MANSORY will leave nothing to imagination. You can choose from finest Nappa leather, Alcantara, to the sportiest steering and carbon fibre, illuminated MANSORY stainless steel sill plates and polished aluminium foot pedals, floor mats and foot rests with leather or wild leather border. Also available are a multimedia system for the rear area with 9.5" touch screens, wireless headphones and as special highlights fully electrical individual designed picnic tables, a fully electrical curtain system and an integrated refrigerator.
MANSORY as a company is dedicated to perfection in high end refining and individualisation to match the lifestyle of the owners of British noble automobiles. The founding owner Mr. Kourosh Mansory has over 20 years dedicated experience in the high end customisation branch. During his stay of many years in the UK he found his affinity to noble British automobiles like Aston Martin, Bentley and Rolls Royce. The headquarters are situated in Brand, in the Fichtelgebirge near Bayreuth, Germany.
Source: MANSORY
Gallery:
MANSORY Bentley Flying Spur (2008)