Hyundai has unveiled the latest version of the D-segment i40 at the 2011 Barcelona Motor Show. The debut of the Hyundai i40 sedan follows the global reveal of the i40 wagon at the Geneva Motor Show in March 2011.
The Hyundai i40 sedan boasts a purely European identity having been designed and engineered at the European R&D headquarters of Hyundai in Rüsselsheim, Germany. The car is the latest model to be unveiled under the company's new brand slogan - 'New Thinking. New Possibilities.'
The 4.74-metre long Hyundai i40 sedan will go on sale in the fourth quarter of 2011, supported by Hyundai's industry-best, fully transparent Five Year Triple Care customer assurance. This package has been attracting European consumers to the brand through its combination of a five-year unlimited warranty, five years of roadside assistance and five years of vehicle health checks.
Allan Rushforth, Senior Vice President and COO of Hyundai Motor Europe, commented, "The reveal of the sedan represents the next step of the i40's introduction to the European market, following the very positive reception for the i40 wagon. The Hyundai i40 sedan shares the same qualities found in the wagon, including outstanding levels of fuel-efficiency, comfort, and quality, and broadens the appeal of the i40 to buyers in the D-segment.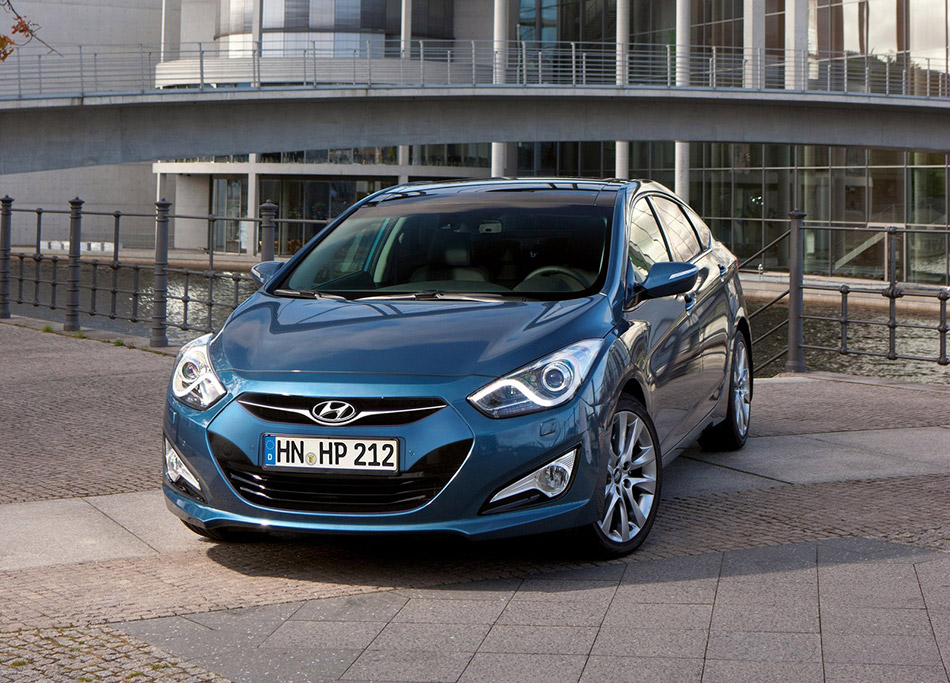 "We have ambitious but achievable targets for the i40 range, expecting to sell 60,000 units in a full year and building on the momentum Hyundai has gained in Europe in recent years. The launch of i40 will help us reach 3% market share by the end of 2011," Allan Rushforth concluded.
Design Inspiration
The Hyundai i40 sedan represents the next evolution of Hyundai's unique design language, 'fluidic sculpture'.
The 'fluidic sculpture' design DNA is recognizable by flowing lines inspired by nature which combine to create a dynamic exterior, and was introduced on the Hyundai ix-onic concept car at the 2009 Geneva Motor Show. Since this debut, 'fluidic sculpture' has been the design inspiration behind all new Hyundai models, such as the award-winning ix35, ix20 and Veloster.
The design concept key words for the Hyundai i40 sedan are 'modern flow' and 'premium wing,' all evolving from the fluidic sculpture philosophy. Hyundai designers wanted to emphasize on creating fluidic volume with a modern touch as well as a sophisticated wing-like detail.
"We have used very strong, fluid lines from front to rear to give i40 a distinctive appearance," commented Thomas Bürkle, Chief Designer at Hyundai Motor Europe Technical Centre. "We wanted to move away from the typical three-box sedan and create a car that was in keeping with the sporty nature of the i40 wagon. By sculpting a low, elongated roof line, we've given the Hyundai i40 sedan a striking coupe-like silhouette," Thomas Bürkle added.
The Hyundai i40 sedan not only benefits from attractive styling, but also retains high levels of interior comfort, with a wheelbase measuring 2.77 meters and delivering best-in-class dimensions for front head (1,025mm), shoulder (1,455mm), and leg (1,170mm) room. This impressive roominess promises to give all occupants spending long periods of the time in i40 the most comfortable D-segment ride available.
"While the exterior of Hyundai i40 sedan stands out for its fluidic form and distinctive appearance, the interior has been shaped to deliver practicality and comfort to the driver and passengers in a high-quality package," Thomas Bürkle concluded.
Powertrains
The all-new i40 will be available with a choice of four Euro V-compliant engines: two petrol and two diesel. These units cover a power spread of 115 ps to 177 ps, with torque delivery extended across a wide engine-speed range, making the i40 an enjoyable car to drive around town or on the motorway. Manual and automatic transmissions will also be offered.
In a segment where diesel models represent over 75% of total sales in Europe, Hyundai is anticipating that the 1.7-litre diesel unit developing 136 ps will be the most popular engine among both private and fleet buyers. Overall, Hyundai is expecting a 65/35% spread between diesel and gasoline-powered i40 sales.
Hyundai's all new four-cylinder 2-litre GDI engine, called 'Nu', makes its debut in the i40. It delivers higher torque for enhanced driving pleasure, improved fuel economy and reduced emissions and excellent NVH characteristics - similar to the multi-point fuel injected engine.
Equipped with GDI (gasoline direct injection) this 1,999 cc unit generates 177 ps and 213 Nm of torque, ensuring that the i40 brings a good balance between performance and fuel economy. An Hyundai i40 sedan with this engine and a six-speed manual gearbox will accelerate to 100 kph in just 9.7 seconds, record fuel economy figures of 6.8 l/100 km (combined cycle) and achieve a CO2 rating of just 159 g/km.
Eco credentials
In terms of environmental performance, the all-new i40 will feature the latest technologies developed under Hyundai's Blue Drive™ eco-program, including Integrated Stop & Go (ISG), low rolling-resistance tyres and an alternator management system (AMS).
When combined with the 1.7-litre diesel engine developing 115 ps, the inclusion of Blue Drive technology results in the i40 achieving CO2 emissions and fuel economy figures of 113 g/km and 4.3 l/100km, respectively, making the i40 the most environmentally-friendly model in its segment.
Hyundai has continuously highlighted its commitment to lead the way along the road to long-term environmental sustainability for the auto industry, and i40 furthers the company's commitment to delivering models with class-leading eco-performance.
Reduced NVH (Noise Vibration Harshness)
A new acoustic package was developed for Hyundai's diesel powered i40. NVH performance, especially the exterior drive-by noise, is dramatically improved by using experimental methods such as Reciprocal Holography (to visualize noise reduction levels at certain frequency) and ADNA (Advanced Diagnostic Network Algorithm) to rank noise sources in the order of their identified transfer paths.
The NVH package aims to provide a quieter and more comfortable driving environment for diesel vehicles. The new acoustic package in i40 utilizes materials such as air permeable carpet, sound absorbing layers for engine-room encapsulation, and textile wheel-arch liners to absorb noise sources from engine, road, and muffler, providing a 20% improvement in interior noise levels and a reduction in outside engine noise when idling (compared to an i40 without these features).
High-tech features
By offering an extensive standard specification with numerous high-tech features, the high level of equipment in the i40 promises to be one of its key attractions to potential buyers.
High-tech features include smart-parking assist and lane-keeping assist systems, as well as connectivity items like Bluetooth® with voice recognition and full map navigation with rear view camera. In terms of comfort and convenience, the i40 will be available with an electric parking brake, front air ventilation seats, heated and reclining rear seats, as well as new features for the segment like auto-defog system, and a heated steering wheel.
Advanced lighting innovations, such as standard day-time running lights with Xenon headlamps (optional) or a TFT(Thin Film Transistor) LCD supervision instrument cluster, will further strengthen the i40's position as the lead model in Hyundai's line-up and the European D-segment.
Safety
The Hyundai i40 uses the latest active and passive safety technologies to ensure maximum protection for its occupants. Active safety features, fitted as standard in several countries, include ESP (Electronic Stability Program), ABS (anti-lock braking system), Hill Start Assist Control (to prevent roll-back when starting on an incline), VSM (Vehicle Stability Management), Brake Assist System and Emergency Stop Signal.
In terms of passive safety, every i40 on the road in Europe will be fitted with up to nine airbags - front, side and curtain, with driver knee airbag available as standard on all models. Hyundai anticipates the i40 to continue the company's excellent safety record and attain the maximum 5-star result under Euro NCAP's impact assessment.
Source: Hyundai
Gallery:
Hyundai i40 (2012)