The new Hyundai i20 represents another step in Hyundai's product development and features a number of changes both inside and out along with the option of a new ultra-efficient and clean 1.1-litre diesel engine.
Its exterior design has received a number of contemporary enhancements to bring it visually more in line with the rest of the i-range. Inside, the New i20 majors on quality with improved plastic materials, a revised and classier centre consol along with updated seat trims.
Among the four powertrain options available to buyers of the new Hyundai i20 will be the new 1.1-litre, three-cylinder 'U-II' diesel engine that develops 75ps. When combined with Hyundai's Blue Drive technologies, this derivative emits just 84g/km of CO2, making it the lowest emitting diesel combustion powertrain on sale today. The engine was developed at Hyundai's Diesel Centre of Excellence - part of the European R&D set-up in Rüsselsheim, Germany - and showcases Hyundai expertise in clean diesel technology.
This ground-breaking new engine will be offered alongside another sub-100g/km diesel powerplant in the form of the 90ps four-cylinder 1.4-litre 'U-ll' engine that emits 96g/km with the aid of Hyundai's Blue Drive technologies. Completing the line-up are two petrol engines: an 85ps 1.2-litre and a 100ps 1.4-litre.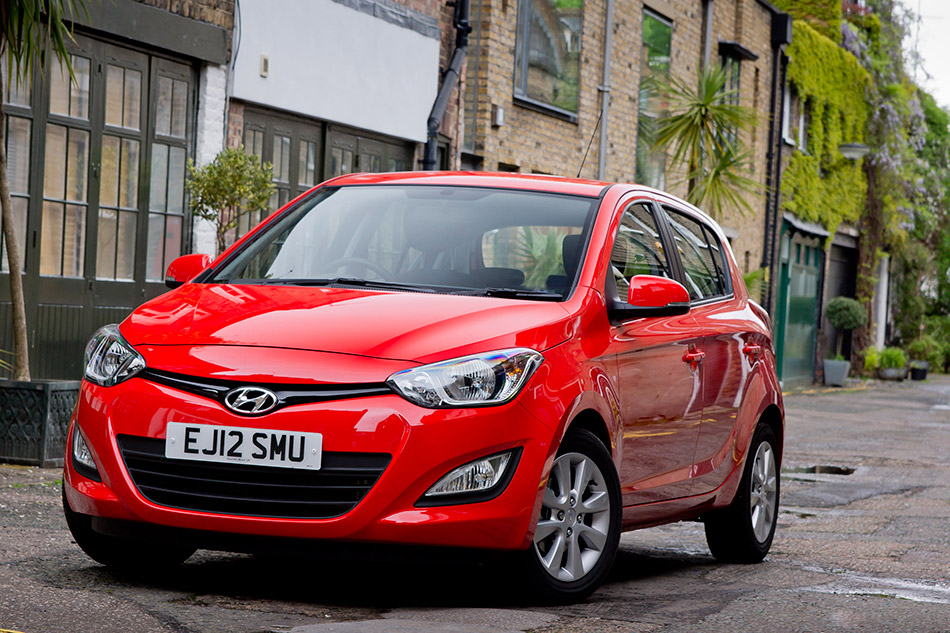 The Hyundai i20 is available in three main trim levels beginning with Classic, moving up to Active and followed by Style. Starting with Classic, each model comes with a generous list of standard specification including remote central locking, six air bags, air conditioning, ESP and, for the first time on i20, Vehicle Stability Management.
Hyundai has added in even more value to the i20 package with the Active trim, which adds 15-inch alloy wheels, Bluetooth with voice recognition, electric/heated door mirrors, front fog lights, leather steering wheel and gear knob and electric rear windows (five door bodystyle) when compared with Classic.
The range-topping Style model is equipped with 15-inch alloy wheels, automatic headlights, rain-sensing front wipers, climate control along with an automatic dimming rear view mirror with an integrated reversing camera - the first standard application of this technology in the segment.
These standard features are traditionally only found on bigger and more luxurious cars as optional extras, but with the Hyundai i20 they are all part of the overall package.
Buyers wanting even higher levels of technology and features can order the Convenience Pack, which encompasses keyless entry, engine Start/Stop button, chrome exterior door handles and supervision cluster.
Tony Whitehorn, President and CEO Hyundai Motor UK, says: "The New i20 is yet another model to join Hyundai's new-look model range and will appeal to existing customers but will also prove an attractive choice for young buyers who may not have considered Hyundai in the past. It has been given a thorough revision both inside out. With high levels of specification will appeal to customers who want value for money without compromising on quality.
"In addition, the i20 range will feature the cleanest internal combustion diesel engine emitting just 84g/km. This showcases Hyundai's considerable efforts in optimising existing technologies to reduce fuel consumption and emissions from its range of cars. As with all new Hyundai cars, the i20 is backed by our 5 Year Triple Care warranty for complete peace of mind."
Prices for Hyundai i20 start at £9,995 on-the-road for the three-door 1.2 petrol Classic model, while at the other end of the spectrum the range-topping 90ps 1.4 CRDi Style model costs £14,295.
Evolution into fluidic design
Re-designed at Hyundai's European headquarters in Germany, the New i20 has been styled using Hyundai's signature design language, 'fluidic sculpture'.
The front-end has been updated to feature a design element common to all new Hyundai models - the hexagonal-shaped grille. New headlights have been added to give the Hyundai i20 a contemporary look while the bonnet, front wing, front bumper - which incorporates fog lights - and wheel designs have been updated too, adding to the new car's fresh new look.
At the rear, Hyundai's designers have modernised the car with a makeover that includes an updated bumper design featuring integrating rear parking sensors. The rear lamps have also been restyled to complete the car's flowing and attractive design.
For the UK market, Hyundai i20 will continue to be manufactured at Hyundai's plant near Chennai, India, and made available with a range of 6 exterior colours - two solid and eight metallic or pearl. Customer choices include Coral White, Sleek Silver, Coral White, Electric Red, Black Diamond and Ember Grey.
The redesigned bumpers at the front and rear of Hyundai i20 have added 55mm to the car's overall length (30mm at the front and 25mm at the rear), taking the total measurement to 3,995mm. The overall width, height and wheelbase remain the same as the outgoing model, maintaining its dynamic proportions.
Enhanced materials and generous space
Inside, Hyundai i20 has been updated to provide drivers and passengers with an enhanced level of interior comfort and roominess. The centre fascia has been reworked to incorporate more sophisticated switchgear along with new piano black, high-gloss inserts on the dashboard for a classier appearance.
The Hyundai i20's interior benefits not only from material upgrades, it also provides outstanding levels of roominess front and rear for a B-segment car. Headroom in the front is a generous 1,005mm and 970mm in the rear. There is also 1,350mm of shoulder room in the front and 1,340mm in the rear, while legroom is equally generous, providing 1,074mm in the front and 845mm in the rear. The load area of the i20 has a 295-litre capacity with the seats upright, which can be extended to 1,060 litres with the rear seats folded down.
Other new features available on the Hyundai i20 (dependant on trim level) include, engine start/stop button, one-touch indicators, automatic lights, rain-sensing wipers and an automatically dimming rear-view mirror with integrated reverse camera display - making the new Hyundai i20 one of the best equipped car's in its segment.
An upgraded range of refined and efficient engines
All of the powertrains available for Hyundai i20 have been developed with European and UK customers expectations in mind. Hyundai engineers have worked on optimising all options in the i20 engine line-up with emphasis placed on greater efficiency and fuel economy while still maintaining spritely performance and drivability.
In the pursuit of improved efficiency and reduced CO2 emissions, Hyundai has rationalised the engine range offered with Hyundai i20 to four highly developed units - two diesel and two petrol with power outputs ranging from 75ps to 100ps.
With market leading environmental credentials in mind, Hyundai has developed a super-efficient three cylinder 1.1-litre diesel that produces 75ps and 133lb ft (180Nm) of torque. When combined with Hyundai's Intelligent Stop & Go (ISG) system, this powerplant is the lowest-emitting conventional unit currently available on the market, with CO2 emissions of just 84g/km (standard model produces 99g/km).
The rest of the engine range is similarly clean and efficient. The 85ps 1.2-litre petrol unit emits 114g/km, which represents a 4.2% decrease in emissions and an 8.9% increase in power over the existing engine, while the 1.4-litre CRDi 90ps diesel emits just 96g/km (down from 98g/km).
The most powerful engine in the range is the 100ps 1.4-litre petrol, which gives the new Hyundai i20 lively performance (0-to-62mph in 11.6 seconds), yet maintains high fuel economy with six-speed manual version capable of 54.3mpg on the combined cycle.
Gearboxes developed to optimise engine specifications
In order to extract the best balance of performance, emissions and fuel economy from each engine, Hyundai is offering buyers transmissions that best-suit their chosen powertrain. Depending on the engine selected, the Hyundai i20 will come with a five- or six-speed manual transmission, or the option of a four-speed automatic.
The manual transmissions available on the Hyundai i20 have been refined to provide a more precise gear shift for maximum ease and feel. Gear ratios have been engineered to ensure that the engines they are coupled to operate at their most efficient speed for the longest period of time.
The 1.2-litre petrol unit is complemented by a five-speed manual gearbox and provides smooth shifts while also contributing to a reduction in CO2 emissions to 114g/km. The 1.4-litre version meanwhile can be specified with either a six-speed manual or a four-speed automatic transmission and can return up to 54.3mpg or 47.1mpg respectively on the combined cycle.
Improved set of standard safety features
Driver safety is of the utmost importance and the Hyundai i20 features a range of active and passive safety equipment to ensure occupants are protected. The New i20 comes standard with Electronic Stability Programme (ESP) including, for the first time across the range, Vehicle Stability Management (VSM).
Its agility and responsiveness, as well as non-intrusive electronic aids will play a key role in helping to keep occupants safe. However, in the event of a collision, protection is offered by the extensive use of high-tensile steel in the robust bodyshell structure, while front, side and curtain airbags optimise occupant protection. All Hyundai i20 models will have a total of six airbags as standard making it one of the safest cars in its segment.
This safety package is further enhanced by ISOFIX mounting points in the rear and seatbelt reminders for all five occupants. As a result of these measures, the new Hyundai i20 continues to offer excellent levels of active and passive safety and Hyundai fully expects the New i20 to maintain the 5-star Euro NCAP rating achieved by the outgoing model.
Source: Hyundai
Gallery:
Hyundai i20 (2013)