Departing from traditional sedan design, the J30's fluid shape continuously attracts attention. Elegant and refined, the sculptured lines of the J30 are a departure from traditional low-front/high-rear styling. Designed at the award-winning Nissan Design International (NDI) in La Jolla, Calif., the exterior design causes heads to turn.
."We approached the J30 design as a totally new luxury concept," said Jerry Hirshberg, president, NDI. "Instead of designing a smaller version of the Q45, we wanted the J30 to be a distinctive member of the Infiniti line. Not only does the J30 stand out as an Infiniti, but it is also a striking vehicle on its own."
The J30 is offered with a choice of seven exterior colors: Ivory Quartz, Pewter, Black Obsidian, Cabernet Pearl, Bordeaux Pearl, Cypress Pearl and Silver Crystal.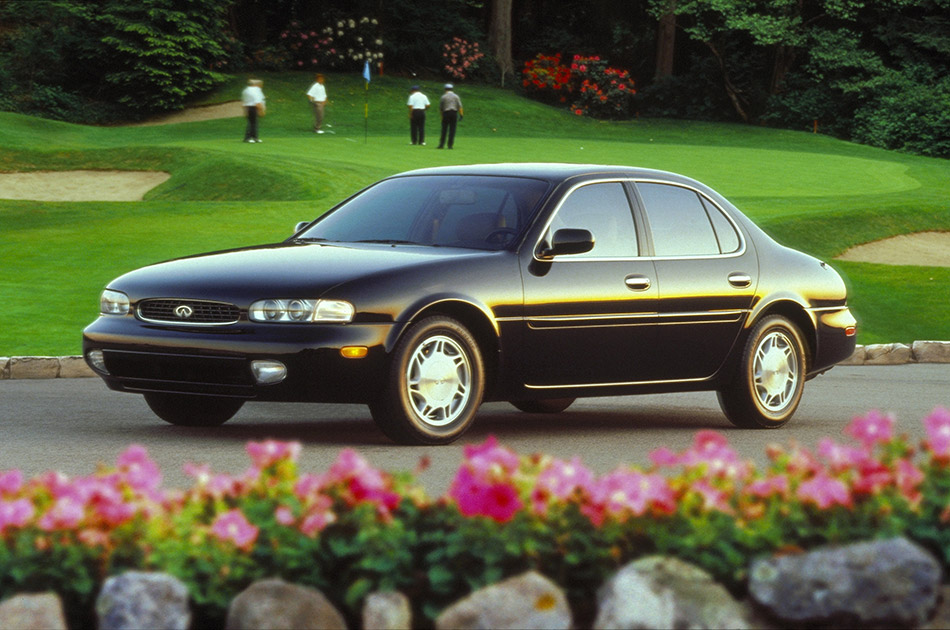 Chassis Strength and Safety
With its combination of unibody construction and steel panels, the J30 provides superior protection and safety without a significant increase in weight sacrificing performance. DURASTEEL® body panels (steel with 50 percent more corrosion resistant plating thickness) provide J30 with significantly higher corrosion protection than conventional galvanized steel panels.
Sound and vibration are also reduced, with minimal weight, by injecting a high-density foam into the chassis. The foam further reduces platform flex while increasing rigidity and acting to reduce ambient sound that can resonate in platform components.
Active safety measure were implemented to provide the driver with the power and responsiveness needed to avoid accidents. The power provided by the J30's 210 horsepower DOHC 3.0 liter V6 engine gives the perfect complement to its nimble handling and control.
Large, fade-resistant, power-assisted four-wheel disc brakes with an anti-lock braking system (ABS) help provide the driver with quick, skid-resistant stops, even on wet pavement. Large all-season steel-belted radial tires and a viscous limited slip differential (VLSD) reduce rear tire spin and allow for greater control on wet or slippery road conditions.
In the case of a collision, J30 is equipped with front and rear body structure crumple zones which apply kinetic energy to specific areas within the frame designed to absorb the impact of a collision. Steel side-door guard beams within each door help to reduce intrusion into the passenger compartment in the event of a collision and meet 1997 Federal Side-Impact Safety Standards.
Additional occupant protection is provided by standard driver and front passenger air bags and pre-tensioner seatbelts, which automatically tighten both seatbelts immediately upon sensors detecting a major front collision.
Comfort and Convenience
The design of the J30's interior continues the bold statement made by the exterior. Sumptuous leather seating surfaces for five in a spacious and comfortable interior provide the immediate impression. Adding to the comfort of the occupants are 8-way power (heated) driver- and front-passenger seats, cruise control switches located conveniently within the steering wheel rim and full carpeting and floor mats. The driver's seat also contains power-adjustable lumbar (lower-back) support.
Standard for the J30 is a vehicle security system with keyless remote for added safety and security, while a 3-way remote transmitter helps protect the driver. The keychain-sized transmitter allows the driver to lock and unlock the doors, unlatch the trunk and even sound a panic alarm remotely -- whether inside or out of the car.
The interior temperature is important for both comfort and safety, and the J30's CFC-free air conditioning provides the best environment possible. With the use of the automatic temperature control, drivers can control the interior temperature to the degree.
The standard 200-watt Bose® audio system, designed specifically for the J30's acoustics, includes six speakers, four amplifiers, an AM/FM stereo tuner with Dolby® Noise Reduction, a full-logic cassette deck and an in-dash CD player. Also standard are: HomeLink® Transmitter; power slide and tilt sunroof, windows, door locks, trunk and fuel filler door releases.
With such a high level of standard equipment, the J30 is available with only a few major options: the Touring Model package and a trunk-mounted multi-disc CD autochanger.
The J30 is available with three choices of leather-appointed interior colors: Beige, Grey and Black.
Engine and Drivetrain
An advanced 3.0-liter DOHC 24-valve V6 engine is the primary element of the drivetrain for the rear wheel drive J30. Generating 210 horsepower, the engine provides ample power to the standard electronically controlled 4-speed automatic (overdrive) transmission (with lockup torque converter). Special care was paid to the transmission, fitting it with an interactive engine/transmission control, which momentarily retards the ignition timing to assure silky smooth, shock-free shifts.
Not only does the J30 provide exceptional power, but also superior handling. The J30's advanced 4-wheel suspension utilizes a precision front strut-type design and Infiniti's own unique three-link rear suspension provides both excellent handling and ride comfort. Stabilizer bars on both the front and rear reduce body movement when cornering, and subframes for the suspension help reduce noise and vibration.
The J30 engine includes the On-Board Diagnostic System II (OBD-II) -- designed to meet rigid federal standards. This system enables the J30 to constantly analyze its electronics and emissions systems, diagnosing potential problems as they occur.
J30t - For the Enthusiast
Infiniti's sportier version of the J30 -- the Touring Model -- adds both mechanical and design elements as accent. Known as the J30t, a stylish rear decklid spoiler and unique forged alloy wheels are added to separate the Touring model from the standard J30. Mechanical highlights of the J30t include recalibrated springs and stabilizer bars. Performance steel-belted radial tires are optional at no additional cost to the consumer.
Warranties and Roadside Assistance
Like all Infiniti models, the 1997.5 J30 is protected by some of the best warranties in the industry: a 4-year/60,000-mile Basic New Vehicle Limited Warranty; a 6-year/70,000-mile Limited Powertrain Warranty (protection for major engine and driveline components); a 5-year/50,000-mile New Vehicle Emission Control Warranty; and a 7-year/unlimited-mileage Limited Corrosion Warranty.
As part of The Total Ownership Experience®, Infiniti also provides buyers with a 48-month, 24-hour Roadside Assistance program -- one of the most comprehensive available. A free Infiniti loan car is provided at participating dealers during the basic warranty period when requested with scheduled service appointments (subject to availability). Infiniti's satellite parts network also minimizes delays in service.
Source: Infiniti