The North American Car of the Year-winning Genesis returns this year with the available convenience of Smart Cruise Control, touch-screen navigation and an electronic parking brake with automatic vehicle hold. In addition, a 90-day subscription to XM radio and XM NavTraffic is also now part of the Technology Package. Due to consumer demand, touch-screen navigation has been added to the base Genesis 4.6 and is now standard on Genesis 3.8-liter models equipped with the Premium Navigation Package. The new 7-inch touch-screen navigation system complements the highly acclaimed 8-inch screen Ultimate navigation system that is still a key part of the Technology Package. Ultra-premium leather seating surfaces are also now standard on Genesis 3.8 models equipped with Premium, Premium Navigation and Technology Packages.
Smart Cruise Control automatically manages the Genesis' speed through the braking and throttle systems to maintain a following distance set by the driver. The electronic parking brake with automatic vehicle hold allows the parking brake to initiate automatically when the vehicle stops and deactivate as soon as the gas pedal is pressed. The automatic vehicle hold feature eliminates the need to keep the brake pedal depressed in situations such as stop-and-go traffic. Automatic vehicle hold also prevents the Genesis from rolling backwards when parked or stopped at a traffic light on a hill. The automatic parking brake also eliminates the need for a hand or foot lever.
The entry-priced Genesis models have been upgraded with an optional, next-generation in-dash navigation unit. This system, which also features a Bluetooth hands-free phone system, can be easily controlled by a 7-inch touch-screen. The system also works through voice activation via a headliner-mounted microphone.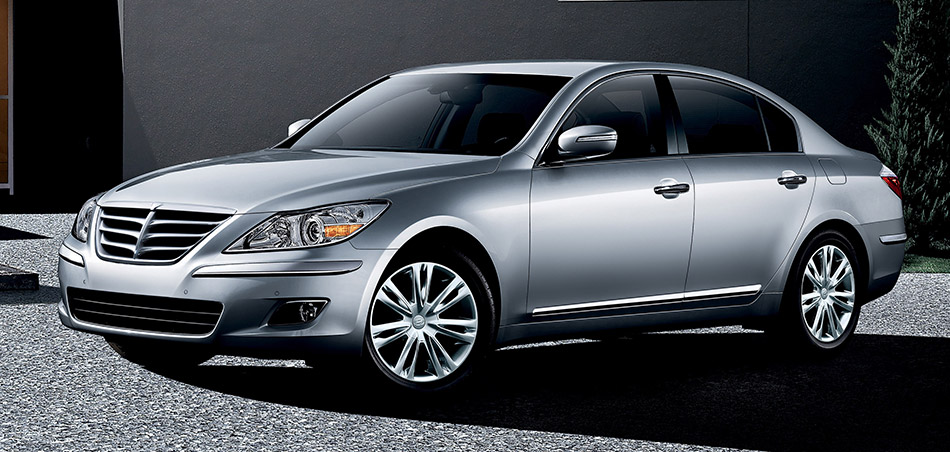 The system comes matched with the Lexicon 14-speaker surround sound audio which plays compact discs and accesses digital music files through Bluetooth streaming audio. It also allows driver and passengers to access their personal listening devices through the iPod/USB and auxiliary input jacks. Bluetooth audio wirelessly streams music from their phone to the Navigation system. Also, with a Bluetooth enabled phone, one can look up a local restaurant and call for reservations before plotting the route. The XM Satellite Radio interface is also integrated into the navigation unit and features channel logos and real-time NavTraffic. The system is also updateable via the USB port. The touch-screen navigation-equipped Genesis will begin arriving in dealerships in the fall of 2009.
Genesis
Genesis is built on Hyundai's performance-driven rear-wheel-drive architecture. It offers two powertrains, the Lambda 3.8-liter V6 engine and Hyundai's Tau 4.6-liter V8 engine. The Tau produces 375 horsepower using premium fuel and 368 horsepower using regular unleaded, leading all competitors in specific output with 79.5 to 81.0 horsepower per liter, respectively. With technology rivaling more expensive luxury sedans, Genesis showcases features such as XM NavTraffic, Adaptive Front Lighting System (AFLS), Lexicon® audio systems and electronic active head restraints. (For a full list of leading features, see page 9).
"Our engineering benchmarks were Mercedes E-Class, BMW 5-Series, Infiniti M and Lexus GS," according to John Krafcik, president and CEO, Hyundai Motor America. "Genesis provides a potent combination of performance, luxury and value. It has been an extremely disruptive force in the large sedan and near-luxury segments."
Performance-driven rear-wheel-drive architecture
The Genesis' rear-wheel-drive architecture was the first application of such in a U.S. Hyundai model. The vehicle boasts a near ideal 52/48 front-to-rear weight distribution for exceptional handling and more refined steering characteristics. The rear-wheel-drive layout also allows engineers to position the car's front wheels farther forward, delivering outstanding handling and steering performance. Standard Electronic Stability Control (ESC), the industry's most important new safety technology, further enhances the vehicle's driving confidence.
Genesis reduces interior noise levels and improves ride and handling with a stiffer, lighter body structure. The use of high tensile steel in critical areas in the unibody provides Genesis with 12-14 percent higher dynamic torsional rigidity and a lower body structure weight than the BMW 5-Series and Mercedes-Benz E-Class, respectively – despite having a substantially larger cabin than either of those benchmarks. Hyundai Genesis has more interior volume than Lexus LS 460 and BMW 750i.
World-class tau v8
Headlining the Genesis' performance capabilities is Hyundai's Tau 4.6-liter V8 engine mated to a ZF 6-speed automatic transmission with SHIFTRONIC® manual control. The Tau V8 delivers 375 horsepower to fit the demands of performance-oriented consumers. This powertrain combination launches Genesis to 60 miles per hour in 5.7 seconds. The Tau produces more horsepower and torque than the powerplants found in Lexus GS460, BMW 750i, Audi A8 and Infiniti M45 and has more horsepower per liter than any of its V8 competitors. The Tau engine is built with flexibility for the future. Future Tau variants may offer larger displacement, forced induction options and other technology enhancements.
Strong lambda v6 performance
Genesis also delivers spirited performance through a 3.8-liter DOHC V6 engine that delivers 290 horsepower and 264 lbs.-ft. of torque. To maximize the power spread, the engine uses Continuously Variable Valve Timing (CVVT) on intake and exhaust cam shafts and a new Variable Intake System (VIS) that helps cylinders breathe efficiently at low and high RPM. The better-breathing results in outstanding off-the-line acceleration and passing performance and remarkable fuel efficiency. The V6 engine uses an alloy block and cylinder heads for lighter weight and thermal efficiency, and features timing chains with no scheduled maintenance.
Even with their impressive output, both Genesis engines are also environmentally friendly, achieving Ultra Low Emission Vehicle (ULEV) certification levels.
Advanced 6-speed transmissions
The Genesis V6 engine is mated to an Aisin 6-speed SHIFTRONIC automatic transmission that features an overdrive lock-up torque converter for improved highway fuel economy. The transmission offers smooth shifts and a wide spread of ratios that ideally suit the engine's characteristics, including a tall-overdrive sixth gear for quiet, efficient highway cruising. Drivers can access the SHIFTRONIC® feature by moving the gear selector into a separate gate. Pushing the selector forward or pulling it rearward will shift the transmission up or down sequentially, adding to driver control. A clear LCD readout on the instrument panel shows the gear that's in use.
The Tau V8 Genesis is mated with an enhanced, ZF 6-speed transmission to handle the added horsepower and torque.
Genesis features a suspension design that is among the most sophisticated and refined anywhere, at any price. The front five-link suspension features upper and lower arms linking the front wheels to the chassis. This artfully articulated arrangement creates a virtual king pin axis that dramatically reduces unwanted kickback through the steering wheel as well as improving responsiveness. The five-link independent rear suspension is equally sophisticated, enabling precise suspension geometry for a premium ride and engaging handling prowess. The capabilities of the advanced front and rear-suspension are maximized through Amplitude Selective Dampers (ASD) allowing tuning flexibility at smaller damper displacements. The ASD suspension provides:
Improved ride comfort with more body / wheel control
Increased driving comfort without compromised handling
Optimized road surface contact
Technology used in Lexus, BMW and Mercedes-Benz models
Progressive design mirrors athletic capability
Genesis' design is a progressive interpretation of the modern rear-wheel drive sports sedan. To match its dynamic capabilities, Genesis combines strong, sculpted forms which integrate precise details, natural materials and innovative lighting to provide a well-crafted, premium design aesthetic.
High-tech accommodations at accessible price points
From its design and spaciousness to its technology and appointments, Genesis delivers a wealth of features and performance befitting flagship European and Asian brands, but delivers them at a much more accessible price point. Starting with its Lexicon state-of-the-art audio system featuring 7.1 discrete surround sound technology, Genesis offers an extraordinary combination of technology, premium appointments and value. Standard is a soft-touch instrument panel with woodgrain accents, Bluetooth® hands-free phone interface, and iPod®/USB and auxiliary input jacks. In addition to the aforementioned in-dash unit, a top-of-the-line navigation system with an eight-inch display is available as part of the Technology Package. The navigation unit is accessed by a user-friendly multi-media controller that also controls the radio. Backing out of tight spaces and avoiding mishaps is much easier with the available backup camera that uses the eight-inch display to show the driver a clear view immediately behind the car.
A leather-wrapped dash, door panels and console lid surround the driver in a luxurious environment, while the heated and cooled driver seat provides optimal driving comfort. An automatic windshield defogger with humidity sensor and rain-sensing wipers allow crystal clear sight lines. Genesis also offers the conveniences of power rear sunshade, proximity key and push-button start. Ultra-premium leather seating surfaces are now standard on Genesis 3.8 equipped with Premium, Premium Navigation and Technology Packages.
Lexicon® audio systems team with XM, HD radio™ to offer unrivaled audio performance and choice
Rolls Royce Phantom and Hyundai Genesis are the only automobiles to offer a Lexicon-branded state-of-the-art audio system featuring LOGIC 7® technology. The Lexicon® surround sound audio system includes a 12-channel digital amplifier and 17 speakers producing 528 watts of sound in 7.1 discrete audio. Genesis is also the first popular brand to offer the clarity of digital HD Radio technology from the factory. Navigation-equipped Genesis models also include a 40-gigabyte hard drive and XM NavTraffic. Like every 2010 Hyundai, Genesis comes standard with XM Satellite Radio, and iPod/USB and auxiliary input jacks allow drivers to fully control and charge iPods directly from the head unit.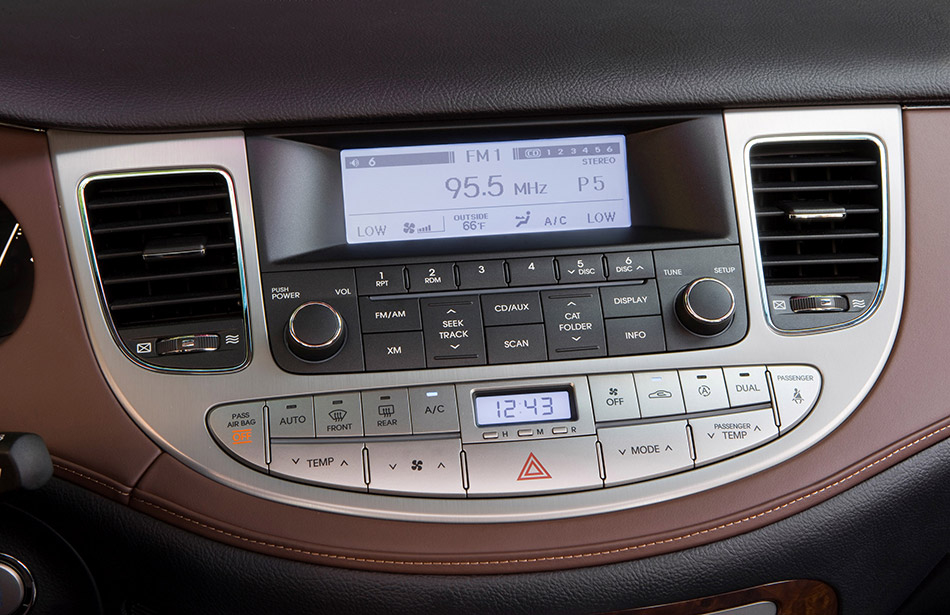 Advanced lighting technology
The 2010 Genesis offers Xenon high-intensity discharge (HID) headlights. The advantages of HID headlamps include greater lighting power, daylight-type lighting and reduced power consumption. In addition, the cut lines of the new HID headlights are extremely precise, providing maximum nighttime visibility without distracting other drivers. The lamps also feature an auto-leveling function which keeps the headlights level regardless of how the vehicle is loaded with passengers or cargo. Genesis also offers an Automatic Front Lighting System that allows the headlamps to automatically swivel for better visibility when cornering.
New technologies deliver improved safety performance
Maintaining Hyundai's emphasis on delivering leading safety technology, Genesis boasts world-class active and passive safety features to help both prevent accidents and maximize the well being of its occupants in the event of a collision. The Genesis continues the Hyundai tradition of standardizing key life-saving safety technology such as Electronic Stability Control (ESC), eight airbags and electronic active head restraints.
Genesis' total of eight airbags include advanced dual front airbags, front and rear seat-mounted side-impact airbags and roof-mounted side curtain airbags for both front and rear outboard seat occupants.
An electronic active head restraint system is standard on the Hyundai Genesis. Hyundai is still the only popular brand to offer electronic active front head restraints, an improvement over mechanically based active head restraint systems. Electronic active head restraints still can only be found on select Mercedes-Benz, BMW and Lexus models. Active front head restraints have been proven by the Insurance Institute for Highway Safety to help prevent whiplash. In addition, the National Highway Traffic Safety Administration (NHTSA) awarded five-star crash test ratings, the highest government rankings under the agency's New Car Assessment Program, to the Hyundai Genesis for both frontal and side-impact crash tests.
Genesis has a total of eight ultrasonic sensors located on the front and rear bumpers. The sensors, along with the rear backup camera, help detect how close objects are when parking. Distance is indicated on the in-dash screen and accompanied by an audible warning tone.
Genesis is brought to a halt by large, four-wheel, anti-lock disc brakes with Brake Assist and Electronic Brake Distribution (EBD). The 12.6-inch front rotors have single-piston floating calipers and the rear brakes feature 12.4-inch rotors with single pistons on V6 models. Twin pistons and larger rotors are featured on V8 models.
Source: Hyundai
Gallery:
Hyundai Genesis (2010)