Recently named 2003 Motor Trend Car of the Year, the G35 Sport Sedan expresses Infiniti's bold direction of combining leading-edge design and technology, driver-oriented performance and a high level of luxury. Running changes for the 2003 G35 include the addition of xenon headlights to the Leather Luxury model, the addition of the sunroof to the Premium Package, available satellite radio, with a choice of XM or Sirius service, and an available new close-ratio 6-speed manual transmission.
The rear-wheel drive G35 is powered by an advanced, 260-horsepower V6 engine mated to a choice of 5-speed automatic transmission with manual shift mode or 6-speed manual transmission. The G35's performance is enhanced by a new 4-wheel independent suspension with lightweight aluminum components and highly aerodynamic styling – including a coefficient of drag of just 0.27 and zero degrees of front lift. The G35 is positioned to compete against current popular sport sedans such as the BMW 3-series, Lexus IS300 and Audi A4 3.0.
"The 2003 G35 has become a major contender against some of the top sport sedans in the world," said Mark McNabb, vice president and general manager, Infiniti Division. "Its combination of power, handling and advanced technology, along with its highly competitive pricing, gives G35 a tremendous advantage against some of the traditional favorites in class."
The boldly styled G35 maintains the platform specifically designed for mounting a V6 engine behind the front axle in the so-called "front mid-ship" position. The positioning of the engine is a key to the G35's high level of driving performance, providing an optimized 52:48 percent front-to-rear-weight balance and also allowing the designers to push the wheels out to the car's corners for better interior space utilization.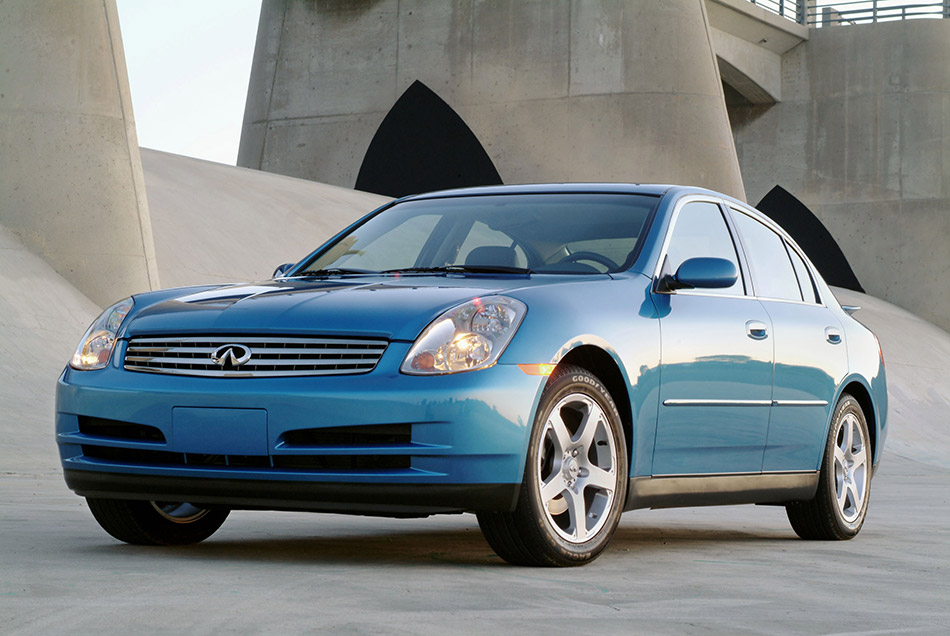 Aerodynamic Exterior Design, Innovative Platform
The G35's styling takes full advantage of the vehicle's FM (Front Mid-ship) platform, which features a long wheelbase (112.2 inches) and short front and rear overhangs – providing a large interior for its highly manageable overall length (186.5 inches). A wide front and rear track adds to the G35's overall handling stability and further enhances interior and trunk volume. Mounting of the large 20-gallon fuel tank under the rear seat (forward of the rear wheels) also helps maximize rear passenger comfort and cargo capacity.
The location of the G35's compact V6 behind the front axle allows the use of a low, aggressive hoodline, which flows into the sharply angled windshield and contributes to the G35's sporty, powerful silhouette. The front fascia features an Infiniti-style horizontal crosspiece grille, low-postured front bumper and vertically stacked headlight assembly with integrated fog lights and turn signals.
The smooth visual line flowing from the front fenders through the side profile cuts off at the rear, expressing a balance between sportiness and function. The C-pillar and rear fenders accentuate the spaciousness of the cabin, while the large greenhouse provides good visibility from all seating positions. The rear fascia is highlighted by large rear combination lamps with LED taillights. The LED lights provide maintenance-free operation and bright visual recognition for following drivers during braking.
The FM platform design, derived from racing technology, also places a strong emphasis on aerodynamics, especially on the control of airflow under the body. The extensive use of diffusers and deflectors helps the G35 achieve zero degrees of front lift (0.0 clf), reducing drag and noise and contributing to vehicle stability. With the optional rear spoiler, zero degrees of rear lift is also achieved. The G35 has an exceptional coefficient of drag measurement of just 0.27 (0.26 with optional rear spoiler) for reduced wind noise and optimized fuel economy. The 2003 G35 also utilizes aluminum for the hood for reduced weight and further enhancement of fuel economy.
Attention to body and structural stiffness includes adoption of a dual bulkhead engine compartment construction that functions as a body stabilizer for damping vibrations (in addition to isolating noise and heat). The G35's roof panel and body side panels are laser-welded to enhance body rigidity and to enable the entire body to damp vibrations. The increased stiffness and rigidity improve driving stability and ride comfort while reducing noise, vibration and harshness (NVH).
The G35 is offered in seven exterior colors: Desert Platinum, Emerald Mist, Ivory Pearl, Brilliant Silver, Black Obsidian, Garnet Fire and Caribbean Blue.
Dynamic Performance and Innovative Technology Systems
A 260-horsepower 3.5-liter DOHC 24-valve V6 with 260 lb-ft of torque, derived from the VQ engine series, which has been recognized as one of the "Ten Best Engines" by Ward's Auto World magazine for nine consecutive years, comes standard on every G35, along with an advanced 5-speed electronically controlled automatic transmission with manual shift mode or close-ratio 6-speed manual transmission.
The engine includes a long list of advanced systems, including a continuously variable valve timing control system, a "noiseless" timing chain for silent operation, a structurally reinforced aluminum engine block and an electronically controlled "drive-by-wire" throttle system. It also features a modular engine design, microfinished crank journals and cam lobes, and molybdenum coated lightweight pistons.
All G35s come with Vehicle Dynamic Control (VDC), enhancing vehicle stability under a variety of driving conditions – similar to that offered in the 2003 Infiniti Q45 and M45.
The G35's advanced braking system utilizes power-assisted 4-wheel vented disc brakes, 4-channel, 4-sensor Anti-lock Braking System (ABS), Electronic Brake force Distribution (EBD), which distributes brake force depending on load condition (passengers and cargo) and Brake Assist (BA), which senses hard or panic pedal application and helps provide maximum braking capacity.
A high level of sporty handling is provided by an impressive 4-wheel independent multi-link suspension. The G35's front suspension design minimizes alignment changes through use of two separate lower links and a long upper link. The rear design separates the shock absorbers and springs, locating the shock absorber inline with the wheel center to help reduce suspension friction and reduce the wind-up motion of the axle on acceleration. Both front and rear suspension designs utilize aluminum components to reduce unsprung weight and incorporate "ripple control" shock absorbers with damping control lips for suppressing high-frequency, micro-amplitude vibrations. As a result, tiny ripples in the road surface are absorbed to deliver a smooth, comfortable ride.
A Spacious, Comfortable Interior
In creating the G35's interior, the designers and engineers set three goals: premium space, premium comfort and premium utility. Taking full advantage of the FM platform's long wheelbase and wide track, the G35 offers 98.0 cubic feet of interior space and 14.8 cubic feet of trunk space. More than just total volume, innovative packaging provides ample space where it is needed most for driver and passenger comfort – head, leg, shoulder and hip room. For example, use of a center positioned air conditioning design increased front passenger foot space. For rear passengers, use of a hidden front seat rail widens the available foot room.
Special attention to comfort required a rethinking of the seat design from "one seat fits all" to unique front driver and passenger's seats. The driver's seat uses a special center mound shape with high damping urethane foam and special spring design to support the driver during sporty driving. The front passenger's seat has a flatter-shaped lower cushion and the seat is shaped to provide a relaxed posture, even when folding or stretching his or her legs. In the rear, the G35 offers a choice of wide bucket-shaped seats or optional rear reclining seats, both with ample knee room and a pass-through armrest.
A three-spoke steering wheel provides a firm grip and sporty feel and the instrument panel features Infiniti's fine vision electrofluorescent illumination system and signature analog clock. The optional DVD-based Infiniti Navigation System includes a 6.5-inch retractable screen.
The interior's T-shaped structure, with its flowing design theme from the center instrument cluster to the floor console, emphasizes ergonomics and convenient storage. There are numerous pockets, holders and straps located throughout for easy access and use.
Audio systems include a standard 6-speaker AM/FM/cassette with in-dash 6-disc CD changer and an optional 200-watt 7-speaker Bose® premium audio system with an AM/FM/cassette in-dash 6-disc CD changer with RDS, speed-sensitive volume control and steering wheel audio controls. The G35 is offered in two interior colors – Willow and Graphite – and is available with leather-appointed seating and genuine Birdseye maple wood trim.
The G35's trunk space is enhanced by the use of items such as a four-link hinge design, thin LED rear combination lights and underfloor storage compartments near the spare tire.
From a safety standpoint, every G35 comes with standard dual-stage supplemental air bags with seat belt sensors, front seat side-impact supplemental air bags and roof-mounted side-impact curtain air bags for front- and rear-seat occupant head protection. Also standard are seat belts with pretensioners and load limiters and the LATCH (Lower Anchors and Tether for CHildren) child seat anchors and tether system.
The FM platform also provides a number of innovative safety performance features, including a mechanism for releasing the engine downward (rather than straight back toward the passenger compartment) in a collision, brake pedal construction that helps prevent rearward pedal movement and a breakaway propeller shaft construction.
The G35 also features Zone Body Construction, as well as dual bulkhead construction in the engine compartment, laser-welded body side panels and a mechanism for releasing the engine in certain collisions, helping prevent the intrusion of the engine into the passenger compartment. In addition, the driveshaft is designed to break away under certain collision situations and the brake pedal construction prevents rearward movement in a collision.
G35 Availability and Equipment
The 2003 Infiniti G35 is available in three models – G35 Sedan, G35 Sedan Leather and G35 Sedan Sport 6MT. All models come equipped with a 260-horsepower V6 with choice of a 5-speed automatic transmission with manual shift mode or close-ratio 6-speed manual. A number of optional packages allow the buyer to custom-equip the G35 to further reflect his or her exact driving style and tastes.
Packages include the Premium Package, with Bose audio system, adjustable reclining rear seats, sunroof and more; Sport-Tuned Suspension Package, which adds unique 17-inch 5-spoke aluminum-alloy sport wheels with W-rated high-performance tires and upgraded suspension; and the Aero Package, which is available with the Sport-Tuned Suspension Package and adds a rear spoiler with rear underbody rear side fairings. Other available options include heated front seats and heated outside mirrors, navigation system, Bose audio, genuine wood trim and sunroof.
Source: Infiniti
Gallery:
Infiniti G35 Sport Sedan (2003)