In keeping with Infiniti's well defined product strategy, the new FX is inviting in every dimension, from the nimble feel of its quick and controlled response to driver input, to the ride comfort provided by its Dual Flow Pass shock absorbers and quick response to body motion inputs, to the unique "Infiniti feel" under acceleration and braking.
Infiniti's designers and engineers' overall goal in the development of the second-generation FX crossover was to enhance its "sports car ability" while adding refinement - without compromising either side of the equation. The new FX's creators also wanted to give the vehicle a more "human" feel, despite its mechanical strengths, by integrating the latest technology with owners' lifestyles.
The new Infiniti FX50 is designed to be highly adaptive to both the driver and driving conditions, utilizing a long list of Infiniti technologies and systems, including Variable Valve Event & Lift (V-VEL) engine technology, Adaptive Shift Control, Suspension with active Continuous Damping Control (CDC), Rear Active Steering, Around View Monitor, Intelligent Cruise Control (Full Speed Range) and Intelligent Brake Assist (IBA).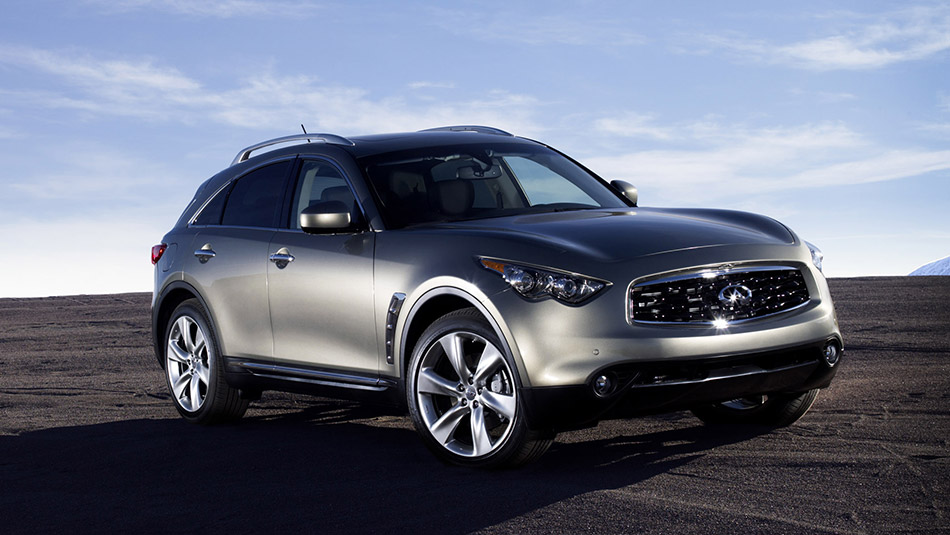 2009 Infiniti FX exterior
The new Infiniti FX continues with the breathtaking exterior styling and "sports car proportions" that helped the original stand out from all other performance luxury crossovers on the market. The FX blends the substantial lower body of an SUV with the long hood, stretched wheelbase, short front and rear overhangs, low overall height and elegant upper body more commonly found on sports cars - conveying its strong performance personality and breakthrough design architecture at a single glance.
For the new FX generation, distinctive side air vents have been added behind the front wheels. Also, the front wheels have been moved 35 millimeters forward (from the previous generation FX) and the front track has been widened by 50 millimeters - providing an even more pronounced performance stance.
The FX's design starts with a new front end appearance, led by a lustrous Infiniti signature double-arch front grille, standard fog lamps and Bi-Xenon headlights. The Infiniti FX50 also includes an automatic-on feature that switches on the headlights automatically on at dusk and a standard Adaptive Front lighting System (AFS). This system automatically controls the lighting pattern and directional aim, based on steering wheel angle and vehicle speed (the headlights can swivel headlights up to 17 degrees).
The FX's new flat blade windshield wipers and wiper arm design optimize aerodynamic performance - helping improve wiping performance at high speeds and reducing wind noise at high speed. A new rain-sensing feature automatically tunes the wiper pace and speed according to the frequency of the precipitation (as detected by sensors).
The new side air vents are also functional, allowing air to flow from inside the engine compartment to outside the vehicle, reducing high under-hood air pressure. The side vents reduce front end lift by five percent for improved high speed stability.
The Infiniti FX's aggressive silhouette is highlighted by a strong front-to-rear shoulder line, "taut canopy" greenhouse with chromed window frames, rearward-sloping roofline, integrated rear spoiler and polished roof rails. In the rear, the FX's simple, bold appearance features LED taillights that extend beyond the body to help create aerodynamic down force and large dual exhaust outlets with chrome finishers.
The FX's coefficient of drag has been improved to 0.35 from 0.37, with the engineers finessing even the smallest details to help manage airflow, including the front bumper sides, rear spoiler angle and taillight shape.
Under the FX's polished, assertive styling is an equally advanced body structure. FX utilizes the rigid FM (Front Midship) platform architecture used on the Infiniti G 37, G37 Coupe. The FM platform offers sports car-like front-to-rear weight balance - 54/46 - for exceptional handling.
Additional development was undertaken to reduce weight and enhance body strength. For example, the FX's aluminum front and rear door panels, which have the same strength and stiffness of conventional steel doors, are 20 kilograms lighter (total for all four doors), allowing the FX to maintain a power-to-weight ratio that is among the best in class. The FX weights 90 kilograms less in body structure weight alone. The new FX's body is also 1.6 times more resistant to twisting and 3.4 times more resistant to bending than the previous generation FX design.
The new FX utilizes Infiniti's advanced "Scratch Shield" paint, a special "self-healing" clearcoat paint designed to maintain its gloss-level over time. The paint "repairs" fine scratches, such as fingernail scratches under door handles, restoring the FX's surface close to its original state. The Infiniti FX50 is offered in seven exterior colors.
2009 Infiniti FX interior
The Infiniti FX's sporty interior is designed to combine a driver-oriented cockpit/command center with a warm, modern, comfortable passenger environment - all wrapped in rich, natural materials. The high-tech interior design includes an Infiniti signature "double-wave" instrument panel and white-and-violet electroluminescent gauges.
The Infiniti FX50 comes with a new front sport seat design with an adjustable air-type side support system for added lateral support during "sporty" driving sessions. The driver's seat features 10-way power-adjustability with lumbar support and a 2-position Driver's Seat Memory system, while the passenger's seat is an 8-way power-adjustable design. Covered in a special quilted leather sew pattern, the front sport seats include adjustable thigh extensions, which add an extra level of comfort for drivers and passengers with long legs or for long distance travel. Whereas the front seats include an enhanced climate controlled system with heating and cooling functions for maximum comfort.
Standard on the Infiniti FX50 is a new Automatic Driving Position System, which moves the seat, steering wheel and outside mirrors adaptively into the correct position. This system allows the driver to change the seat position while driving and keep the same viewpoint and relationship between the steering column and driver's shoulder position.
The FX interior offers white-and-violet "Fine Vision" electroluminescent gauges with "gear-like" rings on the instrument cluster meters, standard 8.0-inch multi-information display monitor and signature Infiniti analog clock. The center console/shifter area is available in a black quartz finisher or special Curly Maple wood trim, inspired by classical violins, giving a sense of warmth throughout.
The FX interior also offers a leather-wrapped steering wheel and shift knob, along with front door pockets, front seatback pockets, dual front and rear cup holders, locking glove compartment and four assist grips. Other standard equipment includes four 12-volt power outlets, all power windows with one-touch up/down function and power door locks, cargo area tonneau cover and cargo multi partition net, along with aluminum pedals, power tilt and telescoping steering wheel, Infiniti Intelligent Key with push button start and a special 12-point "welcome lighting" system.
The thoughtful design behind the interior of the Infiniti FX extends to the available custom-engineered Bose sound system. The acoustic effect of nearly every interior detail was analyzed. Then, the 11-speaker system was customized for the unique acoustic environment inside the FX. As a result, each listener can enjoy music that approaches the power and emotion of a concert hall performance."
Occupant comfort takes many forms in the new Infiniti FX50, including the air that driver and passengers breathe. A standard filter, using fiber impregnated with natural grape seed polyphenol, has the ability to neutralize allergens that conventional filters cannot remove due to their incredibly small size (0.3 to 0.5 microns).
The Infiniti FX50's advanced Infiniti Navigation System features a 7-language media display and coverage of more than 30 European countries, along with an advanced RDS-TMC system with real-time traffic information system. A Voice Recognition system comes with the navigation system and includes voice activation for common climate control, navigation, audio system and phone functions.
The 2009 Infiniti FX is offered in three interior color schemes.
Infiniti FX50 drivetrain
The Infiniti FX50 features a new powerplant, which makes it debut on this model - an advanced 5.0-liter V8 that is mounted low in the chassis to help lower the Infiniti FX50's center of gravity. The engine design includes twin symmetrical air intakes, microfinished crankshaft, lightweight pistons, super-silent cam drive chains and an electrically driven cooling fan to help optimize performance.
The goals for the development of the Infiniti FX50's all-new VK50VE V8 started with outstanding power output - 390 horsepower (287kw) and 500 Nm of torque - a high rev limit, a powerful engine sound from a specially tuned exhaust and improved fuel economy versus the previous generation FX45. Even small details were evaluated in designing the new engine, including control of oil mist density in crankcase for reduced friction
One of the keys to the new V8's impressive performance is the adoption of Infiniti's patented Variable Valve Event & Lift (VVEL) valve control technology, which was first introduced on the Infiniti G37 Coupe. The VVEL system continuously adjusts valve event and lift amounts, enabling higher fuel efficiency with higher torque and improved emissions over conventional variable valve designs. The VVEL intake camshafts, which feature continuously variable lift control teamed with a Continuously Variable Valve Timing Control system (CVTC), allow for a 6,900 rpm redline and a high compression ratio of 10.9:1.
The Infiniti FX50 is comes standard with a new seven-speed automatic gear box with Adaptive Shift Control (ASC) allowing a downshift blip control. FX50's standard magnesium paddle shifters enable drivers to shift the transmission without releasing their hands from the steering wheel, helping maintain stability for the driver when accelerating or decelerating on winding roads.
Infiniti's advanced ESP system with Traction Control System (TCS) is standard on all FX models. ESP adjusts brake pressure and engine torque automatically in understeer, oversteer or slippery road surface situations, helping the driver keep the intended path. A cancel switch allows the driver to switch off the ESP system when desired.
The Infiniti FX50 is equipped with Infiniti's intelligent four-wheel drive system called ATTESA E-TS (Advanced Total Traction Engineering System for All Electronic Torque Split), which uses an advanced torque split control strategy that automatically transfers optimum torque to the wheels according to road and driving conditions. The system provides outstanding handling due to optimum torque distribution from front to rear (50:50 up to 0:100). ATTESA E-TS also provides high starting traction performance and smooth, stable acceleration, especially in snow-covered or off-road situations with a 50:50 torque split at standing start.
When the Infiniti FX50 accelerates from a standing stop, the ATTESA E-TS system provides power to all four wheels. Once up to speed, if the system's sensors detect that all-wheel drive is not needed, up to 100 percent of the power is sent to the rear wheels. This rear-bias offers better handling balance and improved fuel efficiency. The system can then divert power forward at any time as traction/road conditions dictate, helping ensure that power always goes where grip is the greatest.
The Infiniti FX50's dynamic handling is a result of its suspension using light weight and aluminium components in the front and rear to reduce unsprung weight (weight not supported by the springs), helping to improve both ride and handling.
The new double-wishbone front suspension design, similar to that utilized on the Infiniti G37 and G37 Coupé, replaces the previous generation FX's front strut-type suspension. The suspension's upper and lower A-arms help provide superior control of a wheel's motion, especially when the suspension compresses and extends, providing more travel than the previous strut design. The net result is a better ride and improved handling.
The Infiniti FX50's rear suspension utilizes the multi-link design from the previous generation, refined to weigh less and provide more wheel travel - again for improved ride and handling. A lightweight, high-strength steel rear subframe is utilized to isolate the FX's body and its passengers from road noise and vibrations. Its compact design benefits to room in the rear passenger and cargo area. Large diameter stabilizer bars are utilized front and rear.
The suspension system also incorporates special "dual flow pass" shock absorber technology with rebound springs for responsive yet comfortable ride and firm, tight handling.
The new Infiniti FX50 includes standard active Continuous Damping Control (CDC) system with special electronically controlled shock absorbers. Unlike conventional fixed damping force shock absorbers, the suspension with active Continuous Damping Control (CDC) takes the input from a variety of sensors and continuously alters the damping of the shocks to provide optimal ride and handling. The system features a driver-selectable switch with two settings, "Auto" and "Sport," allowing the driver to control the shock valving levels.
The Infiniti FX50's standard Rear Active Steer system is the first of its kind available in an SUV. Unlike passive rear steering systems, this design features precise, electronic motor-driven control to turn the rear wheels up to one degree, helping generate a nimble steering response at low speeds and enhance stability at high speeds. Rear Active Steer moves the Infiniti FX50's rear wheels in accordance with the front-wheel steering angle and vehicle speed, rather than passively following the front wheels. The result is a vehicle that is able to change direction with improved quickness, precision and stability.
The new FX maintains its small turning radius (5.6m) despite its larger wheel and tire package. Its engineers focused on improving steering feedback from the advanced speed-sensitive rack-and-pinion power steering system and reduced "play" in the steering mechanism for more direct vehicle response to steering input.
Secure braking performance is provided by the Infiniti FX50's 4-wheel ventilated disc brakes with Brake Assist (BA) and Electronic Brake force Distribution (EBD). The Infiniti FX50 system features 4-piston front/2-piston rear calipers, similar to those utilized on the new Infiniti G37 Coupé, and large brake rotors (355x22 mm front/350x20 mm rear). Braking system dimensions and high thermal capacity have been tailored specifically to European driving needs, providing a secure and stable feeling at very high speeds and high deceleration rates.
The Infiniti FX50 features metallic-finish six-spoke cast-alloy 9.5Jx21-inch wheels made by Enkei. These wheels are created using a special type of ultra-lightweight casting and are as light as a competitor's 18-inch wheels. They are mounted with 265/45R21 performance tires.
Infiniti FX50 technology and safety systems
The new Infiniti FX50 offers a wide range of advanced available technology and safety systems, helping reinforce the strong sense of communication between the Infiniti FX50 and its driver - as well as providing a secure and inviting feel.
The Infiniti FX50 comes standard with the unique Infiniti Around View Monitor utilizes four small superwide-angle cameras - mounted on the front, side and rear of the Infiniti FX50 - to project an all-around view of potential objects on every side of the vehicle, helping reduce blind spots when parking. The system uses advanced image processing to provide a unique "Birds-Eye View" of the vehicle, making it easy for the driver to position the Infiniti FX50 for parallel parking by simultaneously confirming the exact placement of the front and rear of the vehicle. The system includes front and rear sonar sensors for camera assistance, also displayed in an easily understandable fashion on the display.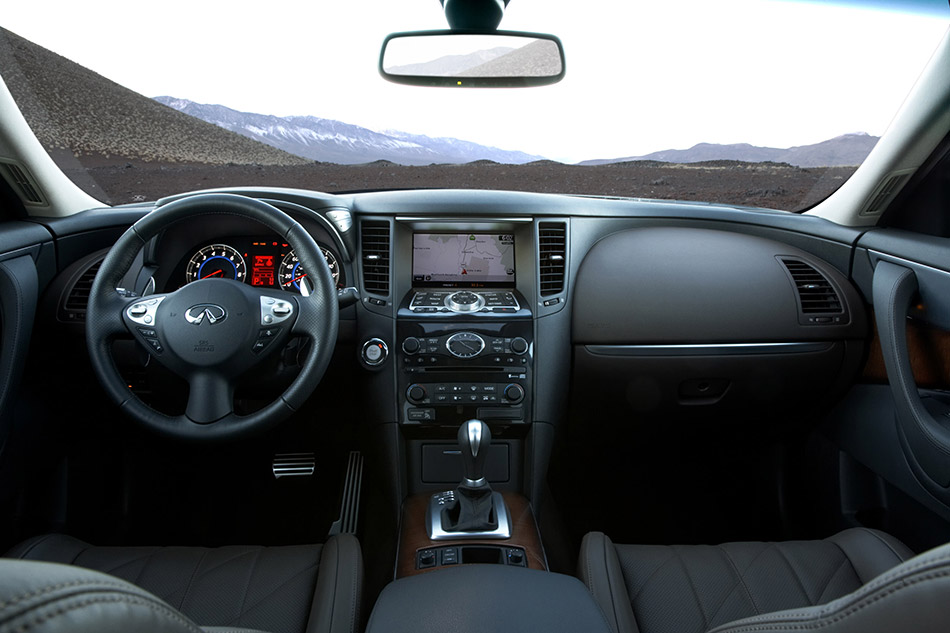 The Infiniti FX50's standard Intelligent Cruise Control (Full Speed range) system combines the brakes, throttle and laser rangefinder with the cruise control system to automatically maintain a set distance between the Infiniti FX50 and a vehicle in front of it. FX50's Intelligent Cruise Control operates in "Full Speed Range" (from 0km/h) hence reducing the driver's workload in congested traffic as well as smooth long distance travel. The Intelligent Cruise Control assists the driver with acceleration and deceleration actions and stops the Infiniti FX50 if traffic requires.
Standard on the Infiniti FX50's, Intelligent Brake Assist (IBA) system uses the laser rangefinder from the Intelligent Cruise Control's (ICC) system and analyzes closing speeds to a vehicle ahead to help prevent or reduce damage caused by a rear-end collision. If a forward collision is imminent with the vehicle in front of the Infiniti FX50 and the driver must take immediate avoidance action, the system sounds a warning to prompt driver action. When a rear-end collision cannot be avoided by the driver's action, the system activates the brakes to decelerate the vehicle, thereby helping to reduce damage resulting from the collision. IBA can apply up to 0.5g braking force (1.0g is considered close to the maximum possible braking force).
The FX's enhanced FM platform Zone Body Construction is designed to help protect occupants in a collision by helping to absorb crash energy through use of front and rear crushable zones. In a high-speed frontal collision, for example, the crushable zone crumples while the engine is designed to move under the occupant compartment. This has the effect of expanding the crushable zone, thereby helping to reduce deceleration g-force and simultaneously helping minimize cabin deformation, especially in the lower leg area. In offset impacts, the body construction helps decrease the amount of cabin deformation. Special high-resistance steel is used for light weight and improved strength.
As with all Infiniti vehicles, significant time was spent to ensure excellent passenger safety. The first-generation FX received 5 Stars for all measures in the U.S. National Highway Traffic Safety Administration (NHTSA) New Car Assessment Program (NCAP) testing, and the new second-generation FX is expected to offer similar or better occupant protection.
Other standard safety features found on the Infiniti FX50 include a seat belt reminder system; airbags for driver and front passenger with front hip-thorax side airbags and front-to-rear curtain airbag for rear passengers. Also standard are 3-point front seat belts with pretensioners and load limiters, front seat Active Head Restraints.
The Infiniti FX50 also features a breakaway brake pedal and double-wall bulkhead construction to help reduce lower leg injuries and a breakaway construction of the propeller shaft (connected with the engine-drop function).
The Infiniti FX50's standard Tire Pressure Monitoring System (TPMS) uses pressure sensors with transmitters mounted inside each wheel, which transmit data by radio wave to a control module, sending tire pressure information to a center display indicator on the Infiniti FX50's information panel. A warning lamp and display indicates when a low tire pressure condition (less than 75 percent of normal pressure) is detected.
Models and options
The new Infiniti FX50 will be offered with a 5.0-liter V8 powerplant and intelligent all-wheel drive and is equipped with exceptional level of standard equipment. Exact details and availability will be announced at a later stage by each market. The Infiniti FX50 will be joined by a V6 powered model, details of which will also be announced later.
The new Infiniti FX50 is a radical expression of sport and utility - designed to stand out by every measure. With the most highly demanded features in class included as standard equipment, FX50 combines advanced technology with exceptional levels of performance, style, luxury, safety and quality.
Source: Infiniti
Gallery:
Infiniti FX50 (2009)