A genuine fusion of sports car and SUV, the Infiniti FX37's dramatic styling - shared with the Infiniti FX50 - sets it apart from the crowd. Built on Infiniti's FM (front-midships) platform, the Infiniti FX37 blends sports car proportions with the character of a 4x4. That means a long bonnet and wheelbase, short overhangs and a coupé-like roofline, with the stance and strength of an SUV.
Engine
The Infiniti FX37 is powered by the 3.7-litre V6 petrol engine delivering 320PS at 7,000 rpm and a healthy 360Nm of torque (comparable figures for the V8 FX50 are 390PS and 500Nm).
A member of the multi-award winning VQ engine family, the all-aluminium 24-valve twin cam unit features a bed-plate construction. A technique that has been used in motor racing for many years, the resulting two-part construction of the cylinder block is more rigid than a single piece casting.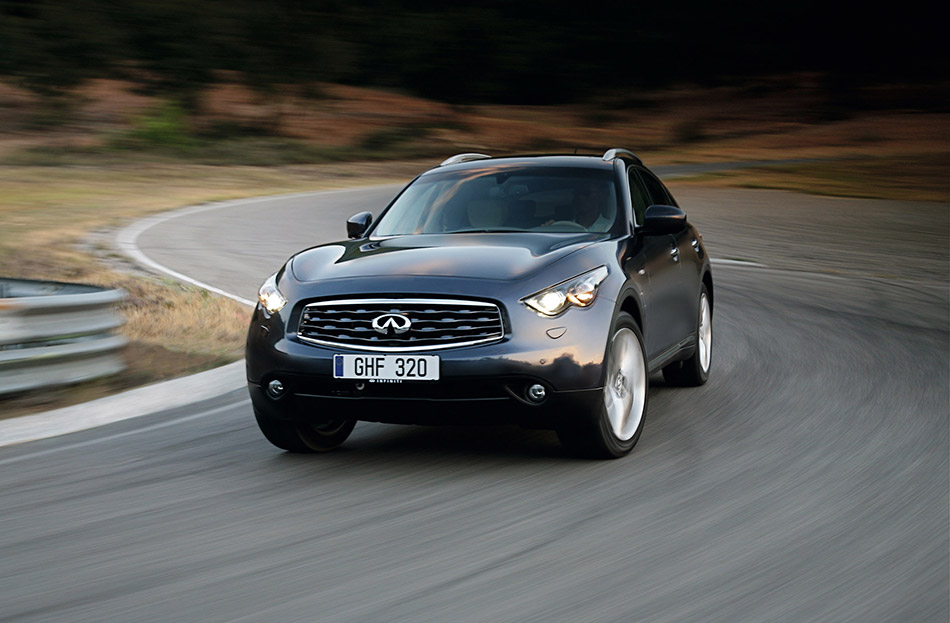 It is a configuration that signifies a high-performance sporting engine designed for the highest strength and reliability. Other benefits include reduced vibration levels and higher engine speeds to be reached consistently without damage.
The engine, which is fully Euro 5 compliant, incorporates VVEL (Variable Valve Event and Lift) technology to optimise efficiency and, in turn, the balance between power, response, fuel efficiency and emissions. VVEL continually alters valve lift and therefore the quantity of air in the combustion chamber. The result is a more powerful combustion phase increasing torque and power.
Precise mapping of the ECU, meanwhile, helps the engine provide a progressive 'swell' of power and torque, providing a 'building wave' of acceleration rather than a peaky power delivery.
Infiniti FX37 comes with a new seven-speed automatic transmission with Adaptive Shift Control (ASC) as standard providing a wider spread of transmission ratios for improved fuel consumption and drivability. The seventh speed is effectively an overdrive ratio, returning improved fuel economy on a steady throttle without compromising in-gear flexibility for overtaking.
Shift points are tuned to keep the engine in the largest part of the torque curve, ensuring there is always a healthy reserve when the driver wants to overtake. The linked ASC system switches between three different programs depending on input from the major control systems throughout the car. Manual shifts can be made via paddle shifts mounted behind the steering wheel.
Chassis
Suspension design is fully independent and uses lightweight aluminium components to reduce weight as much as possible. With a double wishbone set up at the front, a multi-link arrangement mounted on a subframe behind and an extremely rigid bodyshell, Infiniti FX37 combines agility with exceptional ride comfort.
In keeping with its crossover role, Infiniti FX37 features Infiniti's ATTESA E-TS (Advanced Total Traction Engineering System for All Electronic Torque Split) four-wheel drive technology. The system uses an active torque distribution management system with an active centre clutch for smooth starts, greater grip and better manoeuvrability on slippery surfaces without compromising the vehicle's rear-wheel drive performance characteristics on dry roads. Torque distribution is anything from 50:50 up to 0:100, front to rear. Unlike permanent 4x4 systems, which can deaden the steering feel and dull the driving dynamics, the electromagnetic torque transfer at the heart of ATTESA E-TS intelligent 4WD's system permits an element of oversteer for a more sporting drive.
When Infiniti FX37 accelerates from a standing start, ATTESA E-TS system provides power to all four wheels. Once up to speed, if the system's sensors detect that all-wheel drive is not needed, up to 100 percent of the power is sent to the rear wheels. This rear-bias offers better handling balance and improved fuel efficiency.
In common with the entire Infiniti range, Infiniti FX37 has been fine tuned for European road conditions. As well as revised settings for the suspension and steering and enhanced NVH protection, Infiniti FX37 has been given bigger brakes better to cope with Europe's higher average speeds. This, in turn, has allowed 20-inch alloy wheels to be fitted as standard.
Styling
An all-new design, the latest generation FX range adopts Infiniti's signature double-arch grille and 'double wave' frontal styling. The profile is dominated by a strong shoulder-line set off by functional side vents behind the front wheels while the swooping roofline is topped by roof rails, which are fitted as standard. At the rear, distinctive LED taillights wrap around the side of the vehicle.
Helping to contribute to a low overall weight, all four doors are made from aluminium.
The interior provides a driver-oriented cockpit combined with a luxuriously sophisticated passenger compartment. Natural materials including wood and quilted leather can be found throughout while the dashboard features the Infiniti signature double-wave design. Three interior colour schemes are offered: black plus duo-tone beige and grey or brown and black. Power adjustable front seats are ventilated for the ultimate in comfort at all times.
Equipment
Other items of standard equipment include Intelligent Key with keyless go, and Bi-Xenon headlamps with Adaptive Front lighting System (AFS) which automatically controls the aim and patterns of the headlights, based on steering wheel angle and vehicle speed (the headlights can swivel headlights up to 17 degrees).
Also available is the Intelligent Cruise Control with Full Speed Range incorporating technology that maintains a set distance between the Infiniti FX37 and the vehicle in front in a speed range of 0 to 180 km/h, thus reducing the driver's workload in traffic.
An extensive equipment list also includes an electric sunroof, rear privacy glass, front fog lamps, light and rain sensors and a total of six airbags - front side and curtain.
The Infiniti FX37 comes standard with a rear view parking camera and display, full telephone communication via Bluetooth, an in-dash six-disc CD changer plus an Aux-In socket for mp3 players complete the package.
In common with other Infiniti models, FX37 has the advanced 'Scratch Shield' paint. A special highly elastic resin has been combined with a conventional clearcoat to increase the paint's flexibility to produce 'self healing' characteristics.
There are two major option packs: Sport and Multimedia. The Sport pack includes active Continuous Damping Control system with electronically controlled shock absorbers that continuously alter the damping settings to provide optimal ride and handling.
The pack also incorporates sports seats with inflatable cushions for added bolster and upper body support and 21-inch alloy wheels. Visual differences include smoked headlamps, black roof lining and the availability of black trim finishers inside the cabin.
The multimedia pack is based around a top-end Bose 11 speaker audio system and the latest satellite navigation system with voice recognition featuring an 8-inch full colour display on which it can display Bird View navigation and real time traffic information.
Also available as an option is Infiniti's Around View Monitor which uses small cameras mounted at the front, rear and on the sides of the vehicle to project an all-round view of potential obstacles.
A natural extension of Infiniti's rear view parking camera, Around View Monitor uses the colour monitor to display a bird's eye view of the car as it parks, enabling the driver to negotiate tight parking spots with ease.
"Infiniti FX37 is a significant model for Europe and we expect it to account for as much as 80 per cent of FX sales," says Jim Wright, Vice President Infiniti Europe. "By combining excellent handling and punchy performance with genuine luxury and SUV practicality, Infiniti FX37 will appeal to customers who appreciate quality and individuality."
Source: Infiniti
Gallery:
Infiniti FX37 (2009)