Where Seat acts restrained on the sporty abilities of the new model, the JE DESIGN Leon FR / Cupra R significantly shows its talent. The front spoiler with the enormous inlets and the headlight masks look ahead in a fierce way. With the new side skirts, the car already presents its agility when it is still parked. The rear skirt attachment left and right and the centre diffuser insert as well as the mighty rear wing with the sunk-in JE DESIGN logo leave no doubt: this Seat is serious about it.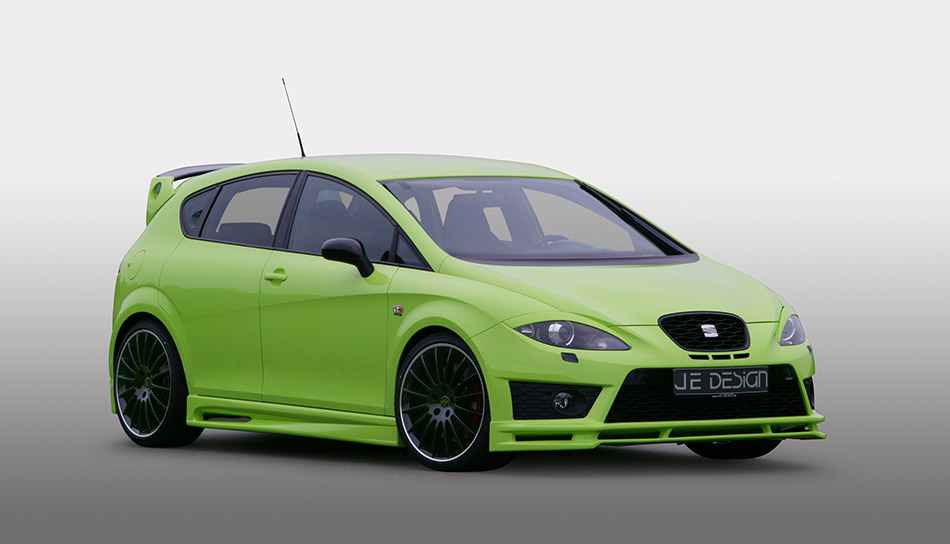 The according curve behaviour is achieved by lowering the car and equipping it with new wheels. With a coilover suspension it is possible to bring the car body 40 millimetres closer to the road. The wheel houses are filled with the Design Multispoke wheel. The 19 inch large, glossy black rims with a silver edge hold high-performance tyres in the dimension 225/35 R 19.
As untameable and sporty the Leon from JE DESIGN is, the interior is equipped with luxury and comfort for the driver. JE DESIGN offers the leather equipment Elegance for 1,599 Euro. The colour combination between leather- and seam can be freely chosen without any surcharge. If desired, the refiner embroiders and individual logo (79 Euro) on the front backrests. For highest travel comfort, there is also the two-level seat heating (379 Euro), the electrically adjustable lordosis-support for back-protecting travelling (319 Euro) and the massage system that works very silently with twelve programmes (429 Euro).
Of course, all JE DESIGN modifications come with an expertise which guarantees an easy registration.
Source: Je Design
Gallery:
JE DESIGN Seat Leon Cupra (2009)