The new Touareg, four centimetres longer than its predecessor, now also benefits visually from an extension in width, courtesy of Leingarten tuner JE Design. Sitting on 22" alloy wheels and with the benefit of a lowered stance, the JE Design wide body conversion bestows Wolfsburg's new SUV with a more prominent appearance, while the modifications to suspension and engine provide enhanced performance in an impressive manner.
The JE Design wide arch body kit provides a completely new style for the Touareg, with a new sports grill, front spoiler, wheel arch kit, rear apron insert, roof spoiler and tailgate panel for 5.355 Euro including VAT. All the components are designed for precise fit, manufactured in Polyurethane (PU) and are supplied ready-primed. The appearance of the front end is further enhanced by the JE Design auxiliary light set.
The widebody kit is developed to accommodate not only the standard Touareg, but also the "Chrome & Style" and "Terrain-Style" versions. The tow hitch can also be used and the different Volkswagen tailpipes can be retained if desired. Alternatively, JE Design offers dual twin-90mm stainless steel exhaust pipes for 595 Euro.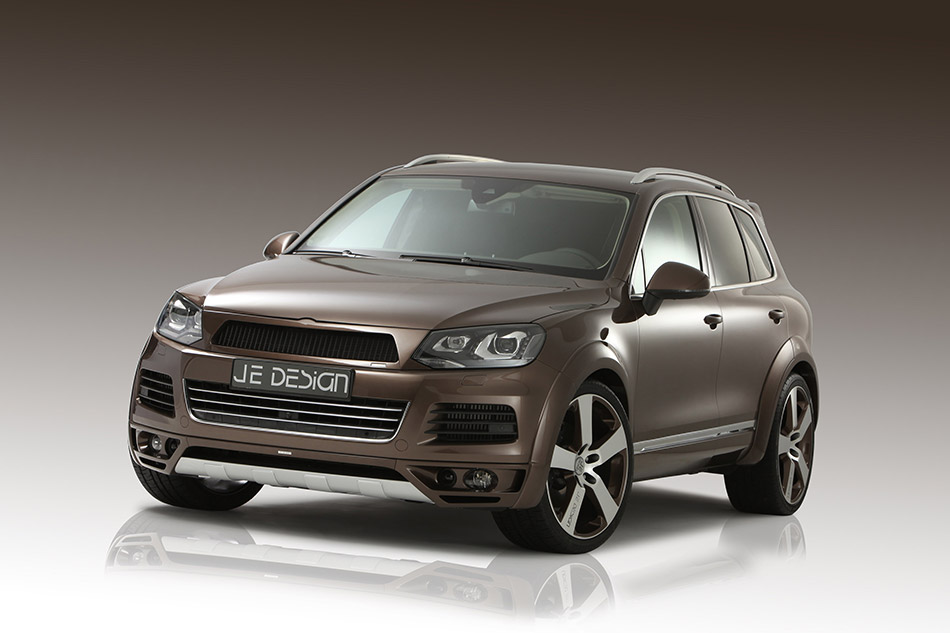 However, JE Design has not stopped at the visual transformation of the Touareg. Thanks to its optimised engine management, the performance of the 4.2 TDI-engine has been increased from 340 PS (250 KW) to 410 PS (302 KW) and the maximum torque leaps from 800 to 930 Nm. Therefore the 0-100 kph acceleration only takes 5.4 seconds instead of 5.8 and the top speed rises from 242kph to 269. The price of 2999 Euro already includes a one year warranty for the engine, turbo charger, transmission and power train, and can be extended to two years for an additional 199 Euro.
To help ensure the new-found power is utilised to its full capacity, the electronic suspension module lowers the two-ton vehicle by 35mm for a price of 1428 Euro.
 JE Design equips the Wolfsburg vehicle with its SUV-Select design, 10x22 inch aluminium wheels. A wheel spacer kit (30mm front, 40mm rear) at 409 Euro ensures that the wheels fill the extended arches to optimum effect. The wheels are available in four different finishes: shadow silver with a polished front surface, matt black with a matt silver front surface, graphite shiny silver with polished rim and matt graphite silver with polished rim. However, custom painted wheels are also available at extra cost, so that every Touareg owner can customize his vehicle to his own taste. JE Design offers the complete wheel/tyre package for 5.190 Euro. Single wheels are available for 690 Euro each.
The complete JE Design upgrade, including assembly, paint and TÜV- registration is available for 19.750 Euro.
Of course, JE Design will provide the respective TÜV approval for each component. Additionally, despite the performance increase, the Touareg is still in compliance with emission regulations.
Source: Je Design
Gallery:
JE Design Volkswagen Touareg (2011)