The 'Renegade' name makes its comeback to the Jeep® line-up in international markets – only now it will be worn by an all-new, adventurous model of the successful Jeep Cherokee 4 x 4. First used in 1964 on the inside door opening of the Jeep Wagoneer, the Renegade name has always represented the rebellious heart and soul of the Jeep brand, desired by so many Jeep loyalists. Designed for non-stop exploring, the Jeep Cherokee Renegade model is shown for the first time in Europe at the 2002 British International Motor Show in Birmingham.
Living up to the proud heritage of the Renegade badge, Jeep Cherokee Renegade combines an integrated light bar, rooftop cargo basket, 'bolted-on' wheel flares, removable side steps, unique wheels and a two-tone front fascia for the ultimate adventure package.
The custom activity light bar houses two halogen lamps so that the off-roading can continue even after the sun goes down. With 75,000 candlepower these lamps light the path, whether it is along the rocky terrain of an off-road trail or for an evening game of beach volleyball.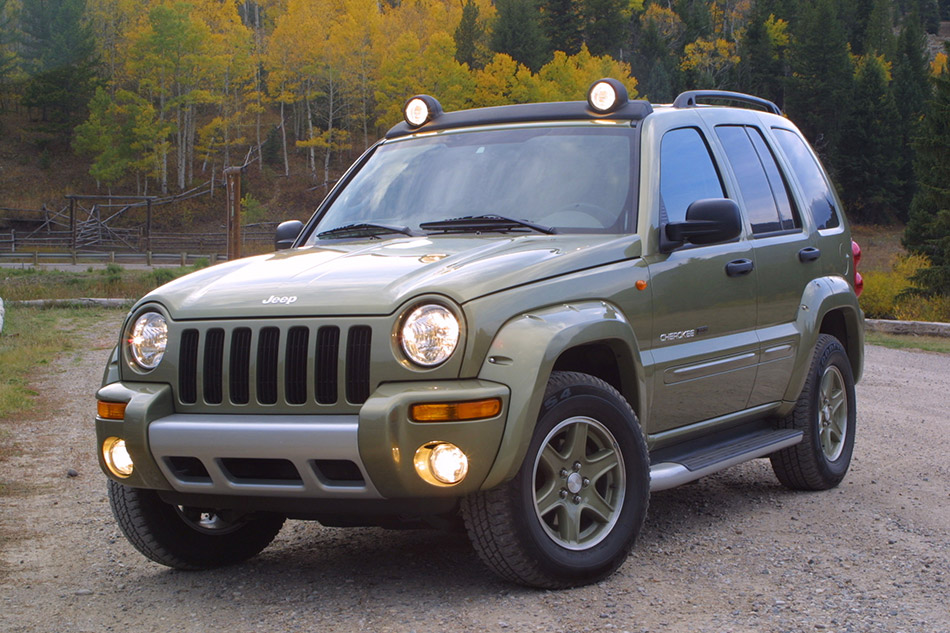 Trapezoidal wheel openings frame all-terrain tyres mounted on 16-inch six-spoke aluminium wheels. The cast aluminium wheels have graphite painted accents and are standard to all exterior colours. Protective silver tubular side steps with black step pads bolt to Cherokee Renegade's uniframe rails for easy ingress and egress. Side steps are easily removable for extreme off-road driving.
The interior of the Jeep Cherokee Renegade features well-tailored, supportive front seats with a unique combination of flat woven cloth and leather. These low back seats include seat back map pockets for added storage. Genuine brushed aluminium highlights on the instrument panel add a modern, machined look to the interior consistent with the exterior theme.
Jeep Cherokee Renegade offers a choice of three engine options. The 3.7 PowerTech™ V-6 petrol engine with four-speed automatic transmission provides the most power in its class, with 208 bhp at 5,200 rpm and 230 lb ft of torque at 3,800 rpm.
Jeep Cherokee Renegade also features the 2.5 common-rail turbo diesel (CRD) engine mated to a five-speed manual transmission. The engine features a cast-iron cylinder block and a one-piece aluminium cylinder head with 16 valves. This power unit provides 141 bhp at 4,000 rpm and 251 lb ft of torque at 2,000-2,400 rpm.
For the first time on a diesel-powered Cherokee, Selec-Trac full-time four-wheel drive is now standard on the Cherokee Renegade 2.8 CRD.
A Jeep-engineered, coil spring independent front suspension combines with a link-coil rear suspension to provide exceptional on-road refinement and legendary off-road capability and durability. Cherokee is the first Jeep vehicle to offer rack and pinion steering; tuned to give the driver precise control and positive feedback on-road, with enhanced durability for off-road use.
"Our Jeep vehicles are designed to be as enjoyable on-road as they are off," said Thomas Hausch, Executive Director of Sales and Marketing, Chrysler International, "For someone who wants a Jeep that backs up those off road credentials with even more authentic and rugged good looks, the new Jeep Cherokee Renegade is the perfect solution."
Source: Jeep
Gallery:
Jeep Cherokee Renegade (2003)