The all-new Jeep® Cherokee remains true to its legendary 4x4 heritage while offering customers more on-road refinement and amenities. The new Cherokee takes on the Jeep rugged exterior design, and for the first time it now comes with the all-new Selec-Trac® II full-time four-wheel-drive system as standard.
"The all-new Jeep Cherokee is an ideal 4x4 for everyday life," said Michael Manley, Executive Vice President - International Sales, Marketing and Business Development, Chrysler LLC. "We combined proven Jeep 4x4 capability in the mid-sized Cherokee with an all-new interior design that offers unique features and technologies that make driving the Cherokee as pleasurable in an urban setting as it is in the jungle."
The new Cherokee will launch in the UK in May 2008 with a choice of manual or automatic transmission and one equipment level - Jeep Cherokee Limited.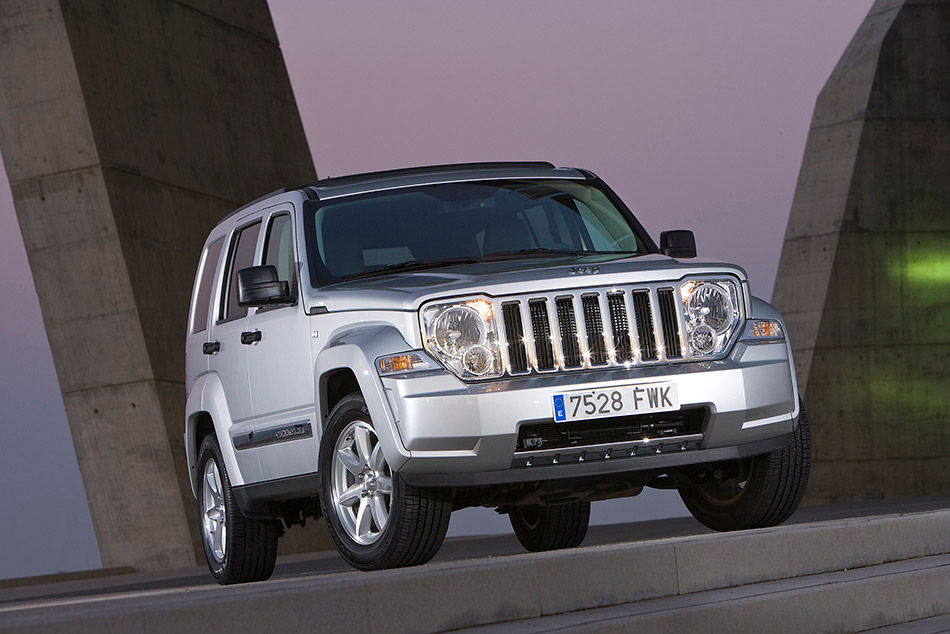 Inside, the all-new Jeep Cherokee Limited will feature a Luxury Leather Package which includes supple leather-trimmed seats featuring French-seam stitching. The passenger grab handle, console-storage cover and front-door trim panels also receive the same leather treatment, complete with the French-seam stitching. The parking brake handle and transmission shifter receive exclusive leather treatment, brushed stainless-steel door-sill plates welcome passengers, and the floor carpet is augmented with premium floor mats all as standard.
In addition to an all-new interior design, the amenities, innovations and cargo and storage space continue to improve. An exclusive, all-new feature is the optional Sky Slider™ full-open canvas roof, giving the Jeep Cherokee customer an open-air experience. Rain-sensing wipers, express-up/down windows, and memory seats, radio and mirrors are added to the vehicle's ever-growing list of available features and options.
Standard features now include automatic temperature control system, tilt steering column, luxury leather-wrapped steering wheel, power and heated fold-away mirrors, power windows with driver-side one-touch, fog lamps and 17-inch aluminium wheels.
Classic Jeep Design
The exterior design of the all-new Jeep Cherokee takes its cues directly from the Jeep brand's legendary 65-plus years of heritage. Familiar design characteristics, such as the clamshell bonnet, seven-slot grille, trapezoidal wheel openings and rugged stance provide the vehicle with its classic Jeep style.
Standard across the range is the signature seven-slot grille. A front-end module that spans across the vehicle houses the grille and headlamp system in a single unit. The structure is designed to meet pedestrian impact and other crash standards for all markets. Front lamp modules contain halogen headlamps and standard fog lamps. The front fascia is body colour on all vehicles.
At the side of the vehicle, deep body sections and a high beltline produce a tough, strong and capable appearance. A wheels-to-the-corner stance and dramatic trapezoidal-shaped wheel arches enhance the vehicle's side profile. Wheel arches are now painted body colour on all Cherokee models. Bright chrome side mouldings accent the Limited model. The Cherokee name is distinctly stamped into the side mouldings. A mould-in-colour side vent featuring seven slots is placed at the side of the vehicle's elongated bonnet where it meets the wing, door and A-pillar. The spare tyre is now placed underneath the vehicle, allowing for increased interior space.
Industry-Exclusive Sky Slider Full-Open Canvas Roof
The all-new Jeep Cherokee brings the open-air experience with the industry-exclusive Sky Slider full-length open canvas roof. The Sky Slider roof can be moved to several positions, including full forward, full rear or partially open to any position in-between with a convenient express one-touch switch.
The Sky Slider roof is made of a reinforced acrylic cloth, similar to a convertible top, which is weather-resistant and leak-proof. The top panel nests into a weather strip seal to help minimise wind noise. The roof utilises anti-pinch software that will prevent the roof from moving should it detect an object in its path. The Sky Slider roof is an optional feature.
Functional Interior Space with More Available Amenities
The interior of the all-new Jeep Cherokee delivers simple, functional styling and provides customers with ample storage and organisational space.
"The Cherokee's all-new interior is designed to offer extreme capability for our customers," said Thomas Hausch, Vice President - International Sales, Chrysler. "Cherokee offers seating for five that can be converted to functional storage space by laying the rear and the front-passenger seats flat. MyGIG™ Multimedia Infotainment System with navigation (optional), rain-sensing wipers and memory seats are just a few more examples of the amenities now available in the all-new Cherokee."
Standard 60/40 split fold-flat rear seats and a fold-flat front-passenger seat are perfect for loading and hauling. The rear seats also incorporate a recline feature for more adjustment for passengers. The front and rear seats feature wide inserts and heavy bolstering designed to cradle occupants for a secure feeling. The seats have tall, square shoulders, and the bottom cushion has been lengthened for better thigh support. Leather, heated seats are standard on the Limited model.
A four-spoke steering wheel provides the all-new Jeep Cherokee with a generous tactile heft and feel. Standard is a leather-wrapped steering wheel with wheel-mounted Electronic Vehicle Information Centre (EVIC) on the face and audio controls conveniently located on the rear of the wheel. A tilt steering column is now standard on all models.
A new two-tone instrument panel treatment gives the vehicle a feeling of spaciousness. The Jeep Cherokee features a four-gauge instrument cluster with clear white on black graphics with orange pointers and an integrated vehicle information centre.
The centre stack neatly houses the climate controls, vents, radio and switch bank. For the first time, Cherokee will now be available with the optional MyGIG Multimedia Infotainment System and eight premium speakers and a subwoofer. Standard on all Cherokee models is an all-new automatic temperature-control system with cabin air filtration.
Also at the centre stack is an open bin with a rubber mat, perfect for placing mobile phones, hand-held PDAs or coins. A small enclosed storage compartment left of the steering wheel provides additional storage for the driver.
Audio and Navigation Systems
The Jeep Cherokee is available with a variety of audio systems, and will offer the innovative MyGIG Multimedia Infotainment System that features built-in navigation, audio, entertainment and communication systems as an optional extra. MyGIG allows customers to use touch screen or voice commands to control features, and includes a 20-gigabyte hard drive where music and photos can be stored. An integrated music jukebox supports Gracenote music-file management to add song, artist and album information to the music files automatically. Space is reserved on the hard drive for approximately 1,600 songs - more than 100 hours of music. The system also includes a voice-memo recorder feature.
The voice dialogue system recognizes more than 100,000 words. The navigation system features both 2-D and 3-D bird's-eye views of roads and multiple route calculation alternatives. Maps and guidance are displayed on a motorized, flip-down 6.5-inch thin-film-transistor (TFT) colour display. The TFT screen uses an active matrix for viewing from angles up to 180 degrees - perfect for the centre of an instrument panel.
All radio head units available in the Cherokee feature a 3.5 millimetre audio input jack for easy connection to an MP3 player. The Infinity® Premium Sound System offers a total of nine speakers, which includes one 6.5-inch subwoofer. It also includes an eight-channel amplifier producing 368 watts of power.
Cargo and Utility
There are several storage and convenience features designed into Jeep Cherokee's spacious rear cargo area.
Both left and right trim panels have cargo tie-down loops for securing items to the load floor. The left trim panel houses a concealed compartment for jack storage and tools.
The load floor system has a reversible carpeted surface. Dual latches on either side release for access to a 10-centimetre deep waterproof storage bin beneath the lid - perfect for muddy boots.
Economical and Powerful 2.8L CRD
The Jeep Cherokee is also available with a new 2.8-litre DOHC 16-valve common-rail turbo diesel engine. With its Variable Geometry Turbocharger (VGT) and rapid throttle response, this engine enables the Cherokee to claim best-in-class torque of 460 Nm (339 lb.-ft.) at 2,000 rpm with the five-speed automatic transmission, and best-in-class towing capacity of up to 2,800 kilograms and a driving range of 450 miles. Maximum power is 130 kW (177 hp DIN) at 3,800 rpm.
The new 2.8-litre CRD engine also provides a weight savings of approximately 6 per cent, achieves increased cam belt life (durability now of 140,000 kilometres) and features Piezo fuel injectors and a 2000-bar fuel system to improve fuel-system speed and control.
A forged steel crankshaft now features eight counterweights compared to the prior crankshaft which had four. A structural oil pan assists in reducing noise, vibration and harshness on the new engine.
The VGT now has an electronically controlled actuator as opposed to a pneumatic actuator on the previous engine. This provides improved cold launch performance, and it also allows the turbocharger to spool up faster from idle, minimising turbo lag and providing good low-end and high-end torque.
All-new Full-time Four-wheel-drive System
The all-new Selec-Trac II full-time four-wheel-drive system is standard on all Jeep Cherokee models. The Selec-Trac II four-wheel-drive system is a full-time, active on-demand system that anticipates and prevents wheel slip before it occurs. It is ideal for a wide range of road settings, including dry pavement conditions not typically suited for conventional part-time four-wheel-drive systems.
This premium system offers a 4WD Auto mode that is just right for full-time driving. When driving in 4WD Auto mode, the system uses vehicle sensors to adjust and redirect torque between the front and rear axles based upon real-time driving conditions, providing the vehicle with responsive tractive performance.
For added capability when traversing steep grades, rough terrain or extremely poor traction surfaces, the transfer case includes a 4WD Low mode. This second speed gear multiplies engine torque 2.72 times and locks the clutch pack for maximum traction.
Electric shifting between 2WD, 4WD Auto and 4WD Low is accomplished with a console-mounted switch. A pushpin button is used to shift to Neutral mode.
Jeep-engineered Hill Descent Control
The same Jeep-engineered Hill Descent Control system introduced on the new Jeep Grand Cherokee is now available on the all-new Cherokee (with an automatic gearbox only). The system was designed to mimic the downhill control and flexibility afforded by the ultra-low gearing found in a Jeep Wrangler Rubicon with its 4:1 ratio transfer case and six-speed manual transmission. This gearing provides for six speeds of controlled hill descent.
Operational in the 4WD Low position, Hill Descent Control provides downhill assistance at a controlled rate of speed with more precision and smoother operation than simply using the brakes. By means of electronic brake control, Hill Descent Control supplements the gear reduction and engine braking that a traditional mechanical low-range transfer case provides. Unlike most of its competitors, the new Jeep Cherokee with Hill Descent Control offers extremely smooth transitions between speeds and allows the driver to use the throttle and brakes without turning the system off, with a smooth and controlled return to the preset speed after the driver releases the throttle or brakes.
Hill Descent Control was engineered to provide the smoothest transitions possible, even from a complete stop on extremely steep and slippery surfaces.
Hill Descent Control is standard on all Jeep Cherokee models with automatic transmissions.
Source: Jeep
Gallery:
Jeep Cherokee (2008)