Jeep announced that it will produce a limited-edition 2011 Jeep Wrangler Call of Duty: Black Ops Edition. The new limited-edition Jeep Wrangler will be available at a U.S. manufacturer's suggested retail price (MSRP) of $30,625 for the two-door model and $33,500 for the four-door (Jeep Wrangler Unlimited) model. Both prices include $750 destination.
"The Jeep brand's partnership with Activision marries the world's most capable and iconic vehicle - the Jeep Wrangler - with one of the world's most popular entertainment experiences," said Mike Manley, President and CEO - Jeep Brand, Chrysler Group LLC. "As a result, we are able to expose the Jeep brand and its legendary capability to an entirely new group of consumers."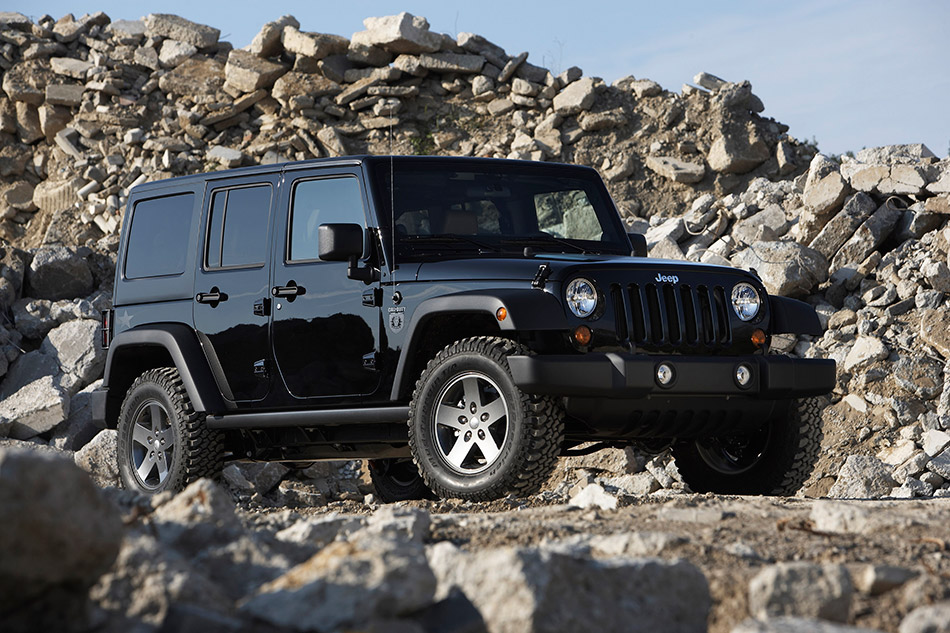 "This is a dynamic and fully integrated partnership that brings together two iconic brands across a full array of consumer touch-points," stated Brad Jakeman, Chief Marketing Officer, Activision Publishing, Inc. "From the beginning our teams worked together to make this a truly creative partnership that added to the consumer experience of both the Jeep and Call of Duty: Black Ops brands."
The 2011 Jeep Wrangler and Wrangler Unlimited Call of Duty: Black Ops Edition is based on the Jeep Wrangler Rubicon model and features dark Rubicon wheels in a high-gloss Mineral Gray. The vehicle's exterior color is black and features Call of Duty: Black Ops graphics on the roof and front quarter panels. The vehicle also features taillamp guards and a fuel-filler door from Mopar®. Inspired by Call of Duty: Black Ops, the new limited-edition Wrangler delivers legendary Jeep capability, aggressive 32-inch off-road tires, live axles with locking differentials in the front and rear, and a two-speed transfer case.
The partnership delivers a natural fit including an in-game integration into both the epic single player storyline of Call of Duty: Black Ops and the title's much anticipated multiplayer experience.
"It was important for us to make sure that the Jeep partnership would be authentic and enhance the setting we immerse our fans in with Black Ops," said Mark Lamia, Studio Head of game developer Treyarch. "Our work with the Jeep team focused around using the Jeep Wrangler in our levels, and gameplay experiences, and translating the style and look of the vehicle in Black Ops to the Jeep on the showroom floor that our fans can own."
All-new 2011 Jeep Wrangler
Jeep continues to refine the successful Wrangler formula by combining legendary, benchmark capability with an all-new interior that delivers rich styling with significantly upgraded touch surfaces, occupant comfort and versatility, and a premium appearance courtesy of an all-new body color hard top for the popular Sahara model.
New 2011 Jeep Wrangler interior highlights include a redesigned instrument panel and new storage areas with improved ergonomics and upgraded materials. A new lockable console and upgraded door armrest areas boast comfortable touch points, while a redesigned center stack is easier to reach and operate. Heated, power mirrors are now available, and drivers and passengers will enjoy enhanced visibility courtesy of larger rear windows.
All-new steering-wheel controls allow the driver to operate the radio, cruise control, hands-free phone and other vehicle functions while keeping hands on the wheel. A new USB interface connects to storage devices for use with the vehicle's Media Center, which now includes streaming Bluetooth audio. Twelve-volt accessory outlets have been added and a new 110-volt outlet is available to provide power similar to AC outlets in the home.
In line with traditional Jeep design, hex-head bolts are utilized throughout the interior, and are used to mount a "Jeep, Since 1941" inlay onto the new passenger grab handle.
Jeep engineers increased acoustical treatment in the 2011 Wrangler and Wrangler Unlimited, resulting in significantly reduced interior noise.
To provide a more premium appearance, the 2011 Jeep Wrangler and Wrangler Unlimited Sahara models boast an all-new, premium, body-color hard top.
Source: Jeep