The World Premiere of the all-new Kia Kee sports coupe concept at the Frankfurt International Motor Show in Germany today is a landmark moment in the Kia Motor Corporation´s evolution into a major global automotive company.
The Kia Kee (pronounced ´key´) is a 4.3-metre long, four-seater, 2-door coupe with svelte, newly proportioned lines resulting from a slightly lengthened greenhouse. It is a new interpretation of a 2+2 coupe with an imposing road presence that demonstrates an uncluttered, pure and timeless execution and represents a new design ethos for Kia.
Designed in Europe, under the guidance of Kia´s Chief Design Officer, Peter Schreyer, the sports coupe concept is named Kee for several reasons. "Kee refers to the English word ´key´ as the coupe embodies design elements which will become essential to the future ´look´ of Kia vehicles," explains Schreyer. "The coupe also represents the ´key´ which will open the door to success for our brand and acknowledges the Chinese and Korean word ´Ki´ - the cultural concept for life-force or spiritual energy."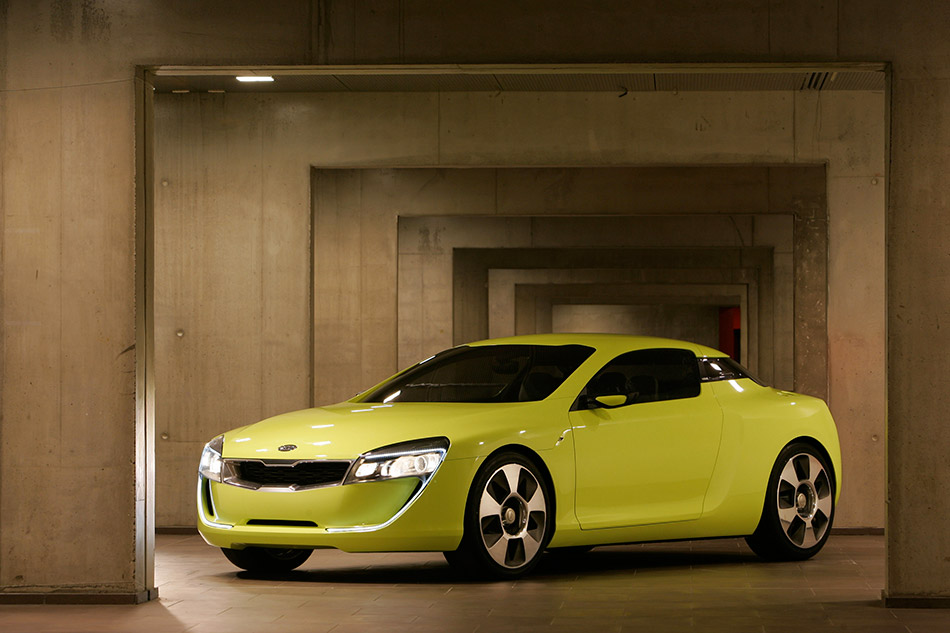 Kia Kee features a broad stance and a low profile, with unique exterior elements - the strong and powerful frontal design with its distinctive headlamps and eye-catching LED cluster, a dynamic profile with striking greenhouse treatment and 20-inch diameter alloy wheels. Measuring 4,324 mm long, the Kia Kee is powered by a ´next generation´ Mue-II 2-litre, V-6 gasoline engine producing 200 ps, which is mated to a six-speed automatic transmission.
"More than any other car-buyer, the sports coupe enthusiast knows instinctively when a car is right," observes Schreyer. "Shape, proportion, stance and both tactile and emotional aspects all add up to a car that stirs the blood. At Frankfurt, Kia is revealing just such a car.
"The Kee is a combination of all of those elements. It is a harmonious blend of everything that sets the sports coupe apart from the more functional vehicle that must undertake a range of activities. The sports coupe is single minded. It is about driving, pure and simple. It is about appearance, performance, emotion," enthuses Schreyer.
Much more than just a svelte, exciting sports coupe concept, the new Kia Kee is also the dawn of a new design language for the Kia brand - a language that will speak to motorists across the world about the Korean company´s intention to become one of the major automotive names over the coming years.
Peter Schreyer and Kia´s Frankfurt-based design team, headed by Gregory Guillaume, set out to make the Kee a landmark car in Kia´s history. It is no coincidence that its name plays on the word ´key´ because that is how essential Kee is to the future of the Kia brand.
Kee embodies Kia´s desire to create a family of cars that will be instantly recognisable on the road and will have simple yet sophisticated appeal in dealer showrooms. Whether wide-eyed admirers of this new generation of vehicles are existing Kia customers - wise to the dramatically improved quality and traditional strong value of the current range - or entirely new audiences, they will immediately recognise a range of cars aimed at those who enjoy driving and seek the perfect machinery to deliver that experience.
"Kee communicates a design language that will be seen on all future Kia products," continued Schreyer. "This language has to be stated in certain elements of the visual representation - lines, shapes, details. And it has to be consistent and easy to understand. It must be visually strong and purposeful but capable of being transferred from this sports coupe concept to a city runabout, a family saloon, a load-lugging MPV or a go-anywhere SUV.
"It was essential Kee should consist of a rhythm of lines - controlled, clean, pure. It had to have good, classic proportions and be well balanced. This is the future for Kia design - it must display the purpose, the function whilst still being capable of delivering an emotional aspiration," added Schreyer.
With its broad stance and low profile, Kee is a new interpretation of a 2+2 coupe, with a simple yet distinctive outline thanks to its long sweeping bonnet, slightly lengthened cabin with striking graphic treatment, sculpted flanks and strong swage lines.
Beneath the powerful and unique appearance are a host of fine details all hinting at the car´s true purpose and harmonising to create a sophisticated design entity. Whether it is the milled aluminium B-pillar visible through the panoramic grey-tinted glass, the distinctively individual 20-inch wheels and hand-cut Continental tyres or the small touches such as the electronic micro-switch door release set into the side-window glass, the clamshell rear hatch opening supported by electronic dampers or the unique front windscreen shape that mirrors so many other details on the Kee, it is clear that this car has been lovingly created by people who care about design.
Inside - Kee looks and feels like a true sports car in which the keen driver will instantly feel comfortable and at ease. The cabin is designed for maximum focus on driving. Clustered directly ahead of the driver, the main dials and controls are simple and straightforward utilising Kia´s new standard red-orange illumination.
Behind the square-bottomed steering wheel are paddles to shift the six-speed semi-automatic sequential gearbox. Instead of a standard gear stick an ergonomically designed lever sits atop the milled aluminium centre console and requires only a nudge forward or backward to select the desired drive mode. The top of the computer mouse-like lever flips up to reveal the electronic starter button.
The design team has concentrated on producing a realistic sports coupe - not a flight of fancy. Every element of the Kia Kee design should be clear, easy to understand and to use. All the main controls are fly-by wire, but their feel in operation has been created to deliver a sense of traditional operation. For example, the toggle switches mounted on the dashboard - echoing the DNA of generations of sports cars - let drivers navigate intuitively through the interface menu of the info-media centre.
After pressing the starter button the driver will immediately recognise the throaty roar of a V6 engine. The next generation 2.7-litre MUE-II engine, produces 200 ps and will deliver instant response, enormous flexibility and scintillating performance on any kind of road.
Kee uses light-weight aluminium or plastic panels and components wherever possible in order to reduce weight and keep the emphasis on rapid and controlled progress that ensures simple fun and driving pleasure. The result is a low kerb weight with excellent balance biased towards the front of this front-wheel drive showcar to deliver neutrally safe handling. Yet Kee could be built with rear wheel drive or even all-wheel-drive allowing Kia to add to its growing range as its brand develops its reputation amongst a more exacting audience.
Salome Etienne, a member of the Kee´s interior design team, comments: "All the main interior surfaces are covered in a semi-suede microfibre material and the body-hugging sports seats use a heard-wearing but distinctive metallic-finish cloth."
Continuing the theme of real-life functionality, the rear of the 2+2 cabin is sufficiently spacious to allow two adult passengers to travel on individual seats in the back of the vehicle whenever necessary. While Kee is not intended to be a regular four-seater, Kia knows that real people have real needs and the brand has no intention of moving into the exotic sports car territory that others so amply fill. And there is even space for a useful amount of luggage!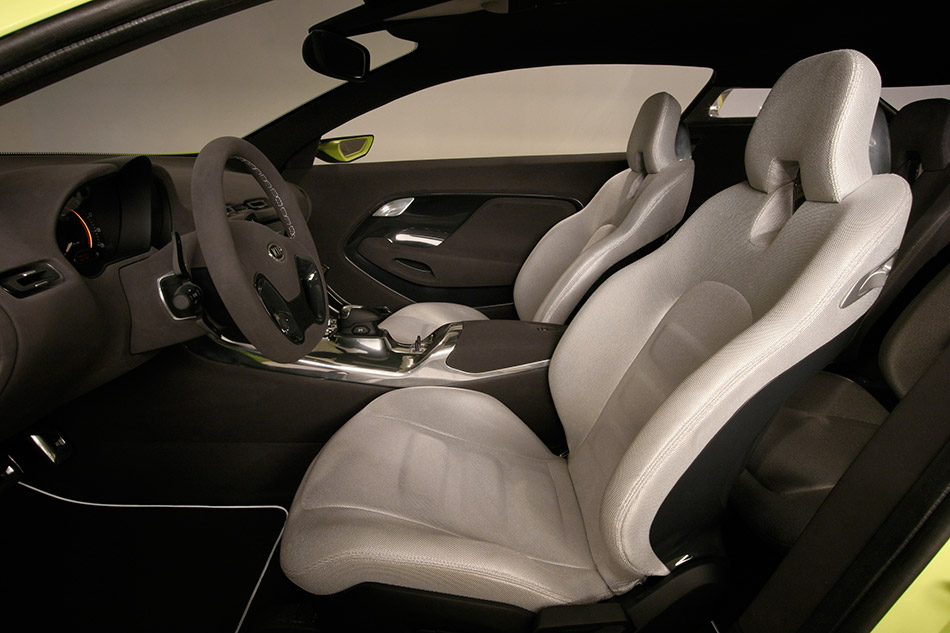 Raphael Le Masson, from the interior design team stated: "Echoing Kia´s concern for the comfort and convenience of its customers our team sought to ensure that rear passengers will not be confronted with a problem so common in many 2+2 coupes. In Kee, when the rear clamshell hatch is raised the cabin roofliner stays fixed in place to ensure that passengers do not come into contact with the structure of the hatch when it is subsequently closed."
Exterior designer Fabien Coradin observed: "This new concept car is about passion and energy. It is not an act of reason. Buying a sports coupe is an emotional choice and that is reflected in this car. Emotion may not have been the normal reason behind most Kia purchases in the past - now the brand is changing and this car shows the potential for Kia´s future."
Uncluttered, pure and timeless in execution yet modern, effective and usable in purpose, Kee represents a new ethos for Kia. With Kee the entire design team is laying open its mind and its heart. This car stands as a clear indication of Kia´s design philosophy and how it wishes to be viewed - exciting, appealing, creative, aspirational, with products that are beautiful and yet functional, purposeful and realistic.
Gregory Guillaume, Chief Designer Europe, commented: "This new concept car is a starting point. It shows how we think and what we want to do - appeal to the emotional side of our audience and bring that balance of purpose and emotion into the Kia design language. With Kee we are irrevocably heading off along our chosen path…"
Kee is the first step towards a new family look for Kia vehicles underscored by a focus on distinctive design. Although Kee is primarily a concept vehicle, it is one that could easily go into production should public demand dictate. Kee lays down very clear indications of how Peter Schreyer and his design team intend future Kia vehicles should look and displays elements that its creators will transfer to future production models. Displayed as part of the strong frontal design with its distinctive headlamps and eye-catching LED cluster, the new-style front grille will become the new face of Kia across the product range.
"Kia has given me and our design teams a fantastic opportunity," enthused Schreyer. "Seldom is a designer allowed to shape the entire personality of a brand, given a clean sheet of paper and told to create the future. Kee is the first step on the road and I am so excited about the potential this journey can create."
"Kee is our keystone to the future Kia family we want to create. There is nothing in its design that cannot easily and readily be transferred to production vehicles. There is nothing in Kee that I would not be prepared to see in future production vehicles. This car stands as a clear indication of our philosophy for vehicle design and as a clear signpost to the type of vehicles we shall be bringing to showrooms in the very near future.
"I want motorists to be able to identify Kia cars almost unconsciously. It doesn´t matter what type of vehicle they see - right across the Kia range there should be a very obvious style and image that will encourage drivers to identify with the Kia brand and instantly understand the function of the vehicle at the same time as they are admiring its lines," he added.
The new Kia Kee ultimately serves the Kia brand on a number of fronts. It is a design exercise for a sports coupe model that currently does not feature in the company´s line-up - at present no plans exist to put the Kee into immediate production, but media and public reaction will be closely monitored.
It also allows Schreyer and the entire design team to present their ideas for a family appearance and a design language, to both internal and external audiences. In this respect Kee is the first stage in an on-going process that will be refined and re-examined but will stay true to the core elements of design contained in this car.
Perhaps most importantly Kee is a simple corporate statement to global consumers and to the motoring world that Kia is a brand underpinned with quality and reliability and now on top of that comes the emotional element of distinctive design. The future for Kia products lies in balance, clarity and purpose, and the company´s latest show car embodies that philosophy.
"The new Kia Kee is a clear and emphatic statement that the future of the Kia brand is set to be one that will excite and surprise an entirely new audience of consumers," concluded Peter Schreyer. "In making this design departure for Kia it was essential to my thinking that our sports coupe concept is not simply a flight of fancy but represents an affordable dream for sports car lovers."
Source: Kia
Gallery:
Kia Kee Concept (2007)