To showcase the performance capabilities and aftermarket potential of its innovative three-door coupe, Hyundai has teamed up with ARK Performance to transform Veloster into a sleek and sporty rally car. The ARK Performance Veloster will be unveiled at the 2011 SEMA Show with a custom twin-scroll turbocharger increasing its horsepower to 210HP and a bright green and flat gray paint scheme to give enthusiasts a glimpse at Veloster's potential. ARK Performance's Veloster will be shown in the Hyundai booth between November 1-4, 2011 among other modified Velosters and Genesis Coupes.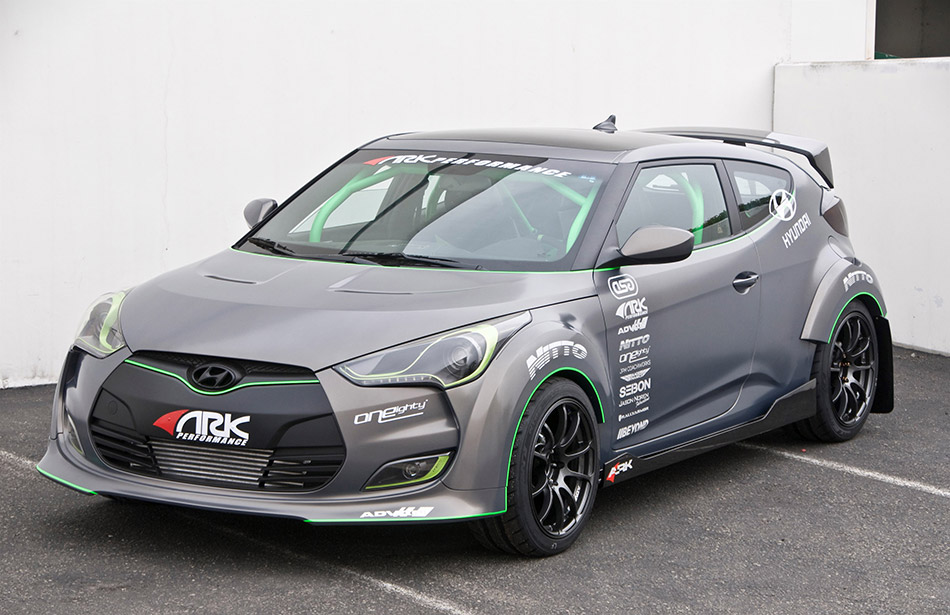 "The Hyundai Veloster is an ideal car for enthusiasts with its distinctive design and dynamic architecture," said Ted Lee, owner, ARK Performance Inc. "At SEMA, our ARK Performance Veloster will bridge the realm between an affordable sports car and an extreme motor sports vehicle. From the first Tiburon, to the Genesis Coupe, and now with the Veloster, ARK Performance continues to uphold the torch as the pioneer of aftermarket performance manufacturing for Hyundai."
The ARK Performance Hyundai Veloster will showcase mechanical, interior and exterior modifications including an open wheel concept with aggressive fenders and Nitto tires. ARK will also develop Veloster specific parts to showcase the tunability of the engine and vehicle exterior.
ARK Performance has planed numerous modifications to make this Veloster a must-see vehicle at this year's SEMA Show.
Source: Hyundai
Gallery:
ARK Hyundai Veloster (2012)