Team owners and drivers regularly arrive at tracks around the country in performance-oriented luxury vehicles.  Like their race car brethren, these vehicles are often customized to wring every last ounce of performance from their OEM roots. They sport modifications to the exterior, interior, wheels, tires, brakes, suspension, and engine—all in the name of more power and improved driving dynamics.  Kia Racing drivers, Mark Wilkins and Nic Jönsson, consulted with LUX Motorwerks, providing input into the kind of vehicle they would like to drive to and from the track, and the result is the High-Performance K900 debuting at today's SEMA Show.
Starting with a custom, one-off body kit with carbon fiber inserts, custom-blended gray paint, blacked-out chrome trim and massive 21-inch gloss-black HRE RS100 wheels wrapped in Pirelli tires, the High-Performance K900 is offers a subtly menacing appearance, which hints at the power underneath.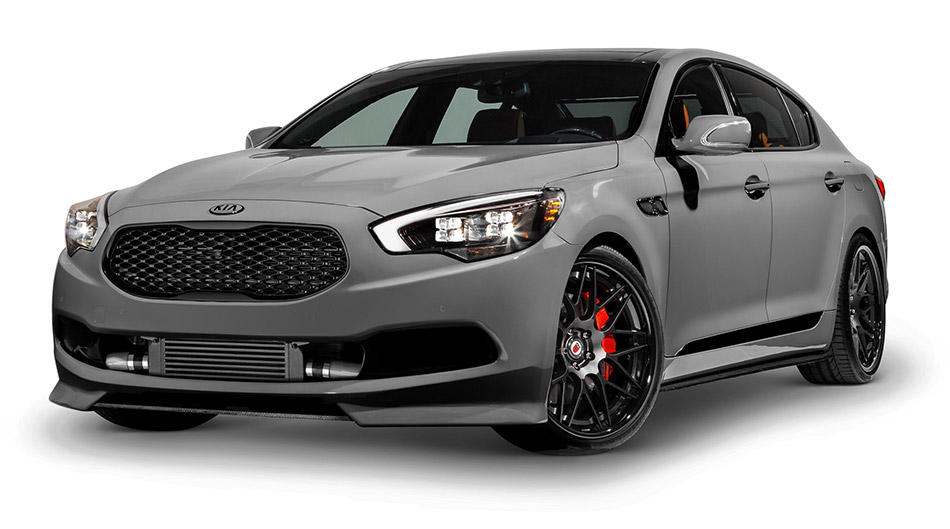 The interior features luxurious tan leather seats with black suede accents and bespoke touches such as 11-inch seatback monitors showing in-car footage from iRacing.com Motorsport Simulations to allow rear-seat passengers to learn or refresh their knowledge of each track's all-important racing line while en route to the circuit.  In the trunk are custom compartments for a driving suit and helmet, complete with a ProDryer to remove perspiration following a long day of hard work behind the wheel.
The High-Performance K900 adds a professional-grade boost to the stock vehicle's 420-horsepower, five-liter V8, thanks to a unique Garrett 2871R twin-turbo application visible through a viewing port in the trunk.  With an estimated output hovering near 650 horsepower, the turbo units' unconventional placement helps reduce engine compartment heat build-up under full throttle and doesn't require the removal of any sheet metal beneath the sculpted lines of the hood.  A lowered Eibach suspension keeps this special version of Kia's flagship sedan planted and level, and Ksport 8-piston brakes paired with 15-inch cross-drilled rotors offer the confidence of control.
The High-Performance K900 ensures the drive to and from the track is as exciting as the drive around it.
Source: KIA
Gallery:
High-Performance Kia K900 (2015)