The Lexus LX 570 is a full-size SUV which combines the advantages of a van with those of a 4WD. After all, the spacious luxury off-roader easily accommodates 8 people. In visual terms, the car is certainly high-end, but at the same time elegantly understated. Premium tuner  LARTE Design, since 2014 with its own German HQ at Menden, therefore has turned the reserved Lexus 570 into the much more aggressive Alligator, using a complex body kit made of high-quality fiber-glass. At 5m, the giant car is indeed as long as its animal relatives and mightier, too.
Under the front guard painted in martial black a huge chromium brace makes for a predator-like appearance. The pointed sides in particular are very Alligator-like. Then we have the LED daytime running lights specially manufactured by the German supplier Nolden. The ragged front is also adorned by irregular edges, protrusions, slants and elements and huge air inlets bearing grids.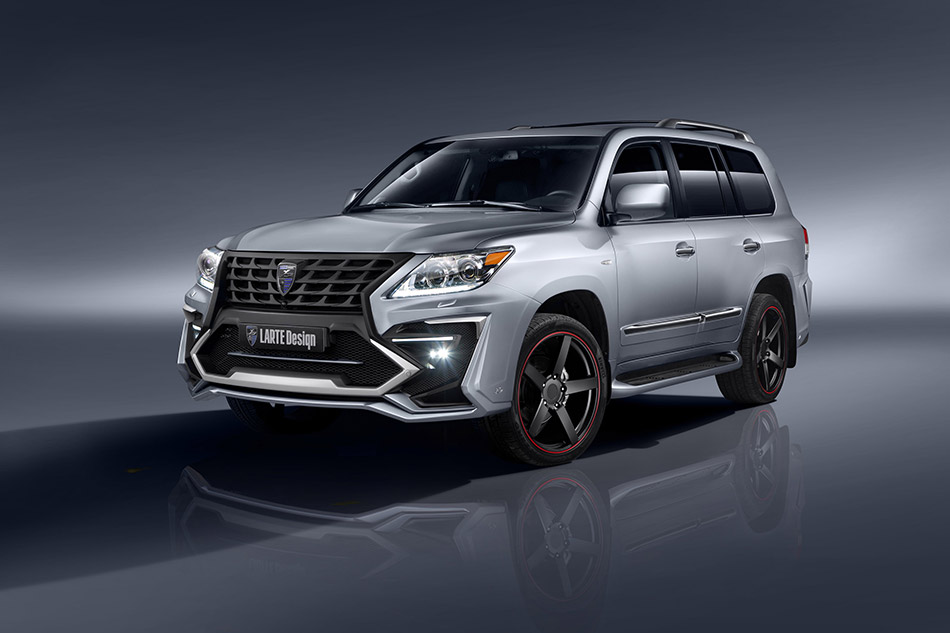 And the car is also an Alligator on its back. While it doesn't have a tail, it does have a striking rear bumper with a diffuser insert of a different color. On the sides, we find narrow air slots, which fit the reptile look very well. The chromium-gleaming exhaust pipes in their striking rhomboid design are the hallmark of the exhaust system developed in conjunction with the Austrian supplier Remus. The kicker is the electronic valve control, which provides drivers with a better range of sounds. After all, real alligators also use acoustic signals to mark their territory.
While red is not too often found on alligators, it is a natural warning color, saying: "Beware of me!" LARTE has therefore given the huge, matt black 22'' wheels a red flange and ultra-wide, off-roader-like spokes. No wonder, then, that this unusual car is at the top of the food chain.
Source: Larte Design
Gallery:
Larte Design Lexus LX 570 Alligator (2014)