Combining the functionality of a full-size pickup truck with the luxury of a legendary automotive brand, the Mark LT from Lincoln makes its debut at the 2004 North American International Auto Show.
The Mark LT is a key part of Lincoln's plan to broaden the showroom and build momentum and profitable growth by introducing 11 new Lincoln-Mercury products in six new segments within the next four years. On sale in early 2005, the new Mark LT is one of five new Lincolns that will be introduced.
Throughout its history Lincoln has used the Mark name to signal a truly special vehicle. It began with Edsel Ford's first Continental, the Mark I. Next followed the 1956 Continental Mark II, which quickly became a classic because of its high quality, clean styling and consummate good taste.
The 1969 Mark III went on to sell more than 30,000 units, making it at the time Lincoln's most successful new model ever. Other Mark vehicles were introduced in the 1970s, '80s and '90s.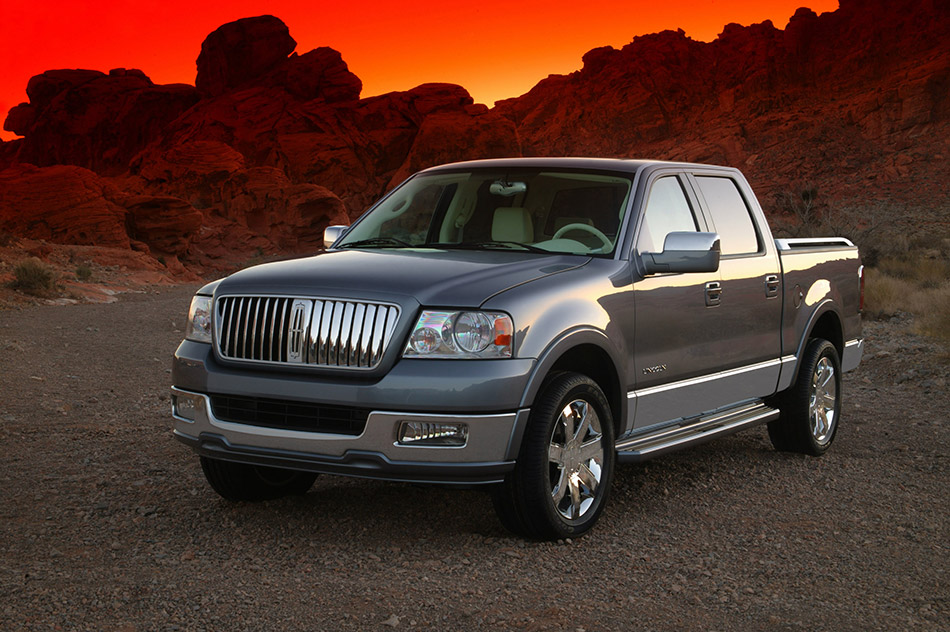 With introduction of the Mark LT, Lincoln for the first time uses the Mark name on a pickup truck. That's because the Mark LT upholds the tradition of a vehicle that stands apart from all others.
"The Mark LT offers a level of luxury and sophistication never before seen in a pickup truck," said Darryl Hazel, Lincoln-Mercury president. "This is a Lincoln for people who own land and have active lifestyles.
"Lincoln created the full-size luxury SUV segment with the launch of the Navigator six years ago, and we believe there is growing market appeal for a truck with luxury and elegance but with absolutely uncompromised truck capability," Hazel added.
Mark LT has indisputable truck capabilities. It is derived from Ford's new F-150, a proven workhorse and America's best-selling pickup for 27 years. The Mark LT will be available in both 4x2 and 4x4 configurations and will offer four full-size doors and a 5.5-foot box.
Creating Lincoln elegance and understated luxury from such a solid foundation was key to the unique appeal of the new Mark LT. Representative of past and present Lincolns, the Mark LT incorporates contemporary yet timeless design, indulgent comfort and the unique use of materials to meet the standards expected of a luxury vehicle.
Hazel is confident the new vehicle provides the opportunity to introduce a new customer base to the Lincoln family.
During the past decade, buyers flocked to the traditional pickup truck segment, more than doubling annual volume from 1.1 million to 2.3 million units. Customer research predicts continued growth in the high end of both the truck and SUV segments.
Production Version on the Way
The Mark LT show vehicle introduced at the North American International Auto Show is a strong signal about the production version of Lincoln's future luxury truck. Production will begin early in 2005 at Ford's Dearborn Truck Plant in Michigan.
"Mark LT is concrete evidence of how we can create a compelling Lincoln product faster by sharing efficiencies throughout Ford's North American organization," Hazel said. "This approach means we can create more great products, and that is at the core of the Lincoln renaissance."
Capability Meets Elegant Design
Although the Mark LT is an authentic pickup with superior power and driving dynamics, what makes it a true fit for Lincoln is its unique elegance. The exterior design features shown on the Mark LT give a strong indication of what the production vehicle will look like in a little more than a year.
Mark LT's exterior features a theme of chrome accents, asserting the vehicle's status and enhancing its appearance. Its dominant grille, wide tail lamps and thick spoked wheels give it an unmistakable family resemblance to today's Lincoln Aviator and Navigator SUVs.
"The Mark LT's confident use of chrome draws attention to its presence," said Patrick Schiavone, design director, North America Truck and SUV. "With a strong stance and bold lines, the chrome accents incorporate seamlessly into the vehicle's design, completing it without taking over."
The Mark LT's face displays a dominant grille that combines traditional Lincoln lines with a new solid center that features a prominently anchored, illuminated, 8-by-2-inch Lincoln star as the showpiece.
Unique to the Mark LT is a hefty band of chrome that wraps the length of the vehicle, highlighting its toughness. The chrome theme continues with 20-inch chrome-plated wheels that display the Lincoln star at the center, adding an uptown sophistication to the vehicle's stance.
The Lincoln design theme continues at the rear with chrome trim surrounding tail lamps that wrap into the tailgate for a broadened appearance, similar to the Aviator and Navigator. The tailgate of the Mark LT show truck finishes the exterior design with an inset appliquй that features an illuminated Lincoln star at the center.
The truck's Atlantic Pearl exterior color is a cool blue, reminiscent of stainless steel, darkening in the shade and illuminating in the light. Additional chrome exterior elements are found on the front and rear bumpers, side mirrors, door handles, box rail moldings, lower cladding, running boards and on the roll tip exhaust.
Interior Luxury for Those Who Travel Well
Lincoln vehicles have a rich history of interior environments that combine the height of style with elegance and romance. The preview of the production Mark LT offers a modern design interpretation of the brand's heritage that is one vision of what Lincoln interiors could offer.
The use of distinctive materials in today's Lincoln Navigator and Aviator interiors are evidence of Ford Motor Company's tripled investment in interior design. The Mark LT builds on those interiors while adding contemporary finishes and warm colors that result in an environment that is both inviting and stimulating.
"It's important to find the right combination of materials," said Marek Reichman, director, Interior Design Strategy. "This vehicle has a harmonious balance of materials, while providing enough contrast to be visually interesting."
Because Lincoln represents elegance without compromising comfort, the Mark LT show truck features lavish use of lightly colored, anti-scratch premium leather. This velvety leather blankets the interior, covering the headliner, steering wheel, seats, center console and door panel, while plush sheepskin flooring completes the opulence of the interior.
A metallic finish theme runs throughout the interior, bringing depth and elegance to simple surfaces. The integrated center stack, ends of the instrument panel, center console housing, cup holders and steering wheel spokes all are presented in a sterling matte silver finish.
Textured aluminum accents dividing the door panels and surrounding the climate and audio controls on the center stack further support the contemporary styling.
To complement those materials, Lincoln designers used a highly translucent core mineral to create a dark chrome effect on the air vents, door handles, at the base of the floor-mounted gear shifter, on seat controls and Lincoln stars. The contrasting color provides polished detail to the interior.
The gauge cluster features Lincoln's signature white lighting, black background with white numerals, darkened chrome bezels and a textured aluminum background that matches the center stack.
A continuing Lincoln trait is attention to detail, depicted in the Mark LT with a special French styled pleating. The front and rear seats also incorporate a unique quilted pattern insert, which communicates comfort and high style. Mark LT's hard-shell seatbacks have an integrated map pocket bearing the Lincoln star. Further detail is depicted by applying the unique sew style to the armrests and the brow of the instrument cluster.
True Pickup Truck Functionality and a Superior Driving Experience
The full-sized luxury vehicle buyer wants to travel well even when hard at work, and the Mark LT brings this experience to them with a 5.4-liter, 3-valve Triton™ V-8 engine that produces 300 horsepower at 5,000 rpm and 365 foot-pounds of torque at 3,750 rpm. The Mark LT delivers crisp and direct steering, the ride is plush yet controlled, braking is assured and the cabin is quiet. The result is a fully functional luxury pickup truck that is an unqualified pleasure to drive.
A Solid Frame and State-of-the-Art Suspension
Essential to meeting the driving dynamics expected of a pickup truck worthy of the Lincoln nameplate, the Mark LT is built on a stable hydroformed frame that forms a closed "box" section, as opposed to the traditional "C" frame rail design. The result is increased stiffness and stronger attachment points for the body and suspension for excellent handling and a quiet, composed ride.
A substantial contributor to the new Mark LT's driving feel – plush, yet connected to road – is a front suspension that reacts to absorb bumps but stands strong against steering forces. Both 4x2 and 4x4 models use a coil-over-shock, long-spindle double wishbone front suspension with a cast aluminum lower control arm.
The Mark LT features "gripping" bushings to mount the front stabilizer bar. This design keeps the bushing compressed against the stabilizer bar, allowing the bushings to twist with it. The bushings are soft in response to road impacts, but stiff for cornering capability, with ride tuning and handling tuning optimized independently. The design gives more linear loading for "crisp" steering response, yet maintains relatively low bushing rates for a smooth ride.
For increased stability and a more aggressive stance, the front track is 67.0 inches wide, which helps increase stability while braking, reduce tire wear and enhance handling and steering precision.
Mark LT's Hotchkiss-design rear suspension has been optimized with rear shock absorbers placed outboard of the frame rails – a pickup truck segment trait shared only with Ford's new
F-150. The outboard rear shocks are positioned to maximize their effect at reducing body lean, particularly during lane changes. Because of this massive leverage advantage, the shocks can be tuned for a smoother ride.
The new Mark LT combines a comfortable, isolated and well-supported ride with balanced communication between the vehicle and driver. Mark LT's superior frame stiffness, advanced body mounts and carefully tuned suspension work together to deliver a quiet and composed ride.
All of the suspension's mounting points on the frame are rigid "large-footprint" designs that provide a strong, solid base. Likewise, the engine mounting location is reinforced so that the hydraulic engine mounts can absorb powertrain vibrations and prevent them from reaching the passenger compartment.
Precise Rack-and-Pinion Power Steering, Powerful Brakes
The rack-and-pinion steering system used in the Mark LT is the largest, strongest and most rugged ever used by Lincoln. The predictable, linear steering response comes from careful tuning by engineering experts to help ensure that steering effort builds naturally with steering angle.
In addition to its dynamic performance, the new Mark LT's steering system also makes for a relatively tight 46-foot turning circle, which beats comparably equipped competitors. The Mark LT has a smaller turning circle than the Dodge Ram Quad Cab.
State-of-the-art standard four-wheel disc brakes are large and powerful, and four-wheel anti-lock braking system (ABS) and electronic brake force distribution (EBD) are standard. EBD actively manages the brake force between the front and rear wheels, helping to reduce braking distances and maximize rear-wheel braking, particularly while towing. The system also uses sensor data to compare wheel speed more than 100 times during each rotation. If wheel lockup is imminent, the EBD controller redirects brake force to optimize available traction.
Towing Performance
The Mark LT's chassis and powertrain make pulling a trailer easier than ever. The laterally stiff new rear suspension helps resist side loads and the outboard rear shocks and wide leaf springs help reduce overall axle motion. Precise steering combined with a stiff frame and body contribute to confident, stress-free trailering, while powerful brakes enhanced with standard anti-lock control and electronic brake force distribution maximize stopping power.
The 5.4-liter, 3-valve Triton™ V-8 engine has ample low-end torque, and the sophisticated electronic throttle control is designed to provide seamless, instant response and consistent transmission shift quality at various altitudes and vehicle loading. With a towing capacity of 8,900 lbs. and payload capacity of 1,620 lbs., Lincoln's Mark LT can tow anything from a horse trailer to a small yacht and carry all the gear needed to arrive in style.
Four-wheel-drive models use the proven electronic shift-on-the-fly transfer case of the current
F-150. The standard electronic throttle control allowed engineers to incorporate a dedicated low-range accelerator response for better control of torque in slippery conditions, and to reduce bucking caused by torque fluctuations while crossing rough terrain.
A Safe Journey
For safety, the Mark LT offers outstanding occupant protection with a structure designed to absorb and dissipate crash energy before it can reach the reinforced passenger compartment. Features such as Ford's Personal Safety System™, occupant classification sensing and BeltMinder™ safety belt reminder system also help provide better protection than ever before.
Source: Lincoln
Gallery:
Lincoln Mark LT (2006)