Fuelled by the excitement and anticipation of the 2014 Formula 1® season, Lotus gives its Exige S range a shot of race adrenaline with the Lotus Exige LF1 limited edition.
81 Lotus Exige S cars will receive a Lotus F1® Team inspired livery and interior trim to commemorate the number of grand prix victories held by the Lotus marque.
Delivering race-car thrills on the road and track, the critically acclaimed supercharged 3.5l V6 Exige S is well known for its focussed dynamic performance, now, with a striking bespoke black and gold paint scheme with red accents and gold 17" front and 18" rear cast alloy wheels, the Lotus Exige LF1 leaves no doubt as to its heritage or indeed to its intention!
The Lotus Exige LF1 is a car that begs to be driven; inside the meticulously designed black and gold interior ensures that the driver and passenger environment evokes the spirit of competition, the sporty details a continuity of the Formula 1® inspired scheme.
Exclusivity and performance are at the heart of the Lotus Exige LF1; each car will be individually numbered with its own limited edition carbon fibre build plate and loaded rich with extras such as the Exige Race Pack with Dynamic Performance Management system, two-piece high performance brake discs and high-performance Pirelli P-Zero Trofeo tyres. For those drivers wanting to optimise their Exige LF1 optional Convenience Pack, heated seats and rear parking sensors are available.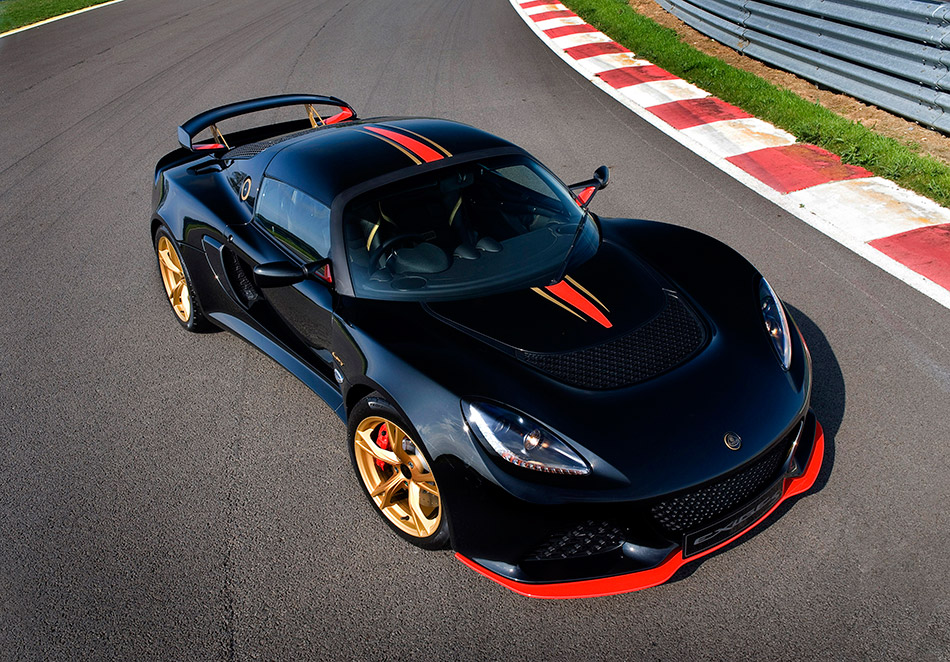 Designed with Lotus fans firmly in mind, the Lotus Exige LF1 brings to life the iconic black and gold livery of the 1970s and 1980s. A blend of heritage and modernity, the Exige LF1 pays homage to the great Lotus Formula 1 cars of yesteryear yet incorporates the pallet and sophistication of today's E22. Each of the 81 limited edition cars will sequentially celebrate a specific Grand Prix from car #1 commemorating Lotus' first GP victory at Monaco in 1960 to car #81 marking Kimi Raikkonen's win at Australia in 2013.
Not only will Lotus Exige LF1 owners be guaranteed an exclusive driving experience, but they will also automatically become Exige LF1 Members. Exige LF1 Membership offers a real Lotus F1 experience including a behind the scenes tour of the Lotus Cars and Lotus F1® Team factories and a range of Lotus F1® Team gifts and memorabilia.
Jean-Marc Gales, Lotus CEO explained, "Lotus' DNA is borne of the Formula one® arena and with 65 years of motorsport racing experience, 40 of those in F1® it's fitting we celebrate our sporting origins and our race successes with the new Lotus Exige LF1. 81 limited edition cars, each one an acknowledgement to each of Lotus' 81 Grand Prix wins, this car is intended for the truest of Lotus' racing fans."
The Lotus Exige LF1 is available to customers in all Global markets (excluding the USA).
Lotus Exige LF1 Special edition includes
Bespoke black and gold livery with red accents
Bespoke exterior badges incorporating 'LF1' logo
Exclusive black and gold 'Lotus' nose badge and wheel centres
Bespoke trim in leather and technical fabric featuring black and gold design with gold contrast piping and stitching details
Embroidered 'LF1' logos on headrests and floor mats
Embroidered 'Lotus F1® Team' logo on seat backs
Matt gold 5-spoke 17"/18"cast alloy wheels
Pirelli P-Zero Trofeo Tyres
Race Pack
Two-piece high performance brake discs
Red brake calipers
Air conditioning
Individually numbered limited edition carbon fibre build plate
Bespoke carbon fibre engine plate
Optional Equipment
Convenience Pack
Heated seats
Rear parking sensors
Performance
Max Power: 345 hp (350 PS) at 700 rpm
Max Torque: 295 lbft (400 Nm) at 4500 rpm
0-60 mph: 3.8 seconds
0-100 km/h: 4.0 seconds
Max Speed: 170 mph (274 km/h)
Weight: 1176 kg
Fuel consumption for Exige S
Urban: 19.5 mpg - 14.5 litres/100km
Extra urban: 37.2 mpg - 7.6 litres/100km
Combined: 28.0 mpg - 10.1 litres/100km
CO2 emissions: 236g CO2/km
Source: Lotus
Gallery:
Lotus Exige LF1 (2014)