Deeply rooted in the MANSORY philosophy is the motto of always supplying prized automobile possessions. With the customised McLaren MP4-12C, the luxury manufacturer from the Bavarian town of Brand has once again succeeded in delivering another such highlight, just in time for the Geneva Motor Show 2012.
In particular the body package makes it clear that MANSORY wanted to differentiate itself significantly from the series vehicle. Besides design elements such as the ultralight bonnet with exposed carbon-fibre sections or the proprietary daytime driving lights, a number of targeted measures deliver a boost in aerodynamics.
Be it the roof, the front or rear apron, the mirror housing, or the wings, which widen the vehicle by 60 millimetres, all components are made of carbon fibre and hardened in the autoclave under high pressure and temperature. This high-tech process brings some impressive benefits: Both the acceleration values and the braking distance and fuel consumption are improved by the reduction of the vehicle's weight. Furthermore, the newly designed side sill set steadies the airflow between the two axles. A wing profile, in combination with the diffuser, delivers greater contact pressure on the rear axle.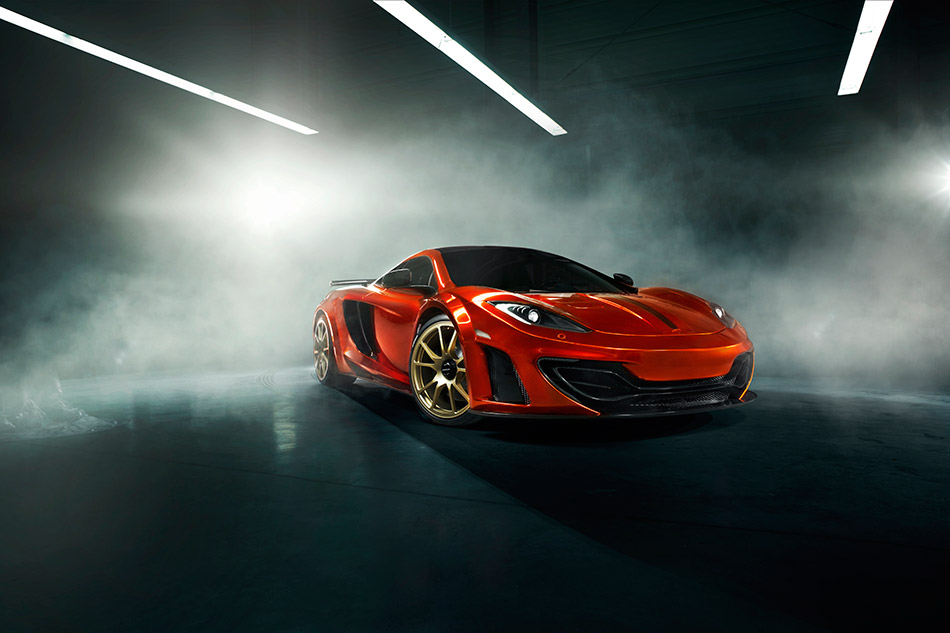 The improved agility and handling that this delivers provides scope for increased performance. Here, too, MANSORY applies its considerable expertise. MANSORY offers the centrepiece of its customisation programme with a powerful performance enhancement. The upgrade includes a high-performance exhaust system, a new engine-management system and a sports air filter with increased air throughflow. The combination of these components results in a power of ca. 670 PS / 493 kW at 7,100 rpm (series: 608 PS / 447 kW at 7,000 rpm). At the same time, the maximum torque climbs to an imposing 675 Nm, which is available in the range 3,000 to 6,500 rpm (series: 600 Nm at 3,000 – 6,500). After modification, the top speed is 353 km/h.
In line with the McLaren's dynamic new presence, MANSORY fits the two-seater with striking light-metal wheels. Manufactured using forging technology, these wheels are ultralight and especially robust. On the front axle, the selected wheel-tyre combination is 9.0Jx20-inch with tyres of the size 245/30ZR20. At the rear, 11Jx21-inch rims are paired with 305/25ZR21 tyres.
The finest materials are used in the interior, giving occupants a feeling of the utmost comfort. The leather of the MANSORY's interior is treated by master craftsmen and is both especially hardwearing and extraordinarily soft. Only flawless natural hides are fitted in the interiors and stitched with contrasting thread by the in-house saddlery. The newly designed airbag sports steering wheel, the aluminium pedals and the real carbon-fibre elements complete the exquisite overall feel in the McLaren MP4-12C. MANSORY achieves the perfect symbiosis of sports functionality and luxurious ambience.
Source: MANSORY
Gallery:
MANSORY McLaren MP4-12C (2012)