Maserati Quattroporte, the model which created the category of "Luxury Sports Sedan", can be considered something of a Maserati masterpiece. After five years of success, with more than 15 000 cars delivered and 46 international awards, the Quattroporte is now being presented with a new look and new technical solutions.
The history of art is characterised by audacious artists who challenged pre-existing conventions and contributed seminal works. Some artists even challenged themselves by remodelling their own works and taking them to the next level.
Leonardo Da Vinci produced a second version of his masterpiece known as "The Virgin of the Rocks" and, 400 years later, Matisse reinterpreted his original version of "Le Luxe". They are essentially new works; although they are identical in size and very similar in composition to the originals; it is the new style that makes the second versions the most influential.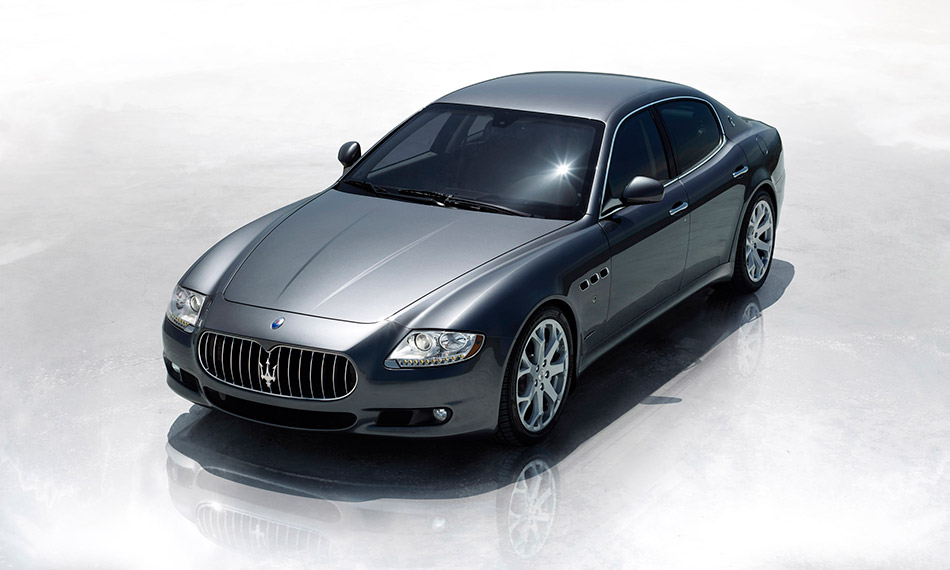 With some degree of similarity, Maserati is now realising its second "painting": the new Maserati Quattroporte.
Thanks to Pininfarina's unrivalled and skilful hand, the Maserati Quattroporte is being refined in a fresher and more modern way, yet always mindful of the class, glamour and exclusivity which characterise the Maserati Quattroporte's style.
The personality and glamour of the Maserati flagship are now represented by two products: the Quattroporte and the Quattroporte S. The former is fitted with the familiar 4.2 litre 400 Hp V8 engine, while the latter adopts the new 4.7 litre 430 Hp V8 recently introduced on the GranTurismo S, with a different specification. Both cars have the 6-speed automatic transmission developed in association with ZF.
The main styling changes are to the most recognisable features. First of all the front, where the new grille, with its vertical slats, is reminiscent of the GranTurismo. The front and rear light units are also updated, featuring LEDs. On the side, the under-door moulding is more noticeable, with a line that runs into that of the new bumpers, which have a wider protective band and more pronounced rear styling. The door mirrors are also new, with a more dynamic shape and a more streamlined mounting to the door.
The interior has a new central console; the controls are grouped more closely together for even more convenient operation.
The car's range of navigation systems is also fully updated, now comprising the New Maserati Multimedia System.
Two new shades of leather, Marrone Corniola and Sabbia, replacing the beige which was previously in the range, debut on the Quattroporte S and Quattroporte respectively.
The new Quattroporte and Quattroporte S will be on sale from September. However, they will be presented to customers and Maserati lovers in different locations all over the world from July onwards.
Source: Maserati
Gallery:
Maserati Quattroporte (2009)