The Mazda 323/323F series is offered in two distinctive body styles : 5-door hatchback and 4-door sedan. Each body type seats five people in comfort and carries a large volume of luggage in its versatile compartment.
All Mazda 323/323F models are front-wheel-drive cars with transversely mounted power trains and all-independent suspension. The two body types are built on a new platform with a long wheelbase of 2,610 mm. They also share wider tracks of 1,470 mm in both front and rear.
The 323/323F's architecture is all new. The 323F 5-door hatchback is 4,200 mm long, 1,705 mm wide and 1,410 mm tall (1,420 mm: w/roof antenna); 40 mm short& and 65 mm taller than its predecessor. Passenger accommodation and luggage carrying capacity have been greatly increased. The rear seat hip-point is raised by 53 mm (89 mm: w/sliding rear seat), making for easier entry/exit as well as providing the passengers with a more expansive view of the outside world.
The 323 4-door sedan is 4,315-mm long, 20 mm shorter than its predecessor, for improved maneuverability. Yet, its passenger space and luggage-carrying ability match that of its class-leading predecessor.
Three gasoline engines and one diesel are offered in the new 323/323F series, all overhead-camshaft inline 4-cylinder power plants. The two DOHC 16-valve gasoline engines are new for the 323/323F, and the SOHC 16-valve unit is extensively modified and improved. The naturally aspirated, swirl-chamber diesel has received a number of improvements and refinements.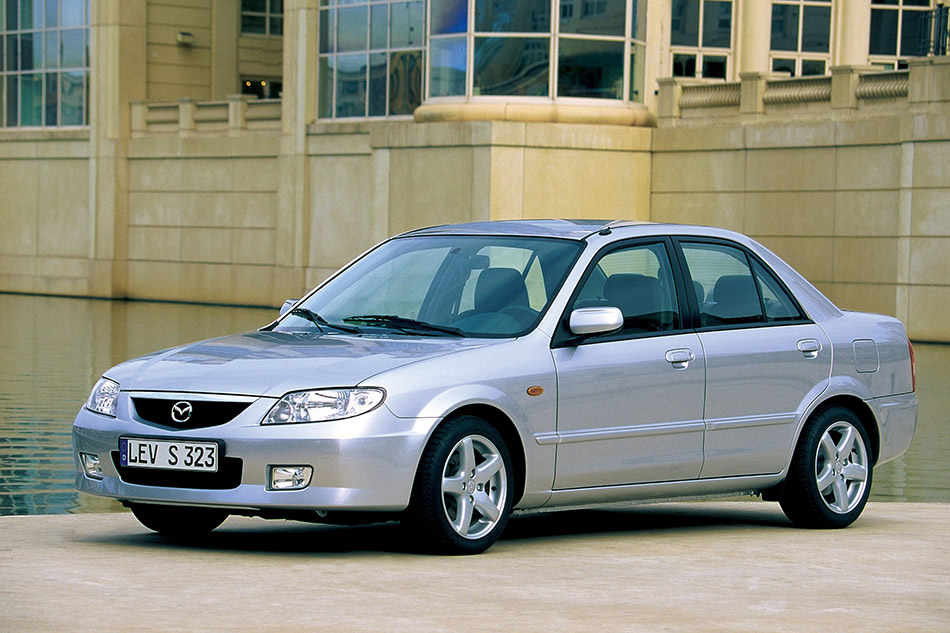 The type ZL DOHC 16-valve fuel-injected 1.5-litre engine is the mainstream gasoline engine for the new 323/323F. This latest Z-family engine is new from the block up. The ZL produces 65 kW EEC at 5,500 rpm and 132 Nm torque at 4,000 rpm.
The type FP DOHC 16-valve fuel-injected 1.8-litre is a "Sports" adaptation of Mazda's engine which powers the new 626. The pp for the 323 produces 84 kW EEC at 6,000 rpm and 161 Nm at 4,000 rpm
The refined type B3 SOHC 16-valve fuel-injected 1.3-1itre unit is offered in ., entry-level models. This engine is rated at 54 kW EEC at 5,500 rpm and 108 Nm at 4,000 rpm.
The type RF SOHC 8-valve naturally aspirated 2.0-litre diesel is an updated and improved version of Mazda's proven design. It is rated at 52 kW EEC at 4,500 rpm and 128 Nm at 3,000 rpm.
All 323/323F models are equipped with improved manual 5-speed transmissions. Additionally, the gasoline 1.5-litre and 1.8-litre models are available with a new electronically controlled, 4-speed automatic transmission. The automatic is an all-new design, incorporating the latest electronic control technology. This transmission continues with the popular "HOLD" mode, enabling the driver to manually select and hold the lower gears.
The 323/323F's all-independent suspension is the latest refinement of Mazda's renowned front MacPherson strut, rear TTL-located strut combination. Suspension performance is optimized via Mazda' s new geometry concepts and new components, providing outstanding balance in handling, stability and ride comfort.
Engine-rpm-sensing, variable-effort, rack-and-pinion power steering is standard on all 323/323F models. The steering has a quick 15.4: 1 ratio to endow the car with agile handling characteristics.
Front ventilated disc and rear drum brakes with vacuum servo assistance provide ample stopping power. Solid rear discs are used in the models powered by the pp DOHC 1.8- little engine. An advanced electronically controlled anti-lock-brake system (ABS) and a sophisticated traction control system (TCS) are available.
The 323/323F's all-steel, welded unit body is the latest product of Mazda's mastery of the art of designing and manufacturing exceptionally rigid structures. Each body possesses bending and torsional stiffness surpassing those of many competitors and that of the previous 323/323F.
Mazda's Advanced Impact-energy Distribution and Absorbing Structure is built around a strong passenger compartment and energy absorbing, deformable front and rear ends. The "crumple" zones of the new 323/323F are fitted with additional energy absorbing "crashcans" on the frame-ends. The "Triple-H" (frame members form letter "H"-like structures on the side, top and bottom) construction of the cabin others protection against side impacts.
Source: Mazda
Gallery:
Mazda 323 (2000)