With this newly developed model, Mazda has entered the second phase of its model renewal program. With the new brand design, high levels of functionality and intelligent technology, the compact Mazda2 follows in the successful tyre tracks of the Mazda6.
A sporty design, a love of detail and agile handling characteristics coupled with spirited engines – are the attributes that have made the Mazda6 so successful. Since its launch, many people now see the Mazda brand in a completely new light. The launch of the Mazda2 with similar qualities
in another market segment, proves that the process of renewal at Mazda is continuing and will go on to affect all vehicle segments. Lewis Booth, President of the Mazda Motor Corporation, put it best: "The Mazda2 embodies every aspect of our new product philosophy. Exactly like the Mazda6, it also represents the zoom-zoom feeling that is the new spirit of our brand."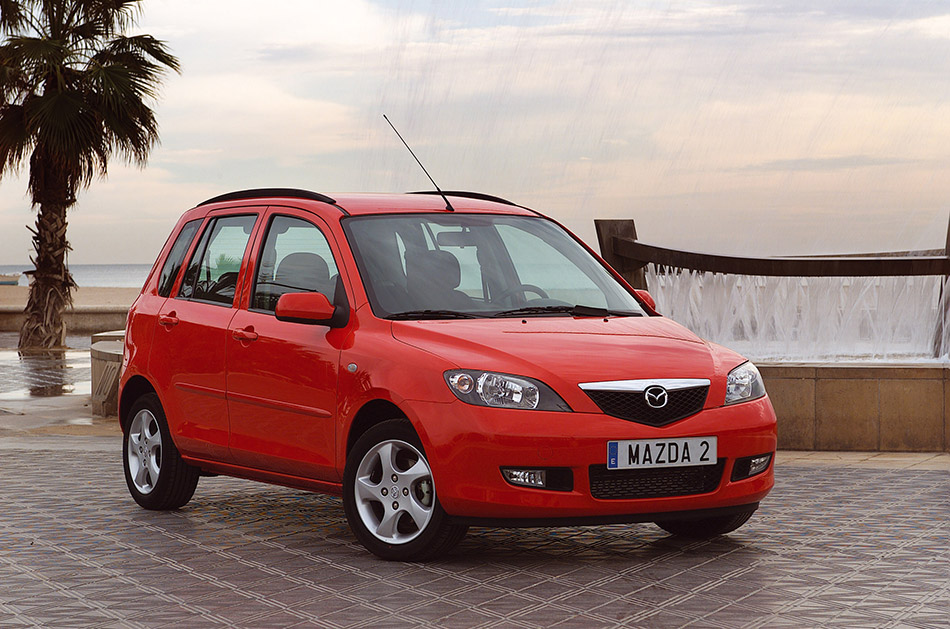 Design: Sporty and Appealing
A strong family resemblance is written in the face of the new Mazda2. The brand-typical five-point grille, the striking contours of the bonnet, the integrated headlights with their dynamic design, and the sporty front spoiler with large air intakes is reminiscent, and not completely by accident, of the front end design of the car's larger brother. Seen from the side, Mazda2's belt line rising towards the back of the car, minimal body overhangs, and restrained sill moulding provide an appealing and confident appearance. The original rear end design of the car is dominated by the hatch, which reaches down low into the bumper area, and the elegant styling of its rear light clusters, which wrap around into the side panels. Extremely small shut line gaps, made possible through newly developed assembly techniques, also contribute to Mazda2's attractive exterior and to its optimal aerodynamic shape.
Interior: Comfortable and Practical
Despite its compact exterior design, Mazda2's high quality and inviting interior is a spatial miracle. There is sufficient room for five adults to ride in comfort, due in part to a very generous head and shoulder room. The driver's seat is adjustable horizontally and in height (210 mm and 38 mm respectively) so that men and women of every body size can find just the right driving position. Newly developed, anatomically-correct seat frames provide all passengers with fatigue-free seating on long trips.
A variety of storage compartments provide room for smaller items. For larger items, Mazda2 possesses a luggage compartment that is unusually large for this class, with a volume of 267 litres. With the back seats folded down, Mazda2 has an expanded load capacity of 1,044 litres with a completely flat floor.  The front passenger seat backrest can also be folded flat for transporting especially long items. Mazda2's extremely low load sill, combined with its large wide-opening hatch, ensures easy loading and unloading.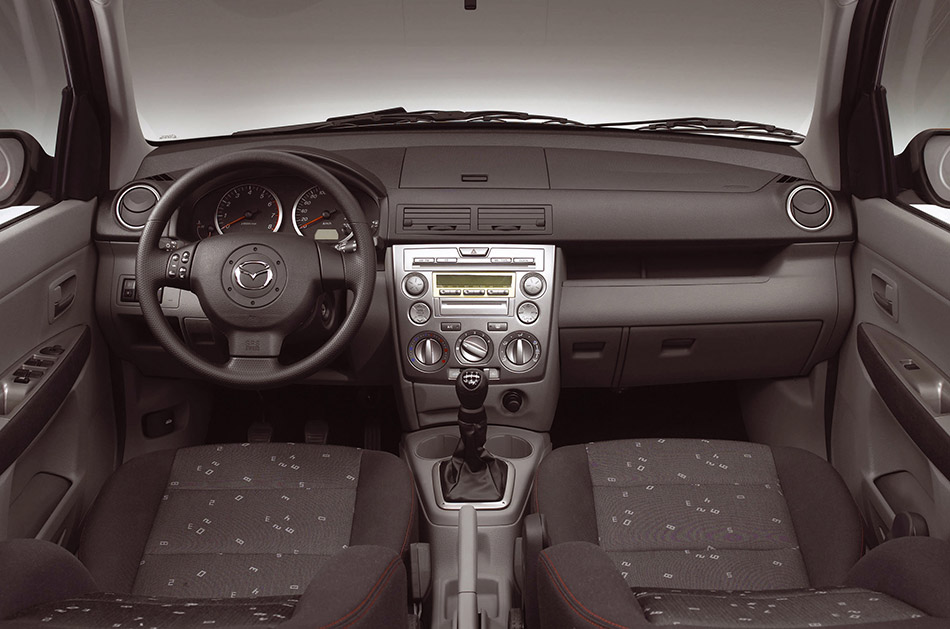 Powertrains: Modern and Spirited
The engine line-up available for the new Mazda2 meets all power output requirements in this class. Three modern, 16-valve, double overhead camshaft (DOHC) petrol engines – a 1.25-litre MZI (55 kW/75 hp), a 1.4-litre MZI (59 kW/80 hp) and a 1.6-litre MZI (74 kW/100 hp) – are available; together with a second-generation common-rail 1.4-liter MZ CD diesel engine (50 kW/68 hp). These engines guarantee spirited driving fun, combined with low fuel consumption and emissions. All petrol engines meet the Euro-Stage IV fuel emission standard.
As an alternative to the precise and easy-to-shift manual five-speed transmission – available for all four engines – the 1.4-litre petrol and the common-rail diesel engines are also available with an automatic shift manual (ASM) transmission, which combines the advantages of an automatic transmission with the flexibility and low fuel consumption of a manual transmission.
Chassis: Stability with Outstanding Dynamic Attributes
Mazda engineers concentrated much of their efforts on the bodyshell and chassis design.  Intensive computer simulations and practical tests resulted in an extremely rigid body structure. For example, rear axle torsional stiffness has been improved by 45% over the previous Mazda Demio model. The extremely stable body structure and the efforts put into developing the chassis, steering and suspension systems have resulted in outstanding driving dynamics. The new Mazda2's suspension is firm and sporty, yet comfortable to drive. This attribute is enhanced by the extensive measures taken by Mazda engineers to improve sound and vibration insulation, to fine-tune the chassis and to provide powerful brakes and the perfect distribution of brake pressure. Such dynamic attributes make it clear that the new Mazda2 is not only good-looking.
Safety: Optimum Active and Passive
Mazda2 features a strong passenger safety cell. An ingenious body structure design distributes impact energy equally through the car's cross-members and side beams to help prevent deformation of the passenger cell. If Mazda2 is involved in a serious head-on collision, the brake pedal decouples and is pulled away from the driver's legs, which reduces the overall risk of leg injuries. Further safety features include front airbags, along with side and head airbags that protect passengers in the front and back seats in case of side impact. Doors and interior trim are made of energy absorbing upholstery. ISOFIX brackets for child seats are standard in the back seat.
The best possible active safety is provided by an agile front-wheel drive chassis, well damped suspension and (optional) ABS, electronic brake distribution (EBD) and the (optional) dynamic stability control (DSC).
Source: Mazda