Sharing centre stage with the new Mazda3 at this year's Frankfurt Motor Show is a new Zoom-Zoom Mazda concept car: an exciting four-seat sports sub-compact, the Mazda Kusabi. A unique combination of attributes, it delivers all the strengths of a small modern sports car—with a stylish and aggressive exterior, a spirited 1.6-litre common-rail diesel engine with six-speed transmission and superb dynamic characteristics— but adds a revolutionary Twin-Lift Hatchback door system, four seats and high levels of interior functionality and style to make everyday city driving more fun and exciting.
Everyday sports concept
The new Mazda Kusabi Design Concept car represents a further evolution of Mazda's "Stylish, Insightful and Spirited" DNA, this time in an exciting diesel sports sub-compact derived from the Mazda2 platform. The modern subcompact segment offers customers affordable cars with low emissions and fuel consumption—for less environmental impact in today's congested urban areas. Due to their small size, they are agile and easy to use, especially for normal day-to-day activities such as commuting and shopping. The new Mazda Kusabi Design Concept introduces an innovative approach to this segment with an exciting four-seat sports car that is designed to make everyday driving a more enjoyable and sporty experience.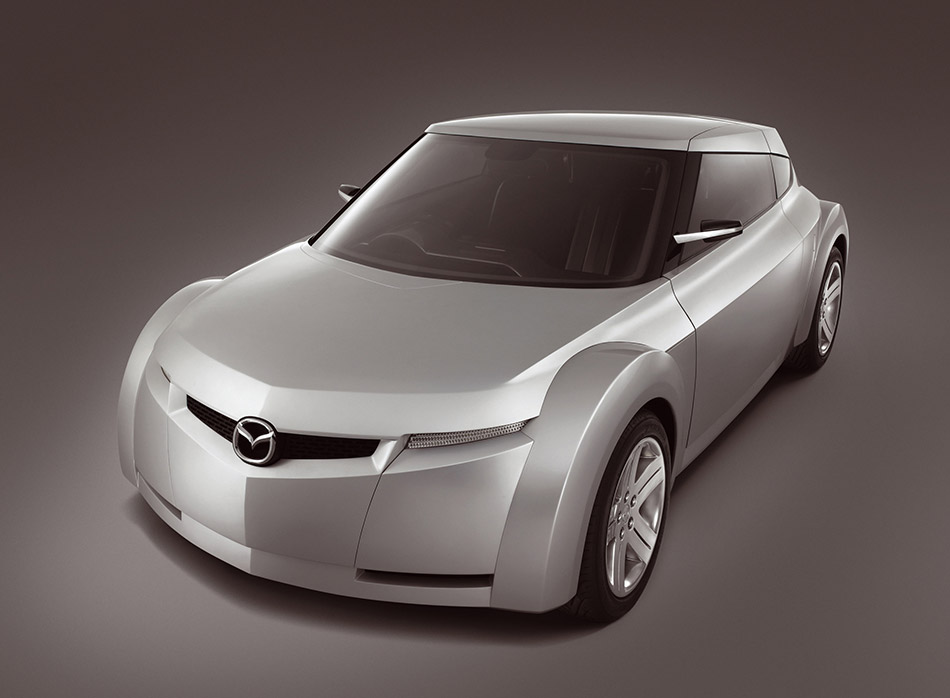 In Japanese, the name Kusabi means "a bond or connection which ties two things together." This is an appropriate name for Mazda's new sports car concept, as it brings together a set of attributes to give customers something completely different than conventional vehicles in this segment. It is based on the unique concept of the "everyday sports sub-compact" offering customers  typical sub-compact strengths—like being small and very manoeuvrable, economical and ecologically sound—with outstanding design and exciting performance, and is yet another fresh example of Mazda's Zoom-Zoom spirit. Tohru Furusawa, one of the car's developers from the company's Product Innovation Department, puts it this way: "Although the Mazda Kusabi concept is a genuine sports car, it's also a sports car you can use for shopping. And look at what it offers the commuter. It could certainly brighten up those early morning drives to work."
Stylish and aggressive design
The Mazda Kusabi Concept features a short overall length (3800 mm), a wide body (1750 mm) and substantial wheelbase (2490 mm). The extremely short front/rear overhangs and 17-inch wheels further emphasize its low and wide stance and give the car a strong road presence. The basic proportions of its exterior design result in a short, emphatically contoured form that immediately communicates an aggressive, sports-car look and give it a unique exterior design.
Overall, it looks rather aggressive, particularly with its rearward slanting, flat roof. In fact, many Mazda designers referred to the project as 'The Flattop' at an the early stage in development, a reference to the popular early 1950s haircut in the US.
The front end features a wider, more intricate update of Mazda's signature five-point grille. The headlamps with high-luminance LED's are located within slit openings and lend a sharply sculptured expression to the front end. Press lines extending from the bonnet through the body sides to the rear end have prominent edges which, combined with large 17-inch wheels and pronounced fenders, visually express a feeling of driving excitement.
The name Kusabi also means "wedge" in Japanese and perfectly reflects the wedge-like design of the upper sections of the car. The roof has pronounced edges and slopes down to the rear end in such a way that, when combined with the side and rear windows, forms an "X" shaped C-pillar in the shape of two wedges. This creates a simple yet unique design that achieves an aggressive sports car personality that truly stands out from the crowd. Said designer Yoichi Satoh: "The Kusabi is simple and dynamic with a sense of solidity. It has an aggressive, futuristic design, but we also looked to achieve a calm, classical ambience in the car's form."
Visual expression to structure—contemporary interior design
The Mazda Kusabi Concept's interior features a unique design that integrates the instrument panel with a highly rigid annular aluminium frame around the foot wells. The rear strut tower stiffeners in the luggage area also have a sturdy aluminium design. Together these features give visual expression to Mazda Kusabi Concept's robust structure, creating a powerful, sporty ambience inside the cabin. The interior is unified by a simple, geometric design that combines cool metallic elements with soft-textured materials, for a refined, contemporary feel.
Twin-Lift Hatchback—sporty, everyday functionality With its 2+2 cabin layout, Mazda's new Kusabi sports car concept offers high levels of practicality for normal, everyday tasks. The car features a Twin-Lift Hatchback with a revolutionary new tailgate mechanism that allows easy access and use of the luggage compartment.
The Twin-Lift Hatchback arrangement provides two completely different opening modes. There are two split hatch doors that open individually on a hinge mounted longitudinally in the centre of the roof. This opening mode is  especially practical for stowing smaller items. However, they also open together like a regular hatchback, facilitating stowage and removal of larger items.
The rear seat area of the new Mazda Kusabi offers unparalleled flexibility for a sub-compact diesel sports car. You can either use the rear seats for occupants, or fold them down to create a very usable luggage area. For even more luggage space, you can easily remove the aluminium rear strut tower stiffeners located behind the rear seats.
Swing Seatbacks
Mazda Kusabi Concept's front seats feature swing seatbacks for easier access to the rear seats of the 2 + 2 cabin. A hinge mechanism fitted between the driver's seat and passenger's seat permits turning of the seatbacks toward the inside in a way similar to a house door, making it easier to get into the back seats. Also, the centrally located hinge mechanism is aluminium with a geometric design. Together with the seats' metallic-look outer frame and the aluminium frame of the instrument panel, it contributes to the powerful, contemporary ambience of the cabin as a whole.
Interior Illumination
As an added feature enhancing everyday use, the aluminium frames running across the bottom of the bulk head trim and door trim have built-in lighting that is linked to door opening and closing. The frame provides a soft glow in the foot wells and functions as a courtesy light for the door trim, facilitating easier entry and exit at night.
Handling and braking that epitomizes Zoom-Zoom
Mazda Kusabi Design Concept's aggressive design, revolutionary Twin-Lift Hatchback, four seats and excellent interior flexibility are combined with Zoom-Zoom dynamic performance to deliver a unique new generation sports car experience.
It's compact body and short overhangs minimise the car's yaw inertia moment and contribute to superior handling characteristics. In addition, the highly rigid body features an aluminium frame and the same excellent suspension system as the Mazda2 to achieve levels of driving excitement expected of a Mazda sports car. It combines 17-inch wheels and large (283 mm) front and rear disc brakes for linear and responsive braking action. Combined with a new and spirited diesel engine delivering substantial torque, Mazda Kusabi Concept's stabile and predictable driving dynamics make everyday driving fun and exciting.
MZ-CD Diesel Engine with DPF and 6-speed Automatic Shift Manual
Mazda Kusabi Concept is equipped with a new 1.6-litre MZ-CD diesel engine with diesel particulate filter (DPF). It is mated to a six-speed Automatic Shift Manual transmission, optimised to allow the driver to get the most out of the engine's torque and power, adding to the sporty enjoyment of driving the car on a daily basis. It combines the excitement of manual shift driving with the comfortable feel of an automatic, and helps make the driver feel one with the car.
The 1.6-litre MZ-CD powertrain not only achieves sporty performance but a high level of environmental compatibility as well. It features a highly-rigid block and ultra-high pressure common-rail fuel injection, and is equipped with a DPF system for excellent emissions performance, especially important in urban centres with lots of traffic. It produces 80 kW/110 PS of power—with low levels of noise, harshness and vibration—and 240 Nm of torque on demand. The result is a powertrain that delivers sharp acceleration and ensures that the Mazda Kusabi Concept is agile, responsive and fun to drive in city traffic.
Source: Mazda
Gallery:
Mazda Kusabi Concept (2003)