Mazda's four-wheel drive Tribute was launched in its new facelift version in European markets in February / March 2003.
Mazda's stylish SUV features distinctive exterior styling plus a spacious, convenient and refined interior for maximum comfort and versatility. Designed and engineered by Mazda in Japan, Mazda Tribute is available with the choice of a powerful and smooth 3.0-litre V6 or 2.0-litre in-line four-cylinder engine, while the four-wheel drive system features Rotary Blade Coupling (RBC) with lock-up function.
The Mazda Tribute has four-wheel independent suspension with front struts and multi-link at the rear, precise steering, car-like monocoque construction, a powerful 24-valve V6 engine, and a spacious and comfortable interior. The independent suspension provides an ideal balance of spirited handling and ride comfort, while the front roll centre is lower than its rear roll centre, yielding an excellent steering feel and turn-in while providing more linear response.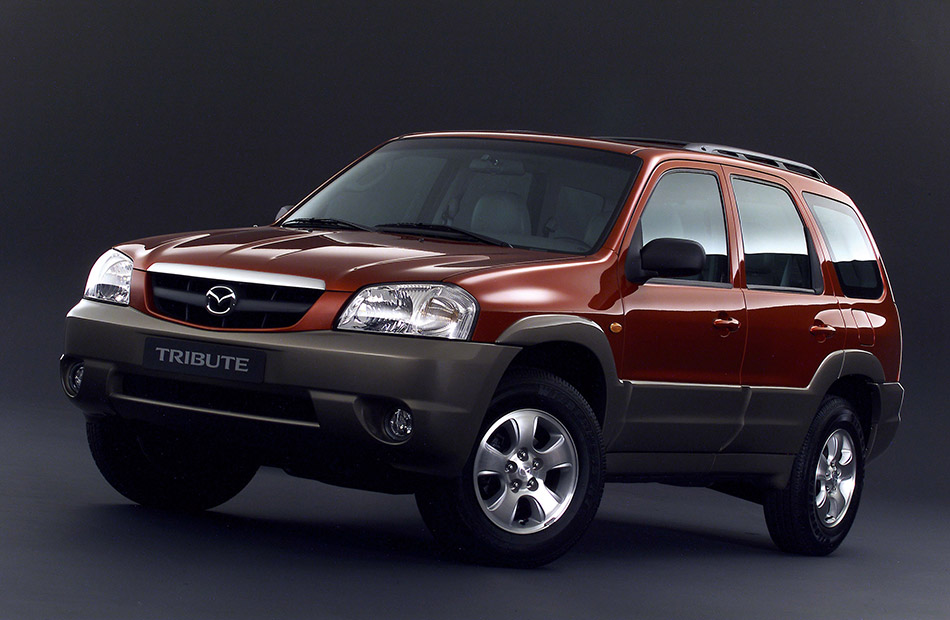 The long wheelbase provides a smooth ride over rough roads, while the Mazda Tribute's wide track helps give a stable feel during cornering. The car boasts many features normally found only on luxury SUVs, like leather seating and a six-way power-adjustable driver's seat. Power-assisted rack-and-pinion steering is standard and has been tuned to deliver sporty road feel and responsiveness.
The Mazda Tribute has standard dual air bags, front seat-mounted side air bags and a four-wheel Anti-lock Brake System (ABS) with Electronic Brake Force Distribution (EBD). EBD is a sophisticated electronic system that replaces the conventional mechanical dual-proportioning valve. It varies the amount of rear braking force depending on vehicle load for optimal stopping performance when the vehicle is fully loaded with passengers and luggage. Mazda Tribute's solid body structure incorporates Mazda's hallmark "Triple-H" body reinforcements in the roof, sides and floor to enhance rigidity.
Mazda Tribute's styling incorporates a prominent five-point grille and large chrome Mazda brand symbol to create Mazda's family face. Sharp creases in the bonnet and bumpers are in keeping with Mazda's "Contrast in Harmony" design philosophy, which blends contrasting design elements.
All of Mazda's design centres in Japan, the US and Europe provided input to the development of Mazda Tribute, with the final design led by Mazda's design group in Hiroshima.
Mazda Tribute, which has more front and rear seat legroom than some luxury SUVs, provides spacious seating for five adults and ample luggage space behind the rear seat. This gives the vehicle a significant advantage over many competitors.
The car-like dynamic qualities carry over to the interior, with a stylish instrument panel and ergonomically shaped inner trim for passengers. Tribute gives drivers a commanding view of the road, and passengers will appreciate the low step-in height and large door openings.
The rear seatbacks fold down in a 60/40 split, and can produce a completely flat space for greater luggage carrying flexibility, and there are four tie-down hooks to secure cargo. By folding the rear seats, there is sufficient space to accommodate two 26-inch mountain bikes without removing the wheels.
The 2.0-litre DOHC model is available as four-wheel drive and front-wheel drive, both driven by a five-speed manual transmission. The V6 3.0-litre DOHC model is four-wheel drive and has a smooth-shifting four-speed automatic transmission.
Featuring RBC with Lock Function, Mazda Tribute's "Select 4-wheel-drive" system automatically senses when the front wheels begin to slip and transfers power to the rear wheels for reliable traction. This seamless transfer of up to 50 percent of the engine's torque ensures that additional traction is on hand when the driver needs it, and results in significant benefits for fuel consumption. For added performance, an instrument panel-mounted switch allows the driver to lock the system in four-wheel drive on slippery roads. Although Mazda Tribute has exceptional on-road steering, handling and braking performance, its capabilities when off-road are greater than most owners will ever need.
Source: Mazda
Gallery:
Mazda Tribute (2003)