The Mazda6 introduced a new kind of Mazda to the world and changed how people perceived the Mazda brand. Added to its well-deserved reputation for dependability and generous standard equipment packages were dynamic, stylish design, insightful packaging and spirited driving attributes.
This combination was a hit right from the beginning. The Mazda6 not only went on to win over 100 automobile awards worldwide, but Mazda has produced more than 620,000 units to date and it con- tinues to be Mazda's top-selling model globally. In Europe, it initiated nothing less than a complete turn- around and led Mazda Motor Europe to levels of success that not even the most optimistic had thought possible. In 2003, its first full year on the market, over 100,000 Mazda6s were sold in Europe, and it was consistently one of the top-selling Japanese import cars in its segment. Its popularity has not waned and in 2004 it remained Mazda's best-selling model in Europe, finding nearly the same number of owners as in its first year and achieving a segment share of 5.7 percent.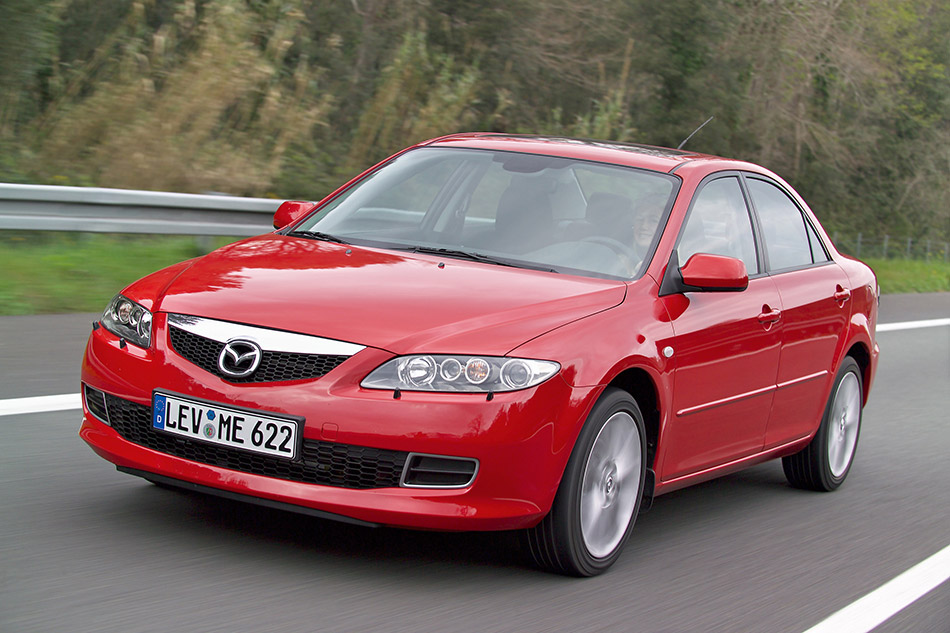 Mazda chose the 2005 Geneva Motor Show to present the first facelift version of the original best-seller to highlight its importance to the European market. The new version, which will go on sale starting in early summer this year, clearly adds more of what made Mazda6 so popular among customers, with sophisticated and sporty enhance- ments to both the exterior and interior, five newly-refined engines, two new transmissions and enhanced suspension attributes. Combined in all three body styles — Mazda6 sedan, Mazda6 Sport and Mazda6 Wagon — they deliver high levels of refined maturity intended to make one of the segment's out- standing cars even better.
Exterior
Evolved Athleticism Mazda6's exterior has always been the epitome of Mazda's new-genera-tion design theme of athleticism that combines refinement, sophistication and a bold road presence. The face- lifted Mazda6 takes these attributes one step further, providing a stronger and sportier appearance for all three models by refining the front and rear of the car.
Added to the car's distinctive air inlet apertures in the front skirt, and the slim clear glass headlights, is a new upper grille design now markedly recessed, giving the lower section a deeper lip for a distinctive, three-dimensional appearance.
The lower grille design is modified for a more aggressive, sporty appearance and the former diamond grille mesh has been replaced by an elongated honeycomb for a touch of sporty sophistication. The front bumper has also been redesigned to emphasize Mazda6's speedy appearance, and there are fog lights (optional or standard, depending on grade) and headlights with new thin black bezels for a sporty elegance.
Seen from the side, the Mazda6 facelift retains its sporty design language achieved through the steeply angled windshield and large,flared wheel wells. For even more sophistication and sportiness, the Mazda6 facelift has been enhanced with new 16,17 and 18-inch alu- minium alloy wheels. At the back, the rear bumper, exhaust pipes(2.0 and 2.3-litre petrols) and new rear light bezels enhance the strong, dynamic look of the car. A horizontal line has been added between the reflectors to emphasize the car's wide stance, while the wrap-around taillights with black bezels match the headlights, giving a consistent and high-quality look to the whole. Two additional body colours are available as well—Phantom Blue Mica and the all-new Brilliant Carbon Grey Mica.
An additional visual differentiator for most European markets is the Sports Appearance Package, which will be available in selected markets and gives the Mazda6 an even stronger athleticism with exterior cues that reflect the look of the top- end Mazda6 MPS. These include the front grille design, with the Mazda brand symbol on wings, and the front bumper with new aero skirts. The line running from the underside of the front bumper, over the side skirts and to the rear bumper has been modified, and at the back of the car there is a spoiler and new bumper aero skirting. These design features give the Mazda6 facelift with the Sports Appearance Package a particular- ly sporty and sophisticated look.
Interior
Since its launch nearly three years ago, Mazda6 has excelled through its insightful interior design that combines roominess, easy-to-use functionality and craftsmanship. Left unchanged are the basic packaging strengths that have made it one of the segment's most attractive cars, including roomy interior dimensions front and back, comfort- able seats with strong side support, a cleanly designed and ergonomi- cally adjustable driver environment, Karakuri seat functionality— which allows the rear seats to be folded down flat without having to remove the headrests by simply operating a lever on the side of the boot — and a large boot with a volume of up to 505 litres.
Within these parameters, the Mazda6 facelift enhances overall quality feel with new trim, new meter bezels, sporty seats and centre panel design. The door trim has been completely redesigned so that customers can tangibly experience Mazda crafts- manship the moment they open the door. The quality of the colours and materials has been improved and thicker cushion material added to the armrests for a softer, higher quality feel. The doors themselves now have grip-type interior door handles, front and back, which can be held by passengers during sportier driving.
In front of the driver are newly- designed metres that convey sportiness and elegance. To the driver's right, the Mazda6 facelift introduces a new dark titanium coloured centre panel (depending on grade) replacing the metallic- look of the previous version. This enhances the overall quality feel in an interior already characterized by high levels of craftsmanship.
Comfort and Entertainment Newly introduced with the Mazda6 facelift is an Advanced keyless entry system that is more convenient than conventional entry systems. Its card-type key locks and unlocks the doors and starts the engine, without the driver ever having to take the card out of his or her pocket, which is especially handy when carrying shopping bags or luggage. By pressing the request switch installed above the handle on both front doors, on the boot lid or liftgate, all doors are unlocked or locked. The system also has a transmitter that allows opening and closing of all windows from outside the vehicle. On hot days, for instance, this allows you to open up the windows to let cooler air in without getting into the car, or allows you to close any windows left open by mistake.
On the inside the Mazda6 facelift, just like its predecessor, has com- fortable standard seats with plenty of side support and an onboard audio system to make the trip a truly pleasurable experience. The electrical driver's seat adjustment now features a new seat position memory system. The system stores the seat settings of up to three different drivers, each of which can be called forth simply by pressing one of the three buttons to the left of the driver below the cushion. New front row semi-bucket seats are introduced as well (depending on grade) offering improved leg and side support, while giving the cockpit an even sportier and more sophisticated appearance.
Road noise has been further decreased by the introduction of new tyres and wheels, sound insulation material in 18 major locations, new vibration damping structures and extra reinforcements, all of which contribute to making the Mazda6 facelift interior environment even more enjoyable and comfortable than before.
Of course, the Mazda6 facelift would not be a Mazda without an opulent standard equipment package. Added to an already complete package are a single CD player, automatic front and rear power windows, Retractable key and global closing function. New options include Advanced keyless entry, burglar alarm, rain sensing wipers, auto light system and front fog lamps, which are added to the list of Mazda6 features already available.
Helping to ensure that no uninvited guests get to enjoy the comfort and entertainment systems of the Mazda6 facelift is a Thatcham Category-1 burglar alarm system, which uses a rolling code function that changes every time the trans- mitter is operated. The system also includes a comprehensive intrusion sensor layout that detects window intrusion and other body openings, and will go off if the battery is dis- connected. The intrusion sensing function can be disabled by remote control, while leaving all other systems functional.
Powertrain— More Power, Lower Fuel Consumption
One of the key aspects to the success of the outgoing Mazda6 has been its spirited, fun-to-drive nature. In developing the facelift model, Mazda engineers not only focused on making the car even more sophisti- cated inside and out, they also improved the dynamic attributes to make the unique Mazda6 mixture of sporty sophistication even more attractive.
Five refined engines — two derivatives of a 2.0-litre common-rail turbo diesel and three petrols, a 1.8-litre,2.0-litre, and 2.3-litre — are introduced with the Mazda6 facelift. All of them deliver better or equal performance and torque with equal or lower fuel consumption than the outgoing engines. This means more Mazda6 driving fun with lower operating costs.
The MZR-CD 2.0-litre is a newly- refined four-cylinder common-rail turbo diesel engine that delivers more torque and power, operating refinement that is virtually equal to that of a similar petrol engine, and lower emissions with a diesel particulate filter system as standard. The engine comes in two derivatives to meet the demands of European customers, including a Standard Power version for customers looking for common-rail refinement and power, with low operating costs.
It produces a maximum of 89 kW/121 PS of power at 3,500 rpm*, with higher maximum torque of 320 Nm at 2,000 rpm* for plenty of engine responsiveness across the speed range, and has a targeted combined fuel consumption of just 6.0 litres per 100 km*. The High Power version is for more perfor- mance-minded drivers and produces 105 kW/143 PS of maximum power at 3,500 rpm*, a robust maximum torque of 360 Nm at 2000 rpm* with a targeted combined fuel con- sumption of 6.0 litres per 100 km*. The High Power version produces 5 kW/ 7 PS* and 50 Nm* more than the diesel aggregate it replaces, yet is targeted to use approximately half a litre less fuel per 100 km*, meaning customers can have even more Zoom-Zoom driving fun while paying less at the pump.
A major contributor to these improvements is a newly-designed variable-geometry turbocharger that has a lower inertia moment and features a shorter distance between the exhaust gas inlet and the centre of the turbine shaft. The variable- geometry turbocharger is combined with the engine's high pressure common-rail fuel injection system, with optimized injection volume and multi-stage injection of up to nine times per cycle, and a relatively low compression ratio of 16.7, all of which improve output and torque, repress combustion noise and reduce emissions.
Mazda6 facelift's MZR-CD 2.0-litre common-rail turbo diesel engine has various features to ensure that it meets or exceeds Euro Stage IV emission standards. NOx emissions have been reduced by lowering combustion temperatures. This is achieved, in part, by using a lower compression ratio that allows a lower pilot premix combustion temperature. To optimize and better control the air/fuel mixture, the engine has a high-response intake shutter valve and a valve to control exhaust-gas recirculation cooler rates, both located on the intake side. There is also an O2 sensor that monitors residual oxygen in the exhaust gases, which contributes to reducing NOx emissions.
Both diesel derivatives come standard with a diesel particulate filter system that reduces black smoke to almost zero by capturing diesel particulate matter in a ceramic filter. Once this filter has captured a pre-determined amount of particulate matter, exhaust gas temperatures are raised to burn it off and regenerate the filter. As a result, Mazda6 facelift with the new diesel engine produces 80 percent fewer particulate matter emissions than Euro Stage IV standards allow.
Three refined petrol engines complete the engine line up. All are 16-valve, DOHC aggregates and feature technical advancements that deliver equal or improved power output with equal or lower fuel consumption.
The Mazda6 facelift retains the 1.8-litre four-cylinder base engine that produces 88 kW/120 PS of maximum power at 5,500 rpm* and 165 Nm of maximum torque at 4,300 rpm*. However, it has been upgraded to include an electroni- cally controlled throttle valve for even better drivability. With this engine, the Mazda6 sedan with manual transmission is targeted to use 7.7 litres (combined) of petrol per 100 km*, with a top speed of 197 km/h* and a Euro Stage IV emissions rating.
 
The newly-refined MZR 2.0-litre four-cylinder aggregate produces a maximum of 108 kW/147 PS at
6,500 rpm* and a maximum torque of 184 Nm at 4,000 rpm*. It features a variable intake system that opti- mizes the cylinder charging effect of pressure in the intake manifold by varying the length of the intake passage via a special valve. By closing at low and mid-range engine speeds and opening at higher engine speeds, it maximizes torque across the speed range, and provides even more of the spirited engine response to gas pedal input that Mazda6 is known for. Also onboard is sequential valve timing, which adjusts the timing of the intake valves according to engine speed and intake volume.
It optimizes engine efficiency at all speeds and contri- butes to better power delivery, lower fuel consumption and emissions. The engine also has an electroni- cally controlled throttle valve for better drivability and a dual silencer, which improves power output. As a result, the Mazda6 sedan with manual transmission and the MZR 2.0-litre petrol has a top speed of 211 km/h*, is targeted to use 7.8 litres (combined) of petrol per 100 km* and meets the Euro Stage IV emission standard.
The largest engine of the petrol line up is a 2.3-litre four-cylinder that produces a maximum of 122 kW/166 PS at 6,500 rpm*, and maxi- mum torque of 207 Nm at 4,000 rpm*, with lower fuel consumption than the previous top-end petrol.
It also has a variable intake system for maximum torque throughout the speed range, an electronic throttle control valve and a dual silencer for improved output at all engine speeds. With this powerful and responsive engine, the Mazda6 sedan with manual transmission reaches a top speed of 214 km/h* with a combined targeted fuel consumption of 8.7 litres per 100 km* and a Euro Stage IV emissions rating.
Two newly-developed transmissions are introduced as well, including a six-speed manual transmission as standard for both diesel derivatives and for the 2.0-litre and 2.3-litre petrol engines. It has been optimized with different gear ratios for each of the three individual engines to get the most out of their power and torque characteristics. It has also been developed with optimized shift lever operability, a shorter shift stroke with ergonomically optimized operating force and shift feel, which make the Mazda6 facelift with these engines even more fun to drive. The base 1.8-litre petrol engine comes standard with the five-speed manual gearbox that has made the outgoing Mazda6 with this engine such a great car to drive.
For the 2.0-litre and the 2.3-litre petrol engines, a new five-speed Activematic transmission is available as an option, which replaces the former four-speed Activematic gearbox. The new Activematic fea- tures refined Direct Electronic Shift Control for even smoother shift feel, and an optimum layout for the hydraulic control system for shifting between fourth and fifth gear. The range of the slip control system has also been extended, which helps reduce transmission loss by the torque converter, and which gives an ideal balance between performance and fuel economy.
Body and Chassis

The body and chassis systems of the Mazda6 facelift have been tuned and refined to ensure that the new engine performance translates into Mazda6-typical driving fun. The chassis components of the Mazda6 facelift are more rigid and combined with an increase in local body stiffness for a marked improvement in dynamic performance.
For Mazda6 facelift's body shell, the thickness of the front frame reinforcements was increased, two additional body frame reinforce- ments were added, the rigidity of the outer door panel reinforcements increased and a new door pad incorporated. The upper A-pillar on the driver's side was also reinforced, the thickness of the B-pillar reinforcements increased and the outer reinforcements and gussets of the lower B-pillar redesigning for more rigidity.
These enhanced reinforcements to the Mazda6 facelift's body shell work in conjunction with a suspension system architecture that is unchanged, but retuned to improve the new version's road holding capabilities and handling stability. The Mazda6 facelift has a double wishbone front suspension, hydraulic power assisted steering and an E-type multi-link rear suspension system, all of which deliver high levels of road holding capability. For the Mazda6 facelift, the suspension has been revised to include front and rear bushings modified to deliver more flexural and torsional rigidity and tuned to work with the springs and dampers to deliver an optimal balance be- tween predictable handling control and ride comfort.
The Mazda6 facelift has four large disc brakes, and anti-lock brake system (ABS) with electronic brake distribution (EBD). Mazda's dynamic stability control (DSC) with electro- nically-controlled brake assist is available as well for even more safety. To apply the effect of this outstanding braking system gently and smoothly, Mazda has developed an innovative braking force booster for constant pedal pressure, and uses especially strong brake hoses that do not bulge under high pres- sure and detract from pedal feel. Added to those models with new 18-inch wheels (2.3-litre petrol) are new 320 mm front and 314 mm rear disc brakes, which enhance even further the Mazda6's braking performance.
Safety & Security
The Mazda6 facelift's active safety package begins by delivering predict- able, controllable handling in normal conditions coupled with robust four-wheel disc brakes, ABS and EBD as standard, and available DSC with electronically controlled brake assist. Added to this are several new optional features to help the driver avoid an accident before it occurs. These include a new intelligent auto light system that employs two sensors — a forward and an upward-facing sensor — which constantly monitor light levels and turn the lights on and off according to conditions. Full auto wiping is also available, which controls wiper on/off and high/low speeds automatically via a sensor that analyzes infrared reflectivity to determine how wet the windshield is to provide optimal wiper functionality so the driver can concentrate on the road.
Mazda6 facelift also has a redesigned body structure for improved crash safety with the goal of achieving a five-star rating on European NCAP testing. With improved body rigidity, the Mazda6 facelift has passive safety levels that deliver a strong passenger cell for even more pro- tection in case of impact. These improvements build on an extremely rigid subframe that absorbs and distributes impact energy away from the passengers. Inside the occupant cell is a collapsible brake pedal that helps reduce the risk of leg injuries to the driver in case of frontal impact. Front and side air- bags for front occupants are onboard,along with curtain airbags for both front and rear passengers. The Mazda6 facelift also includes a seat- belt reminder tone and indicator for the rear seats, added to the standard reminder for the front seats. This feature is especially practical for families with children.
Source: Mazda
Gallery:
Mazda 6 Facelift (2005)