The 2007 CX-7 is a mid-size crossover SUV model from Mazda, the production version of the MX-Crossport concept car. The CX-7 is built in Hiroshima, Japan, starting in early 2006. The CX-7 was shown publicly for the first time at the 2006 Los Angeles Auto Show in January. Production officially began on February 20 at Mazda's Ujina #2 factory in Hiroshima. The CX-7 goes on sale in spring 2006 as a 2007 model. It replaced the Tribute as the company's small SUV, and competes against the redesigned Honda CR-V, Hyundai Santa Fe, as well as newcomers such as the Dodge Nitro and Ford Edge.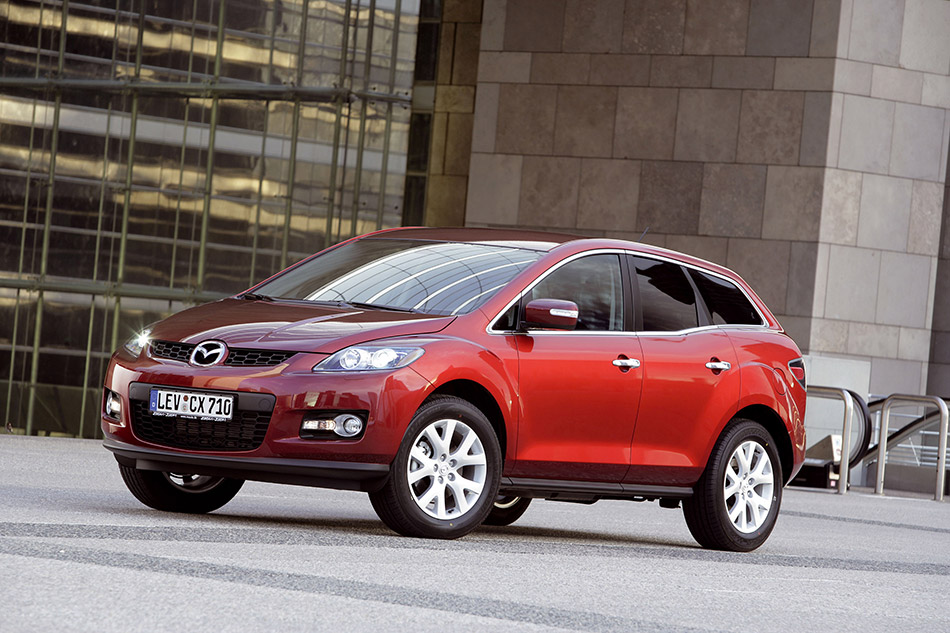 The CX-7 rides on an all-new platform instead of sharing the Ford/Mazda CD3 platform used by the larger Mazda CX-9/Ford Edge/Lincoln MKX crossovers as well as the Mazda6. It uses the front suspension of the Mazda MPV minivan, with the rear suspension from the Mazda5. Many of the all wheel drive components come from the Mazdaspeed 6, as does its turbocharged engine. The only available transmission will be a 6-speed automatic. The CX-7 will slot between the Tribute and CX-9.
Power comes from the same 2.3 L straight-4 MZR engine used in the Mazdaspeed 6, and tuned to produce 244 hp (182 kW)at 5000 RPM and 258 ft·lbf (350 N·m) of torque at a low 2500 rpm. 99 percent of the maximum torque is available to 5000 rpm.
The CX-7 features fully independent suspension, four-wheel ventilated disc brakes with standard anti-lock brakes, stability control and traction control, and a choice of either front wheel drive or Mazda's Active Torque-Split all wheel drive system. With the Active Torque-Split system, two computer-controlled magnetic clutches feed up to 50 percent of the engine's torque to the rear wheels. The Mazda CX-7 is estimated to deliver over 23 mpg (10.2 L/100 km) in combined driving.
Source: Mazda
Gallery:
Mazda CX-7 (2007)