The 2014 Honda Accord Plug-in Hybrid Sedan will provide the athleticism and craftsmanship of the all-new Accord platform, charged with a remarkable dose of hybrid efficiency and electric torque. Set to go on sale in early 2013, the 2014 Accord Plug-in Hybrid (PHEV) Sedan will offer premium technology, exceptional cabin space, the ability to run in an all-electric mode for 10 to 15 miles and a calculated1 total driving range over 500 miles.
The 2014 Honda Accord Plug-in Hybrid Sedan features one of four efficient new powertrains for the all-new Accord. The Accord Plug-in Hybrid will also serve as the basis for a conventional hybrid version of the Accord Sedan, which will join the Honda Accord lineup in the summer of 2013.
The 2014 Accord Plug-in Hybrid is powered by Honda's first two-motor hybrid system, and uses a new Earth DreamsTM 2.0-liter i-VTEC 4-cylinder engine producing 137 horsepower, teamed with a powerful 124-kilowatt (kW) electric motor. Electric driving is supported by a 6.7 kilowatt-hour (kWh) lithium-ion (Li-Ion) battery, and total system output is 196 horsepower.
To maximize driving efficiency, the uniquely designed two-motor hybrid system allows the Accord PHEV powertrain to move seamlessly between all-electric EV Drive, gasoline-electric Hybrid Drive; and direct Engine Drive. Fuel efficiency for the 2014 Honda Accord Plug-in Hybrid is expected to exceed 100 MPG-e, and it's also expected to receive an Enhanced AT-PZEV rating from the California Air Resources Board (CARB).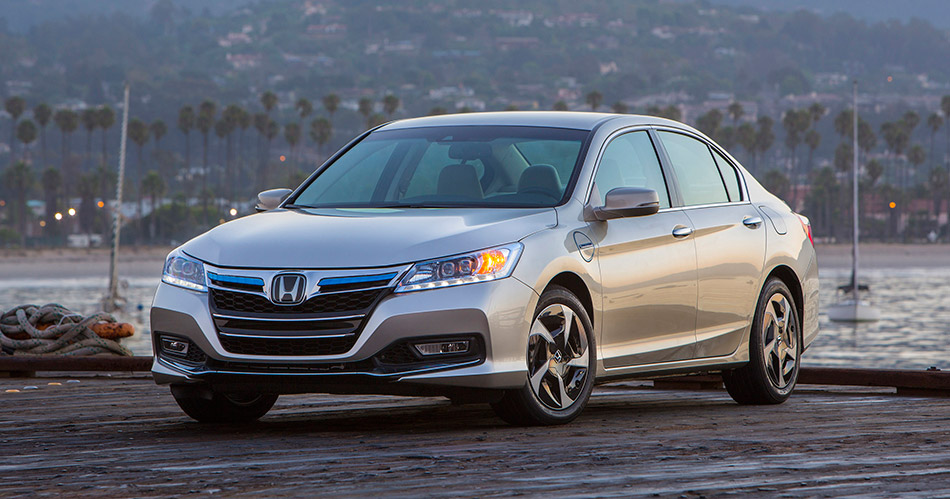 Beyond its function as a full-electric vehicle, owners of the 2014 Honda Accord PHEV will be able to choose two additional driving modes to manage battery capacity and tailor the capabilities of the plug-in Accord to their own commute. In its default upon start-up, the Accord PHEV acts as a pure electric vehicle and will continue on in full-electric mode until battery capacity necessitates the automatic switch to gas/electric hybrid operation. At higher speeds or under high demand for acceleration, the gasoline engine can kick in to provide additional power.
In "HV" mode, the plug-in Accord acts as a conventional hybrid, blending motor power between gasoline and electric to maximize fuel efficiency while maintaining the battery charge level. In "HV Charge" mode, the Accord PHEV blends gasoline and electric power while also augmenting the battery charge level.
The 2014 Accord Plug-In Hybrid Sedan will feature an electric servo braking system similar to the setup on the Honda Fit EV, which allows for exceptionally natural brake pedal feel, while extending the range over which the regenerative braking can take place. In addition to its efficient powertrain, the Accord PHEV features remarkably swift charging times. The plug-in Accord can be fully charged from a low-charge indication point in less than three hours using a standard 120-volt household electrical outlet, and in less than one hour using a 240-volt "Level-2" charger. The free HondaLink™ EV smartphone application will allow owners to easily monitor the charging state of the Accord PHEV.
Based on the Touring trim level of standard Accord Sedan, the 2014 Honda Accord Plug-in Hybrid Sedan will feature three exterior color choices, including two standard Accord shades (White Orchid Pearl, Crystal Black Pearl) plus a model-exclusive Burnished Silver Metallic exterior color choice. The Accord PHEV will also feature a weight-saving aluminum hood, 17-inch forged alloy wheels, a unique front bumper along with enhanced underbody aerodynamic treatments.
A host of visibility technologies are standard on the 2014 Honda Accord PHEV, including a rearview camera, an expanded-view driver's mirror, Honda's new LaneWatch™ blind-spot display, LED headlights, LED daytime running lights (DRL), and LED mirror-mounted turn indicators.
Powertrain
The Earth Dreams technology used on the Accord PHEV includes an i-VTEC 2.0-liter 4-cylinder Atkinson-cycle gasoline engine coupled with a two-motor hybrid drive system. The hybrid system features a 124-kW electric motor powered by a 6.7-kWh Li-Ion battery pack. The gasoline engine produces a maximum 137 horsepower (hp) at 6200 rpm. In conjunction with the two-motor hybrid-drive system, the total power output peaks at 196 hp, which surpasses the Toyota Prius Plug-In Hybrid, Chevrolet Volt and projected output of the Ford Fusion Energi plug-in hybrid. The EarthDreams engine horsepower alone surpasses the total gas-electric output of the Prius Plug-In Hybrid.
Although not finalized at press time, anticipated fuel economy ratings for the 2014 Accord PHEV are expected to exceed 100 MPG-e in full-electric mode, provide a 10- to 15-mile EV driving range and a calculated1 total driving range over 500 miles. When in gasoline-only mode, it is expected to return one of the top EPA fuel economy ratings among mid-size sedans, and is also expected to earn an Enhanced AT-PZEV rating from the California Air Resources Board (CARB).
The two-motor hybrid system in the 2014 Honda Accord Plug-in Hybrid allows power from the gasoline engine to flow directly to the front wheels, power the generator to supply electrical propulsion or even charge the battery pack. The Accord PHEV hybrid system moves seamlessly and automatically through its three powertrain states to maximize performance, efficiency and range.
From a low-charge indicator point, recharge time for the Li-Ion battery pack when plugged into a standard 120-volt wall outlet is less than three hours, among the fastest in the Accord PHEV's class. And when plugged into a Level-2, 240-volt charger the recharge time is less than one hour - the quickest in the class. This is about half the required charge time of the Prius Plug-In Hybrid. The battery pack is mounted above the rear suspension, which helps maintain interior and trunk space and provides protection for the battery pack in a collision.
Body
The Accord body received further improvements in weight reduction, aerodynamic efficiency and rolling resistance in its transformation to Accord PHEV. All are designed to help Accord PHEV drivers maximize their driving range from every watt of electrical energy and every gallon of gasoline. Weight reduction features include:
All-aluminum front subframe
17-inch forged aluminum wheels
Aluminum brake pedal
Aluminum hood
Aluminum rear bumper beam
Puncture repair kit (in place of gasoline-engine Accord's spare wheel and tire)
Aerodynamic advancements include:
Powertrain undercover
Cabin floor undercovers
Rear decklid spoiler
Aerodynamic wheel covers
Reductions in rolling resistance include:
Low rolling-resistance tires
Low-friction wheel bearings
Chassis
The Accord PHEV chassis begins with the core engineering of the Accord Sedan, but then adds an all-aluminum front subframe (replacing the steel and aluminum version on the gasoline-engine Accord). The Accord PHEV uses proprietary 17-inch forged-aluminum wheels with a special low-aero drag design, fitted with 225/50-17 tires.
As with the gasoline-engine Accord models, the Accord PHEV uses an electric power steering (EPS) system that automatically adjusts the amount of steering assist for conditions. The EPS system is more efficient than a traditional hydraulic system, and it operates consistently whether the vehicle is using electricity, gasoline, or both.
The Accord PHEV features a braking system similar to the system in the Honda Fit EV, which provides fully electronic control of the hydraulic brake system. This system results in an improvement in regenerative braking efficiency compared to a hydraulic booster system used in other hybrids.
Interior
Sophisticated and contemporary, the redesigned 2013 Accord Sedan interior serves as the ideal basis for the 2014 Accord PHEV interior. Like the Fit EV, the Accord PHEV features a next-gen Honda Bio Fabric seat material, a new fabric that offers conventional softness and durability, but with reduced manufacturing environmental impact. The interior features several brighter trim accents and is available in gray to compliment the choice of three exterior colors.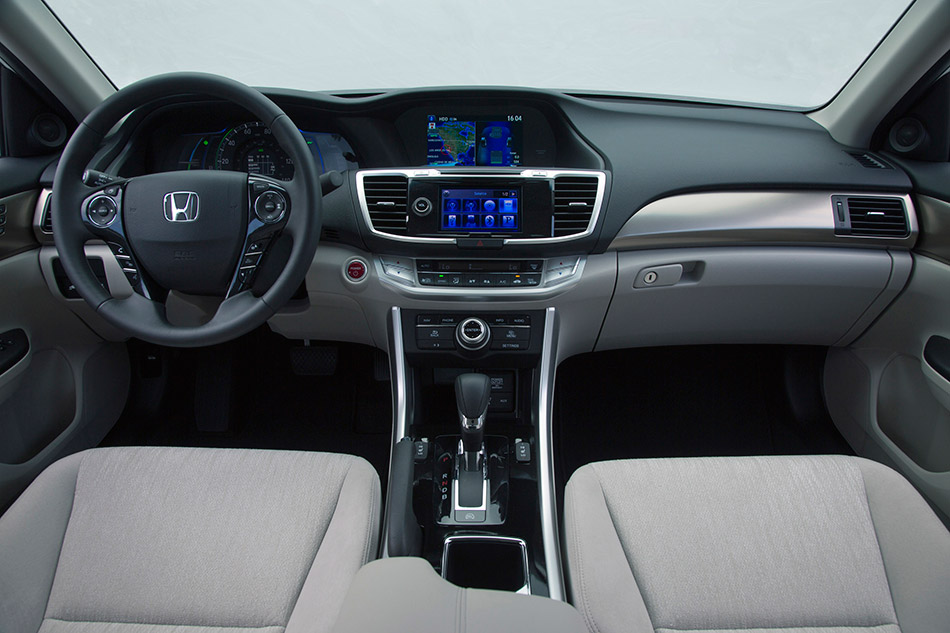 With the Accord PHEV's free and convenient HondaLink™ EV smartphone app, owners can remotely schedule charging of the Li-Ion battery pack (taking advantage of "off-peak" electricity rates), monitor the state of charge, and even pre-warm or pre-cool the vehicle's interior while charging before they drive. This suite of capabilities is similar to those offered on the new 2013 Fit EV. HondaLink EV features include:
Charge scheduling
Charge status
Charge complete notification
Drive range display
Charge station locator
HVAC pre-conditioning
Safety
Like the all-new Accord, the new Accord PHEV offers a greater range of standard active and passive safety features than any other vehicle in Honda history. These include Vehicle Stability Assist™ (VSA®) Forward Collision Warning (FCW) and Lane Departure Warning (LDW). The Accord PHEV also has an Acoustic Vehicle Alerting System (AVAS) to audibly warn pedestrians when it is approaching in EV Drive mode. Based on internal testing, the 2014 Honda Accord PHEV is expected to earn a TOP SAFETY PICK rating from the Insurance Institute of Highway Safety (IIHS) and 5-Star ratings in federal National Highway Traffic Safety Administration (NHTSA) tests.
Standard Features
The Accord PHEV is available in a single highly equipped trim level, based on the standard features of the premium Accord Touring model. Standard Accord PHEV features include:
Bluetooth® HandsFreeLink®
USB/iPod® connectivity
Dual-zone automatic climate control
Pandora® internet radio compatibility
Smart Start and Smart Entry
Honda LaneWatch™
Honda Satellite-Linked Navigation System™ with Voice Recognition
Multi-view rearview camera
HondaLink™ EV telematics system
Heated front seats
Auto-dimming rearview mirror
Leather-wrapped steering wheel
Driver's 10-way power seat with 2-position memory
HomeLink®
Intelligent Multi-Information Display (i-MID)
Audio with touchscreen interface
Forward Collision Warning (FCW)
Lane Departure Warning (LDW)
Adaptive Cruise Control (ACC)
Bio-Fabric seating surfaces
Expanded-view driver's mirror
LED mirror-mounted turn signals
LED Daytime Running Lights (DRL)
LED headlights
Fog lights
Chrome-plated door handles
Decklid spoiler
Source: Honda
Gallery:
Honda Accord PHEV (2014)