Mazda CX-7 is one of the world's first production SUVs to combine a sporty design and driving experience with SUV practicality and roominess. Since its launch in 2006, this unique sports crossover SUV has steadily gained in popularity around the world, selling about 190,000 units and winning 15 automotive awards. In Europe, it found more than 30,000 owners in the growing non-premium compact SUV segment in less than two years. Europeans are attracted to its sporty design, its fun-to-drive nature and its mix of everyday practicality, roominess and quality feel.
The new facelift model refines this package of attributes even further and is engineered to be more sophisticated, sustainable and emotionally appealing. While retaining the sporty nature of the original model, the facelift improves ride comfort and handling stability, and combines this with lower noise levels in the cabin for a more sophisticated interior environment. It is also more sustainable with the introduction of a new, clean-running diesel that delivers high power and torque, low fuel consumption and Euro Stage V compliance. The design of the facelift received updates to make it even more emotionally appealing with a new, more dynamic Mazda family face, premium exterior detailing and a higher quality feel. And updated suspension settings further refine its driving performance.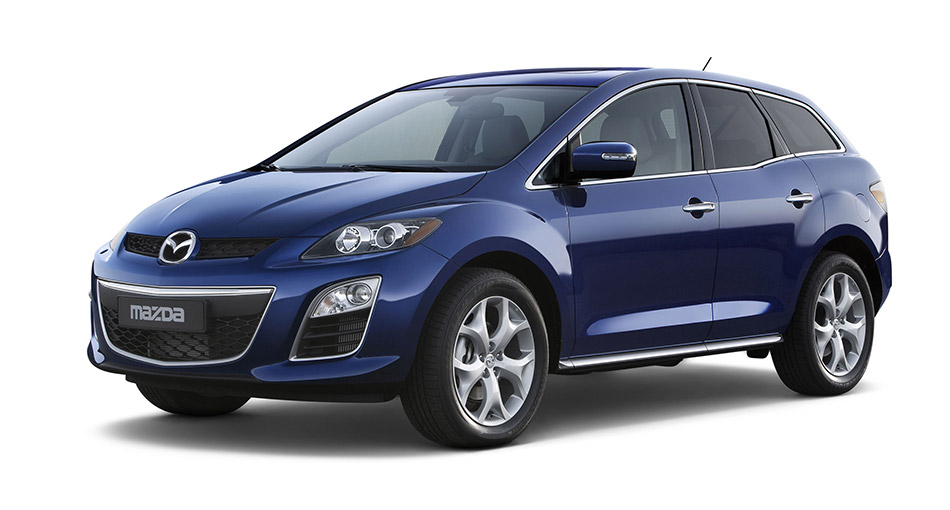 Design
At launch in 2007, Mazda's sports crossover SUV featured an advanced design that gave it an emotional appeal usually reserved for sports cars. Taking this as their basis, designers of the facelift enhanced Mazda CX-7's sporty nature and sophisticated character even further. They introduced a new, more dynamic front end, improved build quality and added premium details for a sense of refinement.
Exterior Design - Now even More Dynamic
The facelifted Mazda CX-7 is just as sporty-looking as before with an extremely flat A-pillar angle of 66º, a rising belt line and roof spoiler, powerful wheel arches (inspired by Mazda RX-8 sports coupe) and large wheels. This is enhanced for the facelift with an all-new lower five-point grille. It looks larger and more aggressive - reflecting Mazda's new-generation design language introduced with the new Mazda3 - and is framed by chrome mouldings for a premium look. New front fog lamps are introduced as well. These are embedded in a bezel design that is more vertical than before, and whose top outer corners are points that seem to flow into the fender panels.
New visual enhancements continue on the sides and rear of the Mazda CX-7 facelift. Chrome-plated mouldings are now placed at the bottom of the doors, around the side windows and just below the large Mazda logo at the rear, and a new and larger roof spoiler is available (all depending on grade).
New 18- and 19-inch alloy wheels complete the exterior updates. Their three dimensional designs add to the vehicle's sporty character. The list of seven exterior colours has been updated with Aluminium Metallic, Stormy Blue Mica and Sparkling Black Mica.
Interior Design - Enhanced Quality Feel
SUV roominess and practicality, combined with an ergonomic cockpit, sporty touches and high craftsmanship, were an appealing combination of the original Mazda CX-7. The facelift has all this plus updates that are meant to enhance the interior's quality look and feel even further. There is a new trim and dashboard material with dimples and round edges that give these surfaces a higher quality feel and make them more dirt resistant. The steering wheel is newly designed and includes more control buttons. The instrument cluster in front of the driver gets new dials and white pointers for a three-dimensional look, and new blue-ring illumination.
Stretching across the dashboard is a redesigned double-roof hood. It now rises in the middle to make room for a new Multi-Information Display (MID). The audio panel is also updated with either piano black or metal-look edging on the sides.
Other quality enhancements include new low-glare chrome plating on the vertical spoke of the steering wheel, and the chrome rings around the air vents in the centre and on the sides of the dashboard. Soft padding is introduced for the door-trim armrests and the centre console lid (depending on grade). When combined with the facelift's two interior colour schemes of black or sand beige (depending on grade), these details give the Mazda CX-7 facelift a high quality feel.
A Refined Driving Experience
The Mazda CX-7 facelift is a practical and roomy vehicle that meets the needs of various lifestyles in a way that is both sporty and sophisticated. The facelift updates this successful combination with enhanced ride comfort, a quieter cabin, improved ease-of-use and a long list of standard and available equipment for a refined driving experience.
Enhanced Ride Comfort and a Quieter Cabin
The original Mazda CX-7 was one of its segment's most sophisticated vehicles, and this aspect is carried forth with the facelift. Its body shell's torsional rigidity is increased by 5 percent, which improves ride comfort and softens the road noise.
The engine line-up now includes a new-generation 2.2-litre turbo diesel that is one of the quietest and most refined in the non-premium SUV segment. Its aluminium lower block, for instance, is mounted to the cylinder block at 18 separate points for extreme rigidity and low engine noise. A front chain drive cassette-type balancer shaft helps reduce engine noise and vibrations, and a special rear-wheel torque control of the diesel version suppresses resonance in the rear drivetrain.
The bonnet and engine compartment noise insulators have been improved to efficiently suppress highfrequency noise. New insulators are installed on the suspension towers and the wheel housings. New urethane foam used in the A-pillars, and a thicker dash insulator and floor mat are used for the first time.
Mazda CX-7 facelift's high-performance DISI petrol version also has NVH (noise, vibration and harshness) updates, including new suspension tower insulators and new engine compartment and dash insulators that are denser and better at keeping noise levels in the cabin low.
Wind noise is lower than ever before, too. NVH engineers counteracted the noise that side winds make when striking the A-pillars by using a large moulding that prevents air separation. This can cause a major pressure difference at this part of the car, which increases noise. The new moulding keeps the air from separating and results in a significant reduction of wind noise into the cabin.
Sporty and Easy to Use
Like its predecessor, the Mazda CX-7 facelift makes it easy to enjoy its powerful engines. The cockpit's ergonomic design is unusually sporty for an SUV. The front seats offer good side support and comfort on longer trips with wide seatbacks and continuously variable lumbar adjustment. The shift lever is placed high and forward to make sporty shifting easy and fun. The facelift cockpit gets two new features for increased comfort and ease-of-use: the front and rear armrests are now made of new soft material for a premium look and feel, a new driver's seat position memory system for up to three individual settings is introduced (depending on grade and market), and the front passenger seat now comes with 4-way power adjustment.
Providing the driver with all necessary vehicle information on one compact screen is Mazda's new Multi- Information display (MID). It shows all essential vehicle and navigation info - placed next to the driver's field of vision for a minimum of eye movement while driving - and a new MID switch on the right of the steering wheel allows switching between displays without the driver taking his hands from the wheel. The MID includes audio system info, settings and maintenance reminders like volume settings for warnings, switching between km and miles, and even on/off settings for displaying regular service inspections like tyre rotation, etc. The trip computer readout shows current fuel consumption rate, average fuel consumption rate, distance-to-empty and average vehicle speed.
New Equipment Added to a Long List of Premium Features
The facelifted Mazda CX-7 has an extensive standard equipment package: AM/FM radio and CD player with MP3 capability, one-touch power front and rear windows, remote central locking, cruise control, and an anti-theft alarm system (depending on grade and market).
New leather seats with front seat heating, a Bose® premium audio system with Centerpoint® surround sound and nine speakers, Xenon automatic headlamps and rain sensor wipers, and Mazda's Advanced Keyless Entry & Start System are also available either optionally or as standard (depending on grade and market).
New equipment added to the facelift leaves nothing to the imagination. A rear-view camera system helps the driver park and drive safely in reverse, and a Rear Vehicle Monitoring (RVM) system alerts the driver when a vehicle is approaching from behind or driving in the blind spot. The all-new navigation system with TFT colour display can be controlled with buttons on the steering wheel. It is easy to read and stores its data on a Secure Digital (SD) card (depending on market).
Bluetooth® technology has been expanded for Mazda CX-7 facelift, which not only allows hands-free use of Bluetooth® equipped mobile phones, but also lets passengers play music from a wireless MP3 player on the car's audio system. The driver can control the player using either the audio panel or the buttons on the new steering wheel. MP3 players can also be played on the car's audio system by plugging them into the AUX jack in the centre console box.
SUV Practicality with Improved Storage Space
The facelifted Mazda CX-7 has plenty of room for five adults to travel in comfort with their luggage. It is an ideal vehicle for active lifestyles with rear seats that fold down 60/40 by pulling on a latch on the side trim of the boot using Mazda's Karakuri system. A lip at the rear seats helps prevent heavier items from sliding forward, and a reversible water-proof board in the boot floor for carrying dirty items without staining the carpet.
There are numerous storage compartments placed around the cabin. The large centre console box holds up to 4.8 litres and has been upgraded for the facelift model with two new storage compartments at the top for more small-item storage. One of these is a 0.9-litre tray that is ideally shaped to hold a mobile phone, an MP3 player or sunglasses. And the tray at the bottom of the centre panel is now equipped with a rubber mat so that small items do not slide around.
Powertrains
Mazda CX-7 facelift now offers customers in Europe two All-Wheel Drive, powertrains to choose from. New to the line-up is Mazda's new-generation 2.2-litre common-rail turbo diesel that combines high power and torque with low fuel consumption and emissions. Still available is the extremely sporty 2.3-litre turbo petrol engine with direct injection.
MZR-CD 2.2 - New Powerful Turbo Diesel for Europe
The lively MZR-CD 2.2-litre common-rail turbo diesel produces 127 kW/173 PS at 3,500 rpm and a massive 400 Nm of torque at just 2,000 rpm. It accelerates the Mazda CX-7 facelift in 11.3 seconds from 0 to 100 km/h and allows a top speed of 200 km/h. A newly developed variable-geometry turbo charger and a special intercooler that has been optimized for the Mazda CX-7 facelift contribute to quick, powerful response at engine speeds as low as 1,600 rpm.
The common-rail system optimises combustion for high efficiency. It maximises fuel injection pressure, using a special fuel pump and 10 very small (0.119 mm) injector holes, to achieve injection pressure of up to 200 MPa, one of the industry's highest. This allows very precise injection timing, which engineers used to optimize the number of injections per cycle and to control the amount of fuel sprayed into the combustion chamber.
Low Fuel Consumption
The Mazda CX-7 facelift with the MZR-CD 2.2-litre turbo diesel is not only exciting to drive, it's also frugal at the pump for such a sporty SUV with so much room and versatility. It needs just 7.5 litres of fuel per 100 km (combined) by employing a low compression ratio of 16.3:1 (for a compact SUV), a small turbo charger, improved intercooler efficiency and special gear ratios. It also uses highly responsive injectors that achieve a minimum injection interval of just 200 μs, which makes injection about 30 percent faster, and allows strict control over the amount of fuel used during injection.
Cleaner-Running and Euro Stage V Compliant
The MZR-CD 2.2-litre turbo diesel complies with Euro Stage V emission standards and is combined with the latest Mazda exclusive exhaust-gas treatment technology. Its newly-developed diesel particulate filter (DPF) is made from a ceramic material with high thermal resistance that includes a special Mazdadeveloped catalyst. The catalyst uses oxygen stored in the base material, in addition to the oxygen present in exhaust gases, to improve combustion of soot emissions. By increasing the volume of oxygen, this system makes regeneration of the filter faster and more efficient. In fact, Mazda CX-7 facelift's DPF needs to regenerate (in the NEDC mode) only half as often as conventional systems, and each regeneration process takes only a third as long. After exhaust gases have been purified of particulate matters, they pass through Mazda's newly-developed Selective Catalytic Reduction (SCR) system to significantly lower NOx.
MZR 2.3 DISI Turbo - The Original High-Performance Petrol
The petrol version of the Mazda CX-7 facelift inherits the original model's acclaimed MZR 2.3-litre DISI Turbo engine. Its direct-injection technology has a host of advantages over intake manifold petrol engines. Torque is about 10 percent higher at 3,000 rpm, because of the cooling effect caused by injecting petrol directly into the combustion chamber. For the Mazda CX-7 facelift, the DISI petrol is improved even further. Its piston crowns now have a dish-shaped cavity that improves the air-fuel mix and contributes to better combustion during engine warm-up. Fuel is now injected not only during intake, but also during the compression stroke for a richer mix around the spark plugs and increased combustion stability. The MZR 2.3-litre DISI Turbo produces 191 kW/260 PS at 5,500 rpm and a high maximum torque of 380 Nm at a low 3,000 rpm. It responds quickly to pedal movement, accelerates the Mazda CX-7 facelift in 8.2 seconds from 0 to 100 km/h, and allows a top speed of 211 km/h.
Six-Speed Manual Transmission
Both engines feature a manual six-speed transmission with a compact three-shaft design carried over from the original model. It has triple-cone synchronizers for first, second and third gears, and a double-cone synchronizer for fourth gear, to deliver smooth and precise shift characteristics. It uses low-viscosity transmission fluid for easy shifting, even when the engine is cold. The diesel's sixth gear ratio has been configured as overdrive for maximum fuel efficiency.
Chassis
The body shell of the Mazda CX-7 facelift is more rigid than the original model, and delivers improved ride comfort and even better handling stability. The suspension system is specially tuned for each engine to provide predictable linear handling and the same superior straight-line stability the original model is known for. Coupled to Active Torque-Split All-Wheel Drive, this updated chassis makes the Mazda CX-7 facelift sporty and nimble.
Increased Torsional Rigidity for Improved Ride Comfort and Handling Stability
The original Mazda CX-7 body shell was ahead of its time at launch for its combination of high rigidity and low weight. Local reinforcements and high and ultra-high tensile steels were used for the body shell, which helped avoid unnecessary gain in weight while delivering some of the best body rigidity in the segment.
The Mazda CX-7 facelift inherits this body shell and adds new rigidity-enhancing measures for a 5 percent increase in torsional rigidity, which enhances handling stability and helps to reduce road noise and vibration for a quieter cabin. When combined with new dampers with a smoother stroke, this achieved an increase in overall ride comfort for the Mazda CX-7 facelift.
Weight gain had to be avoided as well, which would have negatively affected fuel consumption and handling. Engineers used advanced computer aided analysis to achieve both these goals. They applied reinforcements only where it was most effective, and used strong lightweight weld bonds (with advanced adhesives) wherever possible. Stiffness was increased for the facelift at the rear wheel houses, the door openings, the B-pillars, the shelf gussets and the underfloor frame (diesel only).
Suspension and Steering
Mazda CX-7 facelift inherits the passenger-car-like MacPherson strut front and multi-link rear suspensions from the original model, refined for the facelift to deliver even more linear handling and performance feel. New dampers are introduced that give a smoother suspension stroke and improves straight-ahead stability and ride comfort. These supplement the front suspension's ball-type struts with low friction bearings, strong lateral force control springs, and six rubber mounting points. An enlarged castor angle is also used to optimise straight-line stability, while delivering excellent road feedback and grip when cornering. The rear suspension also gets new dampers and is specially tuned for the facelift. Its geometry ensures that the wheels suffer minimal camber change and maintain their near-vertical position even when cornering hard, which is vital to a high-torque, high-performance vehicle like this.
While the high-performance DISI petrol retains the hydraulic power-assisted steering system from its predecessor, the new diesel uses electric hydraulic power-assisted steering for a great balance between fuel savings and good steering feel.
Electronically Controlled Active Torque-Split All-Wheel Drive
Mazda CX-7 facelift's permanent All-Wheel Drive, system employs Mazda's unique Active Torque-Split to translate the vehicle's high maximum torque to the road in a smooth and controllable way, regardless of which engine is under the bonnet. High-tech sensor technology of the All-Wheel Drive, system monitors the Mazda CX-7's steering angle, yaw rate, wheel speed, lateral G-force and throttle-valve position, to optimise traction in real time. The vehicle's All-Wheel Drive, control module then distributes torque between the front and rear axles using an electronically-controlled active-torque coupling mounted in front of the rear differential. The system distributes up to 50 percent of the engine power to the rear axle for an optimal torque split in all situations.
Safety & Environment
The Mazda CX-7 facelift inherits one of the segment's most comprehensive safety packages from the same vehicle that received the highest ranking of any compact SUV tested by the USA's National Highway Traffic Safety Administration (NHTSA) in 2007. For the refreshed model, several new active safety features are added for even more peace of mind.
Mazda's Rear Vehicle Monitoring (RVM) system is newly introduced to the CX-7 facelift (depending on grade and market). This system uses radar sensors in the rear bumper when the vehicle is travelling at 60 km/h or faster to monitor vehicles driving behind the car. It warns the driver if a car is approaching from the left or right rear, or is in the blind spot, by illuminating a warning lamp in the door mirror on the relevant side. If the driver turns on the indicator on the side of the approaching vehicle, a warning buzzer sounds and the warning lamp flashes.
Other new active safety features include a rear-view camera that uses the MID display to assist while driving in reverse or parking, a tyre pressure monitoring system, and Emergency Stop Signal (ESS) that automatically flashes the rear hazard lamps whenever the driver brakes abruptly.
If the driver needs to slow down, he can rely on the Mazda CX-7's large ventilated disc brakes in front (320 mm) and rear (petrol: 302 mm, diesel: 325 mm), a 10.5 inch outer diameter brake booster and a long-stroke master cylinder for reliable deceleration with light pedal effort and short pedal travel. Standard are DSC with TCS, ABS, EBD, Emergency Brake Assist, automatic headlamps and rain sensor wipers (depending on grade and market).
The Mazda CX-7 facelift body shell and cabin are engineered with Mazda's extremely strong 'Triple-H' body structure that effectively resists impacts from various directions and helps protect the occupants. The front sub-frame delivers high energy absorption in case of frontal impact, and has a special joint part between the front side member and the sub-frame that redirects impact energy downward away from the cabin. This additional front sub-frame is also designed to help prevent Mazda CX-7's front end from 'climbing up' onto the bonnet of an oncoming car in a head-on collision. At the rear, the high rigidity structure includes an impact absorbing zone to better protect the fuel tank in case of a rear-end impact.
Inside are front seats designed to help protect the neck and chest in case of rear impact. They have an optimised head restraint position, reinforced attachment area, and a strengthened seat back frame structure that keeps the front occupants' head and chest supported against the head restraint, which helps avoid whiplash. Standard for all versions of the Mazda CX-7 facelift are front, side and curtain airbags, a collapsing brake pedal that helps reduce the chance of leg injury to the driver, ISOFIX safety seat mounts and top tethers in the rear seats, and pillar trim with energy absorbing ribs.
Environmental Efforts - 95 percent Recyclable
The Mazda CX-7 facelift reflects Mazda's ongoing efforts to build cars in a way that has less negative effect on the environment. This begins at Mazda assembly plants in Japan, which were ISO 14001 certified (an environmental management standard) over ten years ago - including the Ujina 2 plant in Hiroshima, where the Mazda CX-7 is assembled. Mazda also uses a unique three-layer paint system that reduces CO2 by 15 percent and volatile organic compounds (VOCs) in the paint by half.
At the end of its life, the Mazda CX-7 facelift, like all current Mazda models, is roughly 80 percent recyclable. The remaining 20 percent, most of it plastic rubber and glass, is named with ISO standard material labels so it can be sorted out and easily recycled and recovered. Mazda even recycles the materials from damaged bumpers to make new bumpers. If parts have to be discarded at the end of the vehicle's life, they contain hardly any substances that would pollute the environment. No lead is used in the Mazda CX-7 facelift's fuel tank, wire harness and electro-undercoating; and it has no hexavalent chromium or cadmium in any components.
Source: Mazda
Gallery:
Mazda CX-7 (2010)