Mazda revealed two design concepts at the 2015 SEMA Show in Las Vegas, based on its all-new 2016 MX-5 Miata - MX-5 Spyder and MX-5 Speedster - demonstrating two vastly different takes on lightweight, open-air performance.
Lightweight. Fun-to-drive. Roadster. Those three tenets have served as the foundation for the Mazda MX-5 Miata since its 1989 introduction and continue to serve the new fourth-generation model. Focused, lightweight engineering is a guiding principle of every Mazda vehicle made with SKYACTIV Technology, allowing for greater efficiency, improved performance and agile handling dynamics.
But what if that sense of lightweight performance were taken to the extreme? What if Mazda's North American designers harkened back to vintage roadsters to create thoroughly modern, bespoke concepts for what a lightweight performance car should be.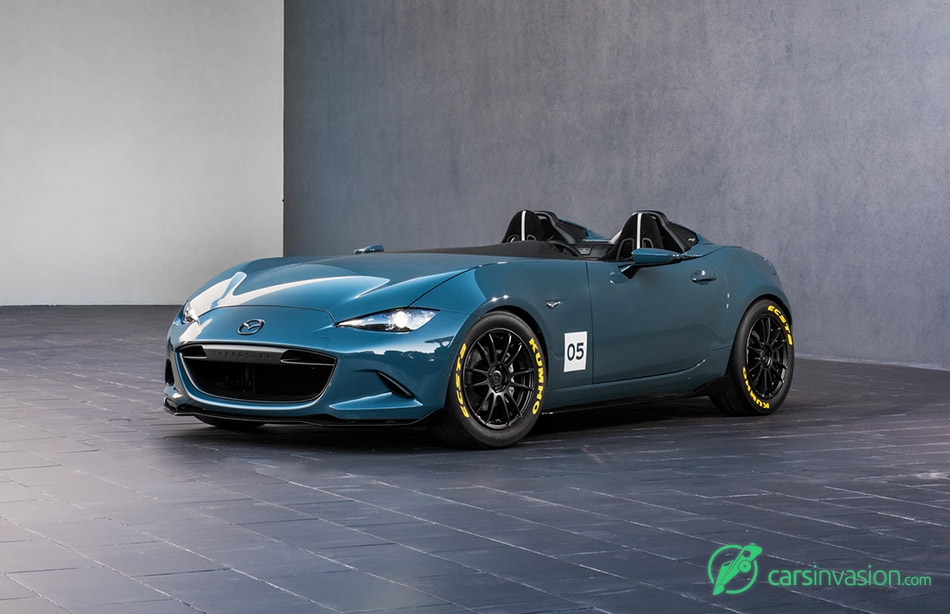 The results would be the MX-5 Spyder and MX-5 Speedster concepts.
"Both MX-5 Spyder and MX-5 Speedster are uncompromising designs that highlight the core strengths of MX-5," said Ken Saward, design manager, Mazda North American Operations. "The all-new 2016 MX-5 served as a blank canvas for our design team to create some truly one-of-a-kind cars, yet our SEMA concepts remain true to more than 25 years of MX-5 heritage."
MX-5 Spyder is a sophisticated interpretation of the classic vintage roadster, which is designed to accentuate the open-air experience. Its bikini top was developed by ASC - American Sunroof Corporation with the fabric supplied by Haartz.
Other highlights include its specially formulated Mercury Silver paint color, carbon fiber aero kit, grille intake and body toneau cover and lightweight Yokohama ADVAN Racing RS II 17-inch wheels. Its interior is adorned in Spinneybeck "PRIMA" natural leather, lending a sense of vintage motoring from behind the wheel.
MX-5 Speedster pares the roadster back to the essentials for an unadulterated, wind-in-the-hair driving experience, evocative of the open-top sports cars of the 1950s—even going to far as to eschew a windshield for a deflector. In the same vein, the utter dedication toward creating such a focused machine led the design staff to build the Speedster with custom 16-inch RAYS Extreme Gram Lights wheels, benefitting MX-5 with less unsprung weight. MX-5 Speedster finished in a new concept color called Blue Ether.
Other details on MX-5 Speedster include an adjustable coilover suspension, which lowers it by 30mm compared with the production-car specifications, a Racing Beat center-mount exhaust, an interior retrimmed in Alcantara, carbon fiber Mu-Len Delta seats created exclusively for MX-5 and carbon fiber doors. In all, the lighter-weight materials have helped contribute to a weight loss of more than 250 lbs., with MX-5 Speedster weighing 2,080 lbs.
Saward and other designers worked from conception to construction to put the SEMA concepts together, partnering aftermarket parts suppliers and Southern California performance shops to create them.
Source: Mazda
Gallery:
Mazda MX-5 Speedster Concept (2015)