It has become well known, in the meantime and widely above the limits of Mechernich in Germany that professional software optimization is daily bread of mcchip-dkr. Besides "normal" cars, also lorries, agricultural vehicles, transporters, travel vans and even boats can "pass a cure" of performance increase, because thanks to the team around Danny Kubasik, the so called eco-optimizations can bring significant economies now and then.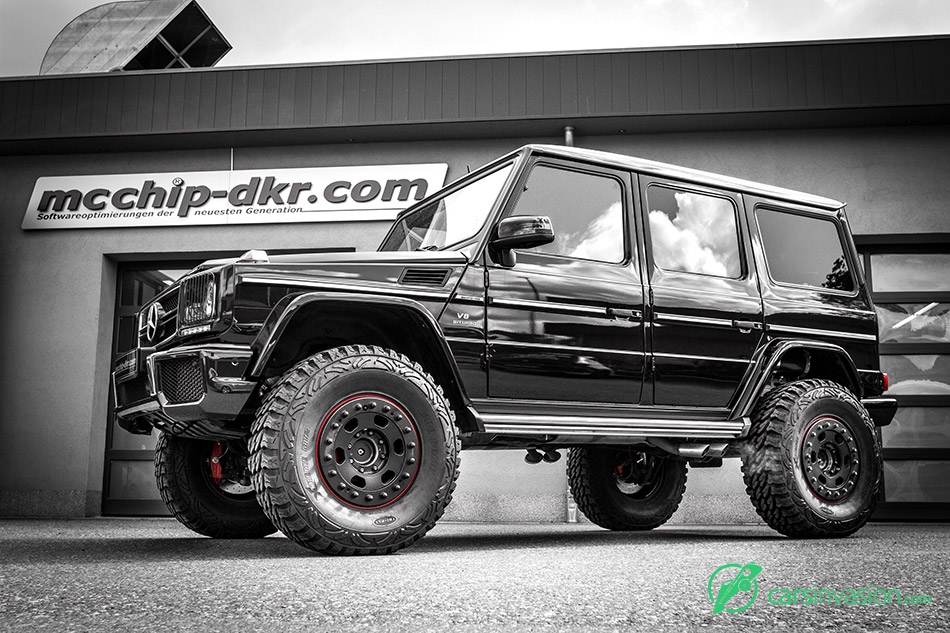 Not so ordinary is the vehicle, about which we will talk here and now: A Mercedes-Benz G 63 AMG – three surely magic letters, already when leaving the Affalterbach "holy halls" having the genes of a cult icon among high performance off-roaders inside. Nevertheless, the mcchip-dkr team with a lot of expensive handwork has succeeded to mutate the off-roader, that is not even underpowered as serial model already, into a power packet in the most true sense of the word: 544 HP (= 400 kW) with 760 Nm of maximal torque and Vmax of 210 kmph (130 mph) become not to be scoffed 810 HP (= 596 kW) with 950 Nm of maximal torque and 230 kmph (142 mph) of Vmax as "mc800". In order to reach this kind of – for this class of vehicles surely remarkable – performance values, the following components have been added to the engine: First of all the company own stage 4 software, followed by a turbocharger upgrade, the nearly indispensable steel made conrod and turbo pipes and, finally, sports cats.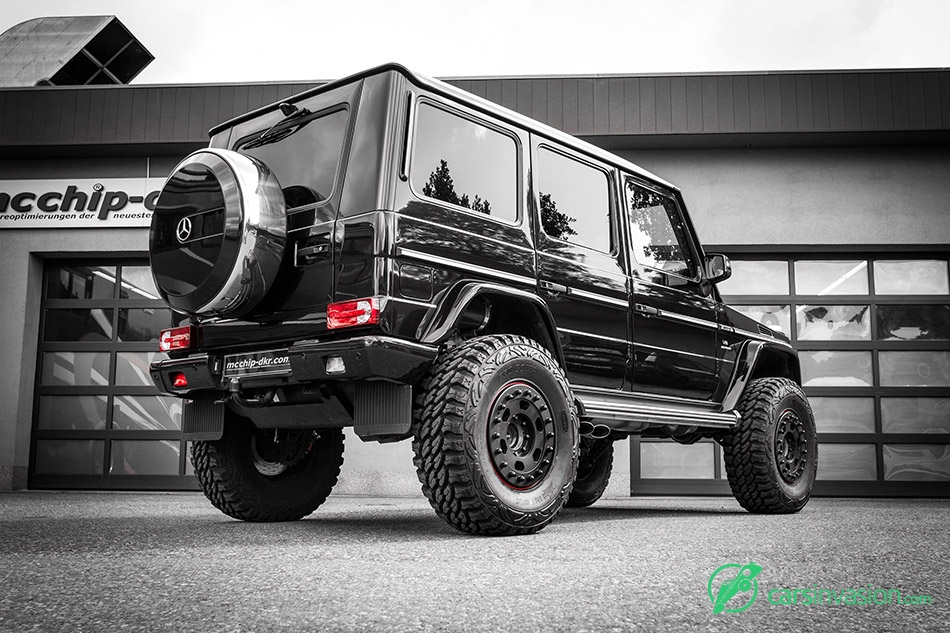 Furthermore, there has been achieved a portal axle refitting for "mc800", which gave the off-roader not only 15 cm more of ground clearance, but also 12 cm more of breadth on each side. At least even so spectacularly are the Beadlock rims in 18 inches, garnished with off-road tires in 37x15.20R18, once again underlining the expressive car exterior. In addition, the Mechernich mcchip-dkr professionals have mounted an especially manufactured KW DDC chassis. Last, but not least, the subsequently necessary in case of such a lot of power Movit braking system, acting each on front and rear axle, earns to be mentioned.
Source: MCCHI-DKR
Gallery:
MCCHI-DKR Mercedes-Benz G63 AMG (2015)