Performance update for the CLS 63 AMG: along with the new E 63 AMG, the latest model upgrade also benefits the CLS 63 AMG in its Coupé and Shooting Brake variants. The S-Model variant of the CLS 63 AMG not only boasts the performance-oriented AMG 4MATIC all‑wheel drive but also comes with the AMG 5.5-litre V8 biturbo engine generating a maximum output of 430 kW (585 hp) and up to 800 Nm of torque. The AMG 5.5-litre V8 biturbo engine continues to be the absolute pinnacle of efficiency: the combination of high performance and low fuel consumption remains unrivalled by any other competitor in the segment worldwide. The rear-wheel-drive variant rated at 410 kW (557 hp) and generating 720 Nm of torque is optionally available with the performance-oriented AMG 4MATIC all-wheel drive.
Mercedes-AMG is also premiering high-performance passenger car models with an all-wheel-drive system geared to driving dynamics. This offers customers even greater scope for individuality and an even broader choice of models. Alongside the successful SUVs – ML 63 AMG, GL 63 AMG, G 63 AMG and G 65 AMG – two passenger car model ranges comprising up to eight unique models with all-wheel drive are now available from Mercedes-AMG in the guise of the
E 63 AMG
and the CLS 63 AMG. Additional models featuring performance-oriented AMG 4MATIC all-wheel drive, such as the A 45 AMG and the CLA 45 AMG, will follow this year.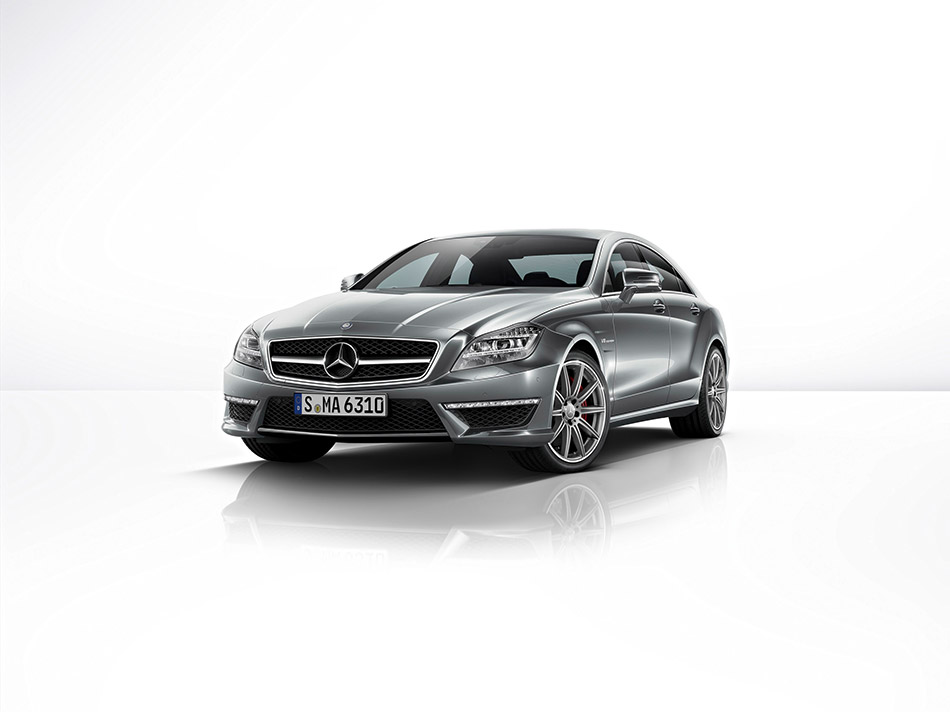 "The S-Models in particular represent the most attractive proposition in the segment," notes Ola Källenius, Chairman of Mercedes-AMG GmbH. "With its superlative power and torque ratings and the new performance-oriented AMG 4MATIC all-wheel drive, the CLS 63 AMG is without parallel in its Coupé and Shooting Brake variants. Our AMG 5.5-litre V8 engine remains the most efficient series production V8 engine in the world. The new, customised model variants provide greater scope than ever for individual solutions."
The world premiere of the CLS 63 AMG Shooting Brake took place at the "Night of the Stars" at the Formula 1 German Grand Prix in July 2012. This unique high-performance vehicle from AMG is a fascinating new embodiment of an innovative vehicle concept. The CLS 63 AMG Shooting Brake combines performance with style and utility value as a highly appealing alternative for design-oriented automobile enthusiasts. In essence it represents an unprecedented embodiment of a sports car with five seats and a large tailgate.
Overview of the new models for the German market:
 

CLS 63 AMG Coupé/
Shooting Brake

CLS 63 AMG 4MATIC
Coupé/
Shooting Brake

CLS 63 AMG 4MATIC S-Model
Coupé/
Shooting Brake

Displacement

5461 cc

5461 cc

5461 cc

Output

410 kW (557 hp) at 5500 rpm

410 kW (557 hp) at 5500 rpm

430 kW (585 hp) at 5500 rpm

Max. torque

720 Nm
at 1750-5250 rpm

720 Nm
at 1750-5250 rpm

800 Nm
at 1750-5000 rpm

Fuel consumption NEDC combined

9.9 (10.1) l/100 km

10.4 (10.6) l/100 km

10.4 (10.6) l/100 km

CO2 emissions

231 (235) g/km

243 (248) g/km

243 (248) g/km

Acceleration 0-100 km/h

4.2 (4.3) s

3.7 (3.8) s

3.6 (3.7) s

Top speed

250 km/h*

250 km/h*

250 km/h*
* electronically limited; values for CLS 63 AMG Shooting Brake in brackets
Acceleration from a standing start to 100 km/h in 3.6 seconds clearly places the CLS 63 AMG S-Model in pole position in the competitive line-up. In addition to the increase in output, this special edge for the S-Model is also attributable in no small part to the performance-oriented all-wheel drive with a power distribution ratio of 33 to 67 percent (front/rear axle). Perfect traction during acceleration effectively avoids slip-induced losses. The top speed stands at 250 km/h (electronically limited).
On the new S-Model the AMG 5.5-litre V8 biturbo engine generates a maximum output of 430 kW (585 hp) and maximum torque of 800 Nm – representing an increase of 20 kW (28 hp) over the AMG Performance package which was previously available as an option for the Coupé. This enhanced performance and power results from adaptation of the engine application, an increase in peak pressure and a rise in the charge pressure from 0.9 to 1.0 bar. At 410 kW (557 hp) and 720 Nm, the basic model also boasts an increase of 24 kW (32 hp) and 20 Nm over its predecessor.
Despite added power and enhanced performance, all models offer high efficiency, low fuel consumption and low exhaust emissions. The AMG 5.5-litre V8 biturbo engine remains the most efficient series production V8 engine around – with substantially more cubic capacity than its direct competitors. The CLS 63 AMG rated at 410 kW (557 hp) with rear-wheel drive runs on 9.9 litres of fuel per 100 kilometres in accordance with NEDC (231 grams of CO2). The variant with an output of 410 kW and performance-oriented AMG 4MATIC all-wheel drive and the S-Model rated at 430 kW (585 hp) with all-wheel drive display only marginally higher fuel consumption, at 10.4 to 10.6 litres per 100 km (243 grams to 248 grams of CO2). As an additional boon, following the implementation of internal engine measures all CLS 63 AMGs meet the requirements of the stringent Euro 6 emissions standard which will not enter into force until 2015.
AMG SPEEDSHIFT MCT 7-speed sports transmission for personal set-up
Maximum individuality and customised dynamics – these are the special strengths of the AMG SPEEDSHIFT MCT 7-speed sports transmission. The four modes – "C" (Controlled Efficiency), "S" (Sport), "S+" (Sport plus) and "M" (Manual) – offer the driver a personal set-up. In "C" mode, the ECO start/stop function is active and switches off the eight-cylinder engine when the vehicle is at a standstill. In addition, the transmission characteristics are tangibly soft, with smooth and early gear changes. Second gear is generally used as the starting gear in this mode.
The engine and transmission are far more agile in "S", "S+" and "M" mode; in addition, the ECO start/stop function is deactivated. Partial suppression of the cylinders proves perfect for an emphatic driving style: briefly and precisely interrupting ignition and injection under full load leads to even faster gearshifts with a more emotional sound than before. An automatic double-declutching function for downshifting and the RACE START function are also included as standard with the AMG SPEEDSHIFT MCT 7-speed sports transmission.
Performance-oriented all-wheel drive for the ultimate in dynamism
The performance-oriented AMG 4MATIC all-wheel drive distributes the engine torque at a ratio of 33 to 67 percent (front/rear axle). The rear-biased power distribution provides for signature AMG high driving dynamics and superlative driving enjoyment. The 3-stage ESP® has been tailored specifically to the permanent all-wheel drive system. In "SPORT Handling" mode, the Torque Vectoring Brake performs selective braking intervention on individual wheels in the interests of high agility, thereby avoiding understeering when turning and cornering. In bends, specific brief braking of the inner rear wheel results in defined cornering of the vehicle.
The AMG 4MATIC all-wheel drive enhances driving safety and grip on wet or wintry road surfaces. Optimum traction is guaranteed by a multi-disk clutch with a locking effect of 50 Nm which exploits the frictional connection potential of all four wheels to the full on snow and ice in particular.
The technical basis for the all-wheel drive system is provided by a transfer case for the additional power take-off to the driven rear axle. This transfer case is integrated compactly into the AMG SPEEDSHIFT MCT 7-speed sports transmission and requires virtually no additional installation space. The torque is transmitted from the power take-off via a propeller shaft to the front axle. Power transmission to the front-left drive shaft is effected via an intermediate shaft which passes through an encapsulated shaft duct in the engine oil pan. The compact and weight-optimised design results in a comparatively low level of additional weight for the all-wheel-drive system of only 70 kilograms.
CLS 63 AMG S-Model with rear-axle differential lock
The CLS 63 AMG S-Model sees Mercedes-AMG going one step further. True to the "Driving Performance" philosophy, a differential lock is fitted on the rear axle. This high-tech package results in a further increase in traction, ultimately leading to even greater driving dynamics and enhanced driving enjoyment, especially on the race track.
All CLS 63 AMG models feature the AMG RIDE CONTROL sports suspension with electronically controlled damping system. The front axle employs a steel-spring suspension system, while the rear axle is fitted with a fully load-bearing air suspension system. Pressing the button marked with a shock absorber in the AMG DRIVE UNIT is sufficient to switch the electronics from "Comfort" to "Sport" or "Sport plus". The three-link front suspension has undergone further optimisation for the S-Model and the CLS 63 AMG with all-wheel drive. In conjunction with the newly developed axle components produced in aluminium, these optimisation measures result in markedly enhanced grip and agility combined with a high level of neutrality during fast cornering. The markedly more performance-oriented elastokinematics are exclusive to the S-Model, and offer the driver maximum neutrality and even better feedback and grip at the critical limits. With rear-wheel or all-wheel drive, the CLS 63 AMG's 24 millimetre wider track at the front offers substantially greater stability at high cornering speeds and improved road feel. Increased negative camber on both axles additionally boosts lateral dynamics.
Electromechanical AMG speed-sensitive steering complements the vehicle's set-up to perfection, the direct steering ratio of 14 : 1 providing for extremely agile handling in bends in conjunction with the variable servo assistance geared to the given suspension mode. The CLS 63 AMG is fitted as standard with triple-spoke AMG light-alloy wheels painted in titanium grey and featuring a high-sheen finish. Tyres in size 255/35 R 19 are fitted to 9.0 x 19 wheels at the front, while the 10 x 19 rear wheels have 285/30 R 19 tyres. Only the high-performance S-Model features exclusive 10-spoke light-alloy wheels painted in matt titanium grey with a high-sheen rim flange.
Optional AMG ceramic high-performance compound brake system
The CLS 63 AMG is equipped with an AMG high-performance braking system befitting its status as an AMG automobile. The front and rear axles sport ventilated and perforated brake disks in ample 360 millimetre format. The disks which are subject to particularly high levels of stress and strain on the front axle feature the composite braking technology which has been tried and tested in the field of motor sport. Callipers in a silver painted finish with white AMG lettering and incorporating six pistons (front) and four pistons (rear) provide for spontaneous, fading-resistant deceleration and the shortest stopping distances.
An AMG ceramic high-performance composite braking system is exclusively available for the S-Model as an optional feature – recognisable by the even larger 402 millimetre brake disks and the "AMG Carbon Ceramic" logo on callipers sporting a special paint finish. This ceramic system is around 40 percent lighter, providing for reduced unsprung masses and enhanced driving dynamics, agility and ride comfort. The superior hardness of the ceramic brake disks leads to a longer service life and greater resistance to extreme stress and heat.
S-Model with subtly different design features
In terms of exterior design, the CLS 63 AMG S-Model is differentiated from the other models by brake callipers in a red painted finish and the AMG logo on the trunk lid sporting an "S" in contrasting black. When the customer so desires, the interior of the S-Model features grey contrasting stitching on the AMG sports seats, the door centre panels, the door armrests and the centre console. Silver seat belts are also on board in conjunction with a black interior. The rim of the AMG Performance steering wheel in black nappa leather is flattened at the top and bottom and boasts grip areas in Alcantara® and grey contrasting stitching. The front head restraints of the AMG sports seats incorporate exclusive embossed AMG emblems. The AMG instrument cluster in a new design features an "S AMG" logo on the 320 km/h speedometer and red applications. AMG door sill panels illuminated in white round off the exclusive range of equipment and appointments.
Bang & Olufsen BeoSound AMG high-end surround sound system
A very special highlight among the optional equipment and appointments for all CLS variants is the Bang & Olufsen BeoSound AMG high-end surround sound system, developed by Mercedes-Benz and Mercedes‑ AMG together with renowned Danish audio specialist Bang & Olufsen. The sound system also offers playback in Dolby Digital 5.1 quality and enables an exclusive audio experience of the very highest standard. This performance is made possible by a 1200 W amplifier and 14 high-end loudspeakers with neodymium driver in conjunction with precision distribution of the audio signals by the sound processor. This integrated digital sound processor (DSP) enables the driver to select a special B&O sound menu via COMAND. Front, central or rear sound setups can be selected in True Image™ mode, resulting in an authentic audio experience in the selected listening position. Various sound modes are additionally stored in the "Sound Mode" menu, enabling selection between a "Reference" high-end studio sound and a surround option. While "Reference" focuses on an authentic, unadulterated rendering of the artist's performance, the special surround sound mode is particularly ideal for live or concert music, creating a unique panoramic sound in the vehicle without compromising the natural character of the recording.
The illuminated 50 W tweeters featuring Acoustic Lens Technology in the mirror triangles add special highlights. High-quality loudspeaker covers in "silver chrome" bearing the Bang & Olufsen logo additionally allude to the exclusive character of the high-end surround sound system.
Designo wooden luggage compartment floor in American cherry
A further highlight for all models of the CLS 63 AMG Shooting Brake is the designo wooden luggage compartment floor. This luggage compartment floor is made of open-pore American cherry wood, a decorative fine wood traditionally used in superior interior design work, high-quality furniture and exclusive ship outfitting applications. Selected veneer sheets are glued and pressed together by hand in cross-bonded layers to achieve high dimensional stability. The blanks are milled into their precise shape using a CNC machine, and the surfaces are sanded to a smooth finish, waterproofed and oiled to highlight the natural beauty of the wood.
Dark fumed oak inlays, precision-cut in narrow three-millimetre strips using laser technology, lend a definitive finishing touch to the design of the luggage compartment floor. In combination with rubber strips, the extruded aluminium rails with brushed surfaces not only protect the wood surface but also have an anti-slip effect.
The market launch of the CLS 63 AMG with rear-wheel drive will begin in April 2013, with the all-wheel-drive CLS 63 AMG and the CLS 63 AMG S-Model following in June.
Source: Mercedes-Benz
Gallery:
Mercedes-Benz CLS63 AMG S-Model (2014)