The Holden Volt is not a hybrid.  It is a one-of-a-kind, all-electrically driven vehicle designed and engineered to operate in all climates, with a range of over 600 kilometres (depending on conditions).
Powered by GM's revolutionary Voltec propulsion system, it has a 16.5kWh lithium-ion battery pack and an electric drive unit that provide a pure electric range of up to 87 kilometres, depending on terrain, driving techniques and temperature.
A 1.4 litre petrol generator extends the range by operating the car's electric drive system until it can be plugged in and recharged or refuelled.  This distinguishes the Volt from electric-only vehicles, which cannot be operated when recharging is not immediately available.
The battery and propulsion systems are sized so that when sufficient energy is available from the battery, the generator is not required for operation.  During electric-only phase, the battery, motor, and power electronics are designed to deliver full performance, acceleration, top speed and hill climbing on electric power alone.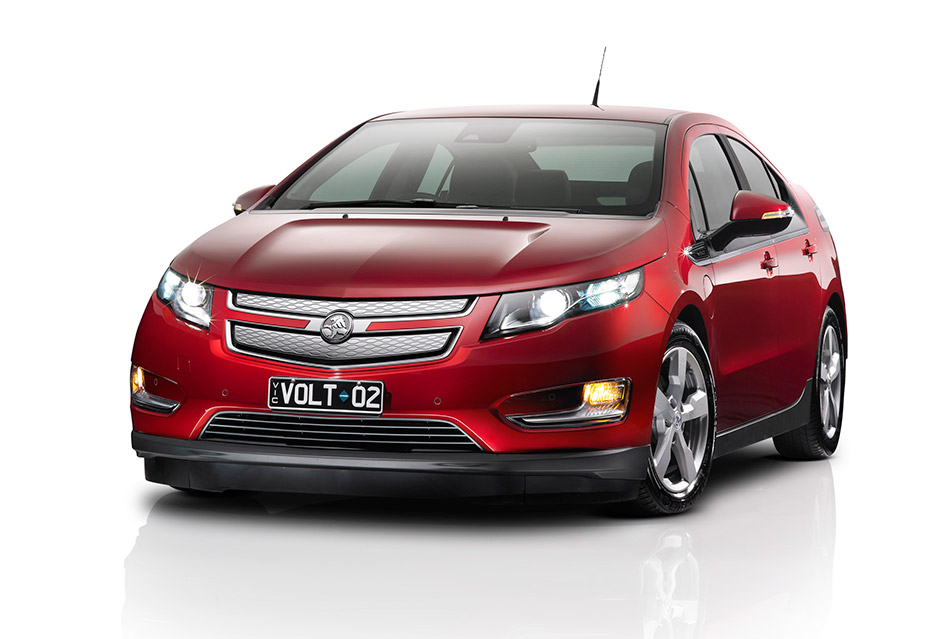 Every major element of the Holden Volt is designed for efficiency, including its aerodynamic exterior, lightweight wheels, low rolling resistance tyres, even the energy-saving premium stereo system.
A full list of Volt dealers can be found at the HoldenHQ blog or via the Holden dealer locator.
Charging
The Holden Volt doesn't require specialised recharging infrastructure as it can be recharged from a standard household outlet and charging is a simple plug-in process.
Volt comes equipped with a 6 metre charging cord, stowed in the cargo area.  Its lithium-ion battery can be fully charged in less than six hours from a standard 240-volt 10A household power point.  Charging time from a 240-volt 6A point is less than ten hours.
The charge cord pack is equipped with LED status indicators that illuminate green or flashing red to identify status.  When all indicators are green, the vehicle can be charged.  If any are flashing red, the charge cord will not permit vehicle charging due to the voltage being out of range or the electrical outlet not having a proper safety ground.
For more rapid charging options, Better Place is Holden's preferred partner for the delivery of faster-charging and renewable energy solutions.
The company has developed membership packages for Volt customers and assists in the installation of higher-speed (under 4-hour charge time/15A) 'Charge Spots' at homes and workplaces.
This faster charge option is aimed at fleet customers who prefer to run their vehicles predominantly on an initial battery charge.
Zero-emissions chargingis provided through the purchase of renewable energy or 100 per cent Government certified renewable energy certificates.
Source: Holden
Gallery:
Holden Volt (2013)