The legendary Mercedes-Benz G-class is surely the ancestor of all off-road vehicles: for more than 35 years, this "living fossil" has been built without interruption. The Stuttgart company doesn't exactly break any sales records with the "G", but the fan community for the last real purist off-road vehicle continues to be so great that an easy and continuous further development is continued.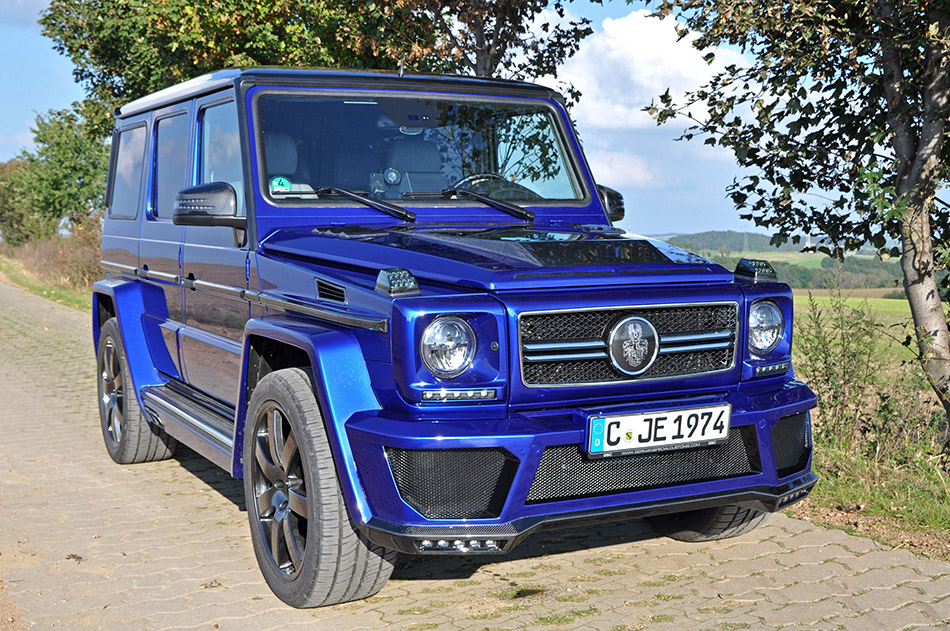 For all fans and owners of a model G, the tuners from German Special Customs, Chemnitz, have a customised aerodynamics construction kit in the programme now, which fits nearly any G-class, be they old or new. The body kit consists of a completely new front bumper with integrated LED daylight driving headlights and a carbon fibre spoiler lip. The carbon fibre motor cowl and lateral carbon outer mirrors are new as well. The width is much increased by the front wheelhouse widenings and the massive side sills. Into the latter, German Special Customs integrates double end tubes of stainless steel, which blow their exhaust laterally into the environment. The lateral ventilation slots are also made of carbon fibre, as is the massive spare wheel covering at the rear. A special rear bumper with slightly suggested diffusor look completes the elaborate conversion. In terms of wheel/tyre combination, German Special Customs offers its in-house Jura wheel. This G400 CDI installed the seven-spoke forged wheel all around in the 10x22 inch format with 305/40R22 tyres. On request, the Jura rim is available an inch larger as well.
The designers from German Special Customs offer a plethora of interesting solutions to refresh the interior. Not only the seats can be refined in full leather or with a leather/alcantara mix, but large parts of the cockpit can also be decorated with customised carbon elements. Alcantara for the roof canopy, the A-, B- and C-pillars or additional infotainment systems for front and rear are part of the GSC portfolio for the G-class as well as lit door entry strips.
Source: GSC
Gallery:
GSC Mercedes-Benz G400 CDI (2014)