On the momentum of its one-two finish at Le Mans this time last year, Peugeot is on the hunt for a second straight win in the prestigious French competition. Twelve months of hard preparation work since June 2009 have kept the team under pressure in its bid to secure repeat success on this uniquely popular event which attracts more than 250,000 spectators annually.
From 2009 to 2010: emotions aplenty and a great deal of exacting work If only because of the unknowns, drama and potential pitfalls that have always been part and parcel of the Le Mans 24 Hours, the emotion and joy that come from winning the great French race are absolutely unique. When Peugeot had the privilege of tasting Le Mans success in 2009, it was able to measure the wave of passion its result prompted, both among the public and across the company. The victorious 908 HDi FAP and its three drivers – Alexander Wurz, Marc Genе and David Brabham – embarked almost immediately on a 'lap of honour' tour which lasted from June until September before the car finally made its way back to the team's Vеlizy workshops. Since then, with its sights set firmly on 2010, the year of Peugeot's 200th anniversary celebrations, Team Peugeot Total hasn't taken its eye off the ball in the slightest.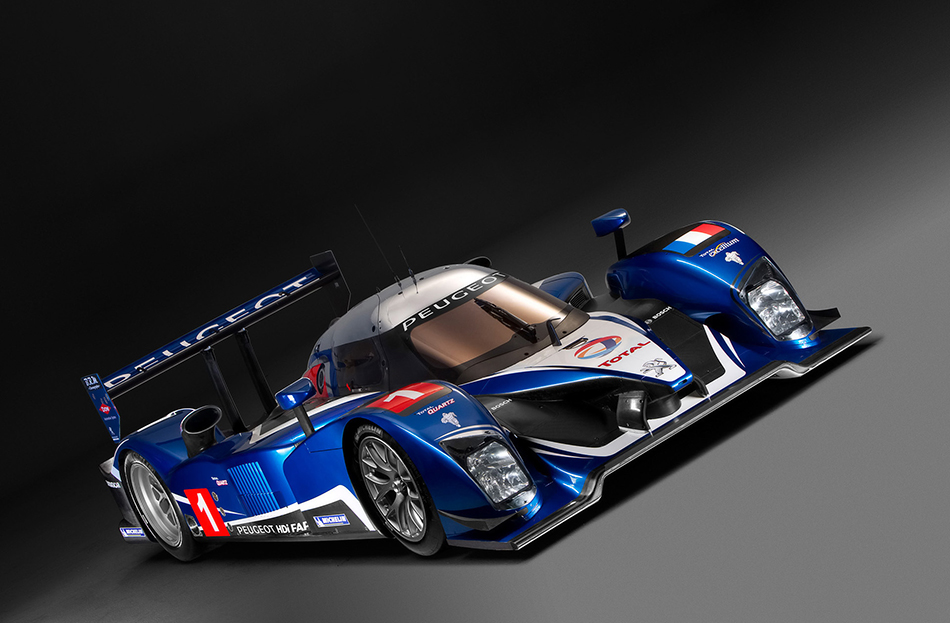 Last January, the French carmaker released details of its new project which – in keeping with the brand's new brand signature: Peugeot, MOTION & EMOTION – continues to put emotion at the heart of motoring, and motor sport has long been deeply rooted in Peugeot's DNA.
Thorough preparations Since the chequered flag came down on last year's visit to Le Mans on June 14, 2009, the team's preparations have taken the form of three races and 11 test sessions, including simulation runs, set-up work and the development of a complete range of tyres in association with Michelin. "Our work initially focused on adapting the 908 HDi FAP to the 2010 regulations, which essentially meant the engine and bodywork," explains Peugeot Sport's Technical Director, Bruno Famin. "The only aerodynamic change is the result of having to adjust to this year's new engine power levels. We have endeavoured to recover some of the power lost because of the rule changes, which involved working with Bosch on combustion, combating energy losses through friction with Total and enhancing the flow efficiency of the intake and exhaust systems in association with Dow. All the things that gave us trouble in 2009 have been looked at, too, while we haven't eased up in our ongoing efforts to improve reliability. This is the 908 HDi FAP's fourth and final year of competition. It is an outstanding car and I think we can look forward to an incredibly thrilling Le Mans 24 Hours; I believe it will be very close from flag to flag."
The 1,000km de Spa-Francorchamps in May provided a foretaste of what spectators can expect at Le Mans, namely a long, unrelenting sprint during which the slightest error or misjudgement on the track, in the pits or in terms of strategy could well prove very costly. It was therefore deemed essential for the team to get in real-world race practice in order to give everyone a chance to rehearse their respective roles under the sort of pressure that only competitive action can provide. Last October's 10-hour Petit Le Mans, March's 12 Hours of Sebring and the recent 1,000km de Spa are all outings that have contributed to making Team Peugeot Total an even more mature operation, a process helped by its one-two finishes in all three races. To date, the 908 HDi FAP has carved out an exceptional record of 15 wins from 21 starts, including such classics as Le Mans, Sebring, Petit Le Mans, etc.
Since their return from Spa, the three factory 908 HDi FAPs have all been stripped, meticulously inspected and rebuilt ahead of scrutineering which will take place at Le Mans on Sunday, June 6. Meanwhile, the mechanics have been busy in the team's Vеlizy workshops practicing wheel changes and pit-work to ensure that they are prepared for all eventualities. "We also bedded in a certain number of parts for Le Mans at Magny-Cours," adds Bruno Famin, "and a final shakedown run with the cars is planned at Satory, near Paris. When race week begins, we will use the early part of Wednesday and Thursday's free and qualifying practice sessions to work on the set-ups of our three cars and to evaluate fuel consumption and tyre performance, while at the same time gathering as much of the indispensable data we will need for the weekend as possible. After Wednesday evening's run, the engines will be changed in order to spare them for the race."
"We see ourselves as the challengers again, despite last year's win"
"Our win at Le Mans in 2009 did a great deal for the team's confidence," notes Peugeot Sport's Director Olivier Quesnel. "This time last year, we had the impression that our backs were to the wall. Today, we are still under pressure, but we have used that pressure to make positive progress. Le Mans is the greatest race in the world and we all felt a big sense of pride when we succeeded in beating Audi which has been the benchmark in endurance racing for many years. We have done everything in our power to prepare as thoroughly as possible to repeat that win, but everyone is aware that this is a long race during which anything can happen. However much work you put in, it's Le Mans itself that decides who walks away with the trophy at the end. I am expecting an extremely intense race because I am sure that our main rival has evolved, as we saw at Spa. And we mustn't overlook the other cars, either. The Aston Martins, for example, enjoy greater top speed compared with last year, and that can sometimes force our drivers to take risks when overtaking. This is our car's fourth year of racing, so, in this respect, we see ourselves as the challengers again, despite last year's win…"
In addition to its existing associations with Total, Michelin, Bosch, Dow, Eurodatacar, Peugeot Financement and BRM, Peugeot Sport will also boosted by support from PlayStation for the 78th edition of the Le Mans 24 Hours.
A line-up of nine sprinters
Team Peugeot Total's 2010 driver line-up comprises nine evenly-matched, bonded, fast and experienced drivers who are ready to join battle to take the team to the top step of the podium at Le Mans for the second year running. Between them, they boast 54 previous participations in the Le Mans 24 Hours!
N°1 908 HDi FAP (blue mirrors)
Anthony DAVIDSON (GBR) / Marc GENE (ESP) / Alexander WURZ (AUT)
Genе and Wurz were both in last year's winning car. Marc has one win to his name, while Alexander has won twice from three attempts at Le Mans. This international trio also won last March's visit to Sebring.
N°2 908 HDi FAP (white mirrors)
Nicolas MINASSIAN (FRA) / Franck MONTAGNY (FRA) / Stеphane SARRAZIN (FRA)
These three French drivers were team-mates at Oreca in 2002, so they know each other and complement each other very well. They also have considerable experience of Le Mans, with no fewer than 27 starts between them. Stеphane Sarrazin has claimed the last three pole positions.
N°3 908 HDi FAP (red mirrors)
Sеbastien BOURDAIS (FRA) / Pedro LAMY (POR) / Simon PAGENAUD (FRA)
These three drivers won May's thrilling, high-speed 1,000km de Spa-Francorchamps together. Following their success in Belgium, Pedro and Simon went on to win the Nьrburgring 24 Hours and the ALMS round at Laguna Seca respectively.
Key statistics
There will be four Peugeot 908 HDi FAPs at the start of this year's Le Mans 24 Hours (three factory cars, plus the Oreca car)
The 908 HDi FAP has contested 21 races and notched up 15 wins since 2007
Since their Le Mans debut in 2007, the different 908 HDi FAPs have totalled 191 hours of racing in La Sarthe from a possible 192 hours
Team Peugeot Total's nine drivers boast 54 Le Mans starts between them
There will be some 2,000 Peugeot guests at Le Mans this year (sales network, subsidiaries, partners, media, etc.)
Peugeot will have 25,000 square metres of hospitality space at Le Mans this year, with 40 cars on display
Source: Peugeot
Gallery:
Peugeot 908 HDi FAP (2010)