With a lot of luxury and at a length of 5.12m, the Mercedes GL is the ultimate full-size SUV. From now on fans of sporty cars can also buy it, for LARTE Design has fine-tuned this giant gem, turning it into a "Black Crystal". The components of the exclusive kit will fit all the latest model variants. Parts of the LARTE GL are a very aggressive body kit, attractive alloy wheels and a sonorous exhaust system. The icing on the cake is a powerful engine uprating. All the "Black Crystal's" components are of OEM premium quality and made in Germany and its European neighbors.
The completely re-designed front bumper has a fascinating "crystalline" ornamentation and aggressive geometry: the blazon-shaped front guard stretches over almost the entire height of the car. Two really gigantic crystals, prongs, edges, boomerang-shaped elements, exposed carbon inserts and a number of air inlets make for a very martial effect. In cooperation with the German OEM supplier Nolden, striking LED daytime running lights were designed that do not only add to safety but also light up the "Black Crystal" in a very tasteful fashion.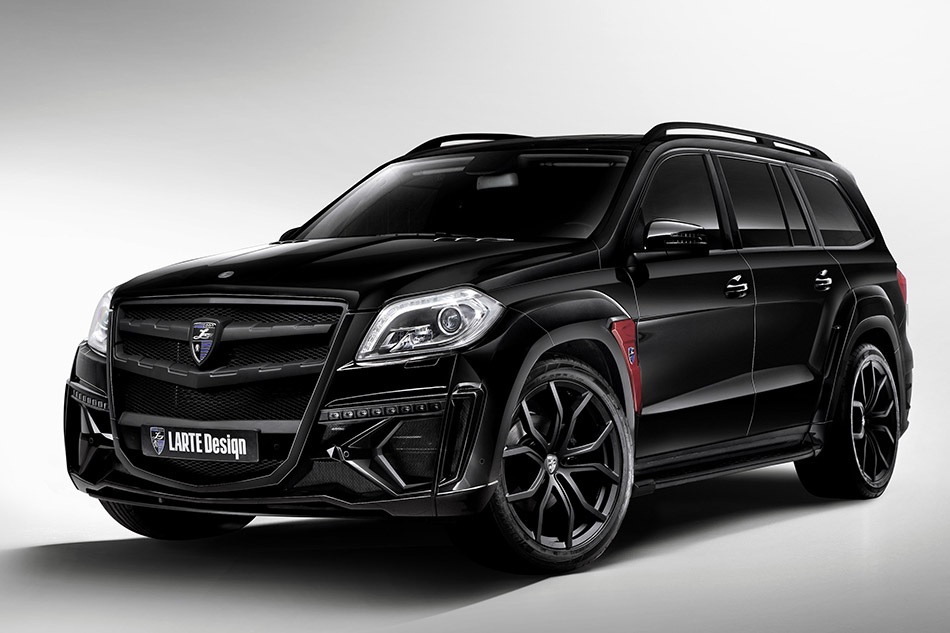 To provide even more "visual muscle" and sporty proportions LARTE also gave the Mercedes GL mighty front and rear fender spacers, side skirts and rear door beads, which underscore the car's width and let the silhouette appear flatter and more dynamic. The LARTE rear apron draws upon the front design and has some high-quality details like exposed carbon inserts, a central formula-1-type brake light and a specially designed four-pipe stainless steel exhaust system by the Austrian partner Remus. Its complex shape – steel on the inside and carbon on the outside – make it an excellent piece of workmanship.
Finally, the "Black Crystal" features forged, dark XXL 11 x 22'' alloy wheels with angular double spokes. After all, in terms of speed, the heavy giant is on a par with fast limos and coupés. Thanks to an uprating realized in cooperation with Wetterauer the GL has a lot of reserves. The V6 diesel engine of the "Black Crystal" has no less than 290 hp / 213 kW and a top torque of 690 Nm. The serial version's numbers are 258 hp / 190 kW and 620 Nm.
Source: Larten Design
Gallery:
Larte Mercedes-Benz GL Black Crystal (2014)