Honda's all-new, third generation CR-V delivers a driving experience as good as a D-sector saloon, improved equipment levels and Honda's latest advanced safety technology, yet remains as practical as ever.
Its immensely popular predecessors, set new standards in the SUV sector and became a benchmark vehicle for its impressive road manners and versatility. With the market becoming increasingly crowded, Honda has raised the bar further, and the latest CR-V has even better handling and ride comfort, more car-like styling, greater comfort and a more luxurious interior, reflecting the growing demand for quality and premium products in the compact SUV market. In short, the new range injects a dynamic sense of style and refinement, successfully bridging the gap between sport and utility.
Safety
The generous equipment levels are matched by cutting edge technology including two systems that are unique in this market segment: Adaptive Cruise Control (ACC), the radar-controlled cruise control function which maintains a set distance to a vehicle in front by applying either brake or throttle; and Collision Mitigation Brake System (CMBS), which warns the driver and applies light braking if the distance to the vehicle in front decreases beyond an acceptable level, before applying strong braking and retracting the front seatbelts if the situation becomes critical. Both these systems are optional, depending on grade.
Added security is provided by Honda's VSA (Vehicle Stability Assist) on all models, the system designed to assist the driver in maintaining control during cornering, acceleration and sudden manoeuvres by applying brake force to the right or left hand wheels as necessary and managing the throttle. VSA is designed to complement the Real Time 4WD system.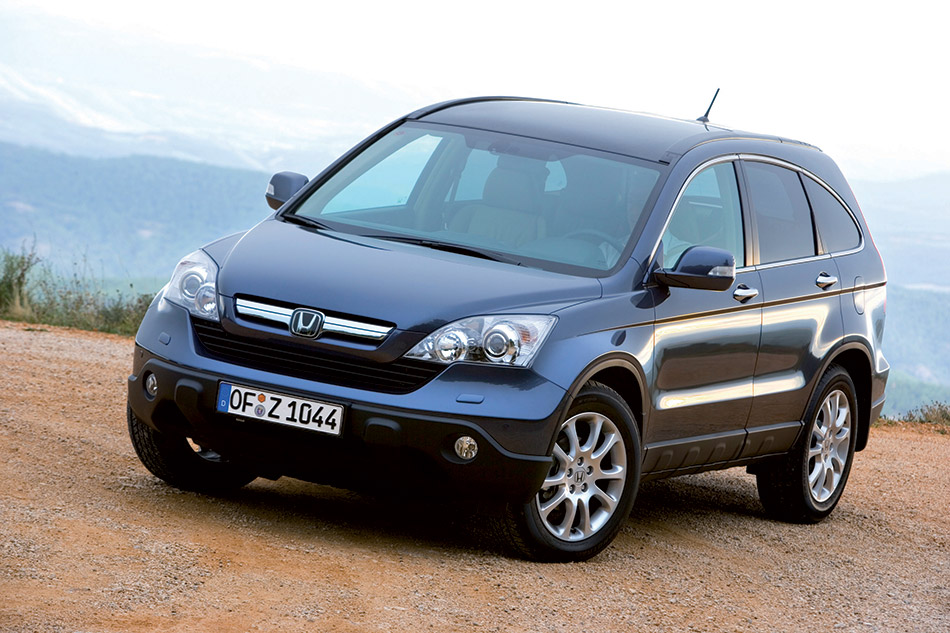 It is supplemented by Trailer Stability Assist which ensures, by using a combination of reduced engine torque and selective braking, that the vehicle is slowed to a safe and stable speed if snaking should occur while towing.
Active Front Lighting, the system whereby the driver's view of the road ahead is enhanced by high intensity discharge (HID) low beam headlamps turning in the direction the vehicle is heading, is also offered on the CR-V for the first time.
A full complement of passive safety measures includes dual stage SRS front airbags, side airbags for front seat passengers, full length curtain airbags, and front and rear seatbelt reminders, all fitted as standard, with active front headrests on all models except S grade.
Honda has also thoughtfully provided five ISOFIX fittings on the rear seats. That means either two child seats can be installed, one on each outer seat, or one on the central seat. Also, since the rear seats slide, a parent can reach over and tend to a young child sitting in the rear by sliding the seat fully forward. And in another neat touch, Honda has provided a 'conversation' mirror which allows easy communication with rear seat passengers without twisting round, but equally enables a parent to keep a watchful eye on an infant in the back. It's accessed simply by opening up the sunglasses holder to the half way point and is standard on ES and Executive models.
The previous CR-V set new standards for vehicle safety and the new model builds on that reputation with the latest Honda safety technology. In common with other recent models, it features Advanced Compatibility Engineering (ACE) body structure technology for excellent crash safety characteristics. A polygonal frontal frame structure reduces the potential for vehicle to vehicle misalignment and upper and lower energy absorbing pathways optimise energy distribution.
Style
The sportier styling is characterised by a 'cab-forward' look and a coupe-like tapering side window profile, reflecting the enhanced vehicle dynamics. The frontal styling is also much bolder with a prominent bonnet and a distinctive double grille flanked by projector-style headlamps as the focal point. Muscular lower proportions, the wide track and standard 17 inch wheels emphasise the CR-V's SUV credentials. At the rear, the vertically opening tailgate's rounded glass and a sculptured lower panel add further distinction. The spare wheel is located beneath the load compartment floor.
The decision to opt for a vertically opening tailgate was based on customer feedback which indicated a preference for the easier access provided by such a design where vehicles are tightly parked.
Clever hinge construction and geometry, together with lightweight components ensure that little effort is required either to bring the tailgate down to the (high) point where it closes of its own accord, or to lift it to the (low) opening point.
The relocated spare wheel means that the new CR-V is around 105 mm shorter (4530 mm) than the previous model. At 1820 mm it is also 35 mm wider, while height is down by 30 mm (1810 mm including roof antenna). The wheelbase is reduced from 2630 to 2620 mm, and front and rear tracks at 1565 mm are 25 and 5 mm wider, respectively.
The load space is effectively 'extended' rearwards to take up the space vacated by the former tailgate-mounted spare wheel and luggage space is now larger at 556 litres (VDA) with the rear seats in place, rising to 955 litres (VDA) with the seats folded (up to the windowline).
Interior
The new cabin blends excellent ergonomics and clever storage integration with sophisticated, modern and efficient architecture. The new, premium design features metallic trim elements applied to fascia and doors that contrast with soft textured black trim. Front seats are larger and more comfortable and the steering column is adjustable for reach as well as rake. Relocation of both manual and automatic gear levers to the base of the centre stack brings them closer to the steering wheel and creates more floor space. They are complemented by a unique, stubby handbrake located on the leading edge of the centre console. Its compact design features a button release to one side, with a clever wire linkage requiring only limited space for its operation.
The instrument cluster comprises a rev counter on the left and a speedometer on the right with white LED illumination and blue backlighting for added stylishness. Located between the two are the water temperature and fuel gauges with digital segments that are progressively illuminated. Above these appear a door closure icon and outside temperature, and finally a range of items selectable by the information switch located on the steering wheel - instantaneous fuel consumption, average consumption, vehicle range, average speed, elapsed time, odometer, or trip A/B. The automatic transmission display (where fitted) is contained within the rev counter.
Executive grade models feature an even more comprehensive multi-information display which also provides the status of the Adaptive Cruise Control system when fitted.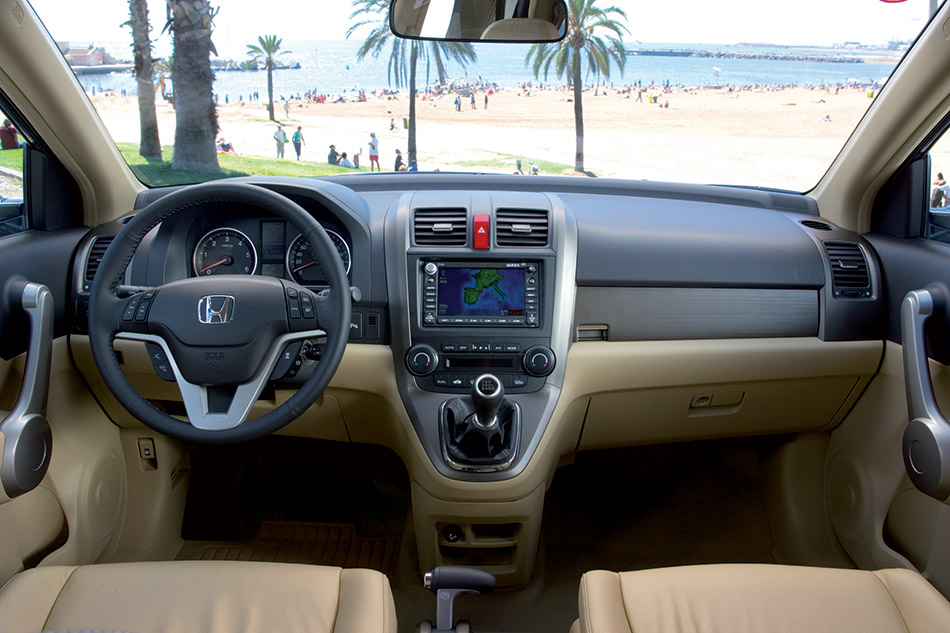 The interior offers a spacious, airy environment with the same 'command view' as the previous CR-V, with good visibility for all occupants. Also, larger door openings, a rear door that now opens to 80 degrees and lower sills make climbing in and out even easier.
Convenient storage areas are easily accessible throughout the interior and include an illuminated 6.9 litre glove box and above it a useful lidded passenger tray with a capacity of 3.1 litres. The driver's seat has a seatback pocket. Capacious door bins front and rear are able to hold a 500 ml bottle.
The 6.5 litre storage box at the rear of the centre console has sufficient capacity to hold up to 24 CD cases, and features a sliding cover for quick and easy access. It contains an auxiliary audio input jack, allowing operation of an MP3 player, as well as a 12V accessory socket. Ahead of the storage box on the right are two cupholders, and to the left a storage tray and the heated seat switches where fitted.
Twin cup holders are also contained within the rear seat centre armrest, revealed when it is folded down.
Brand new, fuel efficient 2.0-litre petrol engine
Power comes from a new 2.0-litre petrol engine and Honda's celebrated 140 PS 2.2-litre i-CTDi diesel which continues further optimised.
The 2.0-litre petrol engine is an all-new unit in the same family as the 1.8-litre SOHC i-VTEC of the Civic range. Like that engine it uses the finest of Honda's VTEC and control systems expertise together with comprehensive friction reduction technology and introduces an extra element to the mix: delayed closure of the intake valves combined with a wide open throttle valve during low-load driving conditions to reduce pumping losses and boost fuel economy.
Power and torque figures are broadly similar to the previous petrol engine - 110 kW/150 PS at a slightly lower 6,200 rpm, and 192 Nm at 4,200 rpm.
Greater engine efficiency, new gearboxes and the improved vehicle aerodynamics mean fuel economy is boosted to 8.1 and 8.2 l/100 km for manual and automatic models, respectively, compared with 9.0 and 9.3 l/100 km. Manual and automatic CO2 emissions fall to 192 and 195 g/km.
Performance is also improved and the 0 to 100 km/h sprint drops from 10.8 to 10.2 seconds for the manual model and from 13.1 to 12.1 seconds for the automatic.
The petrol engine models are equipped with brand new transmissions: either a 6-speed manual or an optional 5-speed automatic
Diesel power from the renowned Honda 2.2-litre i-CDTi engine
The introduction of Honda's advanced 2.2-litre i-CTDi engine to the CR-V range in 2005 immediately conferred an advantage, its 140 PS at 4000 rpm and a hefty 340 Nm of torque at just 2000 rpm delivering a significant performance gains over its main rivals in all driving conditions and particularly in 4th and 5th gear acceleration.
The engine has undergone further optimisation for the third generation CR-V, and fuel economy is even more impressive as a result of the new model's aerodynamic efficiency which is improved by 12 per cent. The Combined cycle figure falls from 6.7 to just 6.5 l/100 km, and CO2 emissions from 177 to 173 g/km. There is a corresponding increase in performance and acceleration from 0 to 100 km/h drops from 10.6 to 10.3 seconds.
The diesel model continues to be mated to a 6-speed manual transmission.
Efficient Real Time 4WD upgraded
The CR-V, thanks to the Real Time 4WD system which automatically engages only when required, continues to offer excellent on-road security in slippery conditions and good 'grass and gravel' terrain capability, thus maximising fuel economy.
It combines a quiet, fuel efficient, dual-pump system with a one-way cam unit to significantly enhance sensing of front-wheel slippage - all in a lightweight, compact design. The new system promptly transfers torque - 20 per cent more compared to the existing unit - to the rear wheels, and significantly improves stability during start up and cornering on snow-covered roads and other slippery surfaces. help reduce engine and road noise for an extremely quiet cabin.
Source: Honda
Gallery:
Honda CR-V Euro Specs (2007)