There is no doubt that Mercedes-AMG has scored a direct hit with their gorgeous AMG GT/GT S, whose classical sportscar proportions of a long bonnet and short tail are just the start of its attractions.
The heart of the AMG GT is the 4.0-liter bi-turbo V8 (M178) engine developing 462 hp and 600 Nm of torque, while the motor of the GT S version makes 510 hp and 650 Nm. These outputs rapidly thrust these cars to 304 km/h and 310 km/h respectively.
For POSAIDON however, even the AMG GT S is just the starting point of something far more exciting. Enter the POSAIDON GT RS 700, offering a full 700 hp, accompanied by 750 Nm of torque.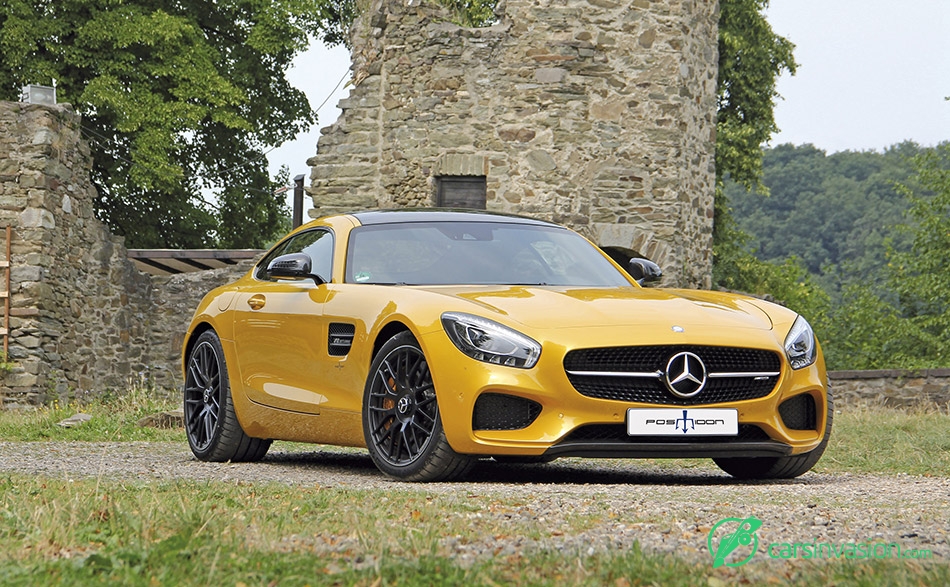 While POSAIDON has the technology to raise the maximum torque figure well beyond 750 Nm, this peak number was imposed for longevity reasons in line with the factory recommended torque limit for the AMG SPEEDSHIFT DCT 7-speed dual clutch transmission. This electronic torque limitation can be lifted upon written customer request.
Given a perfect standing start, the POSAIDON GT RS is capable of slashing the 0-100 km/h sprint to just 3.2 seconds. But with rear-wheel-drive only, full performance is best experienced from a rolling start. Either way, the stupendous torque will pin you to your seat until the speedometer shows 349 km/h.
To generate this level of power and torque POSAIDON applies its in-house turbocharger upgrade and increases the intercooler capacity. A bespoke exhaust system featuring free-flow motorsport grade catalytic converters connects directly to the revised turbochargers, and helps to lower backpressure.
ECU mapping for the engine and gearbox is carefully calibrated on both the chassis dynamometer and the street. With the modified turbochargers building more boost pressure at lower revs and maintaining it as engine speed increases, the 750 Nm (limited) peak torque is delivered on a plateau almost across the entire engine speed range, while horsepower rises progressively with engine revs.
On request, the standard start-stop technology can be permanently deactivated. POSAIDON also offers its radar speed trap warning system that integrates into the factory COMAND Online navigation system.
Source: POSAIDON
Gallery:
Posaidon Mercedes-Benz AMG GT RS 700 (2015)