Maxi-Tuner, the MINI tuning specialists based in Gau-Algesheim, have launched their first performance package for the hot new F56 series MINI John Cooper Works.
The most powerful production MINI ever stands out as an extrovert thanks to its new front bumper with huge air intakes, sculpted side sills, and a rear diffuser that frames its dual exhaust outlets.
However, the real action takes place under the short bonnet of the JCW supermini, where its 2.0-liter four-cylinder turbocharged motor makes a rousing 231 hp, with 320 Nm of torque.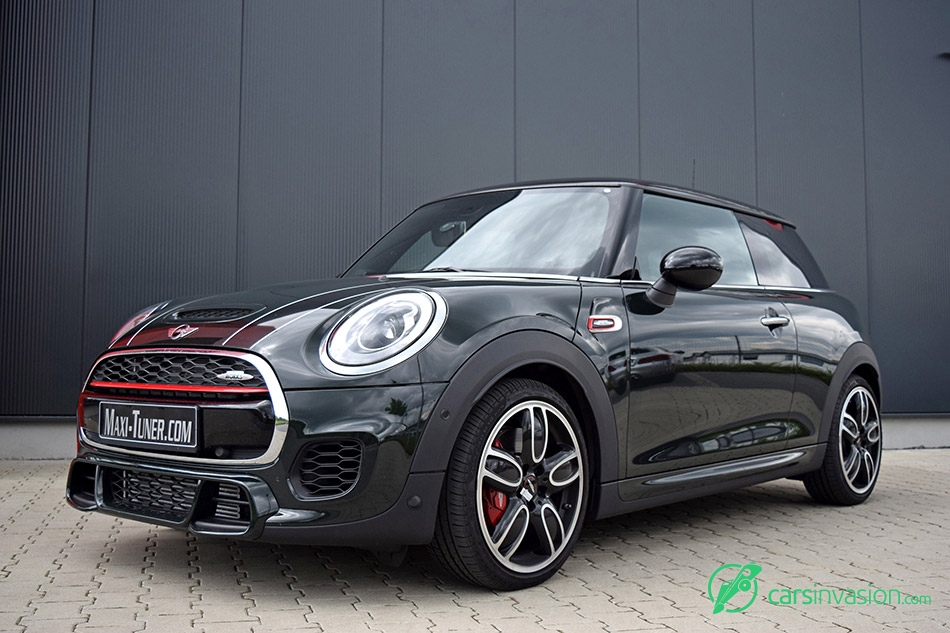 Using their in-house developed MaxPower plug and play auxiliary ECU with bespoke wiring harness, Maxi-Tuner boost this already healthy starting point to 260 hp, with peak torque up to 390 Nm, a boost of 29 hp and 70 Nm. These bigger output numbers and crisper e-gas throttle response improve the cars perceived driving dynamics as well as its acceleration against the stopwatch.
Importantly, the intelligent control electronics in the MaxPower box leave the factory diagnostic and service functions unaltered. All engine protection protocols also remain active, so if engine temperature reaches the factory limits, the system reverts to standard parameters, retarding the ignition to reduce power. The MaxPower box can be just as easily uninstalled when you sell the car.
The MaxPower MINI JCW upgrade can also be paired with the custom Maxi-Tuner MaxSound sport exhaust system, whose sound flap control gives it a louder voice to match the enhanced performance.
Made from high quality stainless steel, this sport exhaust features 70 mm tube diameters and even a remote control for the flap system. An additional feature so far unique to Maxi-Tuner has both tailpipes operating regardless of the flap position. For owners who value a more discreet approach, the MaxSound exhaust system can be ordered with the original MINI JCW tailpipes.
Prices:
MaxPower-improved performance: 990 euro
MaxSound flap exhaust system: 990 euro
Source: Maxi-Tuner
Gallery:
Maxi-Tuner MINI John Cooper Works (2015)