The new-for-2004 Mitsubishi Endeavor is one crossover vehicle that creates exceptional value by incorporating the utilitarian design and smart packaging of an S.U.V. with the dynamic, "car-like" performance today's consumers demand. Mitsubishi dealerships began showcasing the 2004 Endeavor in early 2003, and demand for this five-passenger, mid-sized crossover S.U.V. has steadily increased.
The Endeavor is powered by a responsive 3.8-liter, 60-degree V6 engine that is designed to produce the majority of its torque at lower rpm. The Endeavor's drivetrain can be configured as either a front-wheel-drive or full-time all-wheel-drive S.U.V. that offers improved wet weather handling and light-duty off-road capability. All Endeavors come equipped with a four-speed automatic transmission with Sportronic(TM) mode that allows drivers to manually engage their desired gear.
"Extending the appeal of our value-rich lineup of sports utility vehicles, the 2004 Mitsubishi Endeavor combines the 'sport' of a sedan with the family 'utility' of an S.U.V. - all with the kind of styling that turns heads," said Finbarr O'Neill, co-chairman and chief executive officer of Mitsubishi Motors North America, Inc. (MMNA). "This is a vehicle that exudes comfort, through its interior passenger roominess and its smooth car-like manners and handling."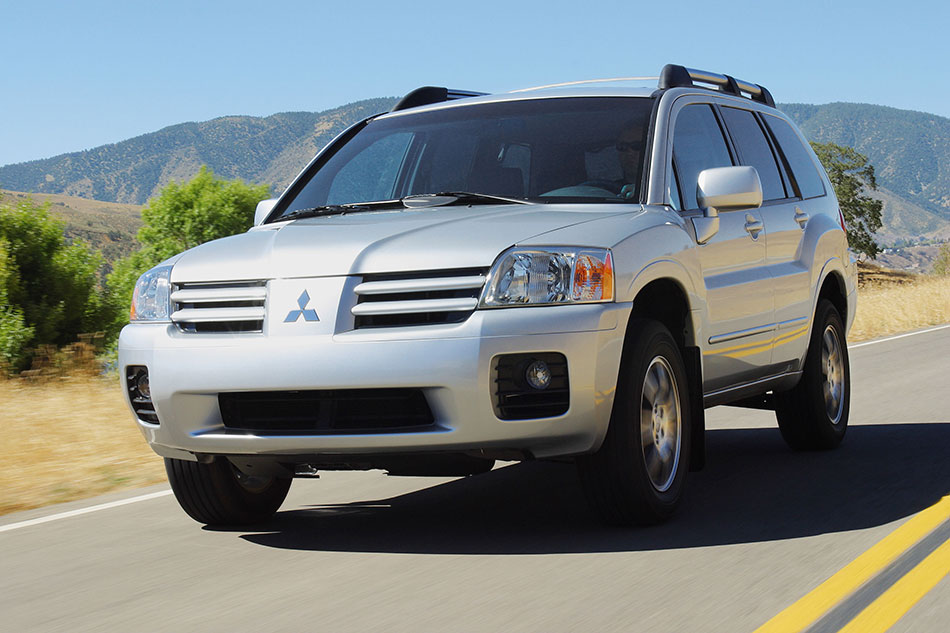 Mitsubishi S.U.V. Family
The new Endeavor is the fourth S.U.V. in Mitsubishi's North American lineup. It joins the entry-level, crossover Outlander; the reliable, rugged, truck-based Montero Sport; and the supremely capable, technological flagship, the Montero. Given its size, sophistication, appointments, configurations and pricing structure, the Endeavor is positioned to attract S.U.V. consumers who are looking for more interior room than an Outlander, yet who aren't concerned with the rugged off-road performance of the Montero or Montero Sport.
With its body-on-frame construction and available A4WD system (all-four-wheel-drive), truck-based Montero Sport competes effectively in the segment of off-road, purposeful S.U.V.s that are equipped to tackle all-terrain, outdoor adventures. The Endeavor offers drivers a refined car-based chassis that exhibits stable, predictable road manners when navigating through the urban environments where S.U.V.s spend the majority of their time. The Endeavor and the Outlander, which are mechanically related to passenger cars, are also the only Mitsubishi S.U.V.s that are also available in front-wheel-drive. The Outlander is an entry-level S.U.V. that is ideally priced to appeal to consumers searching for a more capable alternative to similarly priced five-passenger sedans.
With it Dakar Rally winning heritage, the Mitsubishi Montero continues as the company's technological, luxury-minded, all-terrain-capable S.U.V. that uses a Montero-specific unibody structure and a long-travel suspension design that is not shared by any other North American product.
Function and Utility
A successful crossover S.U.V. needs to offer its owner a level of function and capability that far exceeds that of a five-passenger car, and the Endeavor excels in this capacity with smart execution. The Endeavor's ideal ride height facilitates the easy entry and exit of five adult passengers, and provides sufficient rear legroom to transport these occupants in comfort. The driver and passenger view the road from an elevated "command position" sitting upon comfortable front seats that are among the widest in the class. The comfort of the seats is enhanced by a thoughtfully designed car chassis tuned for a ride quality that makes Endeavor ideal for long drives.
An intelligently designed rear suspension incorporates strut mounting points low enough to provide a large, broad, and flat cargo floor that facilitates the loading and unloading of goods. The easy-to-operate rear tailgate swings upward high enough to clear taller heads and reveals a cargo area that can accommodate a four-foot-wide sheet of plywood. In addition, the curved rear hatch glass can be opened independently of the rear tailgate to load smaller items. Functional roof rails are included on all Endeavor editions; the XLS and Limited trim levels include roof rack crossmembers that facilitate the mounting of accessories, such as a ski rack.
"High-Style" Exterior
The Endeavor's exterior design makes a bold, emotional visual statement about the product and the person who owns it, distinguishing itself from other crossover S.U.V.s with strong mechanical styling cues. The Endeavor's athletic fender arches, aggressive front fascia treatment, and rounded rear glass help endow the vehicle with a design signature unlike any other S.U.V. on the road.
The Endeavor's bold, purposeful front and rear bumpers help communicate an image of strength and safety. The strong silhouette features distinctive fender arches that stretch into a character line that wraps around the vehicle's waistline. Viewed from the front, the larger fenders help accommodate the wide 63-inch (1600 mm) track and reinforce a sense of stability and strength that can also be felt behind the wheel. Large, lower air intakes in the front fascia also help convey an image of aggressiveness and purpose. Meanwhile, the roof racks are a perfect match for the Endeavor's body contours, providing a tight-fitting, tailor-made appearance that complements the vehicle's rugged styling. The Endeavor offers attractive exterior paint finishes with highlights that add depth and appeal to the sheetmetal.
Interior
The Endeavor's interior exemplifies Mitsubishi's spirited product virtues by offering a stylish, upscale, and contemporary cabin that's uncommon for the class. The Endeavor's dashboard is dominated by sculpted, modern, architectural forms housing controls that invite interaction with the driver and passenger. The center of the Endeavor's dash panel features a prominent, metallic-finished waterfall of climate and audio controls suggesting a modern, high-tech, home-audio look that includes large knurled control knobs and fin-shut vents. Atop this center panel is an available color LCD display that provides climate and directional information, and even functions as a computer interface that allows owners to customize many of the vehicle's interior functions. At night, the gauges, interior control knobs, and switches are illuminated with striking ice-blue LED lamps that help create a sophisticated interior mood.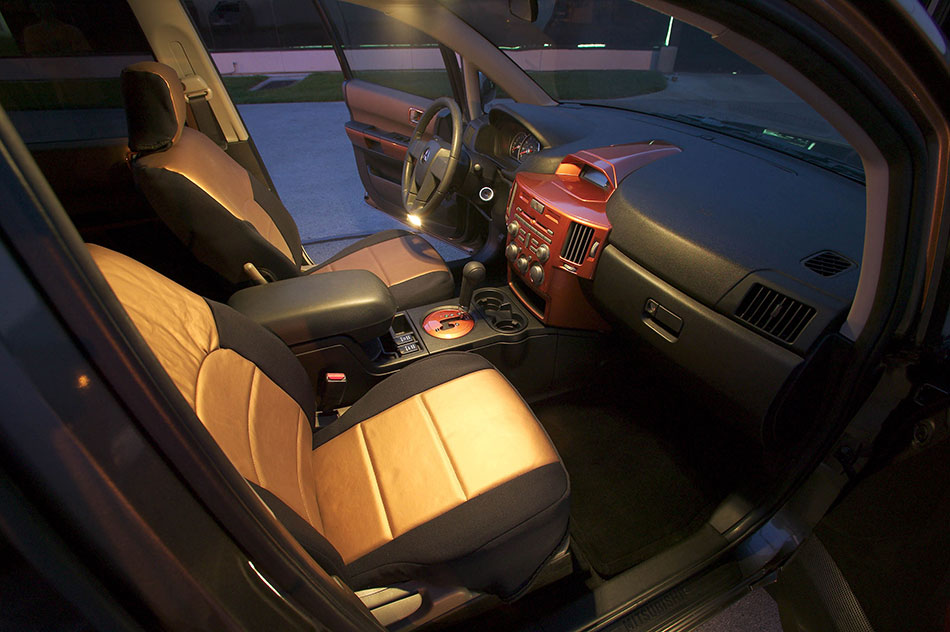 Storage capacity was one of the Endeavor's interior design priorities, as evidenced by the large-capacity glove box included in the dash. The smartly designed center console, which includes a pair of dishwasher-safe cup holders, features a folding, double-decker storage compartment with enough space to accommodate a purse or laptop computer beneath an armrest lid that contains a pen holder. Other cubbies are designed to hold cell phones and sunglasses. The Endeavor Limited's center console also includes climate controls that can be operated by rear seat passengers. The Endeavor's door panels are covered in modern, padded and textured materials that match the seat covering and instrument panel. The front door panels include large door pockets that are ideally sized for large map books or magazines.
The Endeavor's plush seats offer generous shoulder and hip width for superior comfort. Depending on the trim level, the seats are covered in either cloth, premium fabric, or leather, and they feature deep accent lines to help emphasize their width. Leather seat coverings are standard equipment on the Endeavor Limited, and are also available as part of an option package on the Endeavor XLS. In the interest of reducing fatigue and increasing comfort during long drives, the Endeavor is equipped with ideally positioned door panel armrests, a center console armrest pad, and a rear folding armrest complete with cup holders. The Endeavor's front seats include seatback pockets that are handy for magazines or coloring books, and the rear seats include an easily operated 60/40 fold-down function, adding rear cargo flexibility. Overhead assist grips throughout the vehicle are intended to help passenger entry and exit in addition to providing a location to hang the dry cleaning.
The Endeavor's smart, helpful design is also apparent in the execution of the wide, rear cargo area that includes a D-pillar equipped with handy upper and lower hooks to hang bags and help clear the cargo floor. The rear interior cargo panels also incorporate bumpers to protect from the inevitable scratching of loading and unloading goods. Rear hatch and overhead lighting help brightly illuminate the rear cargo area at night.
For the benefit of rear seat occupants, an optional Video Entertainment System - consisting of a DVD player and color display - is available on the Limited trim level.
Drivetrain and Chassis
All Endeavor models are powered by a responsive 3.8-liter, 60-degree SOHC V6 engine that is ideally suited to provide brisk acceleration while maintaining efficient fuel economy. The engine is designed to provide ample torque and superior performance across the rev range. Rated at 215 horsepower at 5000 rpm, with peak torque of 250 pound-feet at 3750 rpm, the Endeavor's V6 is capable of propelling the front-drive S.U.V. to 60 mph in under 9.5 seconds (est. for 2WD LS). The engine's intake and exhaust events are tuned to achieve maximum torque at low revs, where drivers can make most use of the power.
The new 3.8-liter engine achieves impressive fuel economy while meeting stiff emissions regulations for passenger cars, as opposed to truck classes. Additional rigidity incorporated into the 3.8-liter block and the engine mounting areas also brings a reduction in NVH (noise, vibration, and harshness). The Endeavor's refined 3.8-liter engine also incorporates the cutting-edge throttle-by-wire controls that enable the Mitsubishi-Active Skid and Traction Control system, (available on the Limited) to enhance vehicle control on wet, or slick, skid prone roads.
The Endeavor's 3.8-liter V6 engine is mated to a sophisticated four-speed automatic transmission with Sportronic(TM) shifting. The transmission features fully adaptive shift control that "learns" driver inputs and tailors transmission operation to each driver's habits. All-wheel-drive Endeavor models rely on a transfer case that combines a bevel gear center differential with a viscous coupling to achieve a 50/50 torque split between the front and rear wheels. The transfer case includes a fine-pitch hypoid gear that helps reduce noise and a differential oil cooler that improves the unit's reliability. Both 2WD and AWD Endeavors are equipped with final drive ratios that are optimized to improve the vehicles' off-the-line acceleration, and transmission gear ratios that are also well suited for highway performance.
Suspension
The Endeavor's four-wheel independent suspension was designed to provide superior stability, ride-quality and nimble, car-like handling. The Endeavor utilizes a proven MacPherson strut design up front that helps reduce the weight of the suspension design compared to a truck-based suspension. In addition, a large, rigid cross-member helps control the torsional flexing forces of the front sub-frame, improving suspension performance while also reducing NVH.
The Endeavor's rear suspension utilizes a low-mounted, multi-link configuration with trailing arms. The low-mounted position of the rear suspension, with its reduced protrusion into the rear cargo bay, helps increase the rear cargo carrying capacity. Hydroformed cross-members also help reduce road noise and improve suspension performance by reinforcing the rear suspension mounting points to reduce flex.
All-wheel-drive Endeavor models utilize thick rear cross member that also support the rear differential and half shafts. The Endeavor's wide, 63-inch (1600 mm) front and rear track endow the vehicle with superior stability and control. Also, in the interest of handling, ride quality, and style, all Endeavor models are equipped with attractive five- or seven-spoke, cast aluminum 17-inch wheels wrapped in wide 235/65R17 tires.
The Endeavor utilizes a proven power rack-and-pinion steering system that is designed to provide the same direct feeling and response found in a passenger car, while the system's effort multiplication provides the low speed steering control that makes parking and low-speed maneuvering so easy.
Brakes and Safety
The Endeavor unibody structure features extensive reinforcement for additional passenger protection in the event of a collision. Robust front subframe members are connected with a dash panel crossmember and a strong, front steel crossmember to help create a rigid, boxed front subframe area. Reinforced side sill members also help disperse energy in the event of a collision. High-strength steel crossmembers across the floor also help absorb side impact energy and help protect occupants. In the interest of front passenger safety, the Endeavor is equipped with front airbags, with side impact airbags available on the XLS and Limited.
Pretensioning seat belts with force limiters are standard equipment on the Endeavor. Extensive use of energy absorbing materials appear on the interior and headliner and are used to cover the inside of the front center and rear pillars and help reduce the possibility of injury during a collision.
All Endeavors are equipped with four-wheel disc brakes. The front ventilated discs measure 11.4 inches and solid rear discs measure 11.9 inches. Available ABS (which is standard on AWD models) and EBD systems help provide excellent braking control in sudden stops, and on rain-soaked roads.
Trim Levels
A total of six trim levels of the 2004 Mitsubishi Endeavor are available. Each of the three (LS, XLS, and Limited) is available in either front-wheel or full-time all-wheel-drive versions. The three trim levels cover a wide range of standard features and also offer the most popular optional equipment combinations.
The comprehensively equipped base model, the Endeavor LS, includes roof rails and a color-keyed stone guard, as well as the 60/40 rear folding seat, driver's-side vanity mirror and a total of four accessory sockets. The LS model is visually distinguished by its sporty black bumper garnish. The rugged and sporty Endeavor LS represents a tremendous midsize S.U.V. value, providing drivers with superior cargo flexibility at an attractive price. Optional equipment for the LS model includes a towing package with a full-size spare tire, higher capacity radiator on AWD models and the necessary wiring to accompany a dealer-installed tow hitch.
The Endeavor XLS adds standard equipment such as premium fabric seats, a driver's power seat, an improved seven-speaker, 315-watt, AM/FM/CD premium audio system with steering wheel mounted controls and a six-CD changer, the center console's color display with ambient temperature and compass, roof rack crossbeams, and cargo area tonneau cover.
The XLS model is distinct among Endeavor models with its chrome bumper caps. The Endeavor XLS offers a long list of optional equipment packages that offer consumers leather seat covering, shift knob and steering wheel, a large, power sunroof, ABS on 2WD models, side airbags and an anti-theft alarm system.
At the top of the model ladder is the fully equipped Endeavor Limited. Leather seats, leather door trim, leather-covered steering wheel and shift knob, a power sunroof, side-impact airbags, tire pressure monitoring system, rear passenger A/C controller and blower, and fog lamps among a long list of the Limited's standard equipment. The Endeavor Limited is also equipped with color-keyed bumper garnish at the front and rear of the vehicle. Optional equipment includes a DVD-based Video Entertainment System and Active Skid Control System.
Manufacturing
As part of Mitsubishi's Project America initiative, all Endeavor models are built by the manufacturer ranked first in assembly productivity among North American manufacturers (The Harbour Report North America, 2003). The Mitsubishi manufacturing plant in Normal, Illinois is one of the most complex car-building facilities in the world. Including the Endeavor, the facility produces a total of six different cars and trucks-more than any other U.S. plant.
Mitsubishi Motors North America, Inc., (MMNA) is responsible for all manufacturing, finance, sales, marketing, research and development operations of the Mitsubishi Motors Corporation in the United States, Canada, Mexico and Puerto Rico. Mitsubishi Motors sells coupes, convertibles, sedans and sport utility vehicles through a network of nearly 700 dealers throughout North America.
Source: Mitsubishi
Gallery:
Mitsubishi Endeavor (2004)