For 2005 Mitsubishi continues to enhance the sporty image of this highly successful sports coupe. This year, the Eclipse's base trim receives an optional package called "REMIX" which includes top-stitch charcoal leather front seating surfaces, leather wrapped steering wheel and shift knob; a six-speaker, 210-watt audio system with 6-disc in-dash CD changer; chrome exhaust tip; and color-keyed door mirrors.
"Since its introduction, the Eclipse has represented Mitsubishi's image as a value leader in the sports coupe segment," said Rich Gilligan, president and chief executive officer of Mitsubishi Motors North America, Inc. (MMNA). "With eye-catching styling and V6 performance, it's no wonder that the Eclipse has been so successful over the past decade.''
For the 2005 model year, Mitsubishi enhanced the model's appeal by adding a sporty new trim level - the REMIX edition - as well as making subtle changes elsewhere in the product line. The Eclipse REMIX edition offers a combination of popular equipment, sporty road manners and an exceptional price.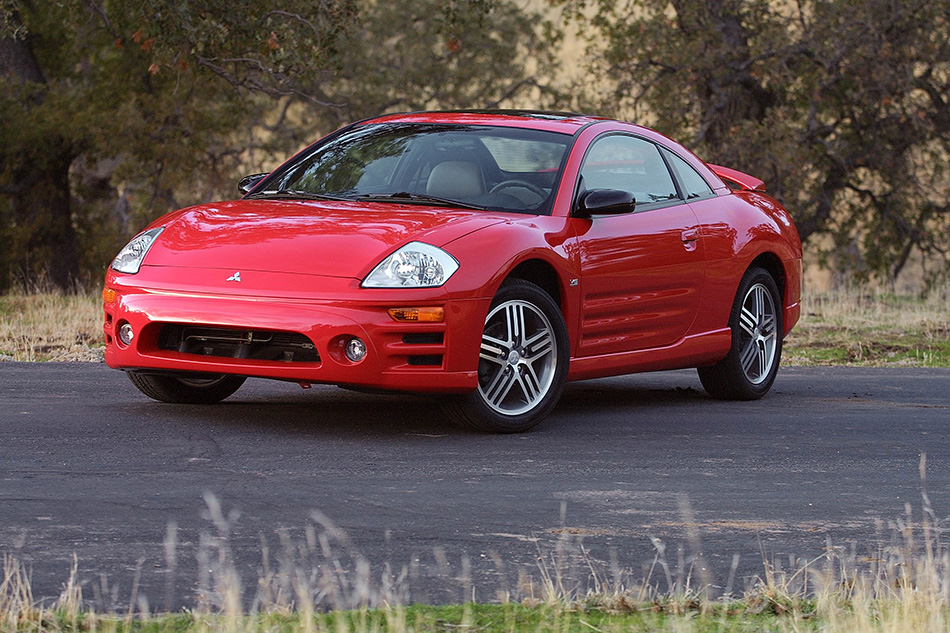 ECLIPSE COUPE
The Eclipse offers buyers three trim levels: GS, GT, and the fully loaded GTS. The Eclipse GTS is a refined and very well-equipped sport coupe with stylish, aluminum 17-inch wheels, steering wheel-mounted audio controls, a 210-watt audio system featuring in-dash CD player, stylish leather-trimmed interior, dual front seat mounted side-impact airbags, ABS, fog lights, and a long list of desirable standard equipment features.
Under the hood, the Eclipse GTS is equipped with a performance-inspired version of the smooth and torquey 3.0-liter V6 engine that is standard equipment in the Eclipse GT. In the GTS, the output of the 3.0-liter V6 is improved with Mitsubishi Variable Induction Management (MVIM) and higher compression ratio. The GTS intake manifold features two intake-runner designs in one casting with airflow directed by a valve that selects the most effective intake path relative to load. The GTS engine's horsepower is boosted to 210 horsepower at 5750 rpm thanks to the variable-length intake runners and a higher compression ratio that broadens the torque curve and makes for crisper throttle response across the rpm range (205 pound-feet of torque at 3750 rpm). Between the myriad of standard features, scintillating styling, and huskier engine, the 2005 Eclipse GTS proves itself a worthy flagship for the model.
The Eclipse GT's torque-rich 3.0-liter V6 is rated at 200 horsepower. All 2005 Eclipse GS models, including the new 2005 REMIX Edition trim level, are equipped with the responsive 2.4-liter, 16-valve, in-line four cylinder engine that is rated at 147 horsepower. This fuel-efficient engine is designed to deliver maximum horsepower, while emphasizing performance and useable torque over a broad rpm range, without compromising everyday drivability and long-term durability.
The Eclipse coupes' engines are complemented by transmissions designed to maximize the engine's power while maximizing fuel economy.
The Eclipse GS, GT and GTS models are equipped with a five-speed manual transmission and offer an optional Sportronic(TM) Sequential Shift automatic transmission that either changes gears automatically or - for more spirited performance - provides the driver with clutchless manual control. By moving the shifter into the Sportronic(TM) gate, the driver takes control of shift points and engine revs. This allows for powerful, redline-bumping acceleration or quick, precise downshifts while cornering.
All Eclipse coupes feature a capable sport-tuned suspension design comprised of front struts for straight-line stability and a rear multi-link design that achieves excellent wheel control and quick response. This design helps to provide greater body control in sharp turns while also maintaining a smooth, supple ride. Through a variable-assist, engine-speed-sensitive rack-and-pinion steering system, the suspension helps to translate the driver's wishes into flat, controlled cornering force.
The Eclipse coupe can handle less-than-ideal pavement with composure thanks to its rigid chassis and sophisticated suspension. The Eclipse possesses a strong unit body that resists both bending and flexing. When the Eclipse encounters a pothole or contorted pavement, the suspension flexes without transferring energy to the body. This structural integrity helps to give the driver confidence in the car's performance without sacrificing a comfortable ride.
The Eclipse coupe's passenger cabin, designed with occupant safety in mind, is located within reinforced doorframe arches that help to create a sturdy, collision-resistant safety cage that also helps protect passengers with interior padding along the inner door panels and roof pillars. With the optional dual front seat mounted side-impact air bags and side door beams, as well as a strong unibody structure, the Eclipse helps to provide a secure, safe ride and a satisfying drive.
The 2005 Eclipse Coupe is offered in three new and exciting exterior colors. Liquid silver, UV Blue, and Platinum (REMIX Edition) hues highlight the Eclipse Coupes' sculpted sheetmetal. The 2005 Eclipse interior is refreshed with a change in the midnight color scheme, which now combines a black interior with black (rather than blue) accents on the material covering the instrument panels, seats, door panel inserts and center console. The Sand Blast interior consists of a black dashboard and taupe-colored seats with matching taupe door panel inserts and console. Eclipse GS and GT come standard with cloth sport seats. Leather seating surfaces are optional on the GT and standard on the GTS. Steering wheel-mounted audio controls are linked to a 210-watt, six-speaker Mitsubishi/Infinity sound system, which is available on the Eclipse GS and GT as part of the optional Sun and Sound package, and standard on the Eclipse GTS.
TRIM LEVEL SUMMARY
Eclipse GS/REMIX Edition
The new-for-2005 Eclipse REMIX Edition offers an affordable, feature-packed trim level that includes unique charcoal top stitched leather front seating, a 210-watt Mitsubishi/Infinity AM/FM/6-CD audio system, 16-inch SXC alloy wheels, chrome exhaust tip, color-keyed door mirrors, and unique REMIX Edition badges on top of a unique-for-REMIX exterior platinum hue. The special equipment for REMIX is in addition or replacement of standard GS-equipment: five-spoke, 16-inch aluminum alloy wheels, rear stabilizer bar, cruise control, lighted glove box, remote keyless entry system, 50/50 split-folding rear seat and leather-wrapped steering wheel. A color-keyed rear spoiler, integrated rear window antenna and windshield shade band are also standard GS fare. A 147-horsepower, 2.4-liter engine mated to either a five-speed manual or four-speed Sportronic(TM) transmission powers the vehicle.
Eclipse GT
Moving up in trim level, the sportier Eclipse GT offers drivers more of a sports car experience, featuring a smooth-revving, 3.0-liter, 200-horsepower V6 engine. The Eclipse GT includes all of the GS's equipment, plus larger stabilizer bars, a front strut tower brace, vented four-wheel disc brakes and 17-inch finned-spoke alloy wheels with V-rated high-performance tires.
An optional Sun and Sound package for both Eclipse GS and GT includes a one-touch power sunroof and a 210-watt Mitsubishi/Infinity premium audio system with seven speakers. Leather front seating surfaces are also available as an option.
Eclipse GTS
Loaded with options and commonly sought-after features, the 2005 Eclipse GTS represents the top of the premium-sports-coupe ladder. The GTS trim includes the 210-horsepower, 3.0-liter, SOHC, V6 engine with revised intake and higher compression ratio; anti-lock braking system (ABS); traction control (on automatic models); power sunroof; dual front seat mounted side-impact airbags; rear window wiper/washer, six-disc in-dash CD/cassette premium audio system; six-way power driver's seat; leather front seating surfaces; integrated fog lights; steering wheel audio controls; security alarm; compass/outside temperature display and finned, machined finished 17-inch alloy wheels.
Source: Mitsubishi
Gallery:
Mitsubishi Eclipse (2005)