For 2005, the Eclipse Spyder adds a fun, value-minded trim level, the GS REMIX Edition that combines some popular features into one dynamic appealing and very affordable package. The GS REMIX Edition includes topstitched charcoal leather front seating surfaces, leather wrapped shift knob and steering wheel, as well as a six-disc CD-changer, 16-inch SXC alloy wheels, a chrome exhaust tip and color-keyed door mirrors.
The Eclipse Spyder is available in three trim lines: GS, GT, and GTS. The GS trim level is equipped with sporty, 16-inch, five-spoke aluminum wheels. Given the more aggressive, sporty nature of the GT and GTS trims, these Spyders ride on aluminum, finned-spoke 17-inch wheels. For 2005, three new colors have been added to the exterior palette: Liquid Silver, UV Blue and the exclusive-to-REMIX-Edition Platinum hue.
Buyers have a choice between dressing their Spyder interior in either the attractive Midnight or Sand Blast themes. The 2005 Eclipse Spyder's interior offers a dramatic look with a new black dashboard trim for the Midnight theme. The Sand Blast interior consists of a black dashboard that is complemented by taupe-colored seats and matching taupe door panel inserts and console. The 2005 Eclipse Spyder's upholstery is covered in premium cloth, but optional leather front seating surfaces are available on the GS and GT models. Front leather seating surfaces are standard on the GTS.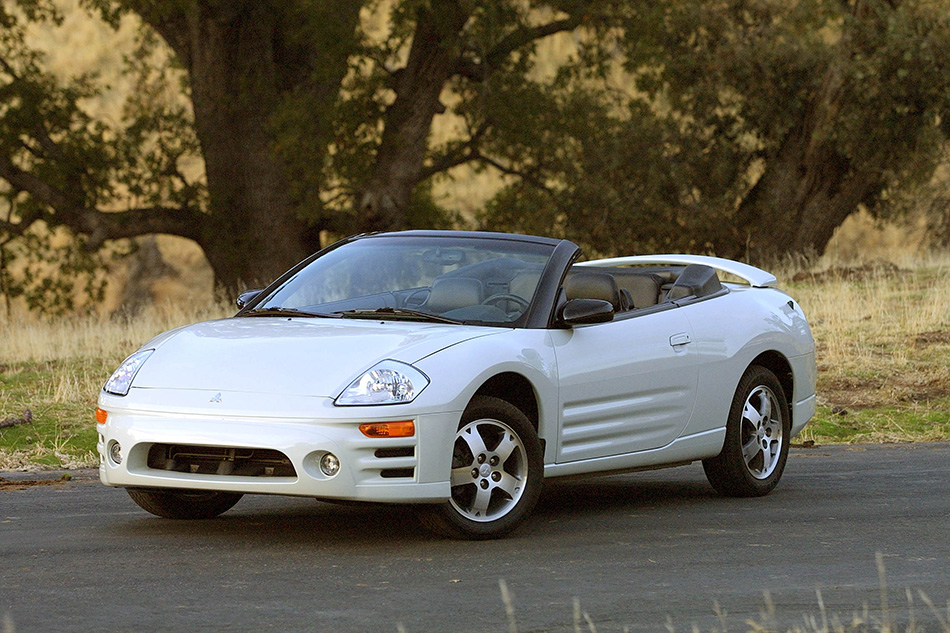 The 2005 Eclipse Spyder is available with two different engines powering the three distinct trim levels: the well-equipped GS, the spirited GT, and the high-performance GTS. Spyder GS relies on a torque-rich, 2.4-liter, 16-valve four-cylinder engine. For the driver, that means 147 horsepower at 5500 rpm and 158 pound-feet of torque at 4000 rpm for quick acceleration.
The Spyder GT and GTS showcase a 3.0-liter 24-valve V6 with Mitsubishi Variable Induction Management (MVIM) that produces 210 horsepower at 5750 rpm, 205 pound-feet of torque at 3750 rpm, and a power band that starts building right above idle. From the clean, mechanical ring of the valvetrain to the throaty rumble of a healthy exhaust, this engine runs up to redline with a linear thrust of abundant power. A variable length runner induction system design optimizes the manifold runner length for a given rev-range, allowing this V6 to rev freely and produce crisp, responsive power in every gear.
Committed to satisfying performance-oriented drivers, a five-speed manual transmission is standard on all three models. The Eclipse Spyder is equipped with a responsive shift mechanism that provides direct linkage and a positive feel, helping drivers engage their chosen gears with reassuring ease.
The available automatic transmission features Mitsubishi's Adaptive Shift Control system, which tailors performance to an individual's driving style - whether aggressive, relaxed or somewhere in between - for smooth operation and maximum fuel economy. For more driver involvement, the transmission incorporates Mitsubishi's Sportronic(TM) sequential shift auto-manual control. A flick of the shifter into the Sportronic(TM) gate and drivers can knock off rapid-fire, manual-style sequential shifts, heightening the driver's control over the power delivery.
The Eclipse Spyder shares the front strut and rear multi-link suspension of the Eclipse sports coupe and adds a front strut tower brace and boxed rear control arms as standard equipment for improved steering response and better unibody rigidity. Features like front and rear stabilizer bars - which are standard equipment on all Spyders - help this convertible cut a razor sharp pattern on the road. With 205/55R16 H-rated tires on the GS, and high- performance 215/50R17 V-rated tires on the GT and GTS, the Spyder has a vise-like hold on the road.
The convertible top employs innovative thinking and technology. The top stack assemblies are completed one at a time, just like on pricey European models. Pre-dyed fabric threads are used because of their ability to better hold color and shape. Twin-lip weather stripping is tailored to each vehicle so it matches perfectly with the windshield header and side glass.
The bows that support the fabric are made of extremely rigid extruded aluminum, and the power mechanism is an elegantly simple twin electric motor design that eliminates the need for hydraulics.
The Spyder's convertible top is a durable, quality roof assembly that will stand up to repeated bouts with harsh weather season after season. After a testing regime that includes three lifetimes' worth of up-and-down operation, hundreds of opening and closing cycles in minus-20-degree cold and 180-degree heat and 90-percent humidity, this top is designed to endure the elements for years to come. Better still, it has a snug fit and inner lining to keep exterior noise to a minimum when the top is up and the gas pedal is down.
TRIM LEVEL SUMMARY
In keeping with its flagship role atop the Eclipse line, even the base model Spyder is loaded with designed-in comfort and the latest features. The Spyder's long wheelbase provides plenty of passenger room inside.
Spyder GS/REMIX Edition
The well-equipped Spyder GS comes with such standard features as a 210-watt Mitsubishi/Infinity(R) AM/FM/CD premium audio system, air conditioning, 16-inch aluminum wheels, keyless entry, security system with electronic engine immobilizer, power windows and door locks, cruise control, illuminated visor vanity mirrors, lighted glove box, leather-wrapped
and height-adjustable steering wheel with available audio controls, premium fabric or optional leather front seating surfaces, height-adjustable driver's sport seat with lumbar support, rear spoiler and integrated front fog lights.
The REMIX Edition improves upon the standard GS package with a unique exterior hue (Platinum), unique 16-inch SXC alloy wheels, color-keyed door mirrors, chrome exhaust tip, six-disc Cd-changer, and unique topstitched leather front seating surfaces and topstitched leather wrapped steering wheel and shift knob. With a responsive 2.4-liter, SOHC, four-cylinder engine under the hood, drop top excitement has never been so easy or fun.
Spyder GT
Spyder GT adds the 210-horsepower, 3.0-liter, SOHC V6 engine, a leather-wrapped shift knob, premium fabric, side air dams, large-diameter stainless-steel exhaust tip, four-wheel disc brakes, Mitsubishi/Infinity(R) premium stereo with power radio antenna and 17-inch wheels and tires. With the optional Premium Package, the Spyder GT can be enhanced with a collection of high-end features that includes a power driver's seat and leather front seating surfaces.
Spyder GTS
The 2005 Eclipse Spyder GTS is a premium convertible, packed with a multitude of desirable options and features. The Spyder GTS offers ABS, traction control (on automatic transmission equipped models), dual front seat mounted side-impact airbags, a six-disc in-dash CD/cassette premium audio system, six-way power driver's seat, leather front seating surfaces, integrated fog lights, steering wheel audio controls, security alarm, compass/outside temperature display and finned design, machined finished 17-inch alloy wheels. This premium sports convertible elevates the Spyder to world-class drop top sports car status, all for a fraction of the price of more exotic models.
Source: Mitsubishi
Gallery:
Mitsubishi Eclipse Spyder (2005)