The 2005 Lancer sedan offers a spirited, solid, and nimble ride, whether you're navigating the highway or carving up your favorite stretch of curvy road. Mitsubishi's reliable 2.0-liter, SOHC, 16-valve four-cylinder engine-which powers the ES, and O-Z(R) Rally models-gives the car one of the largest displacement standard engines in its class. With a peak of 120 horsepower at 5,500 rpm and 130 pound-feet of torque at 4,250 rpm, the 2.0-liter engine offers abundant low-end and midrange power. The 2.0-liter engine features an equal-length intake manifold and a camshaft with a profile ideally suited for fattening the torque curve.
Last year, in an effort to further its compact muscle, Mitsubishi added the Ralliart edition to the Lancer lineup, proving once again that high performance and value are not mutually exclusive. As the motorsports arm of Mitsubishi Motors, the Ralliart nameplate is more than cosmetic. The Lancer Ralliart edition added a larger, more powerful non-turbo four-cylinder engine to the Lancer lineup. The Ralliart edition also includes a sport-tuned suspension, upgraded brakes, wheels, tires and exhaust, and revised aesthetic treatments both inside and out.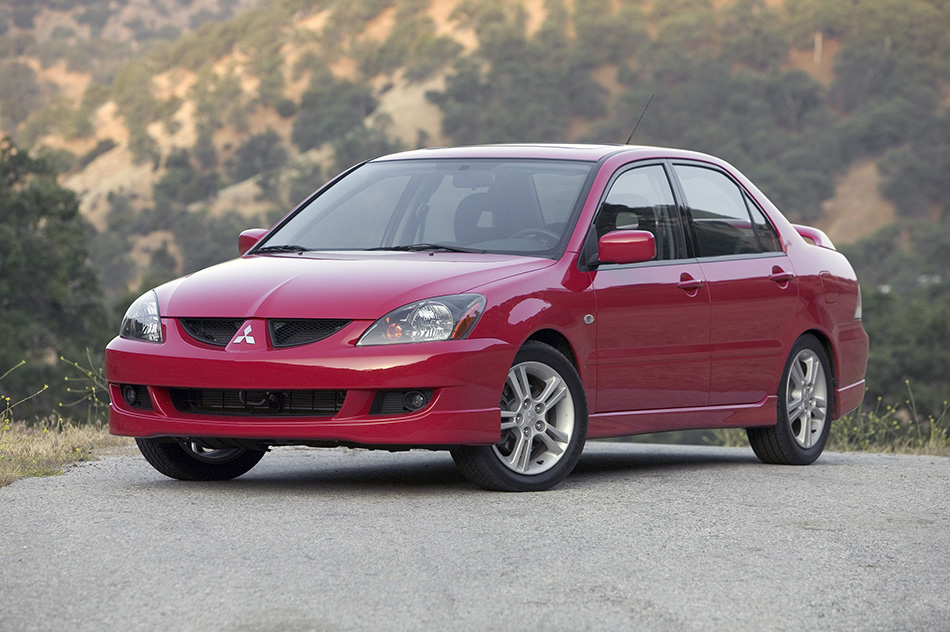 The 2005 Mitsubishi Lancer Ralliart comes equipped with a 2.4-liter, SOHC, four-cylinder engine. Utilizing variable valve technology, this engine automatically alternates camshaft profiles to optimize engine performance across the rev range. The high revving, high-displacement four-cylinder improves efficiency, reduces emissions and increases output, developing 162 horsepower at 5750 rpm and 162 pound-feet of torque at 4000 rpm.
The Lancer transfers power to the front wheels through either a five-speed manual transmission or a four-speed automatic that features Mitsubishi's adaptive shift control system. The sophisticated INVECS-II controller tailors shift points to the individual driver, so that drivers who give aggressive throttle inputs are rewarded with faster, higher rpm shifts, while more laid-back drivers will find smoother, lower rpm shifts. The Lancer Ralliart's manual transmission is further enhanced with a sport-shifter assembly - borrowed from the Lancer Evolution - which provides shorter throws for improved shift action.
The Lancer sedan depends on a reinforced unibody for excellent handling, ride quality, and performance. The steel structure is strengthened where necessary to help minimize flexibility and makes certain that the car's suspension components - not the occupants' skeletal structures - absorb the road's irregularities. In addition, various structural measures such as the use of foam-filled members help dramatically reduce noise, vibration and harshness.
The Lancer's suspension delivers the stable ride and handling required of a sedan while also providing a natural feel for the road. The four-wheel independent front strut and rear multi-link suspension absorbs road irregularities, but the driver is never out of touch with what's going on at the pavement. The front strut's lower control arm attaches to a flat cross member that is roughly three times stronger than those found in the previous generation of Mitsubishi's compact sedans.
At the rear, the Lancer's multi-link suspension features long upper and lower arms and control links for better wheel discipline and reduced twisting and flexing of the bushings. This suspension design yields precise handling, superior responsiveness and excellent ride quality over a variety of surfaces. The Ralliart edition has been fitted with a red, tubular three-point front strut-tower brace which helps reduce body roll. Stiffer springs, dampers, and anti-sway bars also give the Ralliart sportier handling characteristics.
SOPHISTICATED, UPSCALE EXTERIOR
The front bumper features a large air inlet contoured for efficient airflow management and engine temperature control. The O-Z(R) Rally and Ralliart models also feature body side air dams and a rear spoiler design that enhances the car's sporty appearance. The result is a clean, uncluttered exterior design that gives the Lancer a substantial and distinctive look while helping it stand out among the compact sedan category.
The Lancer's grille helps establish a strong and sporty front-end appearance. Aerodynamic wraparound headlights incorporate a jeweled multi-reflector surface for improved low beam nighttime visibility. The headlamps feature bright lenses for ES, while dark lenses can be found on both the O-Z(R) Rally and the Ralliart editions. In addition, the Lancer Ralliart features unique fog lights that create another visual distinction from other Lancers.
Attention to detail helps distinguish the Lancer from its compact sedan competitors. These appealing touches include foldaway power mirrors, door latch dampers for a solid door closure feel and sound, resin bushings inserted in the door hinges for smoother operation, and convenient pull-type door handles that offer a solid grip. The result is a small sedan that looks and acts like a member of a larger, more luxurious class of sedan. The rear deck lid opens up to 11.3 cubic feet of trunk space, and a roof-mounted center radio antenna and front fender-mounted turn signals complement the overall international design theme.
SPACIOUS, COMFORTABLE INTERIOR
That sophisticated, well-executed impression of the Lancer's exterior carries over to the interior. The Lancer's cab-forward design employs a tall roofline that-combined with a long wheelbase-creates a roomy cabin and ensures outstanding comfort and visibility. The shallow positioning of the instrument panel and beltline improves the driver's lines of visibility and helps to create a feeling of freedom and control for driver and passengers alike. The front and rear seats feature an elevated hip point that facilitates passenger entry and exit from the car. To kick it up a notch, the Lancer Ralliart is equipped with front sport bucket seats that were sourced directly from the Japanese-market Lancer Evolution GT-A.
The Lancer's 102.4-inch wheelbase helps create rear legroom that's uncommonly spacious for a compact sedan. A long wheelbase combined with wheels that are located toward the corners of the car help to provide excellent stability and handling. With 93.9 cubic feet of overall passenger room (94.7 cubic feet for Ralliart), the Lancer's available interior room exceeds most of the competition and provides enough space for five adults to ride in comfort.
Upscale materials inside add value and luxury without bumping up the price tag. Power windows, power door locks and power side-view mirrors, auto-off headlights as well as height-adjustable driver's seat, CD player and trunk lamp are all standard.
By adopting some of the sound insulation technology of the Galant, Mitsubishi engineers made the Lancer quieter and more relaxing to drive. From insulation around the frame and rear wheelhouses to noise and vibration dampers on the drive shafts, these technologies work together to give Lancer a quiet ride with lower noise, vibration and harshness.
TRIM LEVEL SUMMARY
Lancer ES
The base-model Lancer ES is a well-equipped compact sedan that's loaded with desirable comforts, proving that such amenities are not the sole territory of the larger sedan classes. The list of standard features on the Lancer ES sedan includes air conditioning, power windows, power door locks, power side-view mirrors, woodgrain interior trim accents, adjustable steering column, trunk room lamp, electric rear window defroster, digital clock, 140-watt AM/FM stereo CD player with four speakers, and an eight-way adjustable driver's seat with height adjustment.
Lancer O-Z(R) Rally

The O-Z(R) Rally edition embodies the sporty look and attitude of the Lancer rally heritage. In addition to the new sporty five-spoke wheel design for the 2005 model year, the Lancer O-Z(R) Rally edition offers the following standard features: side air dams, O-Z(R) Rally Edition exterior badging, carbon-like interior trim, white-face sport gauge cluster, rear spoiler, embroidered O-Z(R) Rally logo floor mats, and sport-touch steering wheel, shift knob and parking brake handle.
Lancer Ralliart
Backed by a proven rally racing heritage, Mitsubishi ups the sport compact performance ante with the Lancer Ralliart. The exterior appearance is upgraded by means of a spoiler, front and side air dams, and unique fog lights. Mechanical improvements, however, are where the Ralliart really sets itself apart. Stocked with a 162-horsepower, 2.4-liter SOHC MIVEC engine under its hood, the Ralliart is a showcase for affordable performance. And that performance is balanced, thanks to a number of finely tuned mechanical components, including larger four-wheel disc brakes, sport-tuned suspension, free-flowing sport exhaust and 16-inch alloy wheels.
While additional horsepower adds speed, better braking power reduces it. The Ralliart's larger four-wheel disc brakes (10.9-inch fronts, 10.3-inch rears), equipped with antilock brakes (ABS) and Electronic Brakeforce Distribution (EBD), help slow the Ralliart with poise.
The suspension achieves a level of performance befitting a sports sedan. The shocks and springs were tuned to allow for more spirited handling without sacrificing ride comfort. Damping rates of the front and rear shocks were significantly increased to limit body roll and weight transfer. Front spring and sway bar rates were both increased, which helps compensate for the increased engine weight. A tubular three-point front strut-tower brace that spans the engine bay helps reinforce the Ralliart's structural rigidity. The result is a sportier, more rigid chassis that's capable of handling corners with aplomb.
Inside, the Ralliart's front sport bucket seats hold both driver and passenger snugly in place. Driving enthusiasts will also be pleased with the sport-shifter assembly, which was taken directly from the Lancer Evolution.
PACKAGES
Lancer ES buyers can purchase an optional convenience package that adds remote keyless entry, 60/40 split fold-down rear seatbacks with headrests, rear center armrest with cup holders, floor mats and color-keyed door handles to the base sedan. New to this package for 2005 are cruise control, variable wipers and color-keyed outer mirrors.
The well-appointed, sporty O-Z(R) Rally edition offers the optional power sunroof, and for 2005, also offers the Sun and Sound package, which was previously only available on the Ralliart edition. The Sun and Sound package includes a power sunroof and a 315-watt, seven-speaker Infinity CD sound system with a subwoofer in a custom 18-liter trunk-mounted enclosure.
SAFETY

In addition to passenger comfort, Mitsubishi Motors engineers also set out to optimize occupant safety. Called RISE, for Refined Impact Safety Evolution, Lancer's body structure helps absorb frontal, offset frontal, side-impact and rear collision energy.
Using the latest advances in computer-aided design, the Lancer includes features such as energy-absorbing front and rear crumple zones, a reinforced passenger safety cage, sophisticated side structures and a fortified chassis to enhance protection for passengers.
Additional standard safety features include three-point safety belts for all occupants, front seatbelt pretensioners and force limiters, and driver and front passenger airbags. Front seat-mounted side impact airbags are available on the Ralliart and O-Z(R) Rally as a stand-alone option.
Front head restraints have also been angled closer to the head, and the padded interior roof pillars have crushable ribs that help provide additional head protection in the event of a crash. Impact-absorbing foam blocks in all four doors aid in absorbing side impact energy. And in case the doors are ever deformed by an impact, cables instead of rods activate the door latch releases.
Source: Mitsubishi
Gallery:
Mitsubishi Lancer (2005)