With its combination of polished good looks, noteworthy handling and its broad tally of included features and amenities, the Mitsubishi Lancer sport sedan is, dollar for dollar, easily one of the most appealing vehicles in its highly competitive category. But this attractive and refined compact sports sedan further sets itself apart from its competitors for the new model year thanks to new features that improve the vehicle's fuel-efficiency and fun factor.
All four versions of the Lancer sports sedan return in 2011: The low-priced/well-equipped Lancer DE, the feature-packed Lancer ES, the more powerful Lancer GTS and the extremely capable, hard-charging Lancer Ralliart that packs a turbocharged punch and exceptional agility thanks to its advanced all-wheel drive system.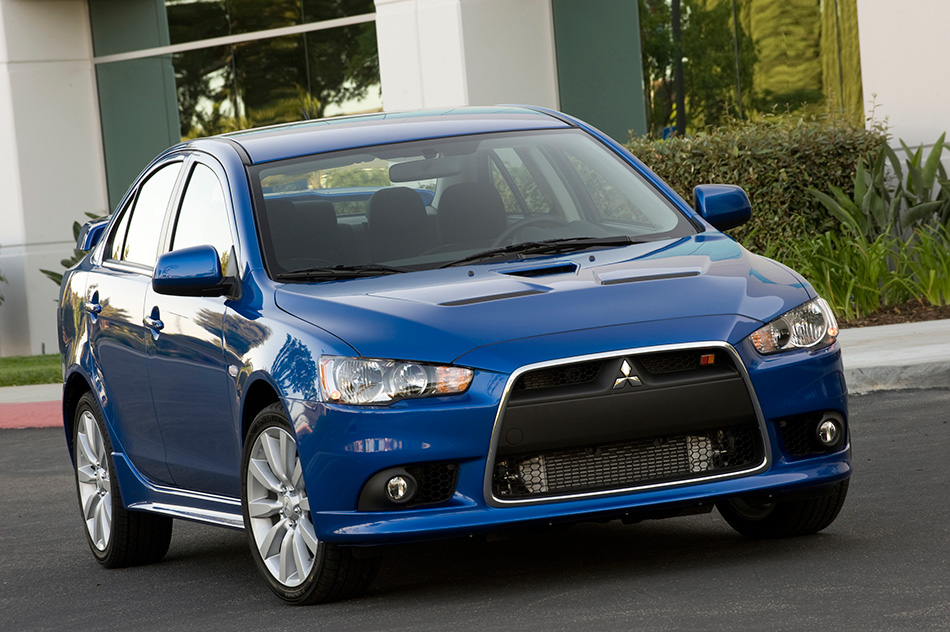 New for the 2011 Mitsubishi Lancer
Improved Fuel-Efficiency
Be it powered by the normally-aspirated or turbo-boosted 4-cylinder engine, the entire 2011 Mitsubishi Lancer sport sedan lineup now achieves improved fuel efficiency, with the Lancer DE & ES leading the charge with a very impressive 33 mpg out on the highway.
Electric Assist Power Steering (Lancer DE and ES models)
Both the Lancer DE and ES models now include Mitsubishi's technically-advanced electric assist power steering system that decreases parasitic, fuel-robbing drag on the engine while still maintaining excellent steering feel for the driver as standard equipment.
FUSE HandsFree Link System™ (Lancer GTS and Ralliart; optional Lancer ES)
Included free of charge on every 2011 Lancer GTS and Ralliart model is Mitsubishi's excellent FUSE HandsFree Link System™ that allows access to your phone, iPod®, or USB drive simply by the sound of your voice. By using voice commands, you can play your favorite songs by genre, artist, album or playlist and make hands-free phone calls.
USB Port (Lancer GTS and Ralliart; optional Lancer ES)
Available on the Lancer ES and standard on the Lancer GTS and Ralliart is a handy USB input port operating popular portable electronic devices including an iPod®.
Drivetrains: From 4-Cylinder Efficiency to Turbocharged Excitement
A multifaceted mix of exceptionally well-engineered drivetrains are available across the 2011 Mitsubishi Lancer model spectrum.
Setting the Lancer DE and ES variants in motion is an excellent 4-cylinder normally-aspirated engine that provides spirited performance (this 4B11 engine serves as the foundation of the legendary Mitsubishi Lancer Evolution ultra-high-performance sports sedan) and fuel efficiency. With a displacement of 2.0-liters (1998 cc), the bore and stroke of this engine measure an equal 3.4 x 3.4 in. (86.0 x 86.0 mm), making it a "square" design. Both the engine block and cylinder head are composed entirely of aluminum alloy for exceptional strength with reduced mass when compared to cast iron. With a compression ratio of 10:1, this DOHC MIVEC 16-valve engine produces a lively 152 horsepower at 6,000 rpm and 146 lb.-ft. of torque at 4,250 rpm. The engines found under the hood of Lancer DE and ES vehicles sold in the state of California have received the very eco-friendly Partial Zero Emissions Vehicle (PZEV) rating, coming with just a slight sacrifice in horsepower at 143 bhp (the torque rating of this PZEV engine is only down by 3 lb.-ft. to 143).
Directing power to the Lancer DE's front wheels is a clean-shifting 5-speed manual transmission, while the Lancer ES benefits from a choice of either this 5-speed manual transmission as part of the standard equivalent package or consumers may choose to upgrade to a high-tech continuously variable transmission (CVT) with INVEC-III.
For those seeking more power there is the Lancer GTS model and its larger 2.4-liter 4-cylinder engine that produces an additional 20 bhp over the Lancer DE and ES models; its maximum power output is rated at 168 bhp at 6,000 rpm (161 horsepower for the PZEV-rated cars in California) and 167 lb.-ft. of torque (PZEV – 161 lb.-ft.). Like the previously mentioned Lancer models, the GTS is equipped as standard with Mitsubishi's refined 5-speed manual gearbox but also has an optional continuously variable transmission (CVT) with INVEC III that also has the added benefit of Mitsubishi's driver-oriented Sportronic® technology that allows the operator to shift gears via magnesium steering wheel paddle shifters.
But for all-out driving excitement, the smartest choice is the Lancer Ralliart and its dynamic turbocharged engine and lightning quick-shifting 6-speed automated manual gearbox.
Based largely on the architectural underpinnings of the highly energetic turbocharged engine found in the Mitsubishi Lancer Evolution, this 2.0-liter turbocharged and intercooled 4-cylinder engine produces a vigorous 237 horsepower at 6,000 rpm and a tarmac-twisting 253 lb.-ft. of torque across a wide swath of the tachometer - from a lowly 2,500 rpm right through to 4,750 rpm. Feeding this power to all four wheels - the Lancer Ralliart features Mitsubishi's advanced full-time All-Wheel Control (AWC) system and this Japanese auto manufacturer's miraculous Twin-Clutch Sportronic Shift Transmission (TC-SST). This revolutionary transmission allows the driver to have all the fun and engine control benefits of a manual transmission, but without the need for clutch pedal. By using two clutches and advanced hydraulics and electronic controls, this transmission can select two gears at a time and instantaneously swap one gear for another - making for instantaneous upshifts or downshifts. What's more, electronic engine controls "blip" the throttle to perfectly match engine speed and gear changes.
Chassis & Design: Sharing the Legendary Lancer Evolution's Dynamic DNA
Good looks aren't the only thing that the 2011 Lancer sports sedan shares with its legendary big brother, the world-renowned 4-door with supercar-like speed and maneuverability, the Mitsubishi Lancer Evolution.
True, both the Lancer and the Lancer Evolution possess distinctive wedge-shaped silhouettes and that unmistakable face with its aggressively stretched headlamps and prominent upper and lower grille sections. But this dynamic duo share so much more beneath the skin.
The exceptionally well-engineered and structurally-rigid platform that underpins both the Lancer and the Lancer Evolution can also be found in the equally stylish and award-winning Outlander crossover utility vehicle and the all-new 2011 Mitsubishi Outlander Sport compact crossover utility vehicle. A MacPherson strut suspension design and an advanced multi-link rear suspension give all of the Lancer models excellent suspension compliance while also offering a high threshold of grip and maneuverability. Providing additional handling capability are the front and rear anti-sway bars of varying thicknesses that can be found across the entire Lancer model range, save for the base model Lancer DE which possesses a front stabilizer bar but none for the rear.
But the closest kissing cousin to that of the Mitsubishi Lancer Evolution is the Lancer Ralliart. Not only does this model feature a highly potent turbocharged and intercooled engine similar to that found under the lightweight aluminum hood of the Lancer Evolution (in this case detuned from the Evolution's 291 horsepower to a still very respectable 237 bhp) but the Ralliart also includes many of the high-tech dynamic driving aids that make the Lancer Evolution so special. These include Mitsubishi's miraculously fast-shifting 6-speed automated manual Twin-Clutch Sportronic Shift Transmission (TC-SST) and the road-biting level of grip offered by the full-time All-Wheel Control (AWC) system that includes an Active Center Differential (ACD) and a front helical limited slip-differential, accompanied by a rear limited-slip differential.
All 2011 Mitsubishi Lancer vehicles overflow with an abundance of the latest in state-of-the-art safety technologies included as standard equipment. These include advanced dual-stage front air bags with occupant seat position sensors; side-impact head protection curtain air bags for the front and rear occupants; front seat-mounted side air bags; a driver's side knee air bag; anti-lock braking system (ABS) with Electronic Brake-force Distribution (EBD); Active Stability Control (ASC) and Traction Control Logic (TCL); an active front seat structure to help reduce whiplash injuries; a Tire Pressure Monitoring System (TPMS); and Mitsubishi's patented Reinforced Impact Safety Evolution (RISE) chassis technology that helps to protect the vehicle's occupants by dissipating energy through the use of crumple zones and high-tensile steel throughout the chassis.
Included as standard on the Lancer Sportback Ralliart model is Mitsubishi's Hill Start Assist (HSA) technology that, when the vehicle is descending a grade or ascending a slope, will hold the car in a stationary position for several seconds after the driver has removed their foot from the brake pedal until they can engage the gas pedal.
Source: Mitsubishi
Gallery:
Mitsubishi Lancer (2011)