Ever since it started R&D on electro-mobility back in 1966, today's Mitsubishi Motors Corporation (MMC) always considered that electric vehicles (EV) should eventually become long-term core products - a view vindicated by recent concerns over global warming.
From the pioneering i-MiEV in 2009 and a self-imposed objective of 20% of EV-based cars by 2020, MMC has already made significant steps in this direction as demonstrated with the all-new Outlander Plug-in Hybrid Electric Vehicle ("PHEV") and its most innovative "Dual Design" architecture.
Expanding further, Mitsubishi Motors now explores the full electro-mobility engineering palette - Pure Electric (EV), Hybrid Electric (HEV), Plug-in Hybrid Electric (PHEV) - hinted at through two concept cars world-premiered at the 2013 Geneva Motor Show, next to the New Outlander PHEV, one of which is the cutting edge GR-HEV Concept Sport Utility Hybrid Truck.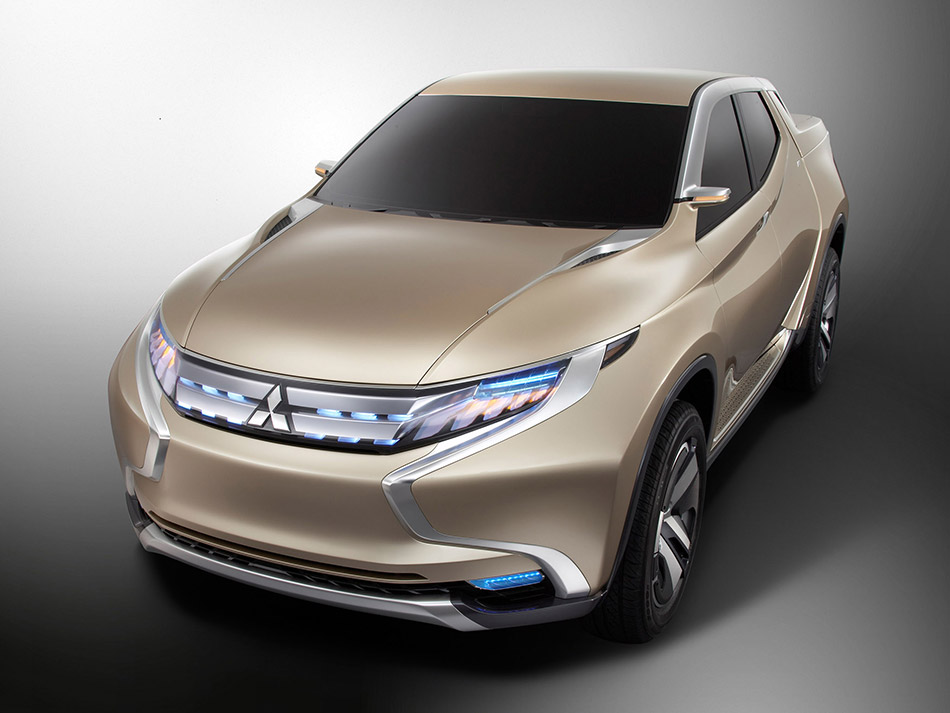 Going Hybrid
If electric vehicles are to have a significant impact on the environment, they should be able to attract a wide spectrum of customers with a full palette of EV-based vehicles across the range, from small runabouts to big SUVs, each using a dedicated application of the technology (EV, HEV or PHEV)
In this respect, New Outlander PHEV has already proved that EV powertrain and long-haul D-Segment crossover are perfectly compatible.
At MMC. the next logical step will be to expand further, adapting electric componentry to the demands of an even larger, tougher, sportier vehicle with both work and leisure in mind in either mature or emerging markets.
Such was the brief behind GR-HEV Concept, Mitsubishi Motors' inaugural take at Hybrid (HEV) technology, applied for the first time to a Mitsubishi one-tonne pickup truck, a format very much in demand in emerging markets and a Mitsubishi export best-seller, starting with Europe, its number one market (with over 615,000 units, out of the 1.42 million units exported from MMTh between 1992 and 2012).
Below 149 g/km
With this evocation of a possible next "Dual Design" vehicle, Mitsubishi Motors introduces an all-new proprietary HEV solution, featuring a 2.5 litre Mitsubishi Clean Diesel engine and a front-mounted electric motor, mated to an automatic gearbox - all controlled by an electronic operating system - as well as a battery pack located (and protected) within the ladder frame - further protection being provided by cross guard bars.
Simpler and more affordable than either EV and PHEV, HEV is deemed best suited to the heavy-duty daily requirements of pickup truck users and a perfect vector for MMC's green ambitions all the way to the most remote corners of the planet with an ambitious target for CO2 emissions below 149 g/km - far better than segment average.
Beyond this specific one-ton pickup application, the addition of an electric motor to a Diesel engine brings further benefits:
Instant response from the electric motor boosts Diesel engine accelerations.
The motor also increases high-end torque of the Diesel engine.
Quieter accelerations and high-speed cruising (within legal limits).
Cleaner Diesel emissions.
This combination can also provide pure electric power on demand with available AC supply (100V~240V), to replace a generator or to allow the use of a 100V winch for instance, as well as the ability to drive over short distances in pure-electric mode.
GR-HEV Concept also uses Mitsubishi's renowned full-time 4WD technology, featuring Super All Wheel Control (S-AWC) integrated vehicle dynamics control system to deliver high stability traction and driving performance under all road conditions.
This HEV-dedicated driveline uses S-AWC to tailor output and braking to each wheel for every drive mode (2L, 4H, 4HL, 4LL) selected by the driver to help when facing difficult driving conditions:
Safer, sure-footed all-terrain performance over mud, sand, snow-covered surfaces as S-AWC system leverages motor's instant response and controls braking force at each wheel.
Torque regulation for instant response and excellent all-terrain performance.
Improves stability when towing.
Cutting edge
Rugged, handsome and eminently usable, this 4WD Sport Utility HEV Truck show car was developed as a conceptual successor to a long line of one-tonne Mitsubishi Motors pickup trucks - from the original 1978 Mitsubishi L200.
All successful in their time, they always stood apart with their handsome design.
GR-HEV Concept continues with this tradition adding a strong dose of aerodynamic chunkiness while escaping the square-rigged look that seems to prevail in the segment.
On the contrary, over its long 5.42 m long dual-cab body, MMC Design produced a very muscular athletic shape, highlighted by a sharp blade-like character line, starting from the headlamps and progressing to form a very dynamic upswept beltline.
Carrying over a theme first developed for today's L200, GR-HEV Concept offers a total (pick-up) look whereby the long load bed is the visual continuation of the passenger cabin, simply delimited by a graphic J-shutline, itself serving as support to integrated running boards.
Further rear, this load bed extends the 3D-sculptured shape of the cabin, whether in the wide open trapezoidal wheel arches (and their asymmetrical flat moulding, suggesting motion), in the shapely tailgate or in the helix-complex rear combination lamps. With their "scattered diamond" LED design, they give an impression of precision-cut jewellery and premium quality appearance of the tail.
Topping it up, the upper structure is no less dramatic with a low roofline highlighted by twin elongated satin-finished side mouldings. Arching over the cabin, they extend to flying buttresses over the backlight, connected by a twin-boom aerofoil. As a clear statement of (tough) intent, the integrated bed cover intersects sharply all the curves.
At the front, the aerodynamic blades of the grille seem milled directly from solid brass as if to shield the Three-Diamond logo, in-between the sculptured wraparound diamond-shaped headlamps - an overall effect of width, stability and solidity.
Finishing touch, GR-HEV Concept rides on dynamically styled 3-spoke alloy road wheels using lightweight non-alloy spokes. Taking Mitsubishi's Three-Diamond corporate emblem as the design theme, they suggest strength.
Source: Mitsubishi
Gallery:
Mitsubishi GR-HEV Concept (2013)