The Jetta model is Volkswagen's most popular in the U.S., accounting for about 40 percent of the brand's overall volume in this market. It is perennially the number-one selling European nameplate sold in the U.S.
The photos released today show a completely redesigned Jetta sedan, and depict the fifth generation of the German automaker's sedan that first went on sale in 1980 in the U.S.
Set to make its worldwide public debut at the Los Angeles Auto Show on January 5, 2005 where its price will also be announced, the new Jetta will be a significant evolution of this Volkswagen model that celebrates its 25th year in the U.S. and Canada in 2005. During that time, it has generated sales of more than 2.2 million units in those markets.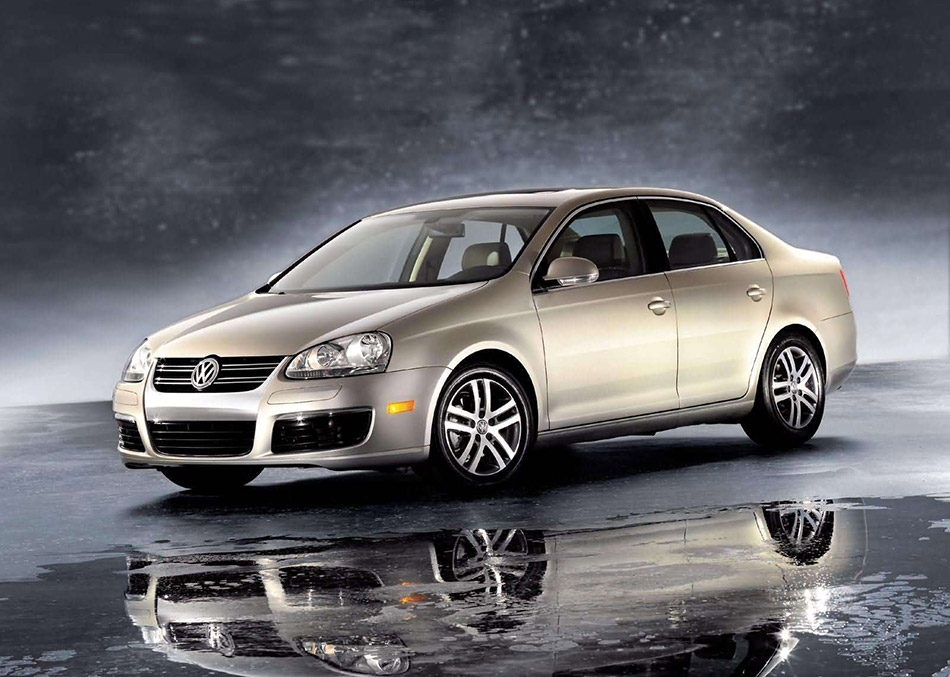 Like its predecessors, the new Jetta will offer a distinct choice in the compact sedan market. The new Jetta has bold dynamic styling and larger dimensions than its predecessor. As always, the Jetta's styling, technology and European character will attract people who love to drive and desire something different. As expected, this sophisticated Jetta also offers traditional Volkswagen value for the money.
Since the Jetta's introduction in 1980, this compact, affordable German sports sedan has evolved significantly with each new design. This new Jetta is no exception: it has grown in size from the previous model, while again offering a more advanced level of German engineering and technology that is unique in its competing market segment.
Drivers of the new Jetta will enjoy the model's first fully independent suspension system that uses a multi-link rear and optimized front axle, a new powerful base engine with a larger displacement of 2.5 liters and five-cylinders generating 150 horsepower (versus a four-cylinder, 2.0-liter, 115 hp engine in the previous model), a new optional six-speed automatic transmission with Tiptronic including a special "sport" mode selection.
In addition, later in the year, Volkswagen will offer its revolutionary transmission called DSG (TDI only), which is essentially an automated manual transmission system offering the inherent efficiency and economy of a manual with the ease of operation of an automatic. Also among the most impressive new driving advancements are a standard high-tech electro-mechanical steering system, a new technically advanced electronic stability program (ESP), and new-generation ABS all-disc brakes.
The new Jetta's interior will be roomier than ever with a larger trunk and more legroom and occupant space. As one expects from a modern Volkswagen, the new Jetta will offer a highly refined interior treatment, with a long list of standard comfort and convenience features. Some of the safety features for the new Jetta include front side thorax airbags, Side Curtain Protection (for head) in front and rear, crash-active front headrests, crash-optimized foot pedals that descend upon serious impact, Daytime Running Lights (DRL), three-point safety belts at every position, adjustable headrests for all five occupants, front belt pre-tensioners with load limiters, and safety belts with emergency locking retractors complete this all-new Jetta sedan.
Built for worldwide distribution at Volkswagen's high-tech production facility in Puebla, Mexico, the Jetta's assembly process promises to set quality standards for this model segment. Volkswagen AG invested extensively to further advance the modern assembly sequences and technologies at its sole North American site—a facility that according to internal quality audits ranks as one of the Volkswagen Group's top factories in the world.
The new Jetta has a stronger body than its predecessor, recording double-digit improvements in its dynamic and torsional rigidity. This is achieved through the use of more high-strength body panels, world-class design and engineering, and an advanced, highly automated, laser-welding system. The result is a dramatic increase in laser-welded seams--nearly 14 times more than the previous Jetta. The net benefit of this bonding process is a class-leading fit and finish, improved body strength, crash protection, driving dynamics, and reduced interior noise.
This all-new Jetta once again documents Volkswagen's attention to detail, unique driving dynamics, high-energy looks and quality materials to match and exceed the expectations of the North American customer.
Source: Volkswagen
Gallery:
Volkswagen Jetta 2.5 (2006)