At the 2001 North American International Auto Show in Detroit, Nissan revealed the alpha-T (alpha T) Concept, which just might become the first word in full-size pickups. The alpha-T Concept is a radical design exercise, one of several created to stimulate consumer discussion while clearly marking the intent of Nissan's upcoming entry into the full-size truck market. The show truck is a follow-up to last spring's announcement that Nissan will produce a full-size, V8-powered U.S.-assembled truck model within the next few years.
'The alpha-T Concept pushes the envelope of contemporary pickup truck styling,' said Carlos Ghosn, president, Nissan Motor Co., Ltd. (NML). 'Our message to the public is that Nissan is serious about entering the full-size truck market in a big way - both in size and impact.'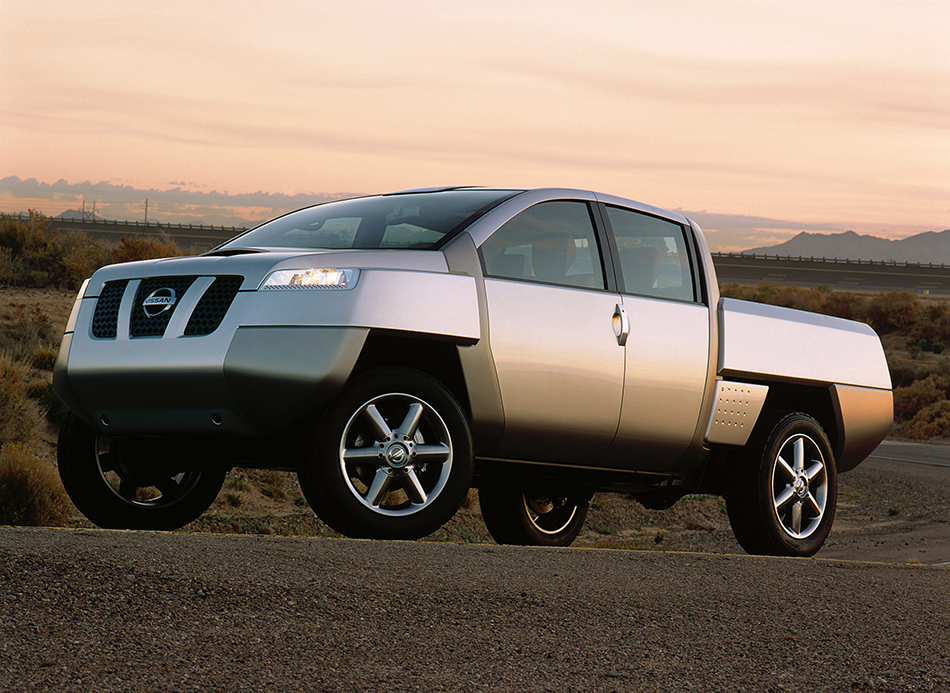 The Latest Chapter in a Storied Truck History
Over the next four decades, Nissan continued its leadership in the segment, introducing a number of compact truck innovations including the first half-ton compact (1969), the first long bed compact (1975), the first extended cab (1977), the first U.S.-produced import nameplate compact (1983) and one of the first factory-installed superchargers in a compact truck (2001).
The addition of a full-size pickup expands Nissan's light truck lineup, which currently includes Frontier and Frontier Crew Cab models with an available 210-horsepower supercharged V6, the 250-horsepower Pathfinder and award-winning Xterra sport utility vehicles and the Quest minivan. A full-size sport utility vehicle, sharing the same platform as the full-size pickup, has also been confirmed for future production.

alpha-T Styling: Industrial Look and Power
While the trend in full-size trucks in recent years has been to become more and more car-like in look and feel, the designers of the Nissan aT Concept sought a strong, industrial feel, drawing inspiration from high-end power tools and other mechanical designs.
'The alpha-T Concept's appearance may be a little startling to those who have come to view trucks as sedans with an open trunk,' said Shiro Nakamura, design director, NML. 'Following our tradition of building authentic, hard working, hard playing pickups like the 2001 Nissan Frontier, we want to appeal to the true truck lover's desire for a big, powerful, aggressive looking vehicle with more than just a little edge to it.'
The alpha-T Concept's exterior features a massive front grille, bumper and headlights, scooped hood, an aggressive 4-door body with butterfly open doors for easy access, a sharply sloped A-pillar, unique glass panel roof treatment with personalized opening sections, retractable rear window and side step rails, a deep bed with low-hinged electronic tailgate, large 22.5-inch alloy wheels and 265/60R22.5 off-road style tires.
Inside the pickup bed are numerous tie-down points and a power-operated slide-out bed floor (usable with the tailgate down). A tool box compartment is integrated into the tailgate.
Interior Design: Maximum Space and Utility
Inside the alpha-T Concept's cab is a combination of extraordinary spaciousness and human touches. It includes a series of well-organized compartments and storage spaces. The instrument panel gives a feeling of space with clear information - provided by a retractable multi-function screen with navigation system. The brushed aluminum steering wheel gives an authentic truck feel and a large transmission shifter and tension sensitive armrests add a level of functionality necessary for the full-size truck driver. The seats are covered in saddle leather for a rugged, yet luxurious, look.
The Promise of True Performance
The alpha-T Concept promises performance to match its powerful appearance, with a 300-horsepower 4.5-liter V8 engine, rugged suspension, 4-wheel drive and 4-speed electronically controlled automatic transmission.
'As a design exercise, the alpha-T Concept can only hint at the aggressive performance targets we're developing for our production full-size pickup,' said Mr. Ghosn. 'We are committed that the truck's performance will meet or exceed that of both current domestic and import branded trucks. Following our strong heritage in the compact truck market, when it comes to the new big Nissan truck we will not be content to follow the crowd.'
Source: Nissan
Gallery:
Nissan Alpha-T Concept (2008)